The suddenly boisterous and highly visible activity of birds is one of the joys of Spring. Swallows, thrushes, egrets, mallards, geese and more are returned from the South, often coming several thousand miles to nest here in Humboldt County. Adults spend almost everything to make the journey, preparing for the oldest song and dance; – the hummingbird's dazzling aerobatics, the grebe's water ballet, the Red-winged blackbird at the top of the tree trilling for company – all around us these birds begin the season's work of bringing their babies into the world. Renewal and rebirth – the spark of life is passed on.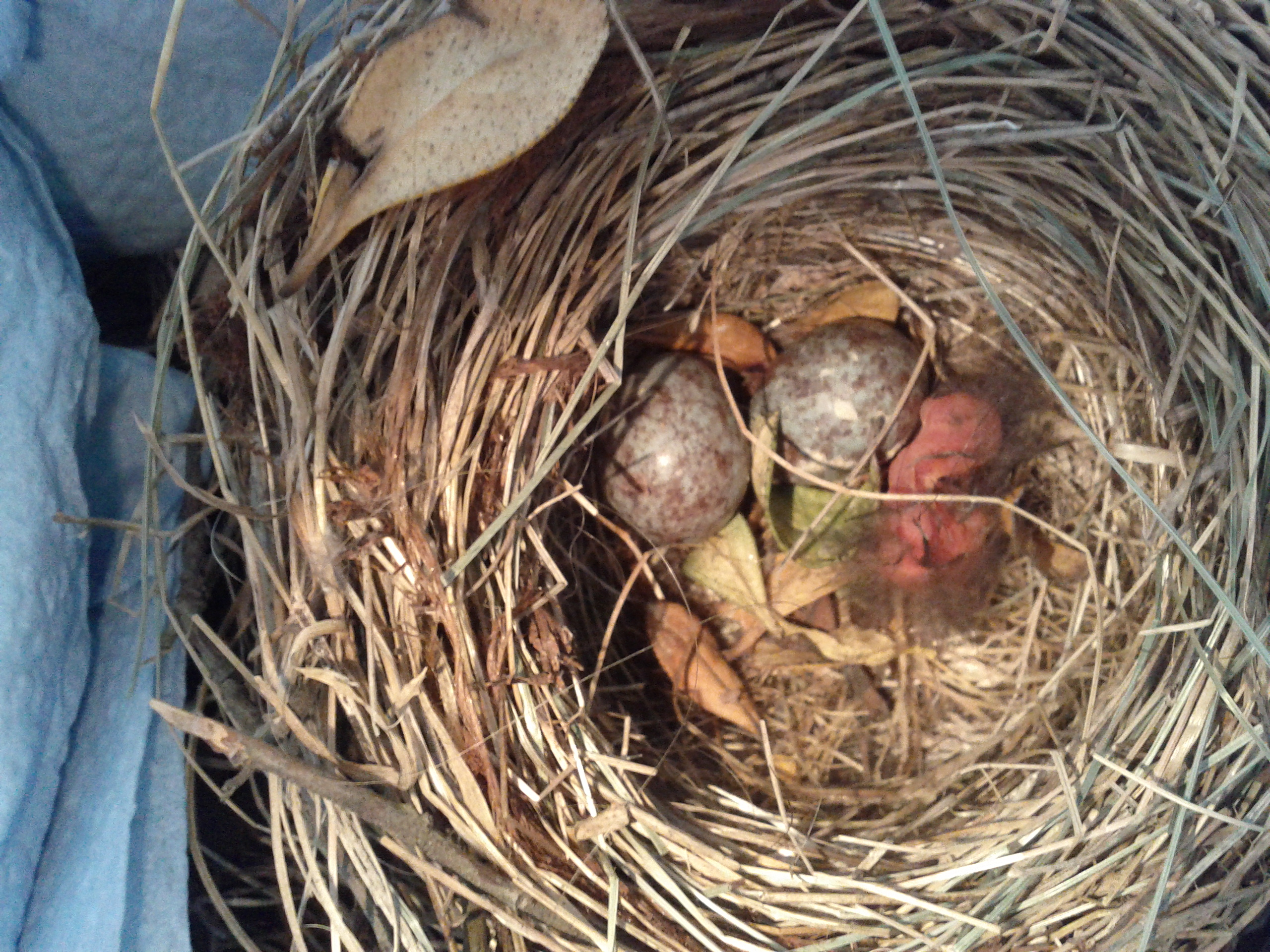 A nest of House finches brought to our clinic, Spring 2013 (photo: mmerrick/BAX)
Right in our own backyards nest sites are selected. Close to shopping! Close to schools! Babies must be fed, after all, and adolescent birds get only a short apprenticeship before they must shift for themselves.
Once the eggs are laid parent birds are tied down, busy and focused. Once the chicks are hatched, frequent trips from sun up to sun down keeping babies fed is the routine life of mama and papa. It takes a lot of mosquitoes to make one swallow and many swallows raise two nestfuls each year.
Fledgling birds think they're big enough and jump from nests before they can fly! Parents stay near feeding them on the ground or in branches and call sharply when danger is near. It can take as long as a week before these youngsters really have their wings.
Birders and casual enjoyers of birds are drawn to their beauty, feathers and song. Unlike wild mammals, many species of birds live their lives in the open, for all to see. We may never see a Long-tailed weasel in our lives, but here are House finches feeding their young just beyond the window.
As lovers of wildlife we cherish the close view birds allow, but this nearness brings such risk. If we get too close we can scare a parent bird away from a nest leaving a young featherless baby to go hungry, go thirsty – even die! Our houses are built where birds have lived for millions of years and our cars race through what used to be pasture of bounty, grass seeds and insects and all manner of good things. House cats roaming the lawn thrilled to pretend they are on the savannah, stalking game through the tall blades. But their kills are all too real, and a parent is left to feed a nest of five alone – it can't be done and some will starve.
It feels good to be outside working in the long evenings, cleaning up the yard, planting bulbs; – yet we might trim a few branches and a nest full of hope crashes to the ground.
As Mother Earth rolls the Northern Hemisphere back into Spring, it's important and good to get outside and rejoice in our shared and beautiful life. Being in nature is the only way to know and love her. Seeing our wild neighbors renews our own lives. As Henry Thoreau famously noticed, 'in wildness is the preservation of the world.' Any grandparent or songbird will tell you, do not harm what preserves us. Enjoy being close but allow who we see the privacy and the space to simply be. Be mindful of wild lives.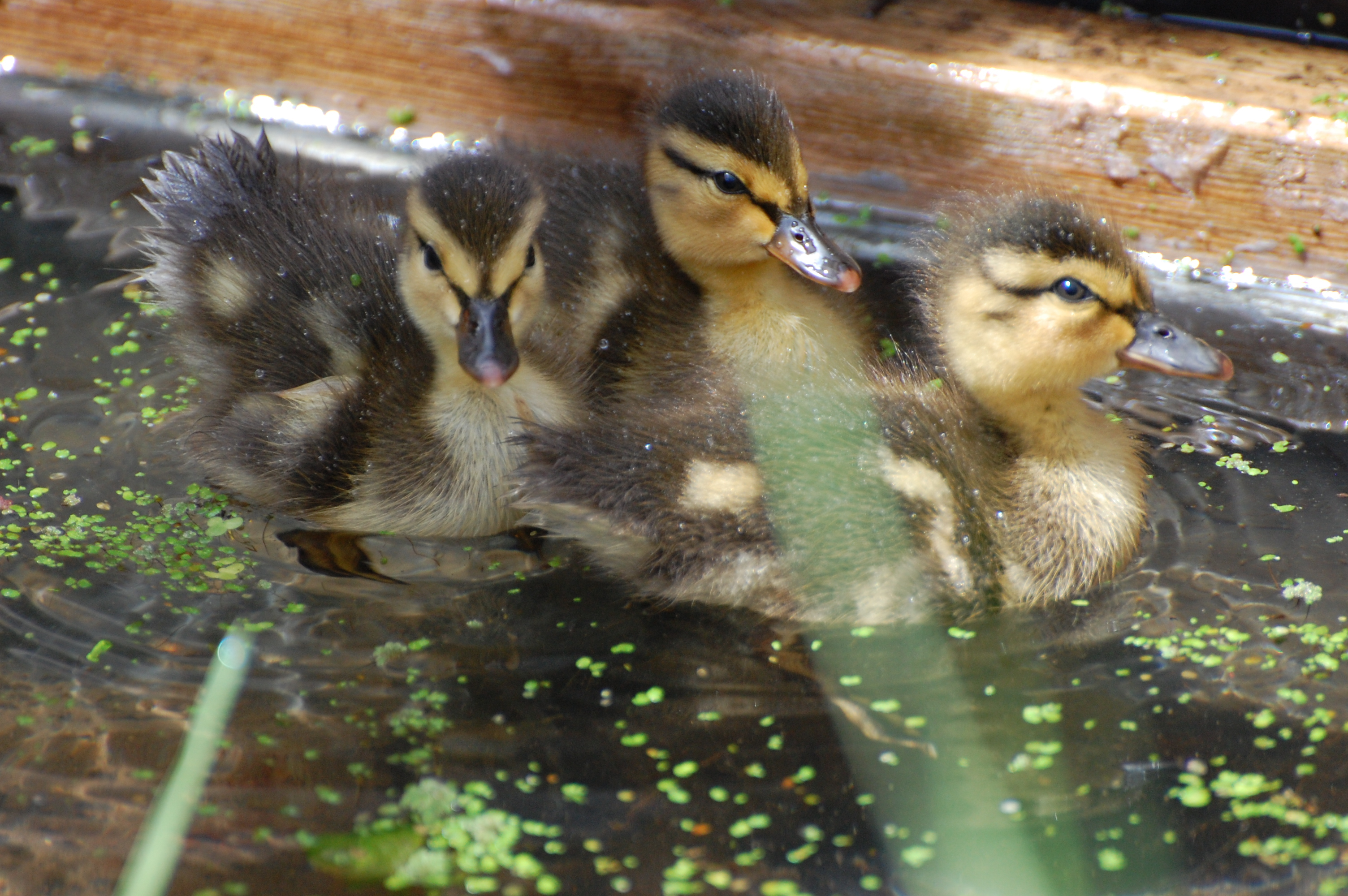 Baby Mallards in the aviary they were raised in after losing their mother. 2013 (photo: Laura Corsiglia/BAX)
Things you can do:
Keep cats indoors, or make an enclosed space outdoors.
Don't trim branches during baby season. Plants prefer to be trimmed in fall anyway.
Give nests a wide berth. Enjoy with binoculars!
Feathered young birds hopping around the ground are probably learning to fly. Help them by keeping kids, cats and dogs away.
If you've found an animal you think needs help, or you have a problem with a wild family in your home or yard:
call baxHumboldt Wildlife Care Center – 822-8839
Spring and Summer
9am – 5pm everyday