In mid-June, a very ordinary thing happened. Someone called our clinic to ask for help with a bird who'd fallen from a high nest. Typically, we'd like to get birds who fall from their nest back to their families right away. But this case had some complications. First, the bird was in Petrolia, which is part of the area we serve, but is a couple of hours away and second, the nest location wasn't known.
[Thank YOU!! – We made it to $5000 by the end of July! And a few hundred dollars more!! your support makes our work possible! Our August goal of $7000 will allow us to buy fish to feed our growing seabird caseload, as well as continue providing care for all of this season's orphaned wild babies – raccoons! swallows! hawks! jays! and more! Please contribute what you can! Every donation helps! Click here to donate now!]
The bird happened to be a Red-shouldered Hawk (Buteo lineatus), an easily recognized member of our community. These magnificent small hawks can be seen along almost any rural road, working over almost any open field, perched in nearby trees, hunting for primarily rodents along the edges of almost everything. Each year we typically raise at least one of these hawks, and sometimes more. This hawk was on the larger side so we imagined that she was female.
Without knowing the location of the nest, there was little chance for us to return this wayward nestling to her family. Even raising her until fledging wasn't going to be enough, because these birds depend on their parents after they've left the nest for food until they are able to hunt. So we'd have to keep this bird in care until she was able to recognize and eat real prey. Fortunately, our patient was an older nestling, close to being ready for flight.
Immediately, the hawklet began to devour all the food we offered, thawed mice, thawed rats, basically any small animal we fed. And we watched as real world feathers grew in and the bird changed into a sleek, beautiful juvenile.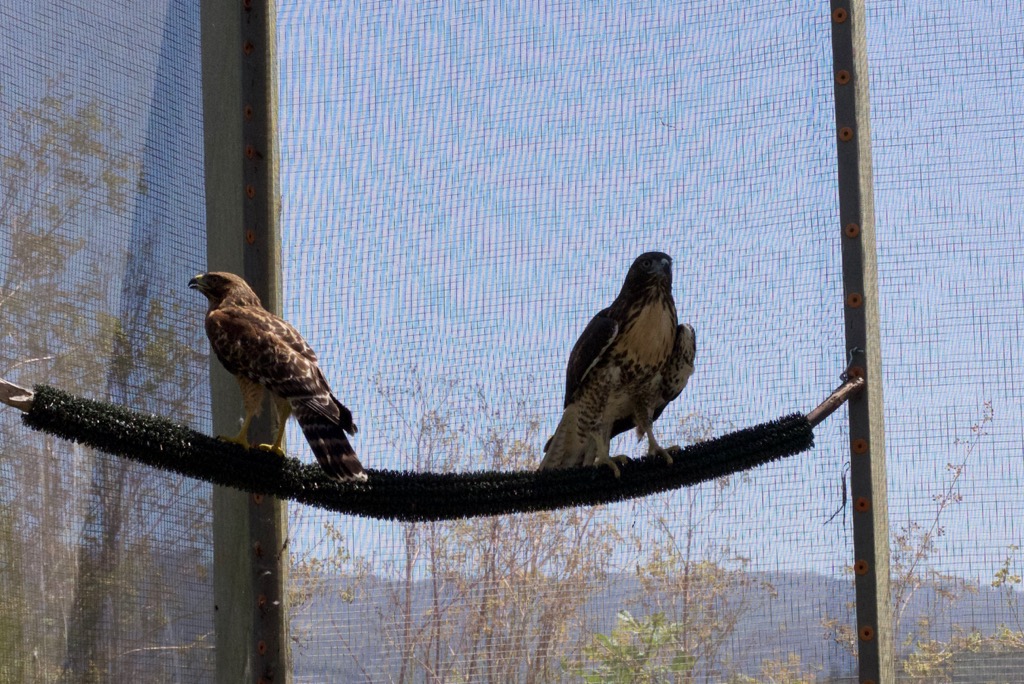 In the aviary with another young raptor, the Red-shouldered hawk (on the left) is alert and wary.
---
After 6 weeks, and after she demonstrated her ability to hunt, we returned the hawk to Petrolia and released her. Of course we hoped that she would find family members and remember enough of the area that she'd learned from the view from the nest, but in any case we were confident that this young raptor would be able to fend for herself.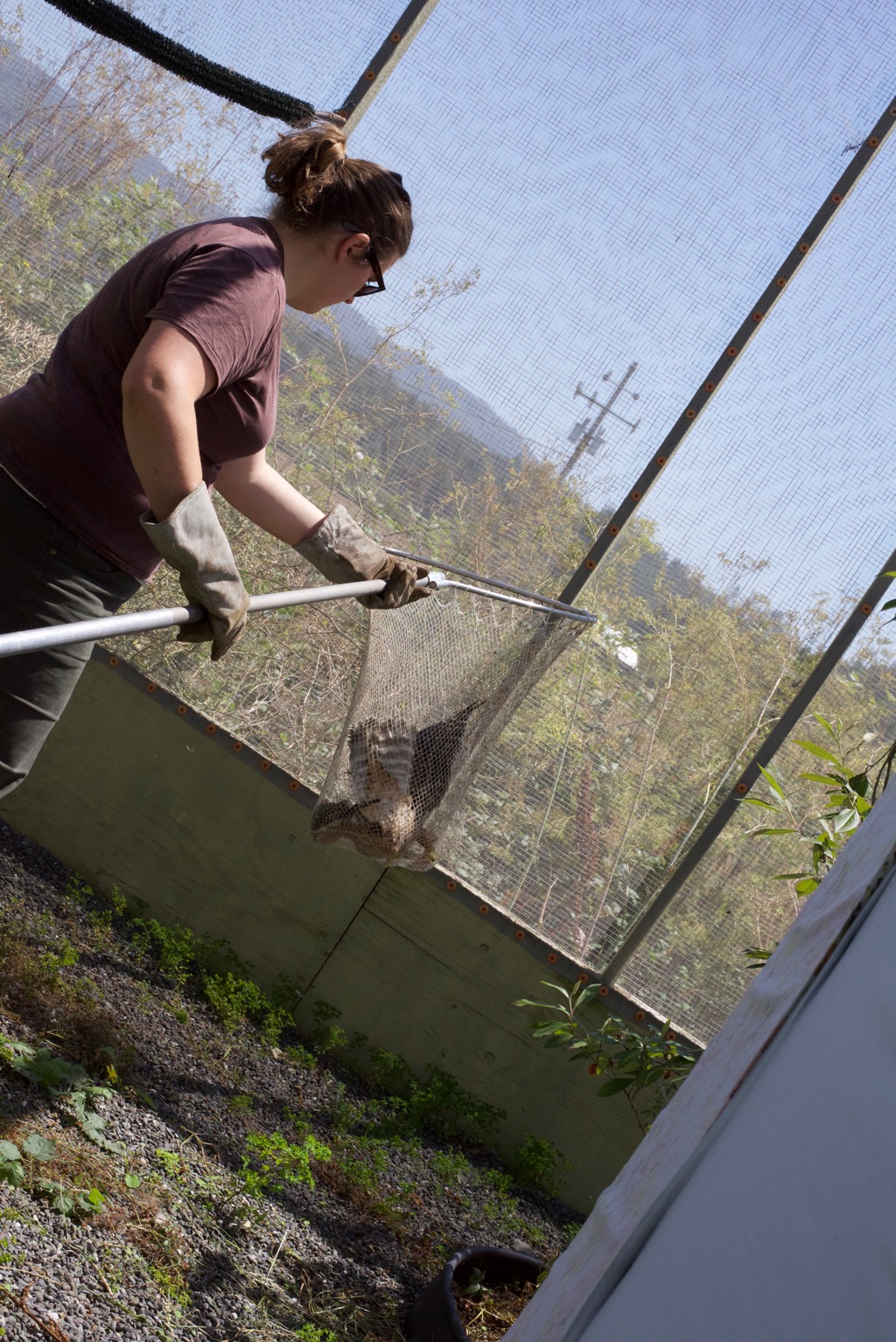 Capturing the hawk from the aviary for her release exam. Every examination puts a great deal of stress on a patient. We reduce this handling as much as possible.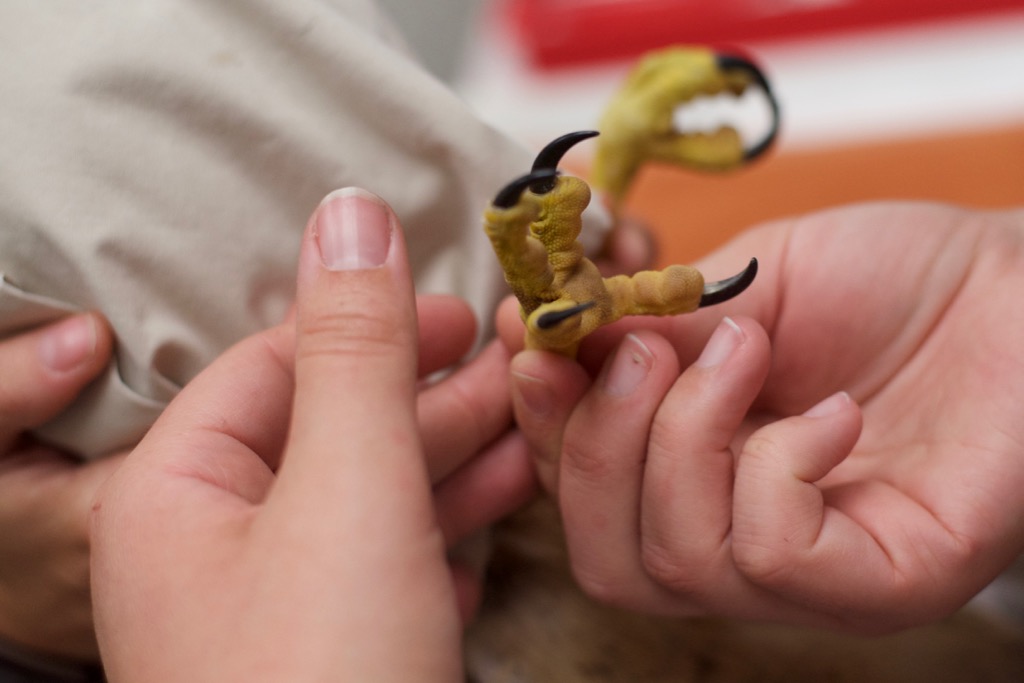 Keeping raptor feet healthy in an environment where they spend more than an ordinary amount of time perched in one location is important. After 6 weeks in captivity this hawk's feet are in perfect condition.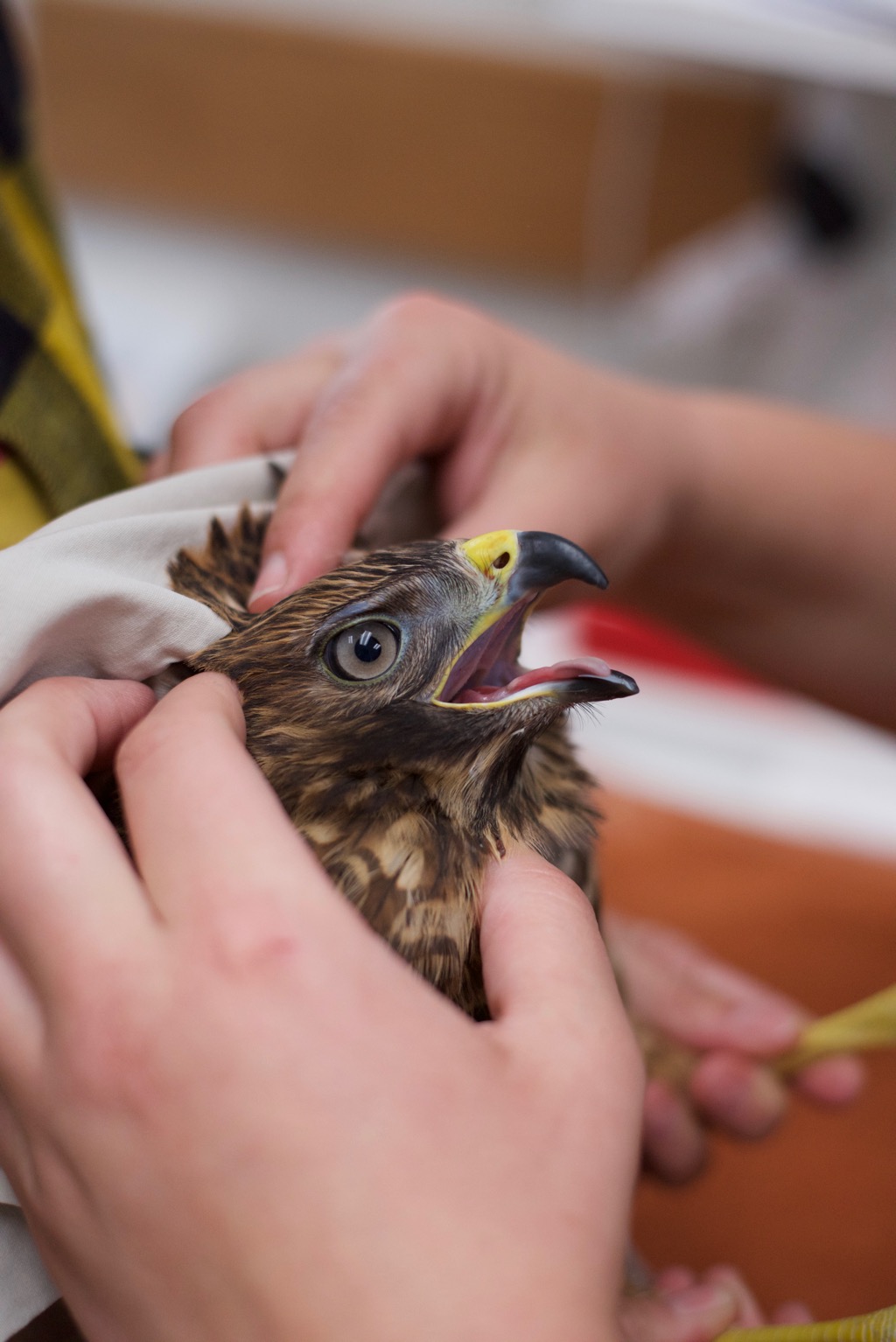 Her eyes, mouth, hearing – every aspect of this hawk screamed "Release me!" So we did.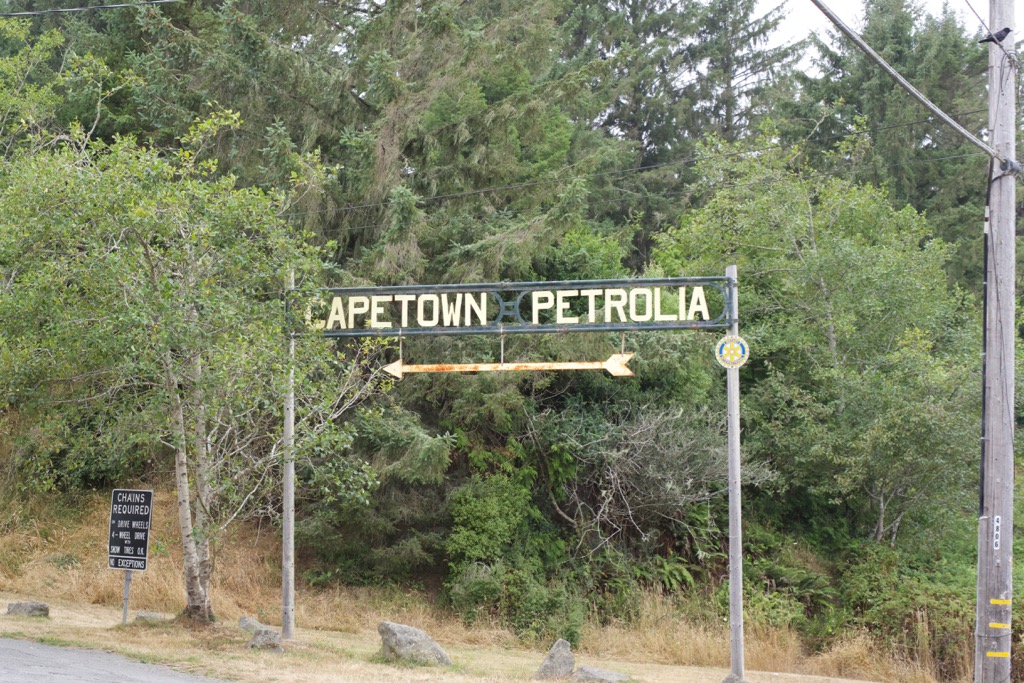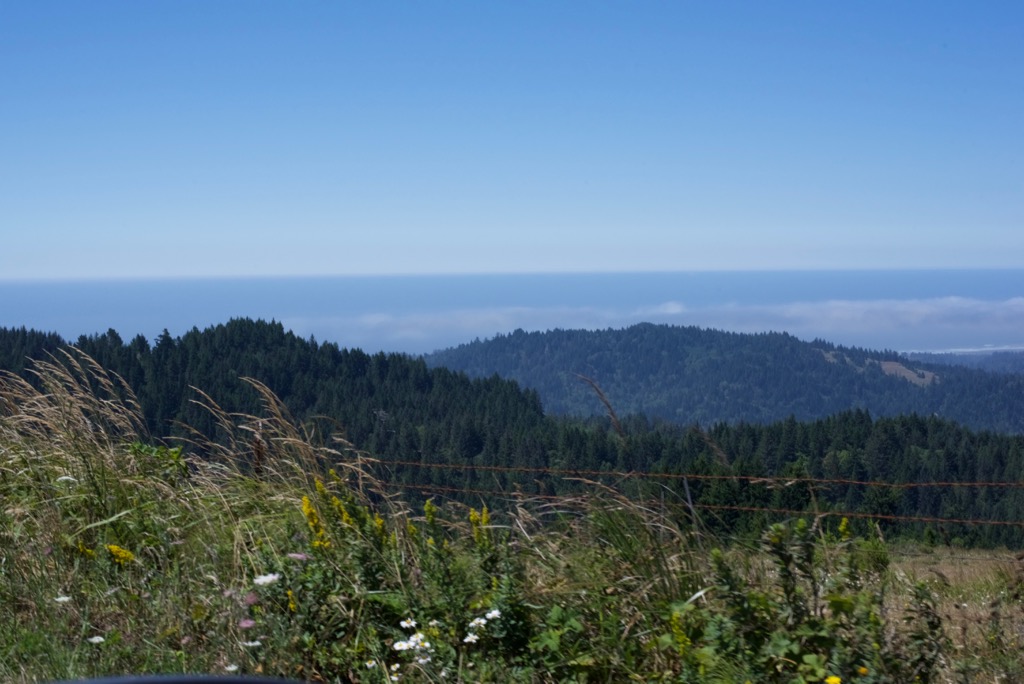 It's a long and stunningly beautiful drive to Petrolia, the human capital of the Lost Coast.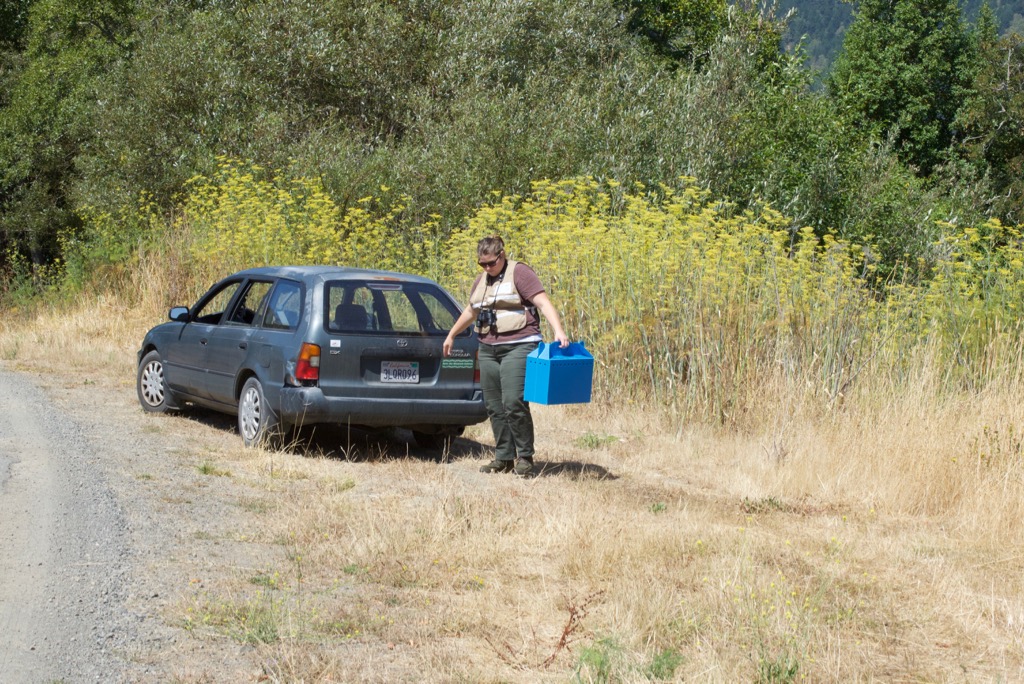 Without knowledge of the nest location, a release site was chosen based on proximity to Petrolia and suitability of habitat – the presence of trees, open land, and the Mattole River made this a good site.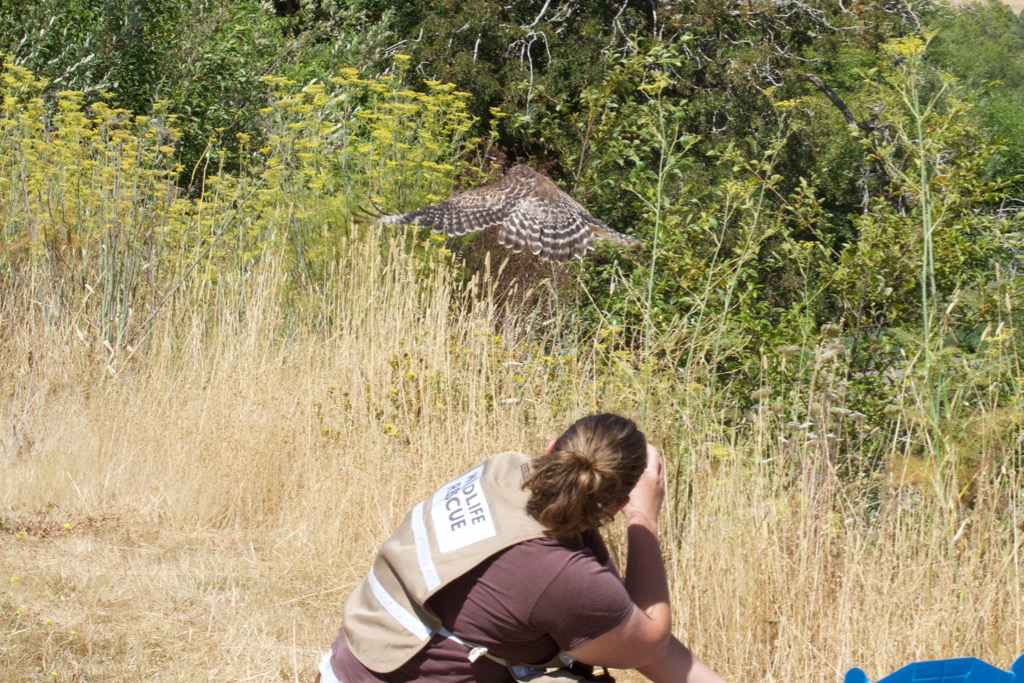 Release!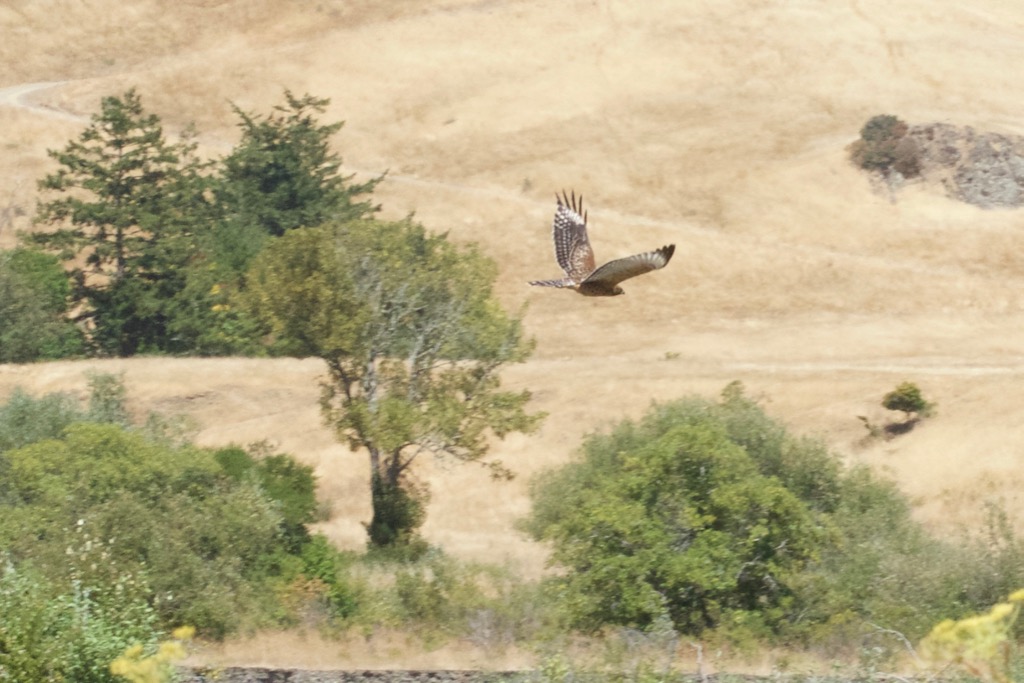 Our patient in flight, over the home she was meant to have.
Here is a very short video that really shows the explosive speed of this young hawk…

---
The story doesn't stop here. Within a few minutes from release, the young former patient postioned herself on the highest tree in the area and began calling. Within a few more minutes, an adult Red-shouldered Hawk arrived on the scene.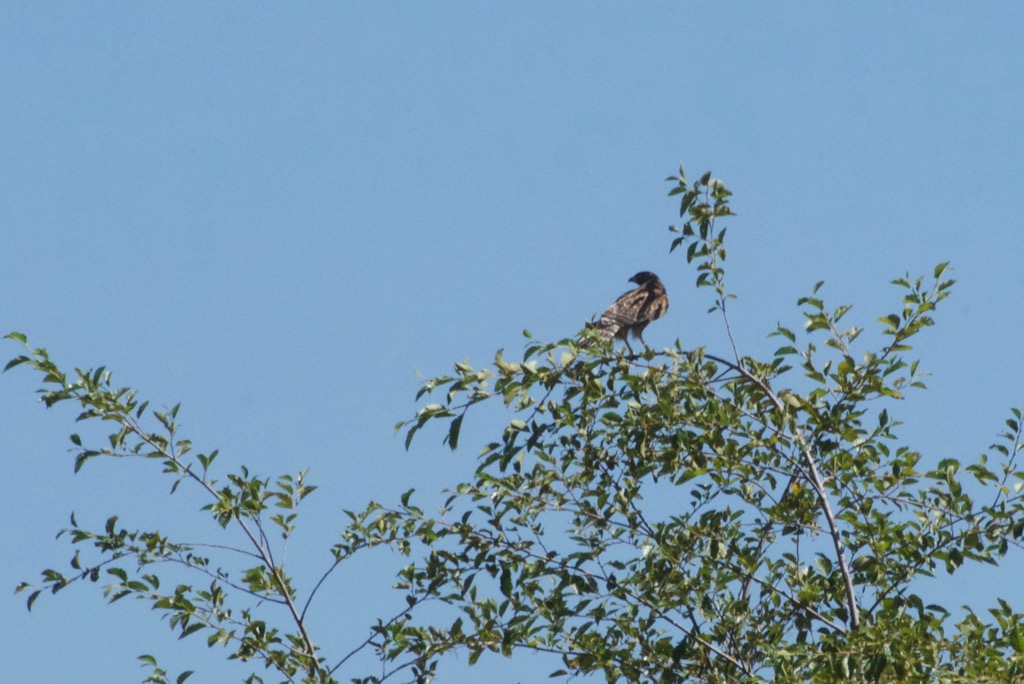 Perched and calling, soon two other Red-shouldered Hawks, at least one of them an adult, arrived. Was the adult a parent to this youngster? Well, we can't say for sure. We believe so. One thing we know with certainty: they left the area together. A re-united family is the likely explanation.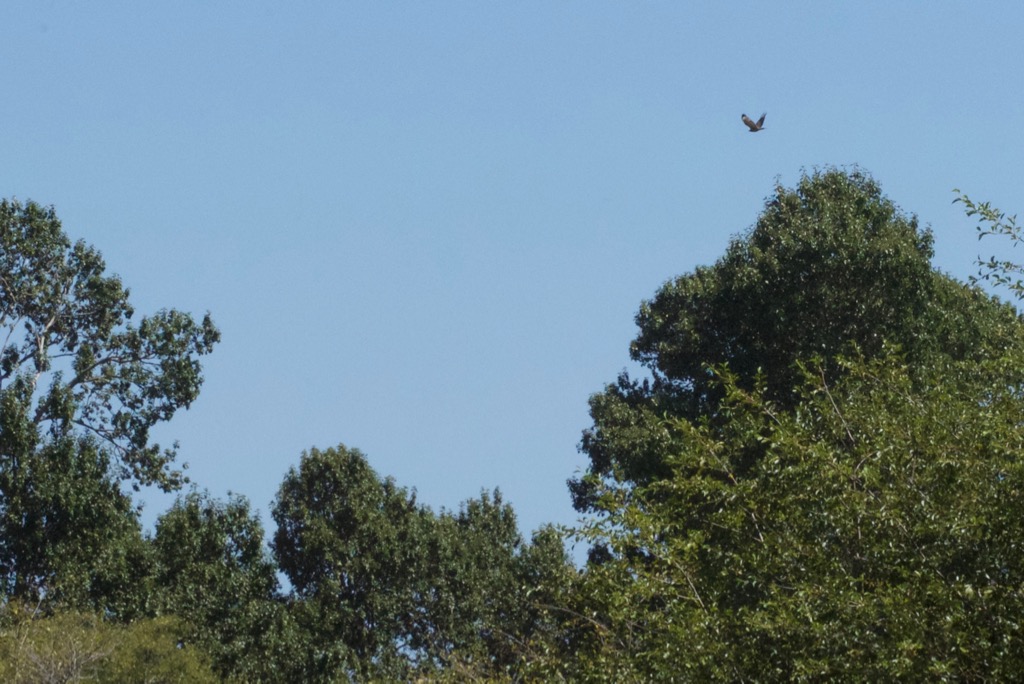 The last shot gotten as the young bird followed the adults into the trees beyond view.
---
This hawk's return to freedom is one of the important outcomes of your support for our work. More than rehabilitation is needed, of course. These hawks still must live in a world where casual violence, habitat destruction, rodenticides, lead and myriad other non-natural challenges make life in the wild more precarious than it should be. Your love for the wild and respect for Mother Earth also goes a long way toward preserving the world and celebrating life.
Want to be part of our life-saving work? Please donate today. Your contribution goes directly to the care of injured and orphaned wild animals on the North Coast and beyond. Thank you!!!

all photos: Laura Corsiglia/ Bird Ally X