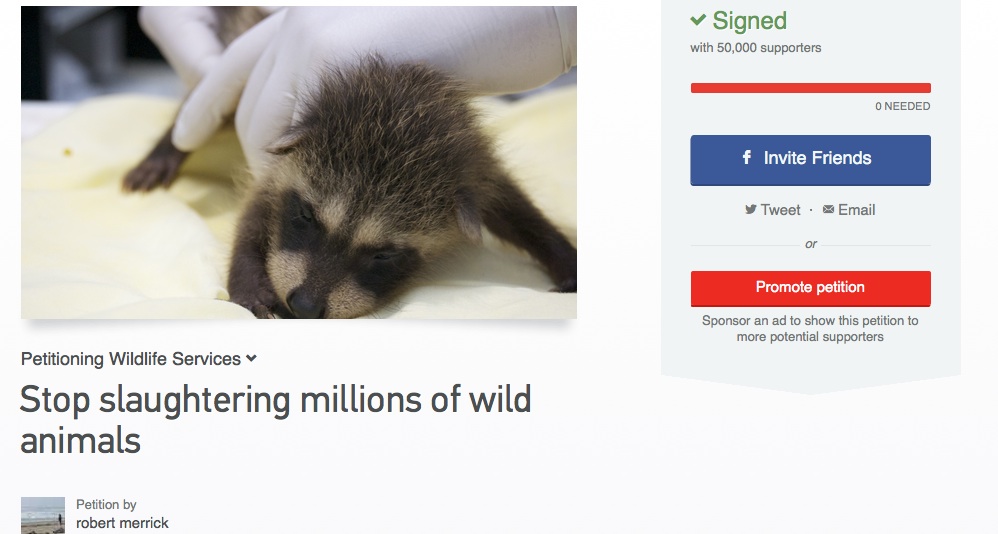 Your voice is needed!
Humboldt County's Board of Supervisors, after postponing discussion of the county's contract with USDA Wildlife Services, also known as "the Killing Agency," at their July 1 meeting, will re-open the discussion this Tuesday, July 22. (For more information, look here and here)
As regular readers of Bird Ally X know, USDA Wildlife Services has a long and ignoble history, dating back to the late days of the 19th century and westward expansion. From extermination of Gray Wolves to the senseless killing of baby Raccoons, no matter where we look, Wildlife Services is bad news for wild animals.
If you live in Humboldt County, please telephone your District Supervisor and ask that she or he votes to sever the contract with Wildlife Services.
Rex Bohn, District 1 Supervisor and Board Chairperson , 707-476-2391
Estelle Fennel, District 2 Supervisor and Vice Chairperson, 707-476-2392
Mark Lovelace, District 3 Supervisor, 707-476-2393
Virginia Bass, District 4 Supervisor, 707-476-2394
Ryan Sundberg, District 5 Supervisor, 707-476-2395
You can also send an email: (find your Supervisor's email address here.)
Here is a sample letter that you can use, or write your own:
Subject line: Sever the Contract with Wildlife Services
Sample letter: I write to ask you to sever the Humboldt County contract with Wildlife Services.

I oppose USDA Wildlife Services' involvement in lethal wildlife management for several reasons. The agency lacks a regulatory framework, and behaves like a rogue agency that is totally out of control and accountable to no one. Members of Congress are demanding accountability from Wildlife Services, which is now being investigated by the USDA Inspector General for mismanagement and is under increasing public scrutiny for killing over two million native animals and pets last year alone, including thousands of coyotes, black bears, foxes, mountain lions, and other animals in California. Wildlife Services cannot be trusted to carry out any lethal wildlife control, period.

Under the county contract, Wildlife Services would also kill raccoons and skunks that den beneath people's homes. But as a recent incident in Humboldt County revealed, when a federal trapper trapped and killed a mother raccoon and left her babies to starve and die beneath a Humboldt County home, the program conducts these activities in a cruel and inhumane way.

Traps and snares for coyotes and other species jeopardize other wildlife in California including endangered Gray wolves as they return to their native range in northern California – an unacceptable risk that Wildlife Services would simply sweep under the rug.

There are much better ways for Humboldt's citizens to co-exist with wildlife, without the killing and cruelty. I don't want Wildlife Services targeting Humboldt County's wildlife.
The main thing is to let your Supervisor know that it's unacceptable to use our tax dollars for cruelty and ignorance. We've had enough shadowy, unaccountable wildlife killing! Urge your supervisor to seize the moment. Let Humboldt County be among those who leads the way to non-lethal humane resolution for human/wildlife conflicts.
Our wild neighbors on the North Coast deserve much better than USDA Wildlife Services. Thank you for your love of wildlife and thank you for taking action!
---
Your support makes our work caring for injured and orphaned wildlife, and advocating to prevent needless injury to wildlife possible. Please donate what you can. Thank YOU!