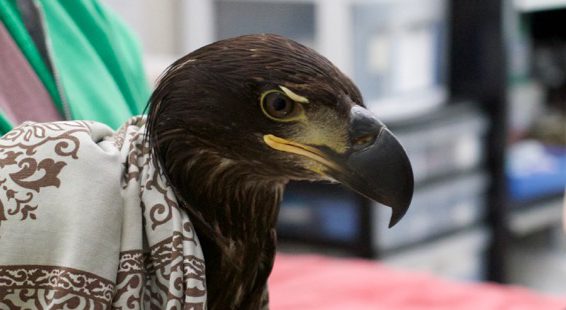 As we posted last week (original story here), we admitted a juvenile Bald Eagle for treatment on March 10th, who'd been in care at another facility since June 2016 after he was found at the base of a tree near Weaverville with broken wings.
It was apparent immediately that the fractures he'd suffered in his left wing had healed improperly for flight or even normal postures. We decided to transport the young raptor to Pacific Wildlife Care (PWC) in Morro Bay where BAX co-director Shannon Riggs, DVM serves as Director of Animal Care. Besides her general work as a wildlife veterinarian, Dr. Riggs is a very experienced orthopedic surgeon. We needed her evaluation and documentation of this bird's condition.
Last Wednesday, Elissa Blair, who was once a BAX intern and is now a staff wildlife rehabilitator at PWC, and Humboldt-based BAX co-director, Laura Corsiglia took the bird on his journey south.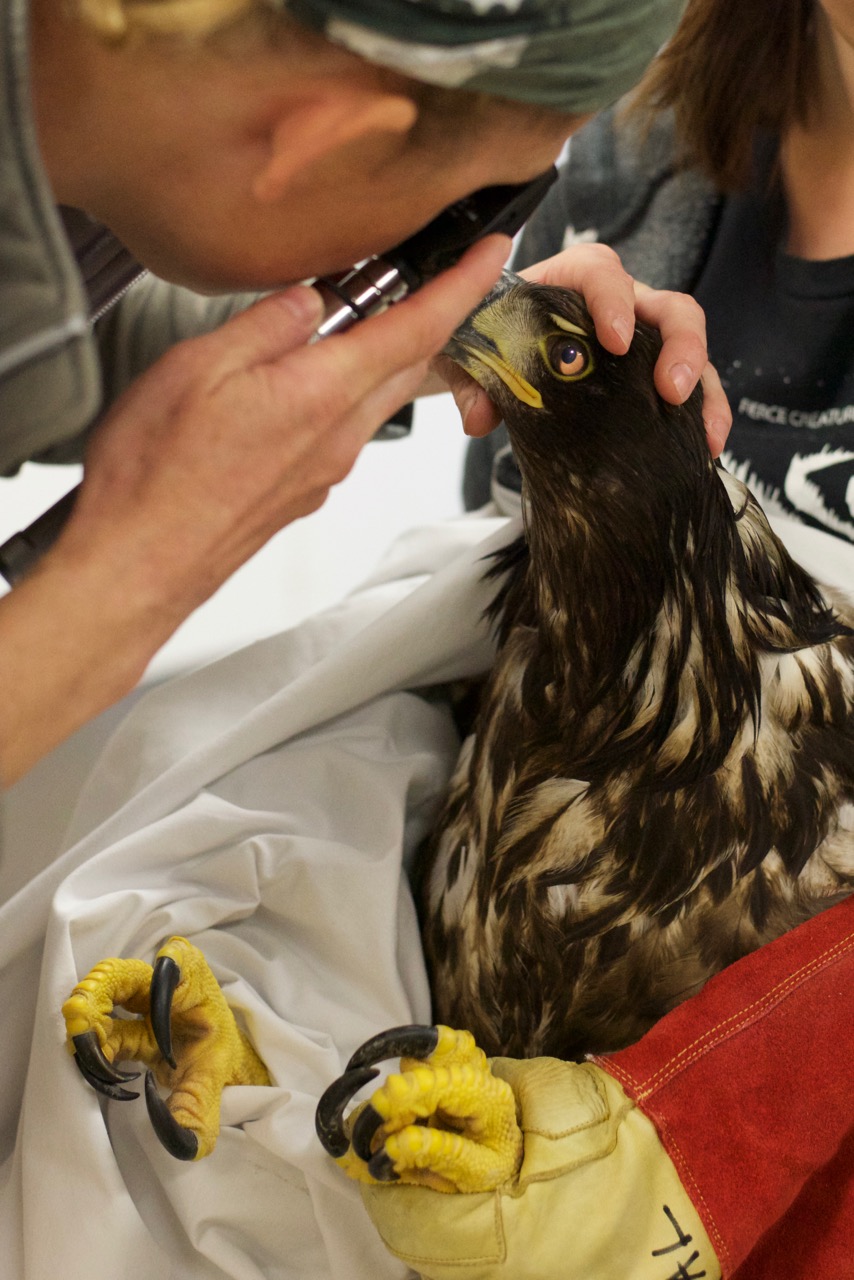 Shannon Riggs performs a complete examination of the young Eagle.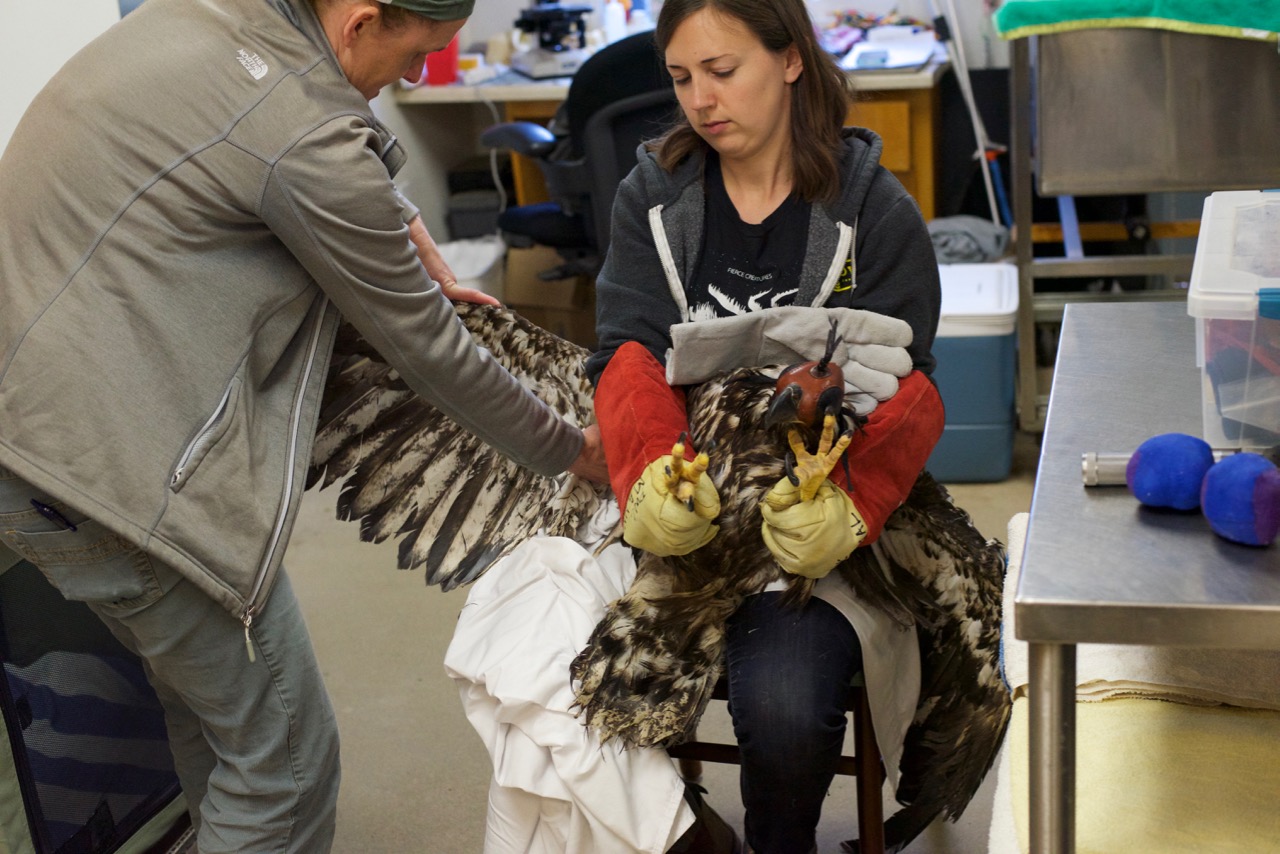 Restraining an Eagle is always challenging work. Just holding that much wild freedom, even in such a mournful condition, is a rarefied experience. It's a lot to grasp.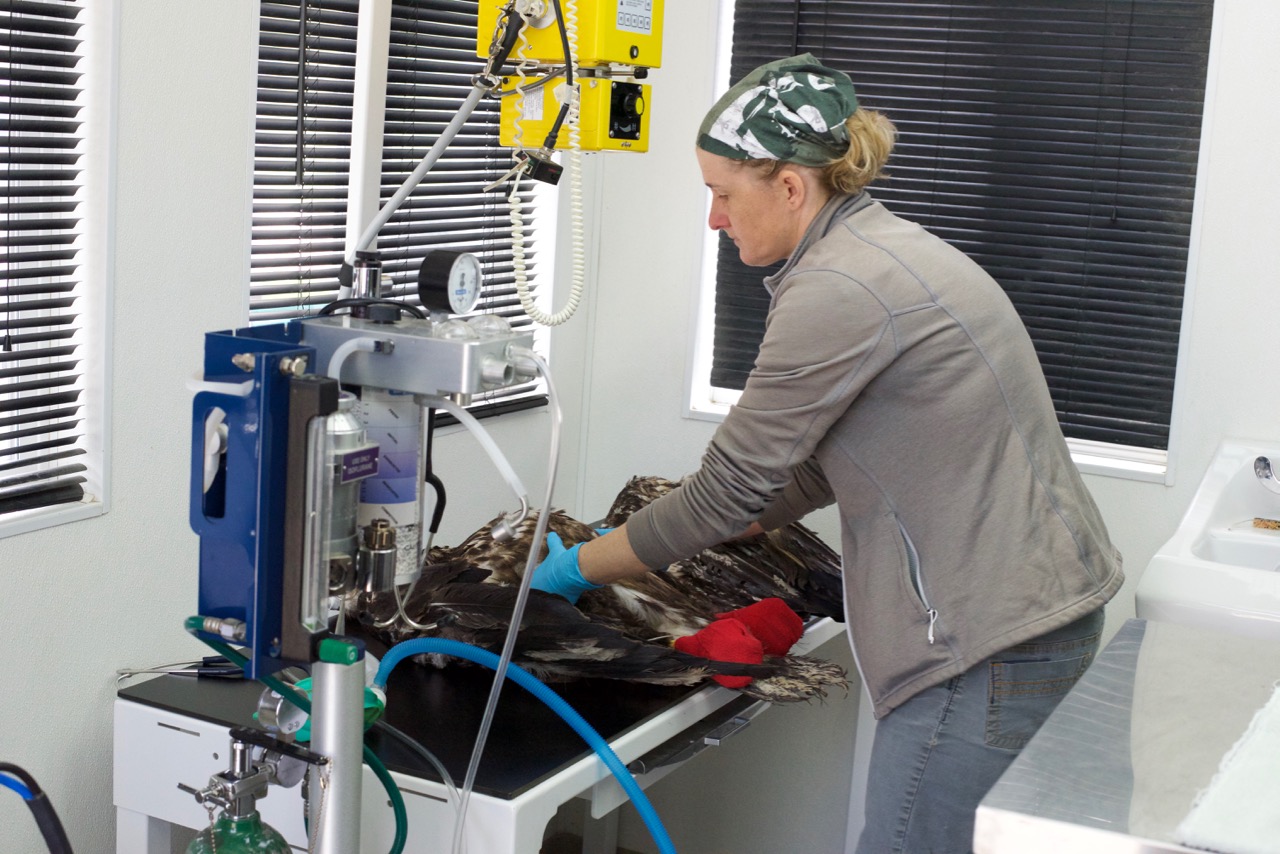 Dr. Riggs prepares the sedated Eagle for radiographs.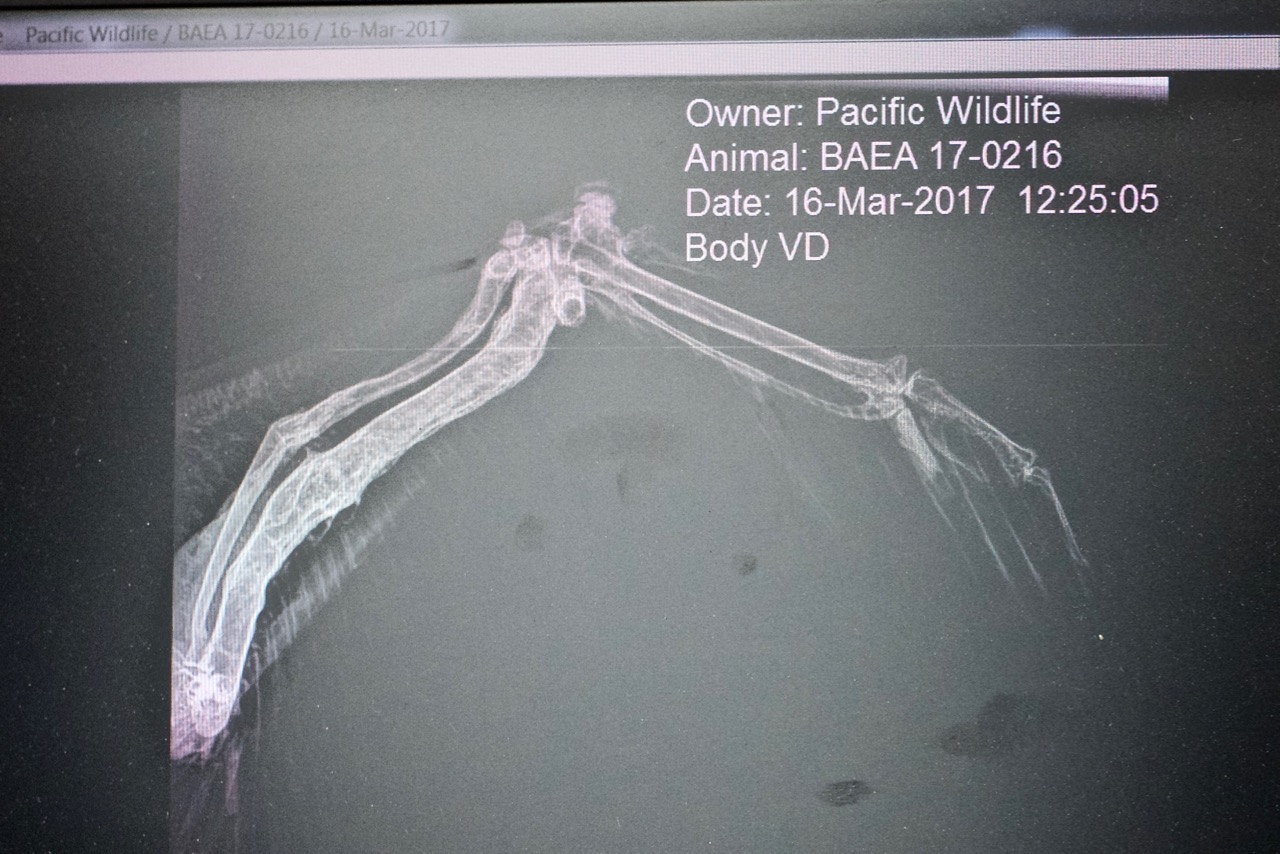 A photograph of the x-ray…  
Even though we weren't surprised, the results of the exam were devastating: a badly healed humerus, shortened by the injury and improper alignment; a nearly fused and immobilized left elbow; left radius and ulna suffered multiple fractures and have healed in a mess of twisted bones; and the bird's left carpus (wrist area), because the wing dragged on the  ground for nearly a year, suffered a lesion that had changed the shape of bones that are critical for flight. Any one of these issues would prevent this bird from ever flying, of ever being released back to the wild. Combined they made this bird's life a daily struggle with pain. With the approval of US Fish and Wildlife Service, the young Eagle's suffering was ended.
When we open our door each morning to be available for injured and orphaned wild animals, we don't know who is going to walk through … Each day brings new cases, each case brings new challenges. Every patient has her or his own story, their own needs. Some species, due to our society's atrocious history of abuse, are more strictly protected. All patients however deserve the best care we can provide. While this Eagle won't ever soar the skies above the Trinity Alps, as was his birthright, at least he's soaring somewhere.

Thank you for providing us the means to do our job. Your support is critical. Our goal to build up Humboldt Wildlife Care Center into a wildlife hospital that is also a teaching center for the next generation of wildlife rehabilitators is well under way. Please help us carry our work forward. Donate here if you can. Thank you.
All photos: Bird Ally X/Laura Corsiglia