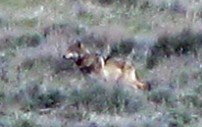 OR-7, in one of the only photos taken while he was in California (photo: CDFW)
Exciting news! OR-7, or Journey, the most famous wolf in the world, first wild wolf in western Oregon since the 1940s as well as the first wild wolf in California since 1924, may have finally found what he was looking for: a mate!
As reported today, biologists tracking Journey since he was a pup in Northeast Oregon have strong evidence that the wandering male has met up with a black female wolf in the Rogue River/Siskiyou National Forest in Southwest Oregon. While it isn't confirmed that they are denning or have pups, their movements, still being captured by Journey's radio-collar, indicate the strong possibility. It will be mid-summer before biologists will approach the pair to see if they have pups.