How this bird was ever rescued was the product of the two ingredients we rely on the most: the unlikely timings of coincidence and intuition combined with the intentional timing of preparedness. Early in the morning last Tuesday, Humboldt Wildlife Care Center staff rehabilitator, Lucinda Adamson, woke up early from a dream about seabirds. Now Tuesday is Lucinda's "Saturday" – the first day of her weekend – and getting up in the early hours of the day and heading to the beach might not be the first thing she wanted to do, but she thought she might as well go have a look. So off she went, equipped wth towels and a net, in case she found any seabirds stranded.
The surf has been rough and the waves large for most of November – and our clinic has been admitting more seabirds. We currently have several in care, recently released several more and will likely see many more seabirds before the end of the year.
[Yes, we need your help! Every day of every week of every month of every year we are here for the injured and orphaned wild neighbors. From Chipmunks to Pelicans, we are ready to help who ever comes through our door! Help us meet our critical November goal of $7000 ] 
As soon as Lucinda got to Samoa Beach she found a bird. A Pacific Loon (Gavia pacifica) tangled in a lost scrap of fishing net. Scooping the bird up she brought him into the clinic just as staff was beginning the workday. Some mild teasing about working on her day off was in order, as we moved to admit the entangled loon.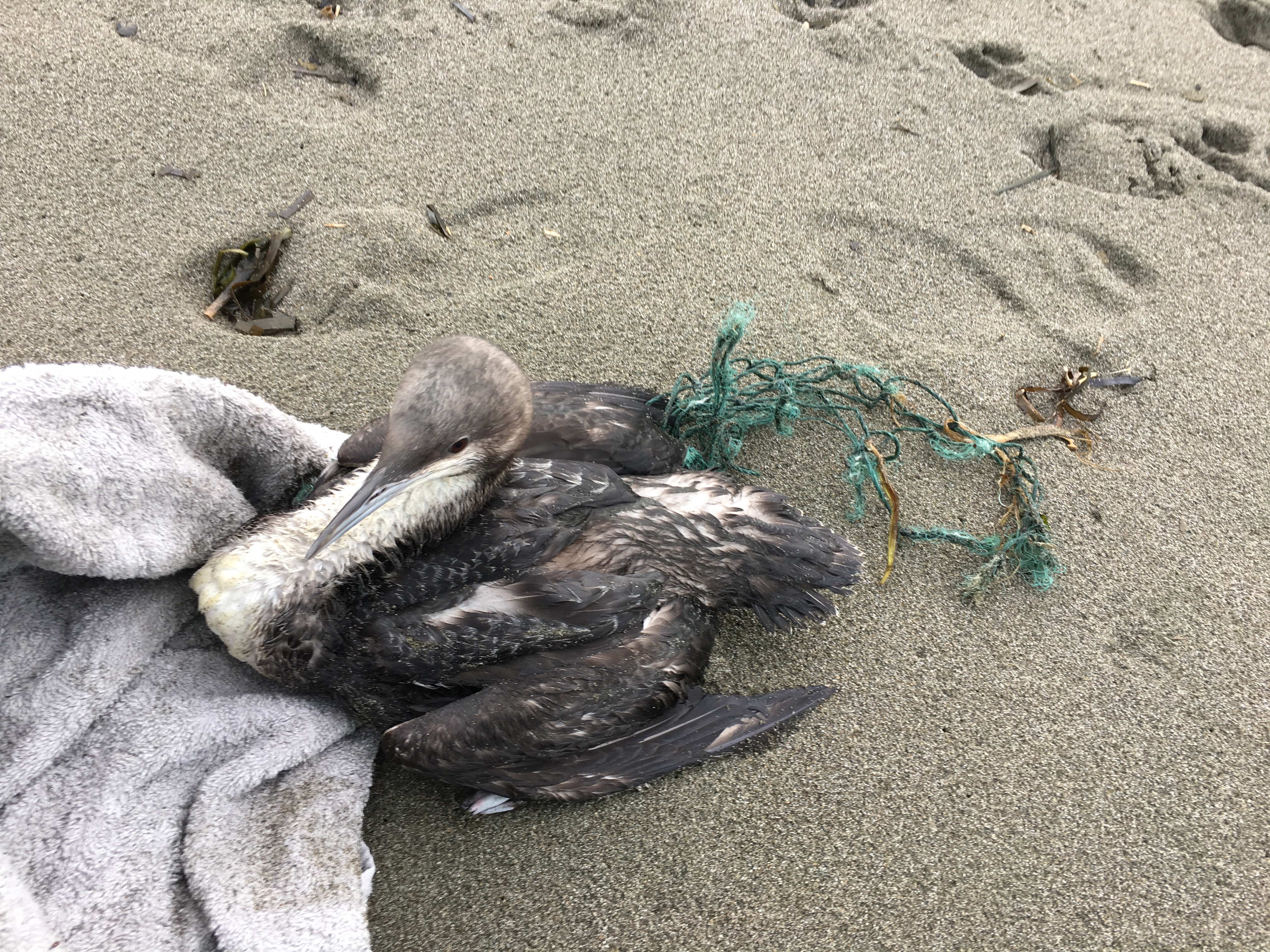 On the beach at the moment of rescue -, any loon on a beach is a loon with a problem. If you see something say something!
---
Derelict fishing gear, improperly discarded fishing line, hooks, and lures are estimated to kill thousands of wild animals each year along California's coast. At Humboldt Wildlife Care Center, we don't see many birds entangled, but that doesn't mean they aren't there. This Loon was found early in the morning, when the tide was low, during inclement weather on a deserted beach. That he was found at all is incredible.
Fortunately, although both feet, both wings and even the bird's head and neck were caught in the net, no injuries except for a few mild abrasions were noted. The net slipped off easily. After a quick examination, we realized that bird was indeed very lucky – no serious injuries, thin but not yet dangerously thin, and still very alert and strong. After the exam we put the Loon in our new seabird pool to test his feather condition. Again, he was in better shape than many – waterproof, immediately diving, able to stay in the cold water and thrive. Now all he needs is time to regain lost weight.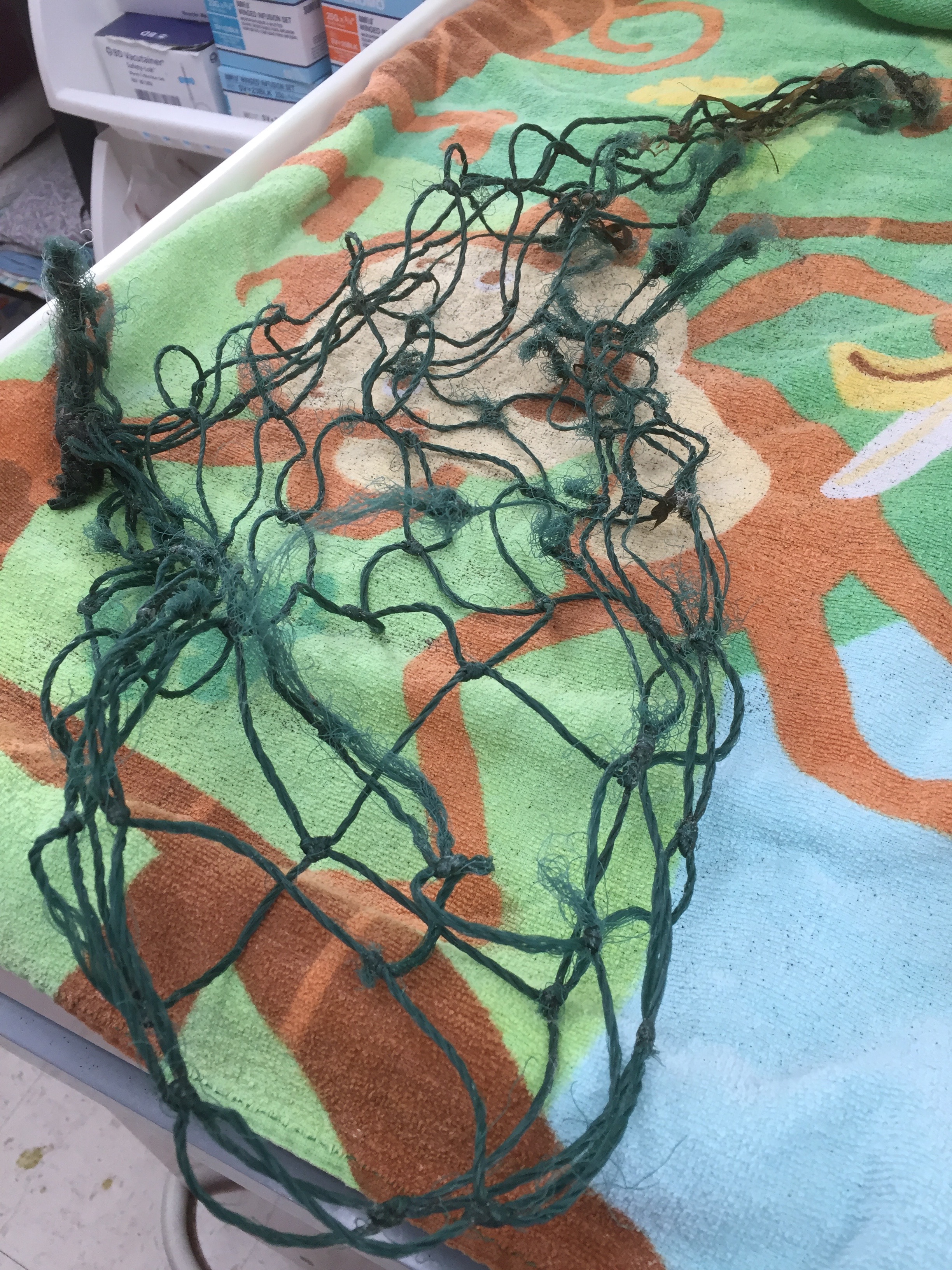 The small scrap of net that had very nearly killed this Pacific Loon.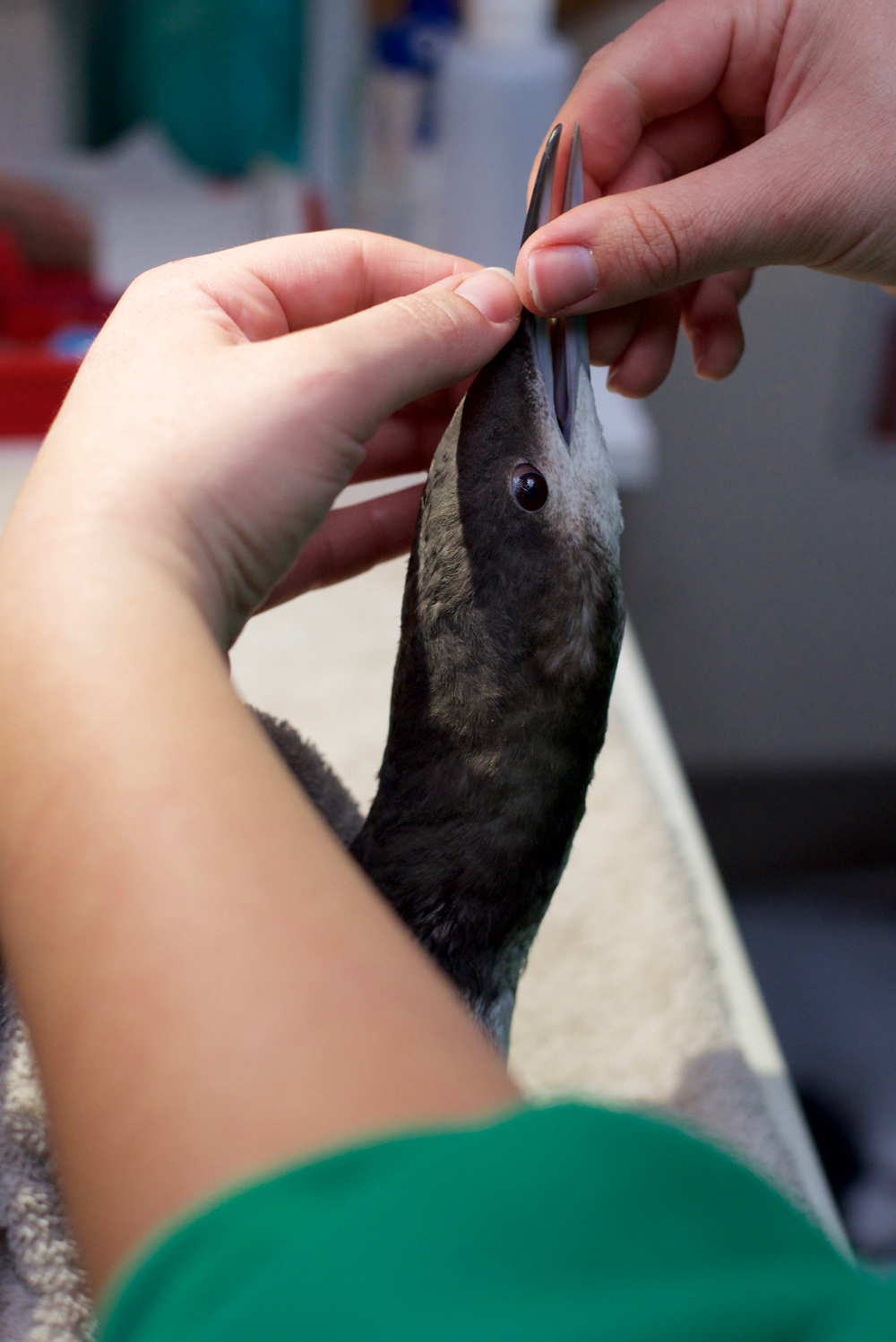 A moment during the examination after three days in care.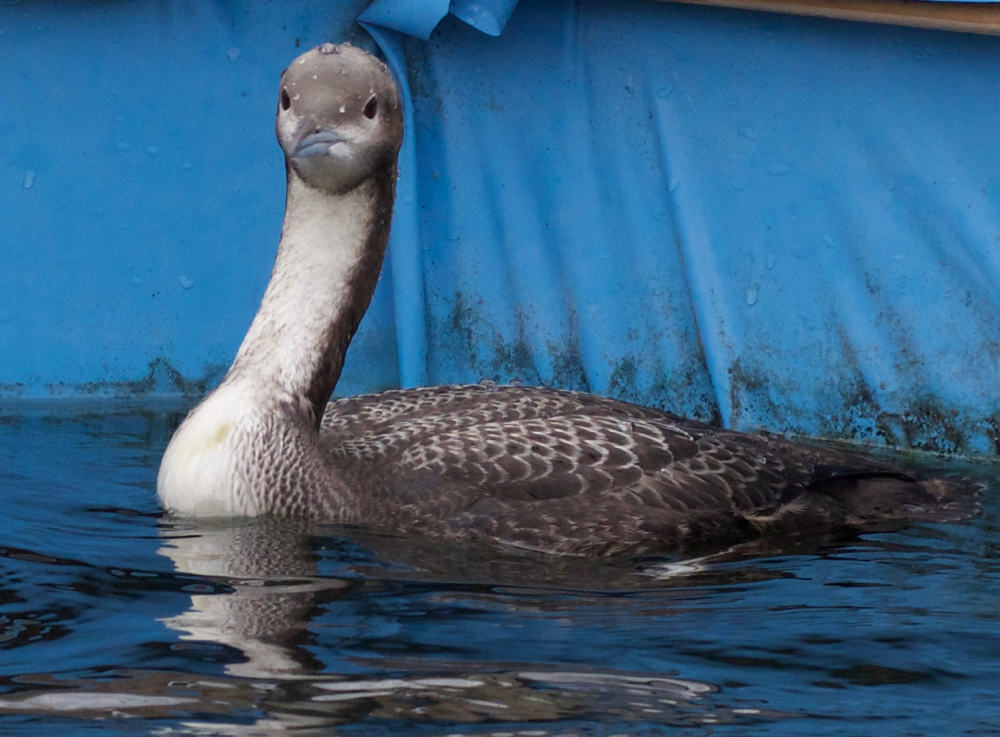 In our pool, waterproof and doing well – with a good prognosis, this loon is beating the odds.
---
This Pacific Loon is one of the luckier victims of derelict fishing gear. Most die at sea. Loons that make it to shore are often so debilitated that their chances for recovery are poor. Less than 50% of our patients impacted by  are able to be released. If it wasn't for your support – none would be. You provide the resources that enable us to take care of less common patients like this Pacific Loon, as well as pay staff members like  Lucinda, who's dedication and willingness to follow her early morning intuition rescued this bird from certain death. We rely on you, now and always.  Thank you for your support!