by Monte Merrick
(July 3, 2010) Since BP's offshore drilling rig, the Deepwater Horizon, exploded while trying to finish the well it had dug 18,000 feet below sea level, rumors and reports persist, mostly unexamined by the Associated Press, the New York Times, the Los Angeles Times, and the Wall Street Journal, of major malfunctions and doomsday scenarios.
While many of the rumors surrounding the environmental disaster seem far-fetched, such as the theory of North Korean submarine attack, or false-flag operations meant to achieve an obscure political aim, a few stories cannot be so easily dismissed.
In fact, one of the stories that had been haunting the web suggested that the well casing was compromised below the seafloor, rendering impossible any attempt to stop the flow from above. As we discovered after a month of the above-ground press' relative silence and BP's active denial, the well is indeed severely damaged, a fact that has been known since at least the failure of "top kill" in late May.
a Hard Rain's a-gonna Fall
Another persistent though as yet unconfirmed story involves "toxic rain." Although appearing in a few different forms, the basic concept is that oil and dispersants in the Gulf of Mexico are brought ashore by rain, poisoning farmland and causing disease in plants and animals – at the outer limits of this idea we hear of the entire eastern seaboard rendered foul. Somewhat more credible is a report aired on a Memphis television news program from June 6 that details strange disfigurements of area crops, although this report does not attribute the mystery ailment to any known cause. No follow up could be found.
Two days ago, June 30, the Christian Science Monitor ran a piece, Oily rain and cracks in the earth: Busting Gulf oil spill myths. While the headline suggests that toxic rain from the spill is a myth, within the body of the article another view is revealed.
Journalist Bill Sasser reports that according to associate professor of oceanography at Texas A&M, Albert Mestas-Nuñez, crude oil cannot evaporate and then reconfigure into the same oil and fall back to Earth. However Mestas-Nuñez goes on to say that "[t]he oil and surfactants that are out in the Gulf are very complex chemical compounds. How they evaporate, how they recombine with different elements, and their solubility with water could be very complicated and has not been studied. What we have going on now in the Gulf is a huge science experiment and research needs to be done on it."
Sasser makes passing reference to acid deposition or "acid rain" as well as "black rain," both of which occur as hydrocarbons (for example, oil, methane, benzene, and the chemical results of their burning) carried aloft and returned to Earth, either as fallout or with rain.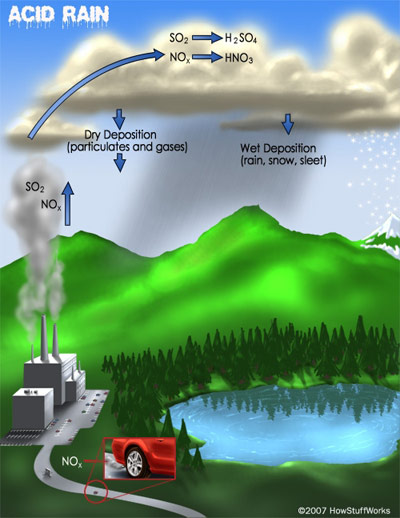 Acid rain results from the burning of fossil fuels, sending sulfur dioxide and nitrogen oxide into the atmosphere, which then come back down as solid, gas or liquid (with rain, snow, or fog). Although not as famous as it was twenty or more years ago, acid rain is another chronic disaster of of the industrialized world.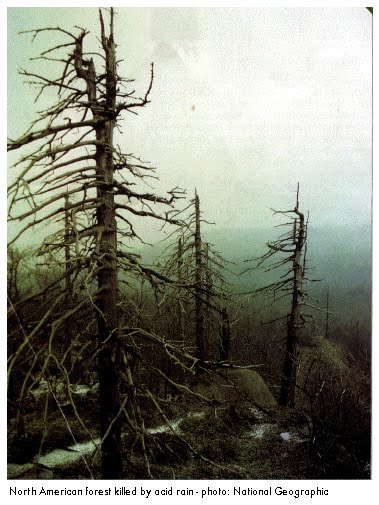 The Persian Gulf War of 1991 also provides a well-documented
example of hydrocarbons coming down to Earth as "black rains."
From a February 18, 1991 article, Iraq Oil Fires Causing Showers of Black Rain published by the Los Angeles Times we learn:
Intelligence and press reports over the last week say allied raids or Iraqi sabotage have started a number of oil-field fires in the occupied sheikdom, pumping a blanket of thick oil smoke over the battlefield. Whatever its military significance, civilians fleeing Kuwait say the oil smoke damaged air quality in Kuwait city.
"It's hard to breathe under this smoke," said Jemila Assi, a 42-year-old woman who fled Kuwait three days ago and crossed the Iraqi border into Jordan on Sunday. "Everything's oily; your hands are black."
Black rain is one of the environmental hazards of the Persian Gulf War, along with the oil spills threatening wildlife and water supplies along the Saudi and Iranian shorelines.
In the the journal, Environmental Science and Technology (May 1992) Dr. Hunay Evliya, professor at Cukurova University reports that "black rain," which felt like oil, and smelled like oil, fell on Turkey, February 25, 1991 – less than a month after the oil fires had been started, 1500 km to the southeast, near Kuwait City. The massive oil fires, started by US bombs and retreating Iraqi forces, burned for months. Oil and chemicals, possibly associated with these fires, fell with rain in Turkey over that period.
Black rain was also reported during the war in Kosovo.
Milenko Vasovic of the Institute for War and Peace Reporting wrote in his 1999 article, Hiding Under the Black Rain:
When Novi Sad youngster D. Benasic went out on the streets last month to play football with his friends he was wearing white trainers. But when he returned home his shoes were literally black as soot.
Fortunately for the boy, his parents' frustration was reserved for NATO, not him. Their streets have been drenched with slimy, sooty rainwater, the result of the West's attack on Novi Sad's oil industry on May 1.
Thirty oil tanks were set ablaze and continued burning until May 11, sending foul smoke into the air all the while. Rains swept the sticky grime through the city thoroughfares, onto the boy's shoes — and into the Danube River.
It was also noted that "bombings carried out by the United States resulted in leakages in oil refineries and oil storage depots… and oil burning released sulphur dioxide, nitrogen dioxide, carbon monoxide… into the air. Heavy clouds of black smoke… over burning industrial targets caused black rain to fall on the area around Pancevo."
Black rain and catastrophic oil spills have, of course, occurred in the Gulf of Mexico before. Myrna Santiago, associate professor of history at St. Mary's College of California, tells of an early disaster that oil extraction brought to the Mexican state of Veracruz:
Between 1904 and 1938, it rained oil in the Huasteca. Forests, mangroves, swamps, marshes, sand dunes and everything in between were blanketed in oil at one point or another. The oil companies didn't lay out pipelines until they could be sure of a return on their investment. Freshly discovered oil spewed out of the land until the pipelines were finished, creating open oil pits, or "dams" from seven to 30 feet deep. By 1918, there were 66 oil pools in the Huasteca. The result of oil extraction, therefore, was dramatic pollution. By 1920, for example, the Tampico Chamber of Commerce complained of losing the Gulf Coast beaches. Waves carried oil and dumped it on the sand; beachgoers could neither swim nor sunbathe. Rivers, streams, estuaries, lagoons, lakes and other bodies of water along the Mexican Gulf were contaminated as well.
Numerous wells also caught fire. The worst conflagration took place at Well #3 in San Diego de la Mar, which spurted a black column of oil and burst into flames on the Fourth of July, 1908. The explosion was so large that the earth sank and left gaping holes like two mouths. The place has been known as "Dos Bocas" ever since. The fire lasted 57 days; nothing could put it out. The black cloud of smoke could be seen from miles away; sailors at sea in the Gulf of Mexico read by the glow of the fire. In Tampico , 65 miles north, it rained black ink as the cinders dissolved and fell on city streets.
Dos Bocas remains the largest oil spill and fire in history: about 420 million gallons of oil buried 30 square miles of forest, swamps, mangroves and marshes in oil. By comparison, the 1989 Exxon Valdez spill was 10.8 million gallons and the 1991 Gulf War spills and fires lost 240 million gallons. When the fire burned itself out, a toxic lake remained. Poisonous gases rose in clouds from its waters. One hundred years later, the lake is still there; the environment has not recovered. Neither has the rainforest; by 1938, it was gone, never to return.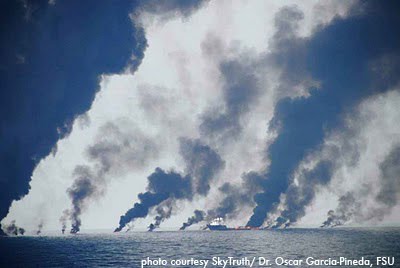 Meanwhile, as of June 27, as reported by John Amos of SkyTruth, the slick in the Gulf of Mexico covered over 24,000 square miles, an area larger than West Virginia. As of June 28, BP claims to have burned approximately 10 million gallons of crude oil, and they continue to burn another 330,000 gallons each day, as well as "flaring," or burning off, 57 million cubic feet of natural gas, which is predominantly methane, each day.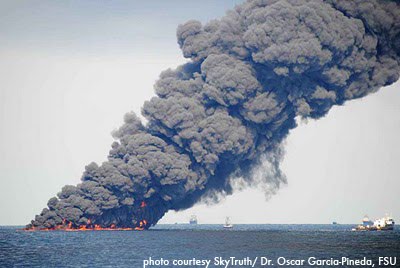 57 million cubic feet of natural gas, the amount flared each day, would provide a decade's service to 62 average American households.
How much oil has been burned "in situ"? The US Coast Guard claims it, as well as BP contractors, have burned 238,000 barrels. Given the contentious nature of oil volume estimation, and the record of Unified Command for truth-telling, the actual volume will never be known.
CBS news story on "in situ" oil burns, a controversial method for removal of oil from the sea.
UPDATE and CLARIFICATION 4 July 2010: Thanks to John Amos for pointing out that in the cases of "black rain" cited above what came down was the remains of oil that had been burned, not intact oil. If this was not clear, I apologize. Black rain, as described, is the result of combustion. mm