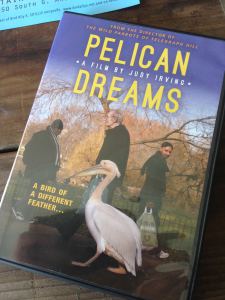 As part of our End of Summer campaign, we have a limited number of DVDs available as a special thank you when you contribute $100 or more!
The Pelican Dreams DVD has over an hour of extra features!
Released in 2014, we are excited to announce that Pelican Dreams, the latest documentary by award-winning filmmaker, Judy Irving (The Wild Parrots of Telegraph Hill) is now on DVD.
Centered around the story of "Gigi" – a very young (4 months old!!) female Brown Pelican who landed on the Golden Gate Bridge one afternoon in August 2008, the film follows her rescue and rehabilitation. Brought to International Bird Rescue in Fairfield, California the story is helped along by "Gigi's" primary caregiver (BAX/Humboldt Wildlife Care Center's co-director, Monte Merrick). As the Pelican's primary caregiver, the film spends some time with him, as well as wife and partner and fellow co-director, Laura Corsiglia.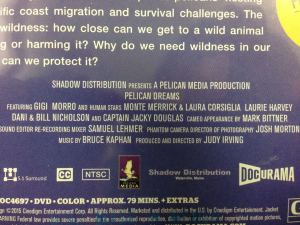 The film took over 6 years to make and includes footage from Bird Ally X/Humboldt Wildlife Care Center rescue work, and uses footage shot in Crescent City Harbor by Arcata's own Ishan Vernallis (Medicine Baul).
Thanks to Judy Irving and Pelican Media, we can offer these as a special thank you for contributions of $100 or more! Become a member!
Thank you for being a part of this life-saving work!