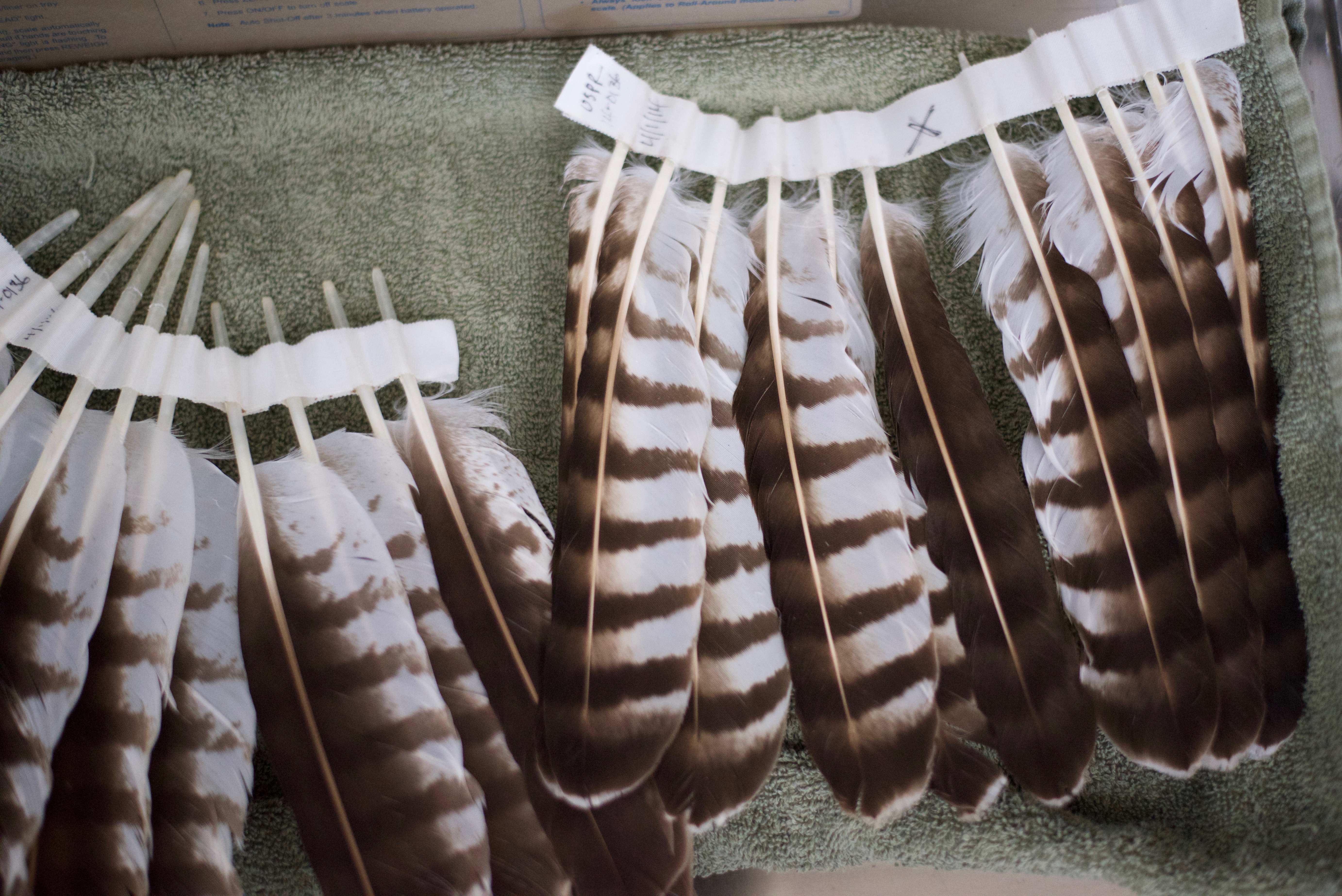 Earlier this summer, we admitted a weakened and burned Osprey (Pandion haliaetus) who'd been the victim of a nest fire northeast of Weaverville, well over 100 miles away from our clinic.
[July is nearly over and we still need your help reaching our goal of $5000 raised by the end of the month! Please donate! And thank you to everyone who has already! ]
The burns that the bird suffered had a good prognosis, and generally speaking, the "fish hawk" was in good shape, except for one critical component: all of the Osprey's primaries, or flight feathers, were singed beyond usefulness, as were all of his tail feathers.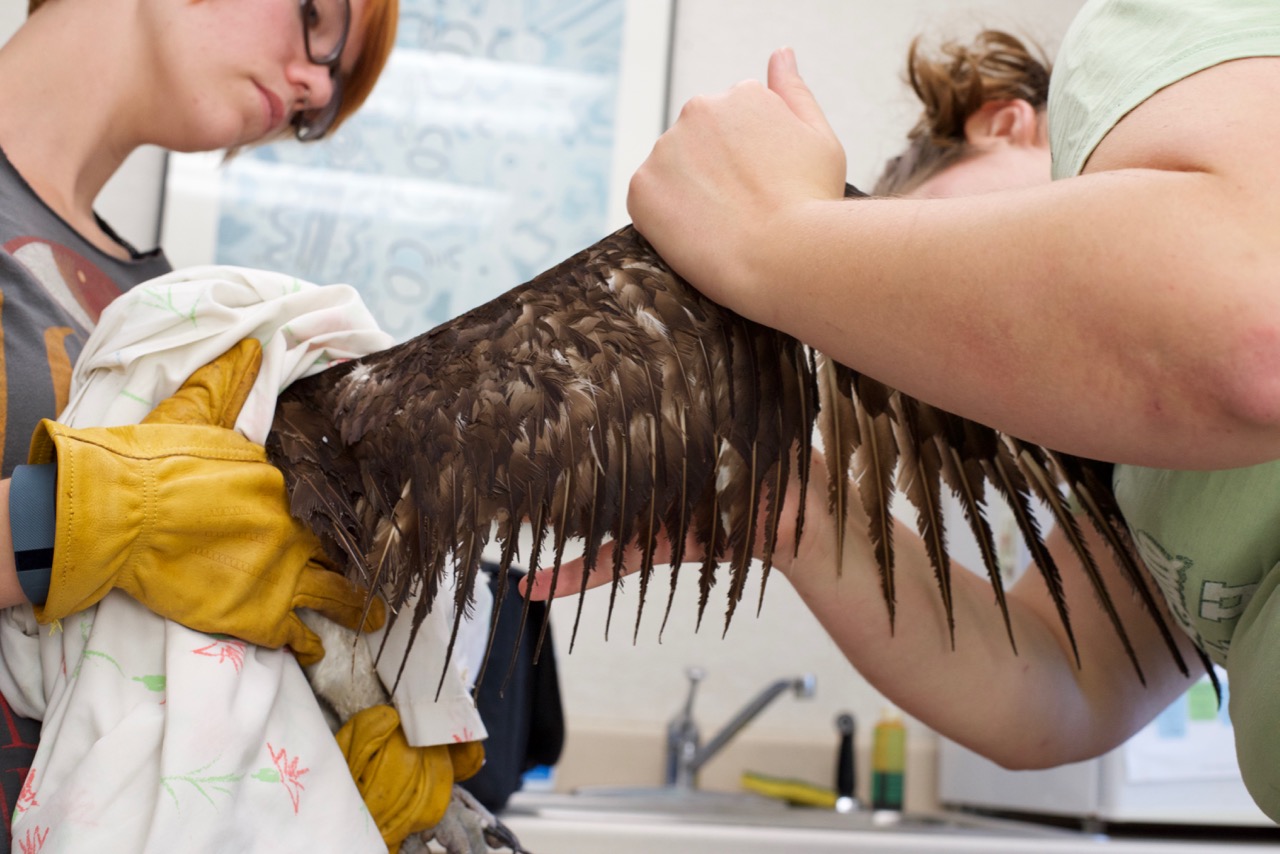 Without these feathers, our patient couldn't fly, let alone plunge feet first from the sky into Trinity Lake, and then muscle his way back from the water into the air, carrying off a large fish for a meal for himself or his young.
In this condition, the Osprey was far from releasable. We gave him a safe aviary and plenty of fish and looked for signs that he was entering his molt cycle, the time of year when birds renew their feathers… Osprey do replace them at this time of year, so we hoped for a natural cure.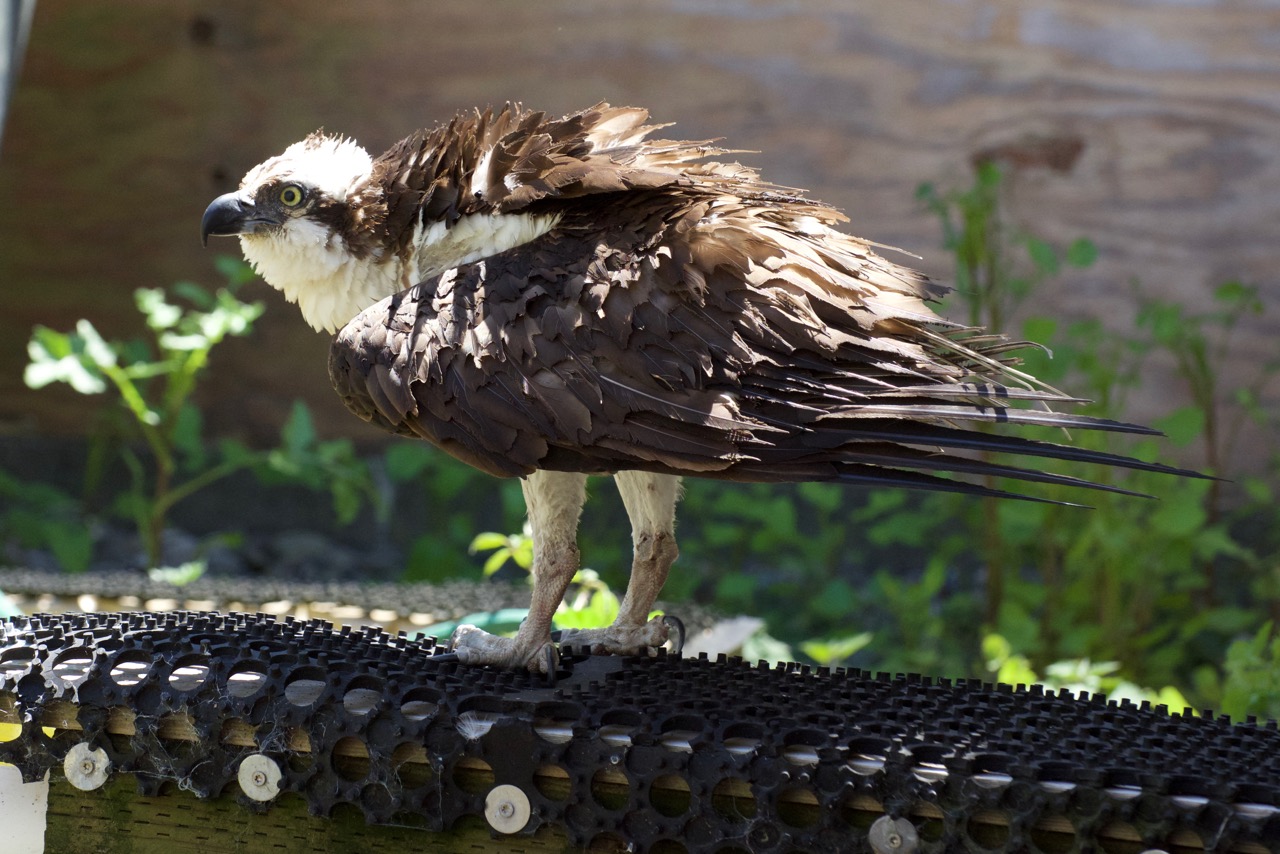 After a few weeks though it became clear that waiting for a molt was going to take too long for this bird. So we turned to another option.
Imping is a process by which old feathers can can be replaced. Of course, donor feathers of the same species are required. In February 2012 we'd released a Thayer's gull whose primary feathers on one wing had been crushed. Using similar gull flight feathers we successfully imped them to the cut shaft of the damaged feathers. This isn't surgery. This is more like furniture repair, or life-saving hair extensions.
The success of that patient's treatment led us to start a feather bank, just as there are blood banks and organ donors. Back in April of 2014, we'd admitted an Osprey for care who'd suffered a severe humerus fracture. Humane euthanasia was the only appropriate treatment.  Once the bird's suffering was over, we removed a complete set of primary feathers and tail feathers. Stored against damage from elements or insects, these feathers were in the same condition, over two years later, as when we'd first collected them.
Now this Osprey of 2016 will get a second chance.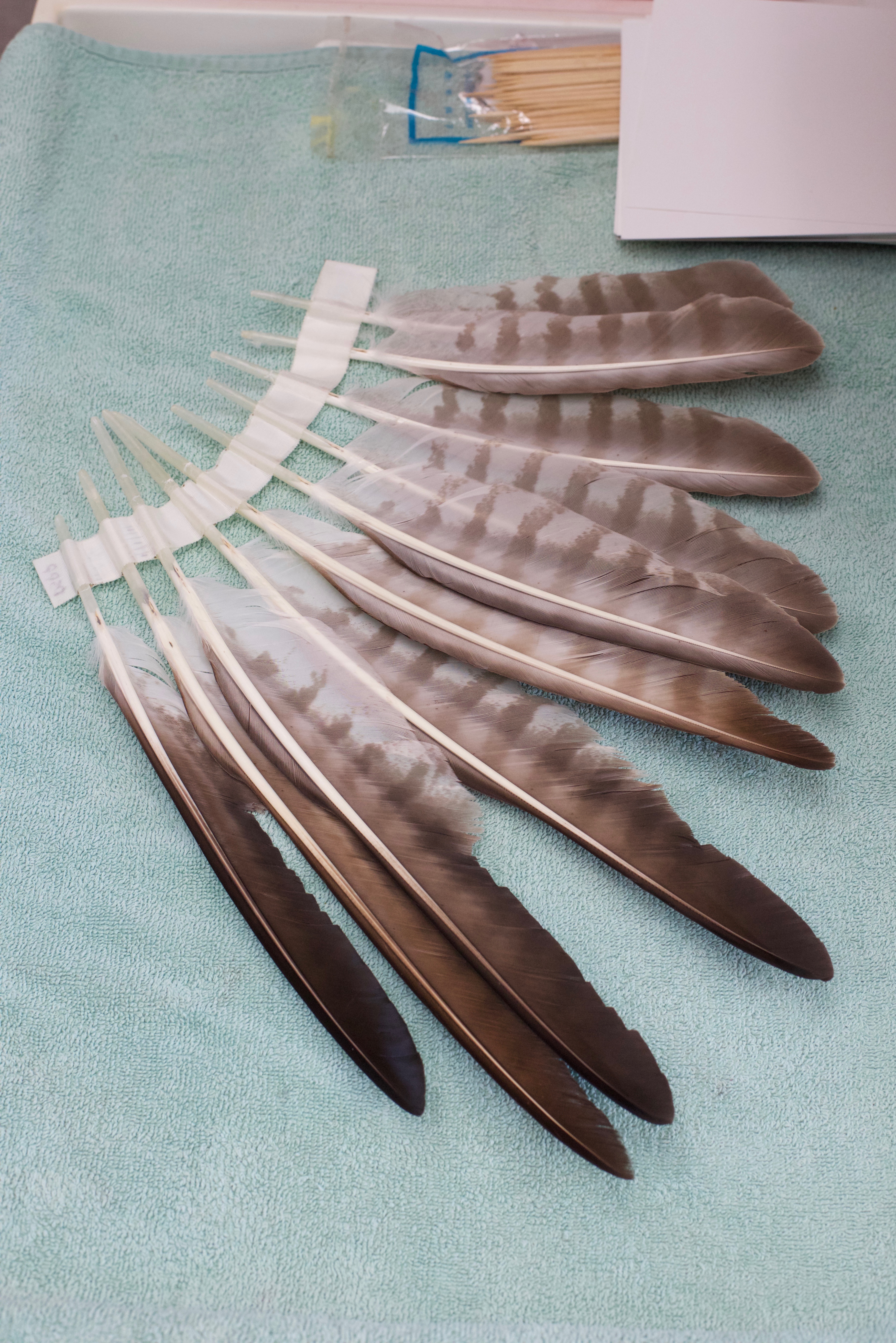 Complete set of the primary flight feathers for the right wing of an adult Osprey. Flight feathers are called remiges, a latin word combining the word for oar and the verb to drive – it is accurate to think of these feathers as the oars birds use to paddle through the air.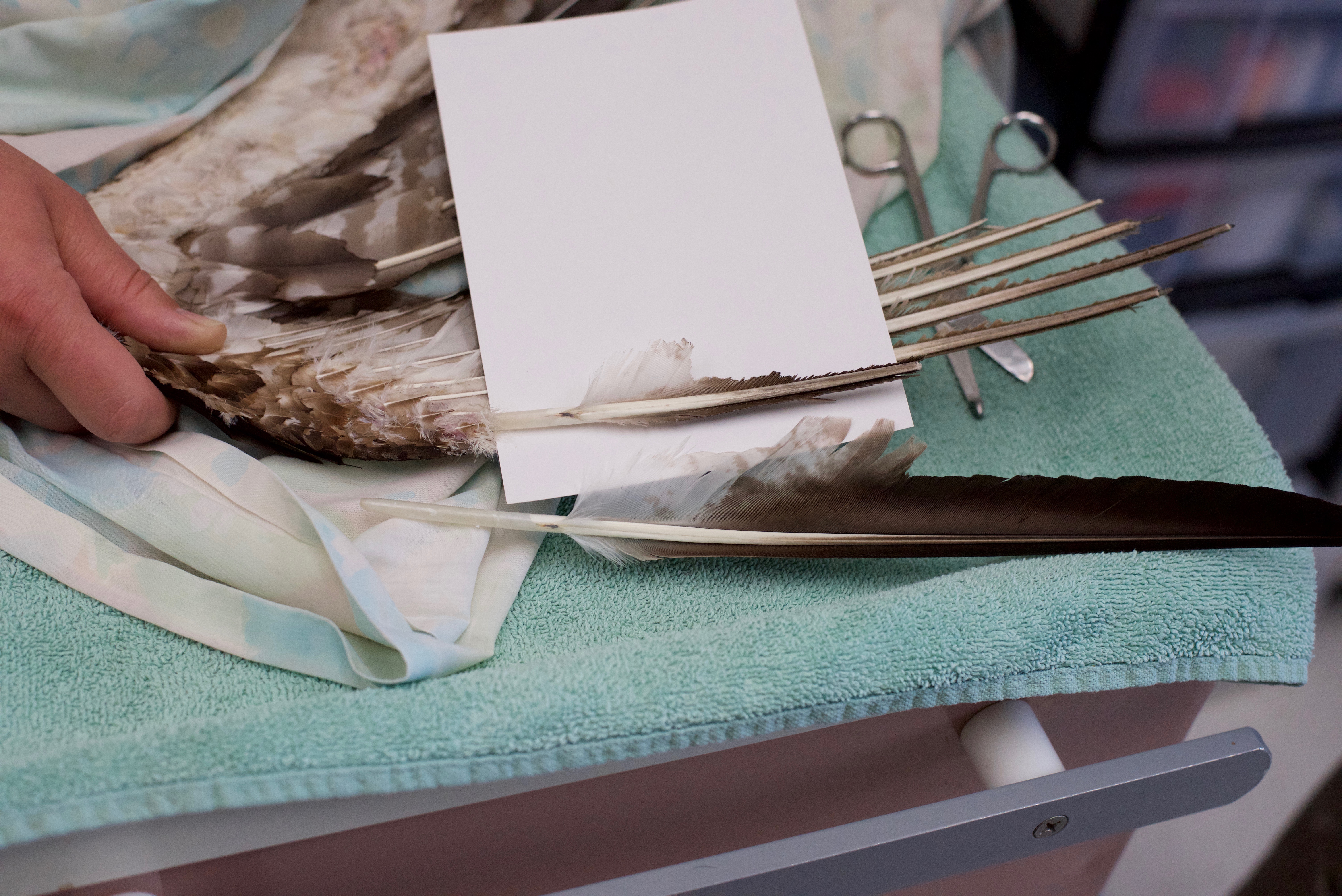 First new flight feather, alongside the damaged one.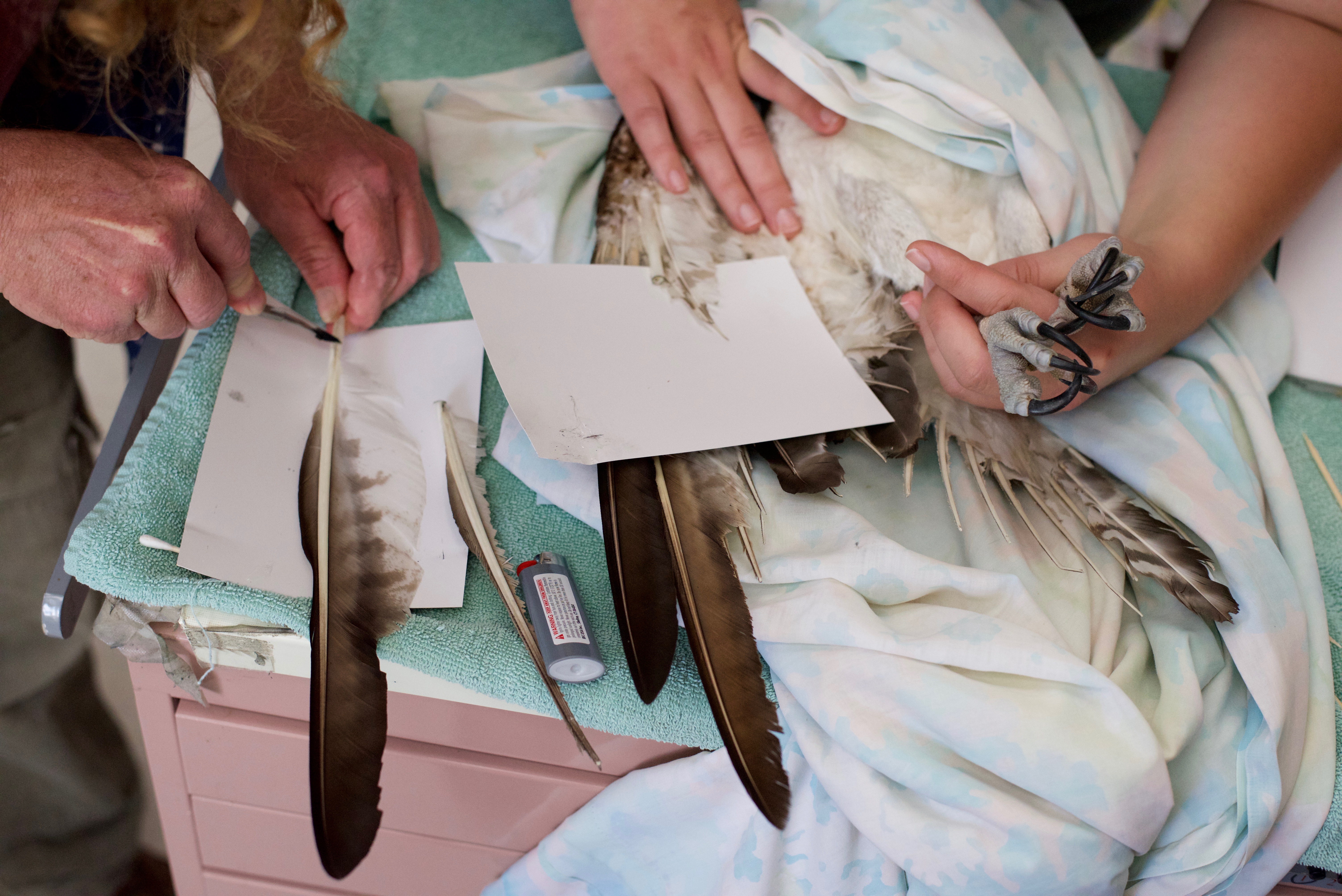 A heated scalpel blade easily slices through the keratin shaft of the feather.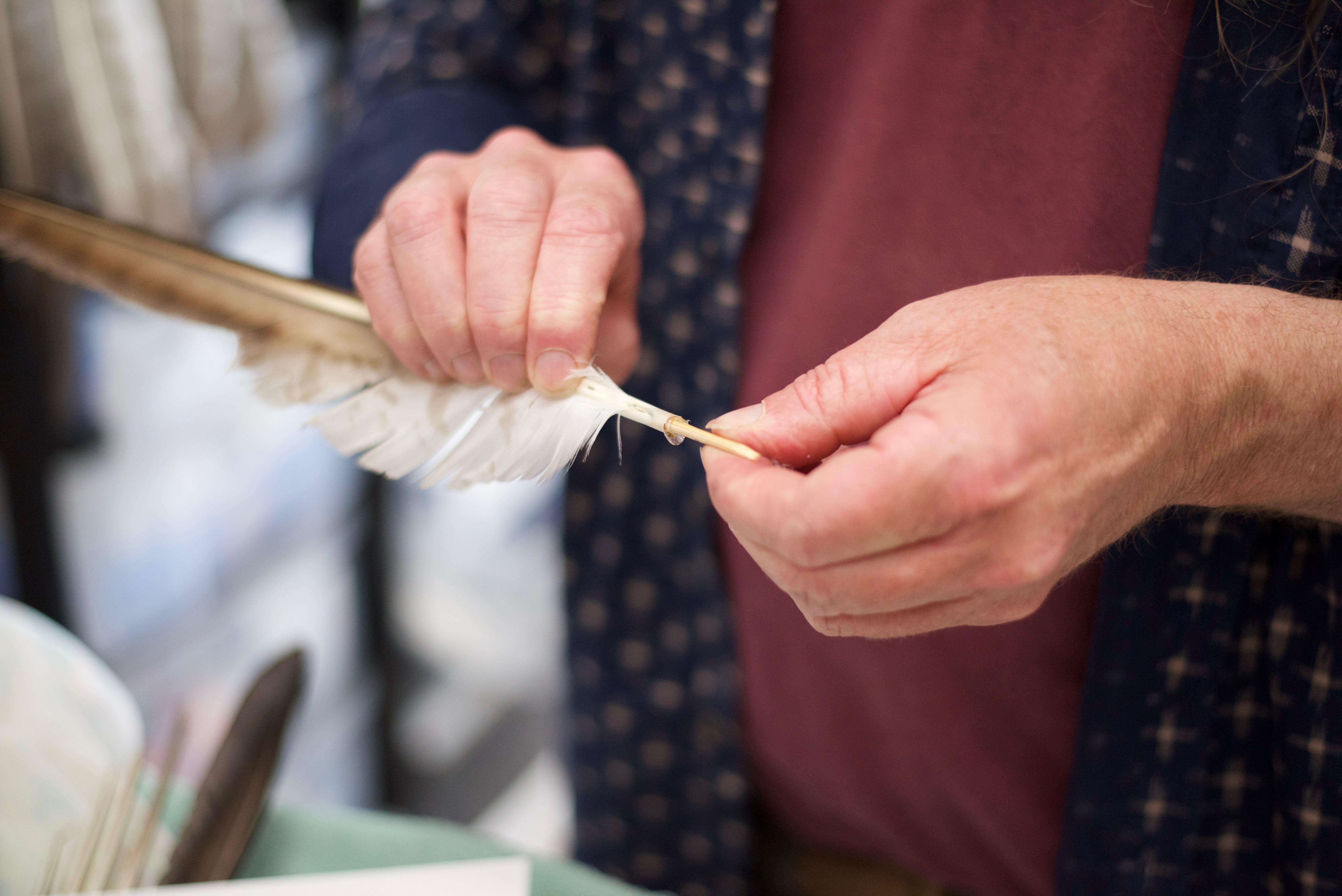 A small dowel is glued into the hollow shaft.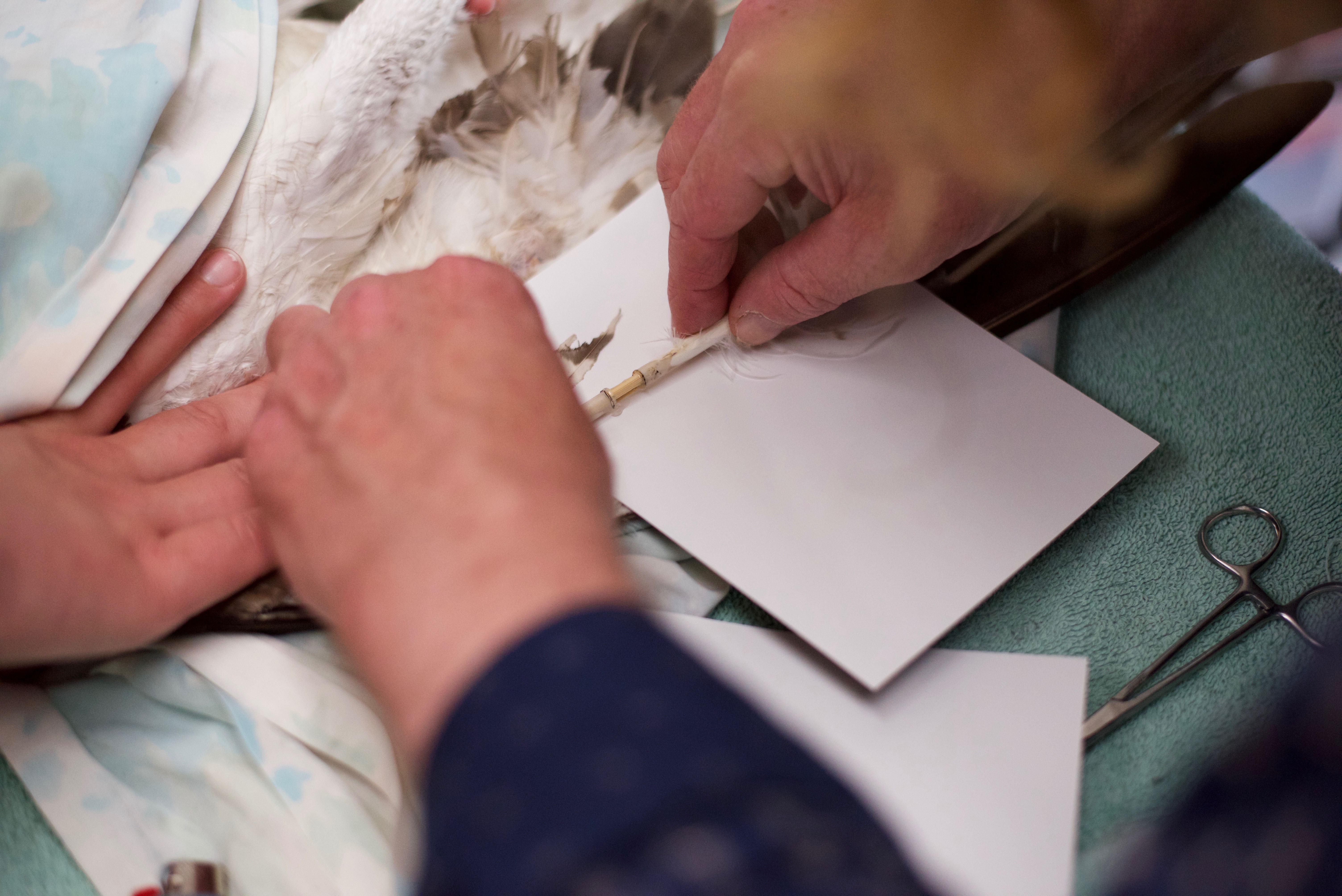 The same is repeated on the other side.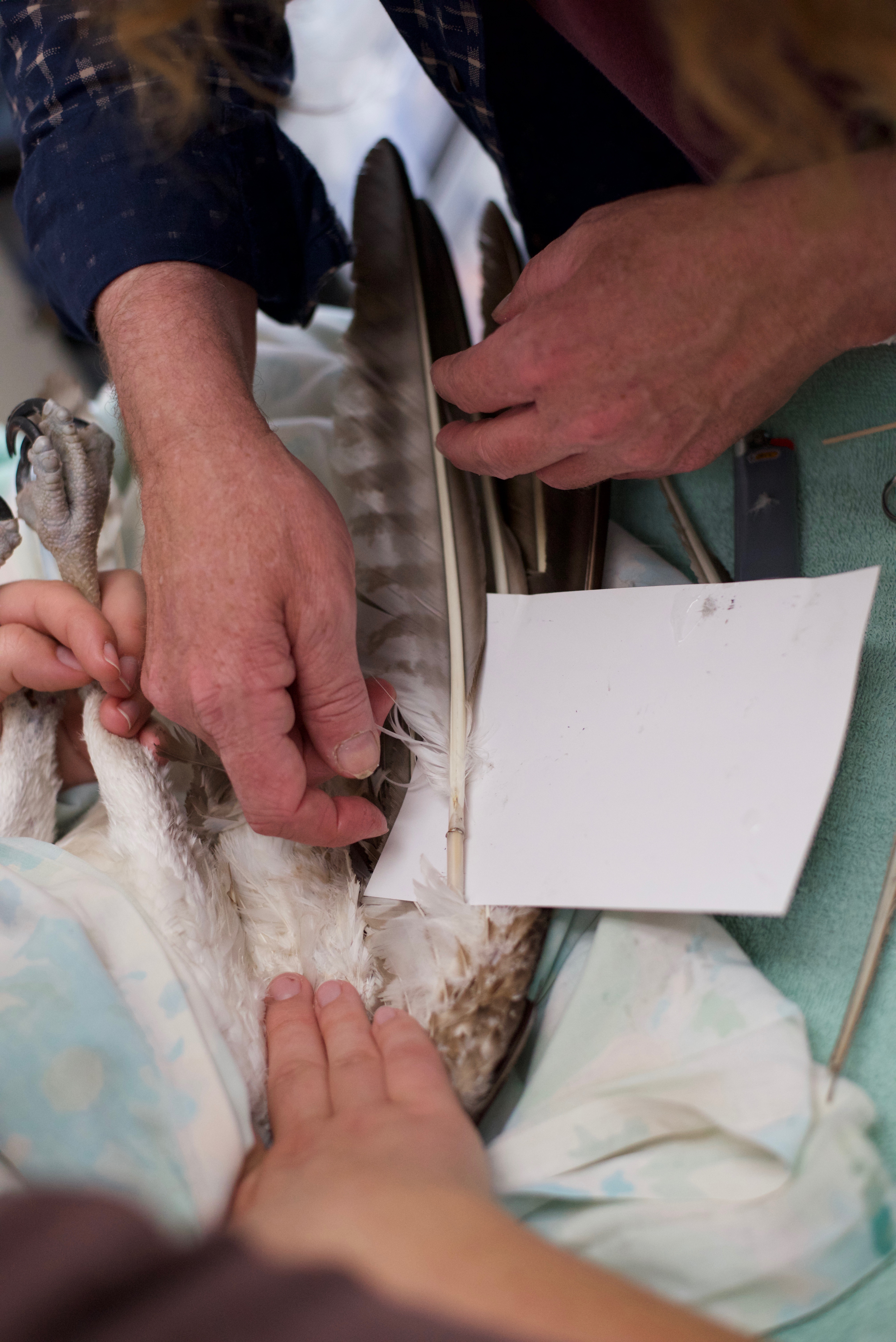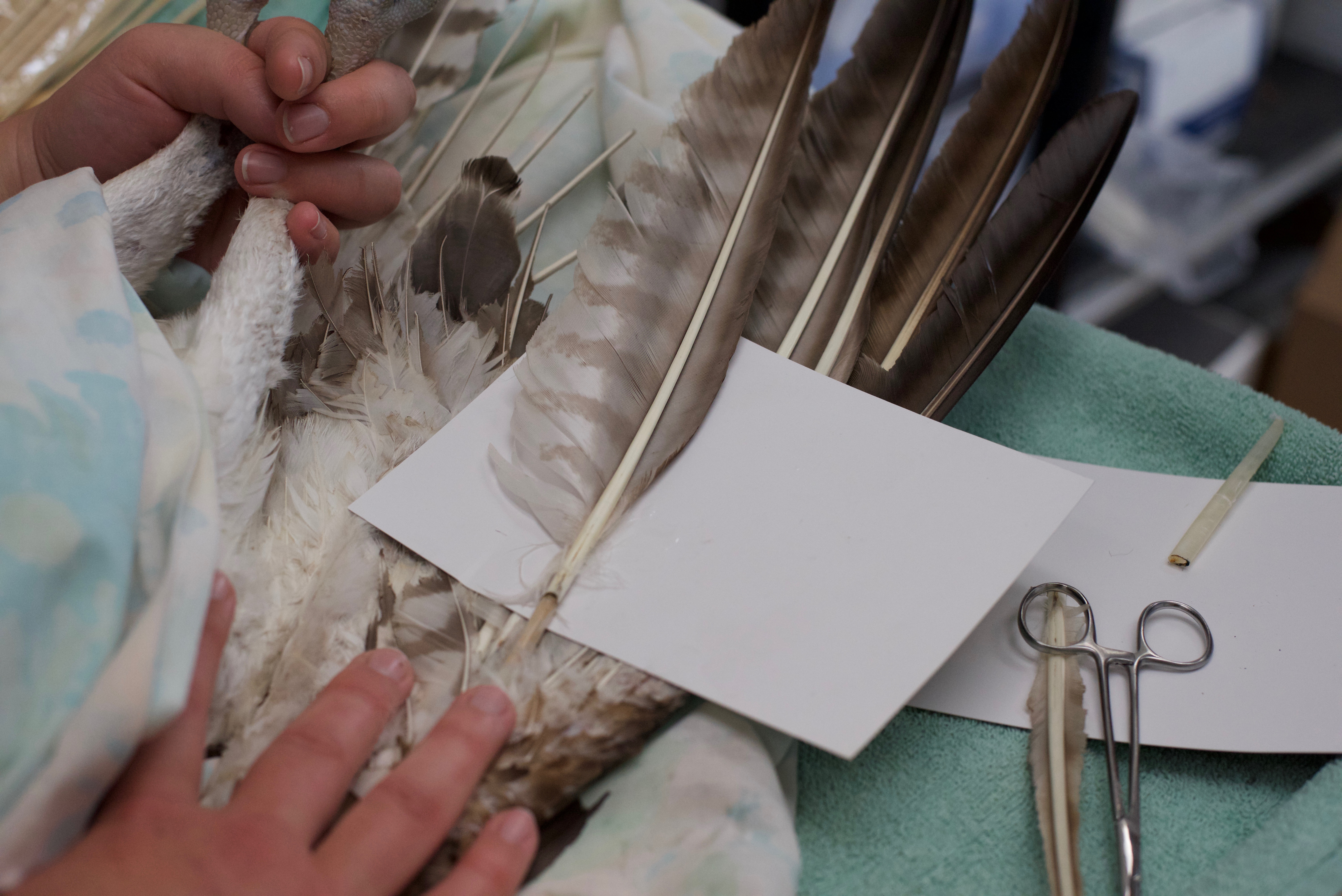 We stopped after replacing five feathers on the right side. Being handled for any length of time is very stressful for wild animals. We gave the Osprey a 20 minute break. Also it was time for our baby opossums to be fed and we needed the room!
We came back and repeated the process, but on the left side.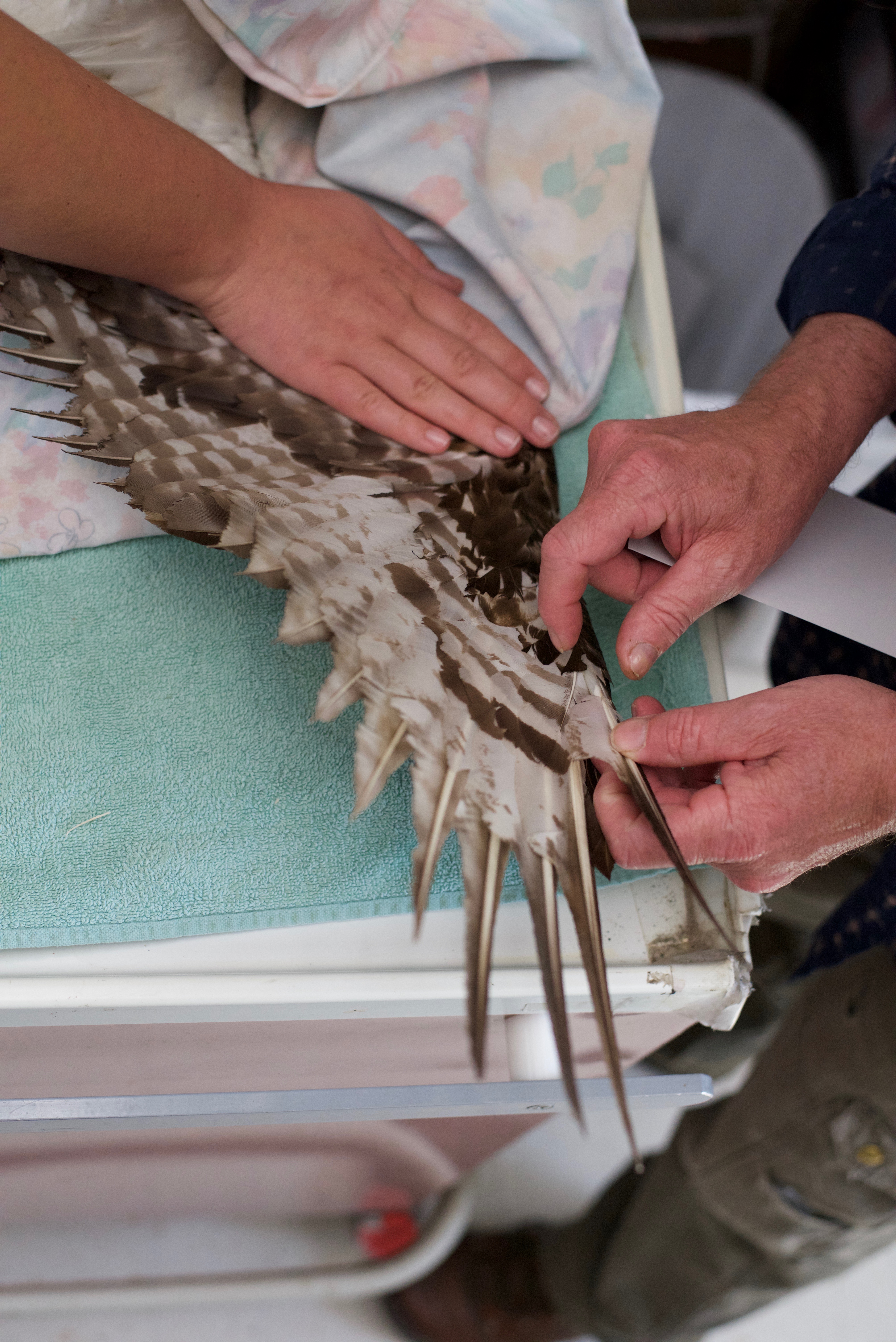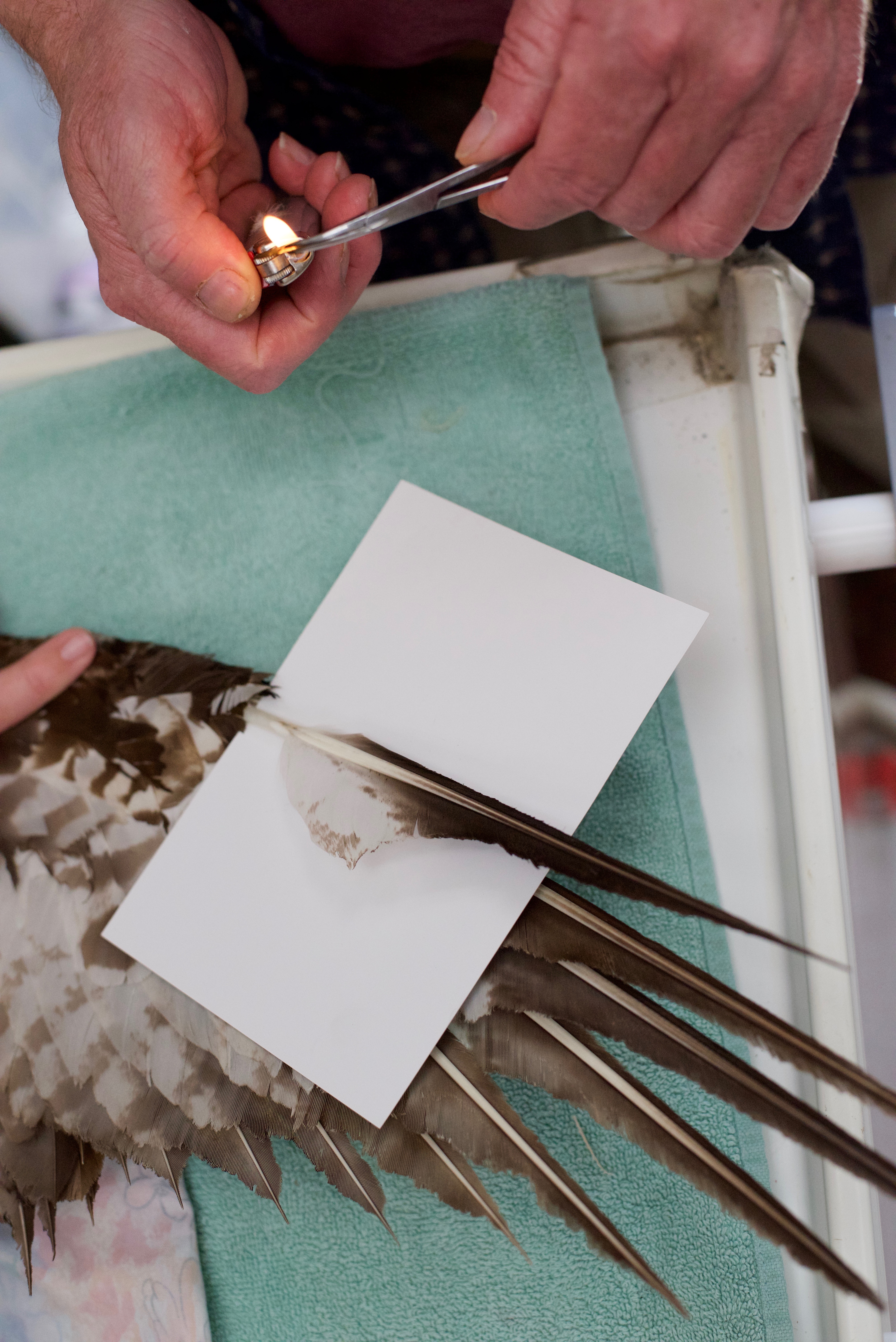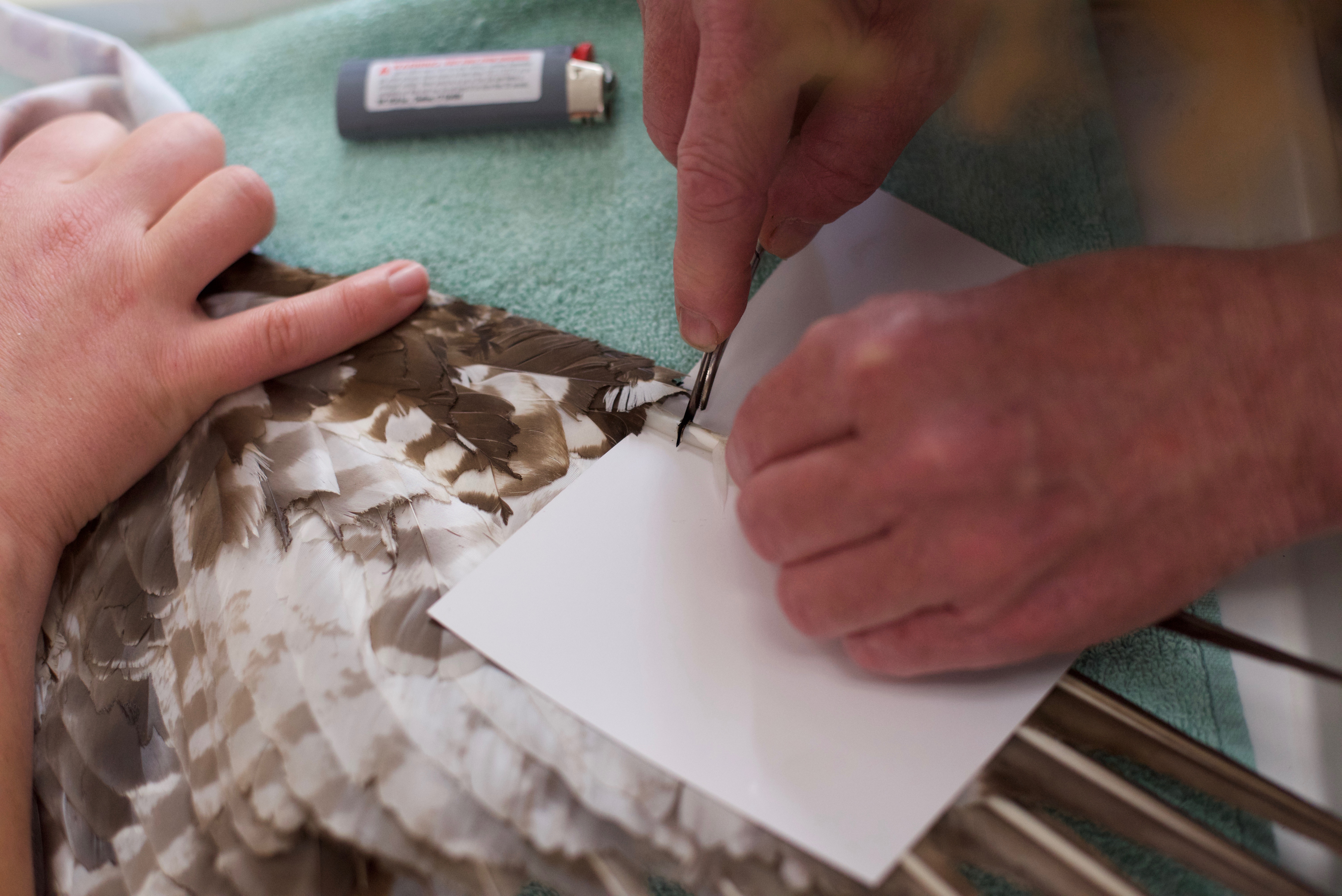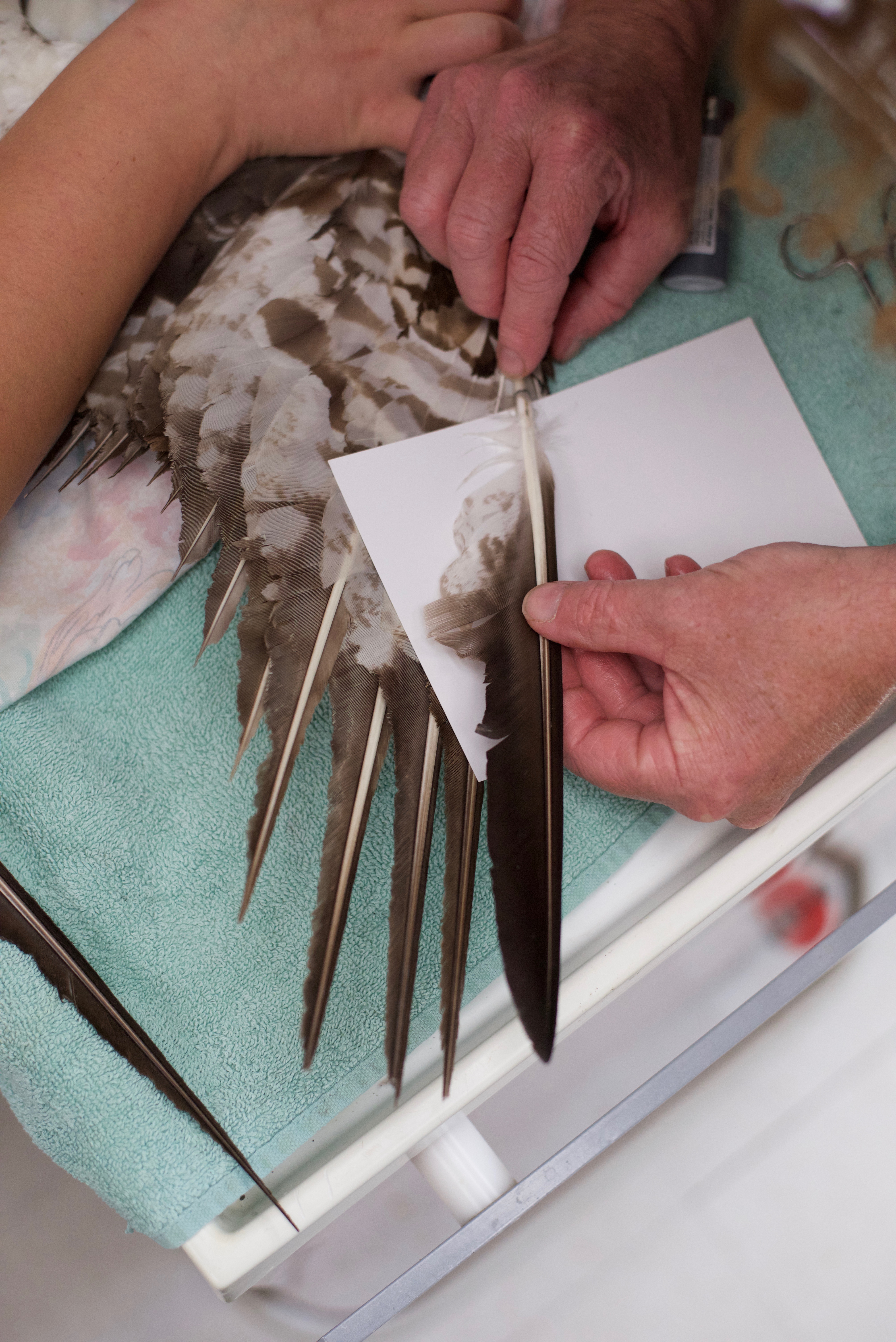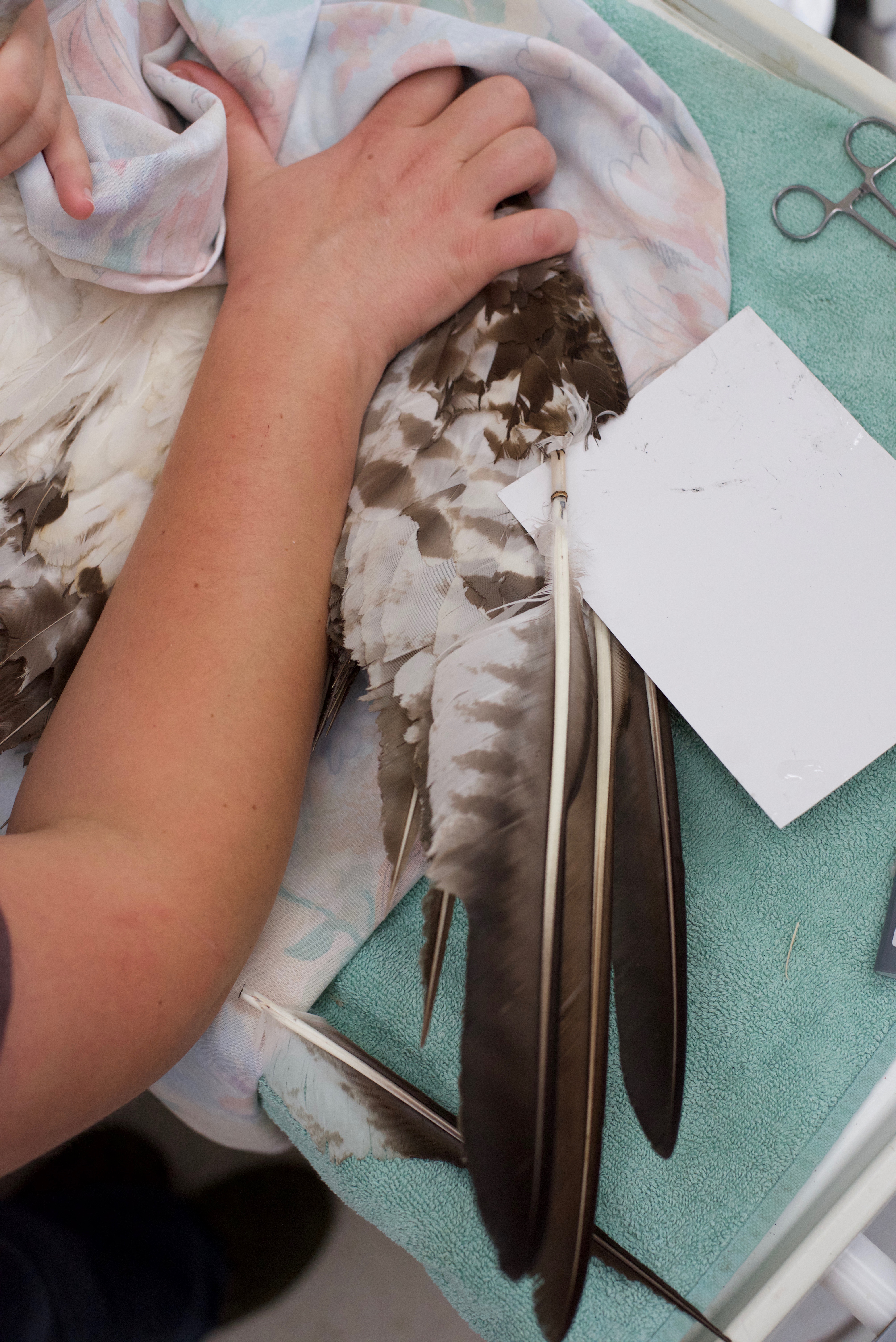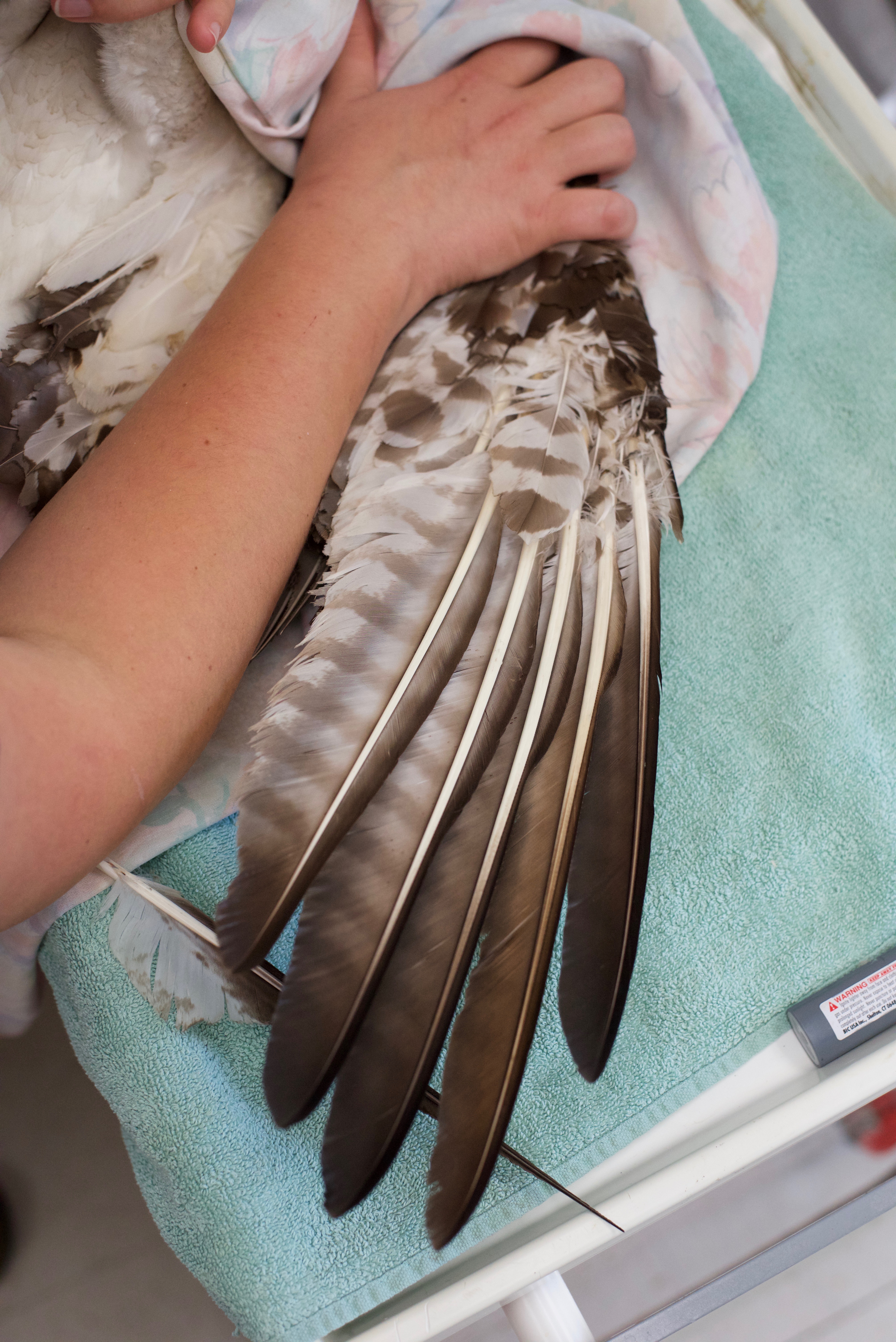 ---
After finishing the five feathers on the left, the Osprey got another break. Each wing had taken approximately 30 minutes. The feather imping team could use the break too. The task isn't technically difficult, but the stress level is high for everyone. After the break, that sad tail gets attention.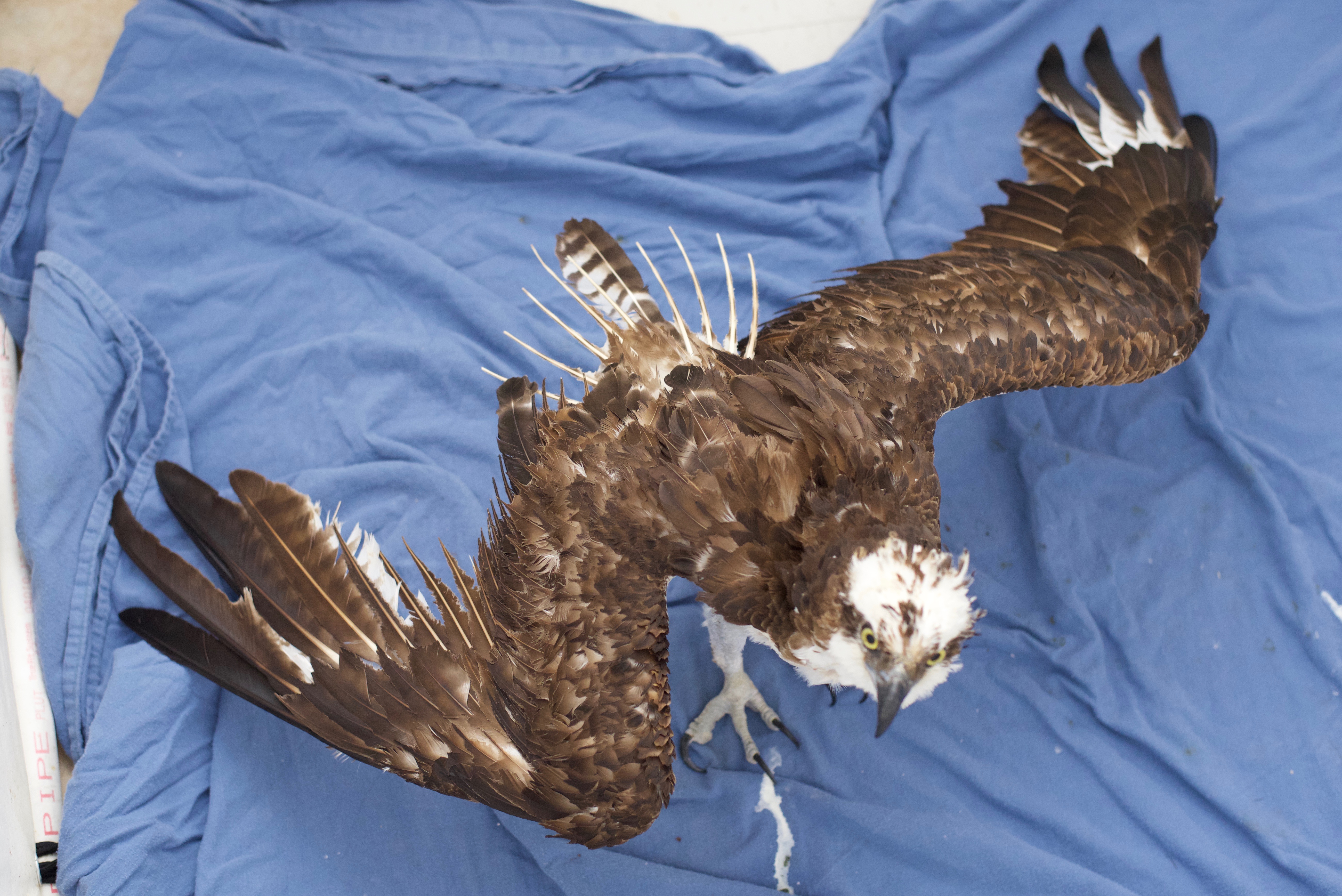 Because one of the Osprey's center tail feathers has grown in, we decided to replace only the outside four on each side.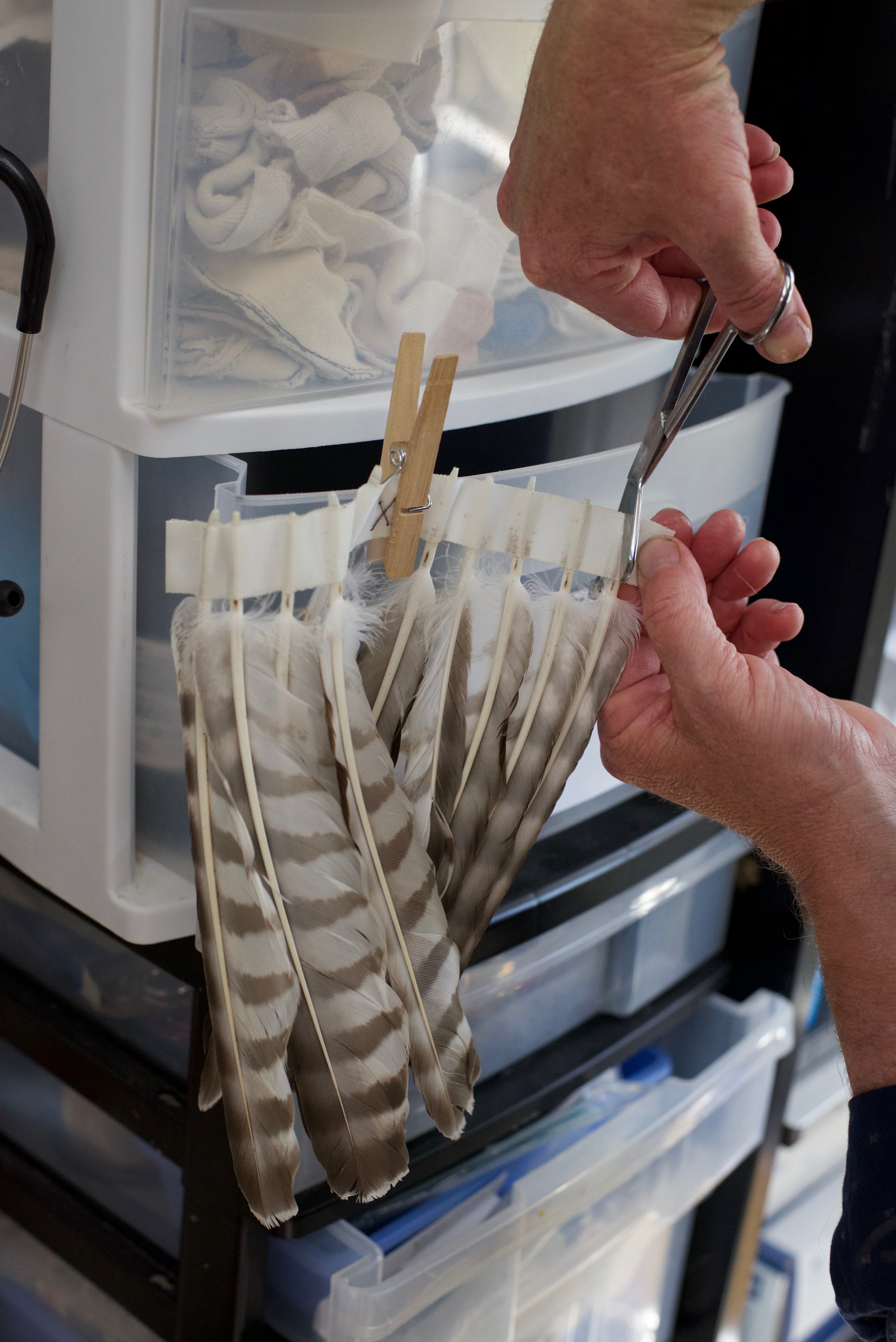 As the primary flight feathers are known scientifically as remiges, the tail feathers are known as rectrices.  Rectrice, from the Latin, rector, or helmsman, rudder. So the flight feathers are the oars and the tail feathers are the rudder. And the bird who uses them is a sky kayaker.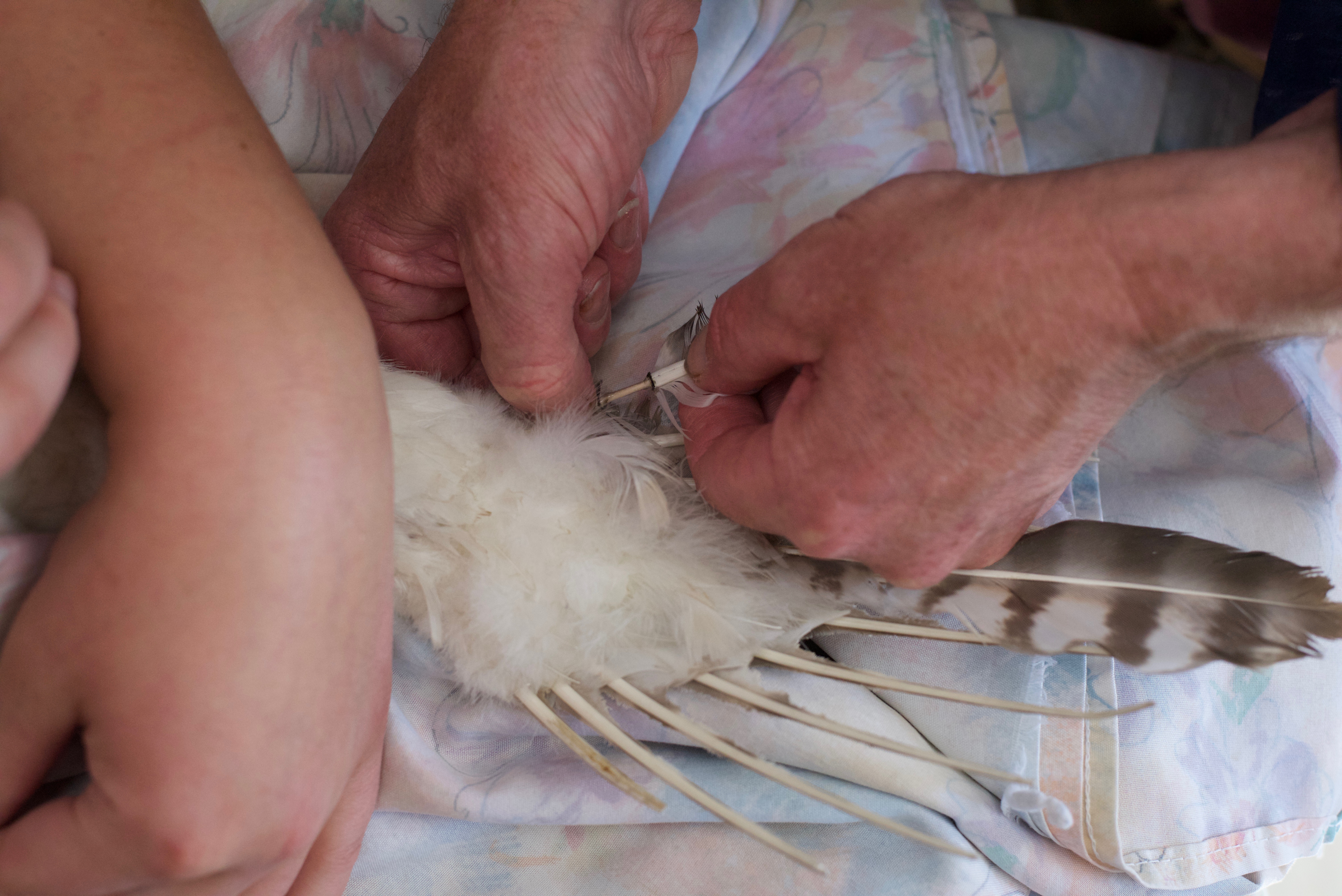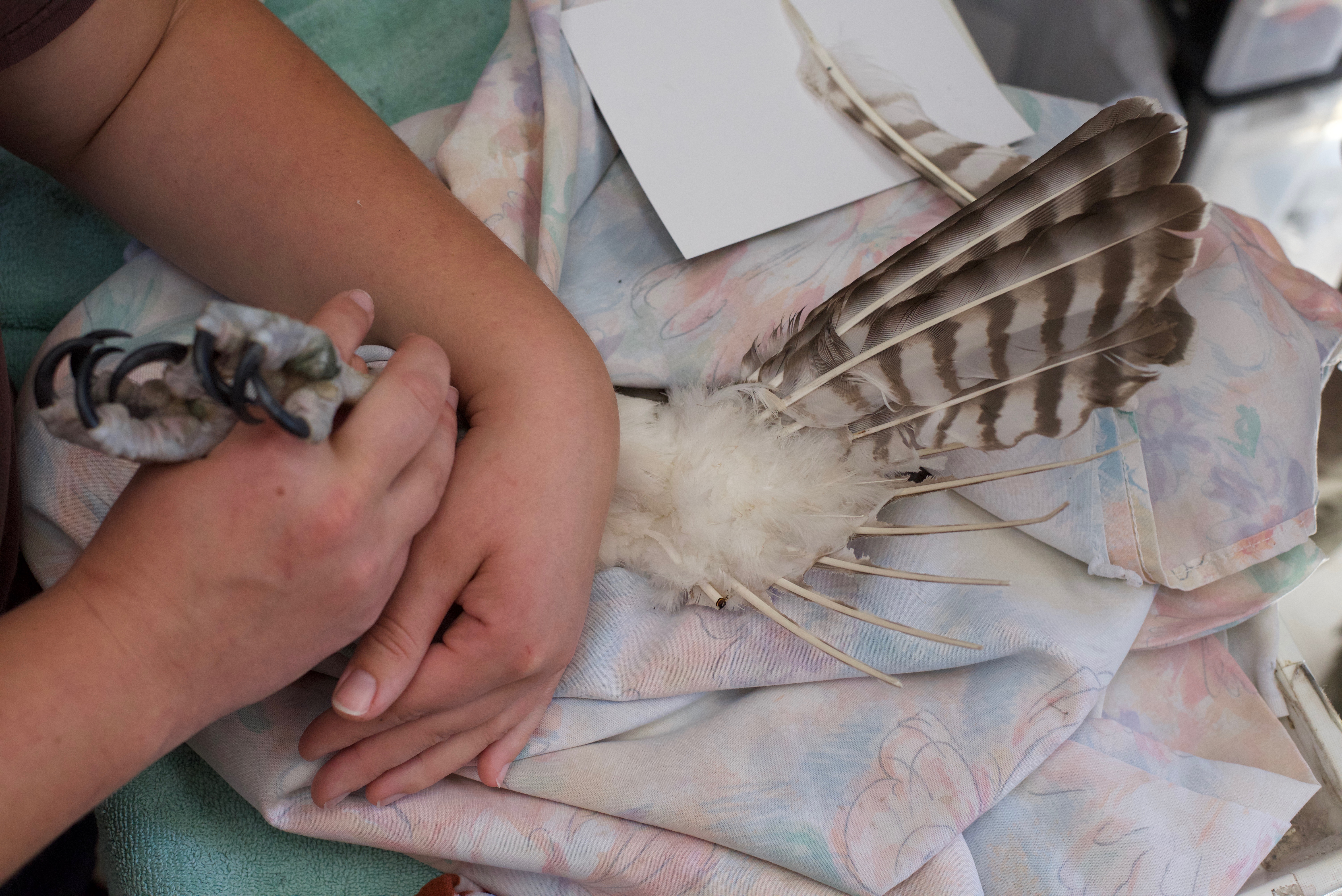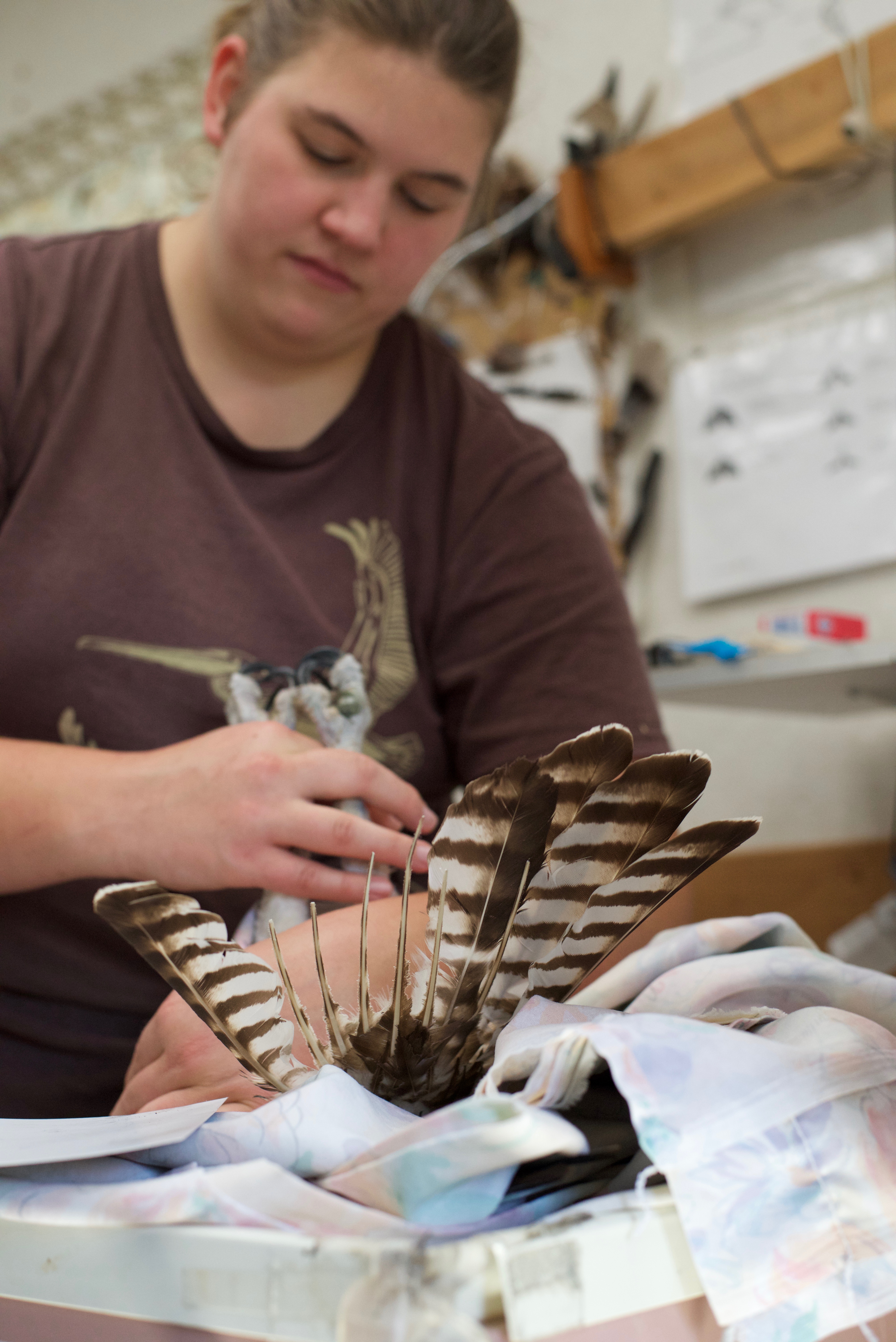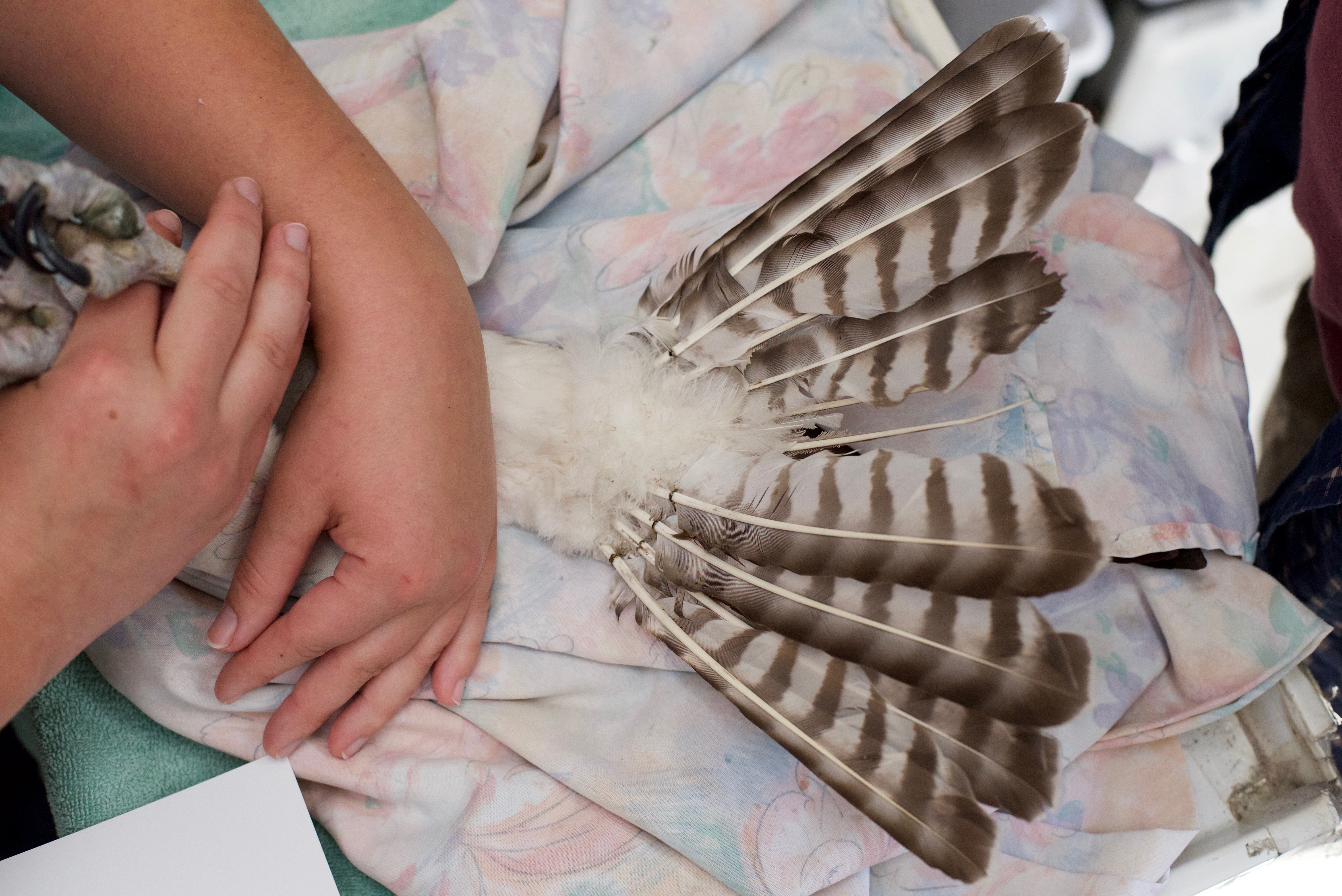 After some time, we'll evaluate for replacing the center damaged feathers as well. If we don't need to, that would be terrific. Reducing the stress of our patients is a critical component of our care and we strive for the least invasive treatment possible.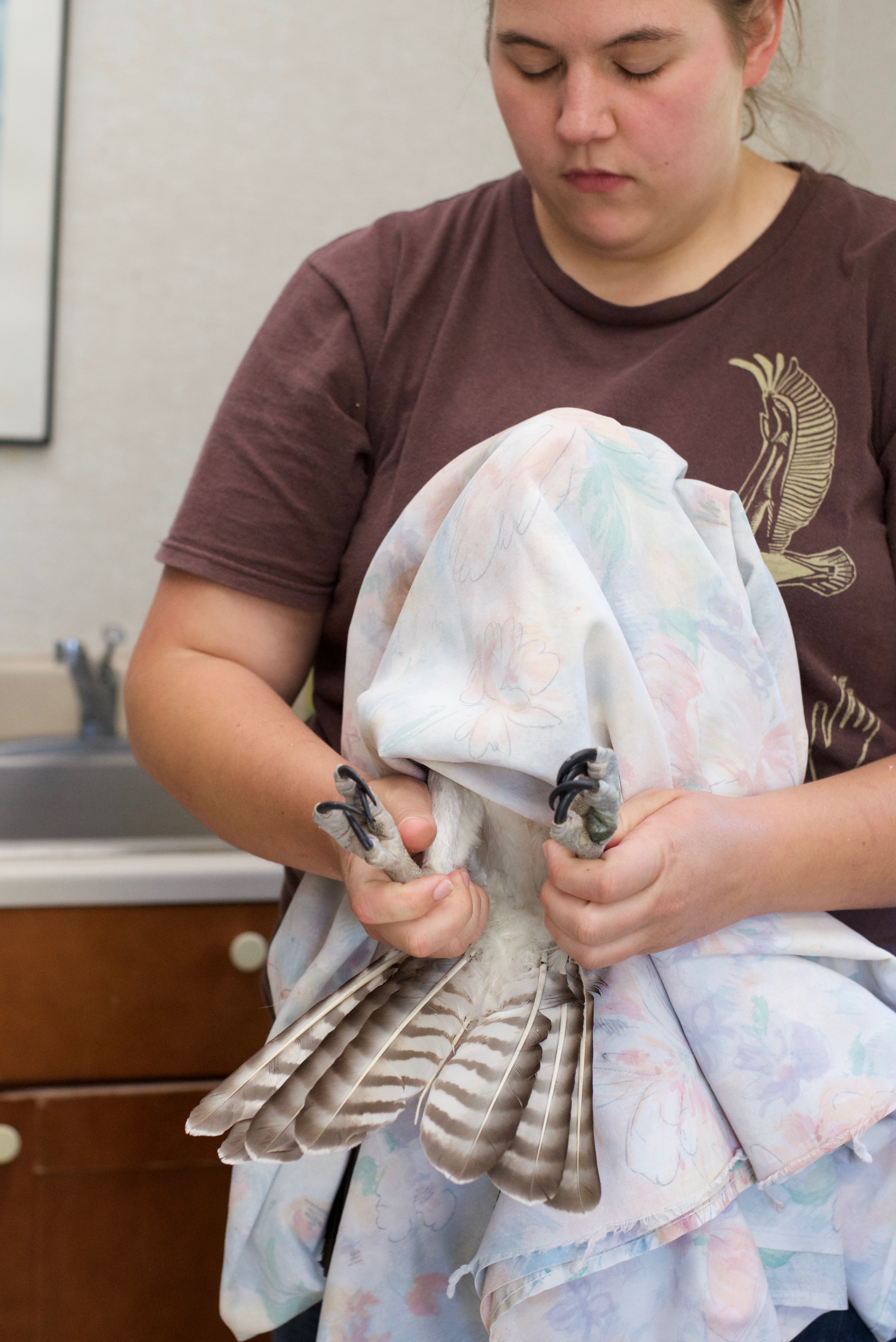 ---
This bird's care isn't over. He's not even out of the woods. To be released we need to be confident that this bird will be able to survive on his own. After the full set of feathers has been imped, the strength and durability of the glue bond will be tested in our aviary. Once reasonably assured that the bond will hold the rigors of freedom, it won't be long before this Osprey is growing in his own replacement feathers on his own time, in his own home – the wild.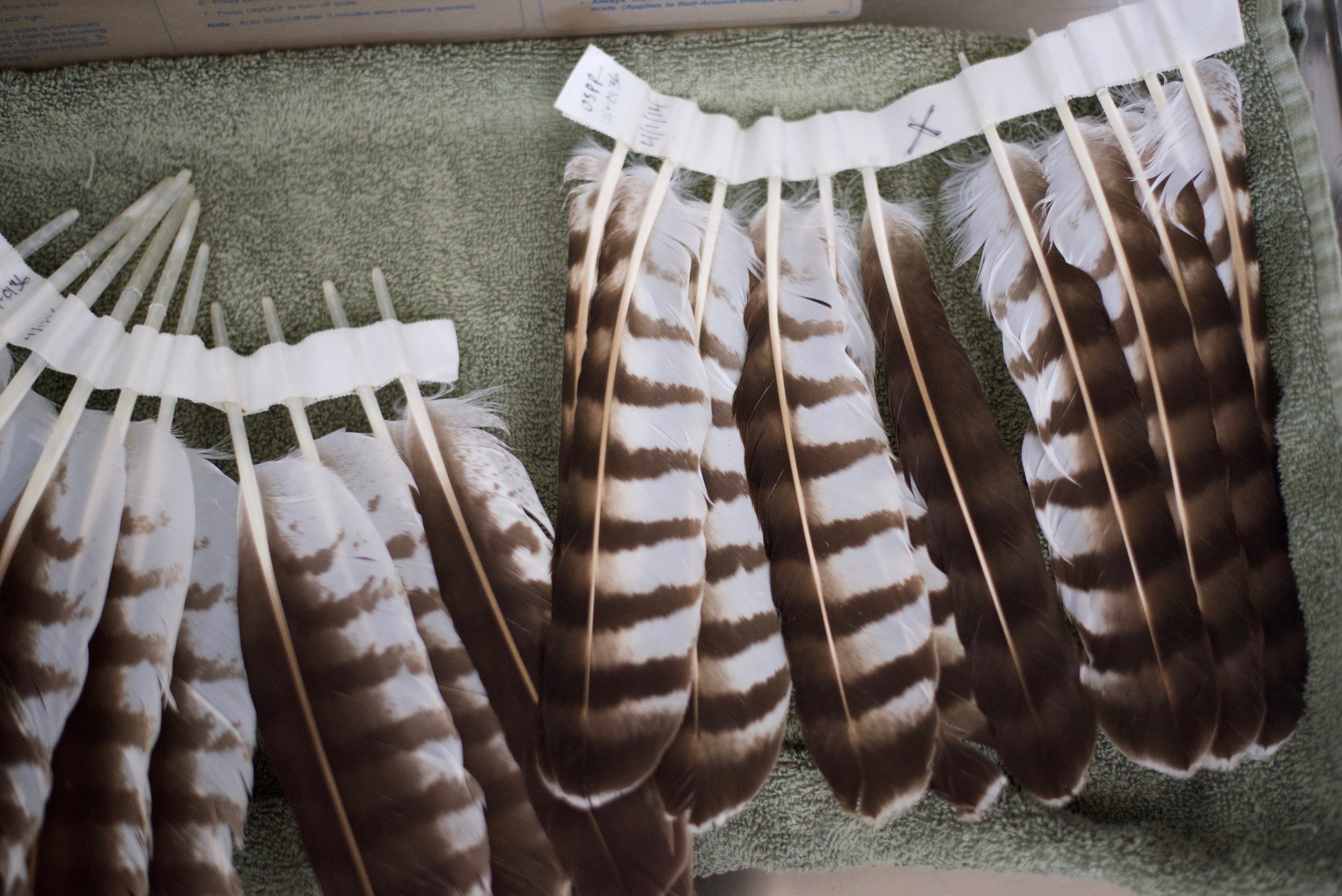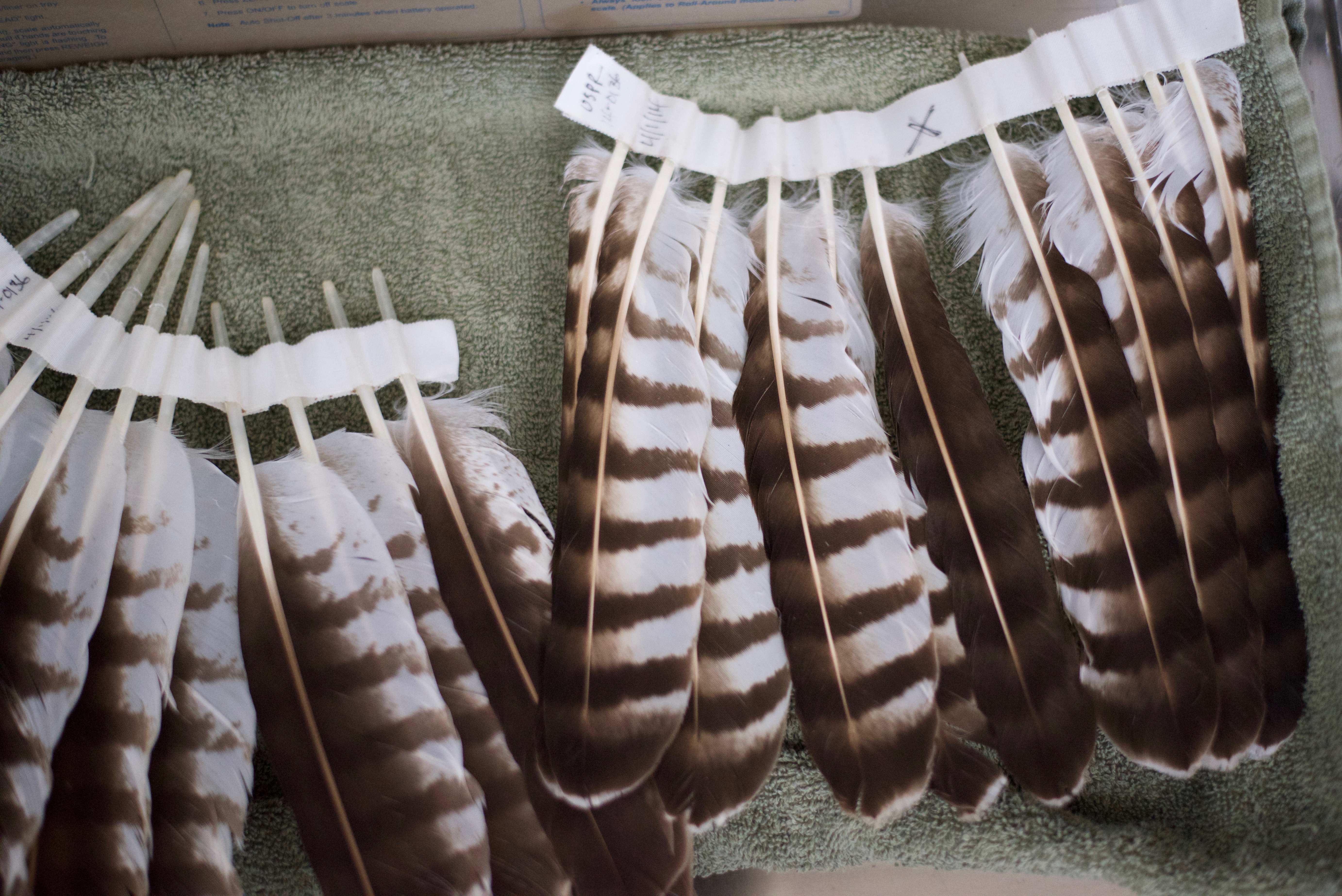 Feathers are worth an entire life of study! An amazing evolutionary development that not only allows flight, but also allows a life at sea, a life in the arctic, a life in equatorial regions… closely related to hair, nails, claws and scales, feathers are a natural wonder the importance of which can't be overstated. Want to learn more about feathers – start here.
Your support makes our work possible. Without you, this Osprey, as well as the baby Opossums who were in this room in an incubator just a few feet away during the entire procedure, would have no hope, no second chance. Want to help keep our work going? You can donate here.

All photos: Laura Corsiglia/Bird Ally X.