As the Crescent City problem with fish waste appears to be resolved, and we've released 18 Brown Pelicans and 1 Western Gull of the 32 birds we'd captured and cleaned,
Bird Ally X
staff had time last week to get to Shelter Cove to check out the multiple reports we've received of a similar problem there.
Vann Masvidal (a BAX co-director as well as director of Sacramento Wildlife Care Association) and I pulled in to Shelter Cove close to 7pm. We saw 4 Brown Pelicans, scores of gulls and a few Turkey Vultures, eating fish carcass scraps from the fish cleaning station. Many of the gulls were contaminated as were all of the pelicans we saw. Perched on the sloping drop that goes to the ocean just beyond the station, and out of our reach, were another 5-6 pelicans. More pelicans could be seen about 100 meters off on a rock formation, although light and fog conditions made it impossible to tell if they were contaminated.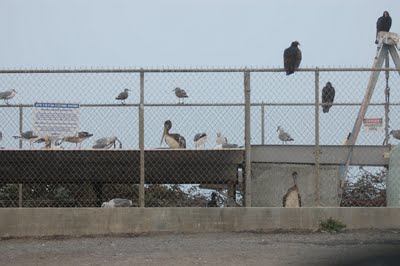 Pelicans, gulls, and vultures haunt the fish-cleaning station at Shelter Cove
The cleaning station is an open table with a center trough that takes the fish waste into a grinder where it is processed and ejected into the ocean. Approximately 20 fish carcasses were laying on the table – no one was present.
We captured the 4 pelicans and 1 gull before dark and brought them back to the Humboldt Wildlife Care Center (HWCC). As we caught these birds, by telephone, I was live on the local radio station, KMUD, describing what we were doing and seeing. The program host, Barbara Schultz said that the community of Shelter Cove would take care of this problem once they were aware of the situation.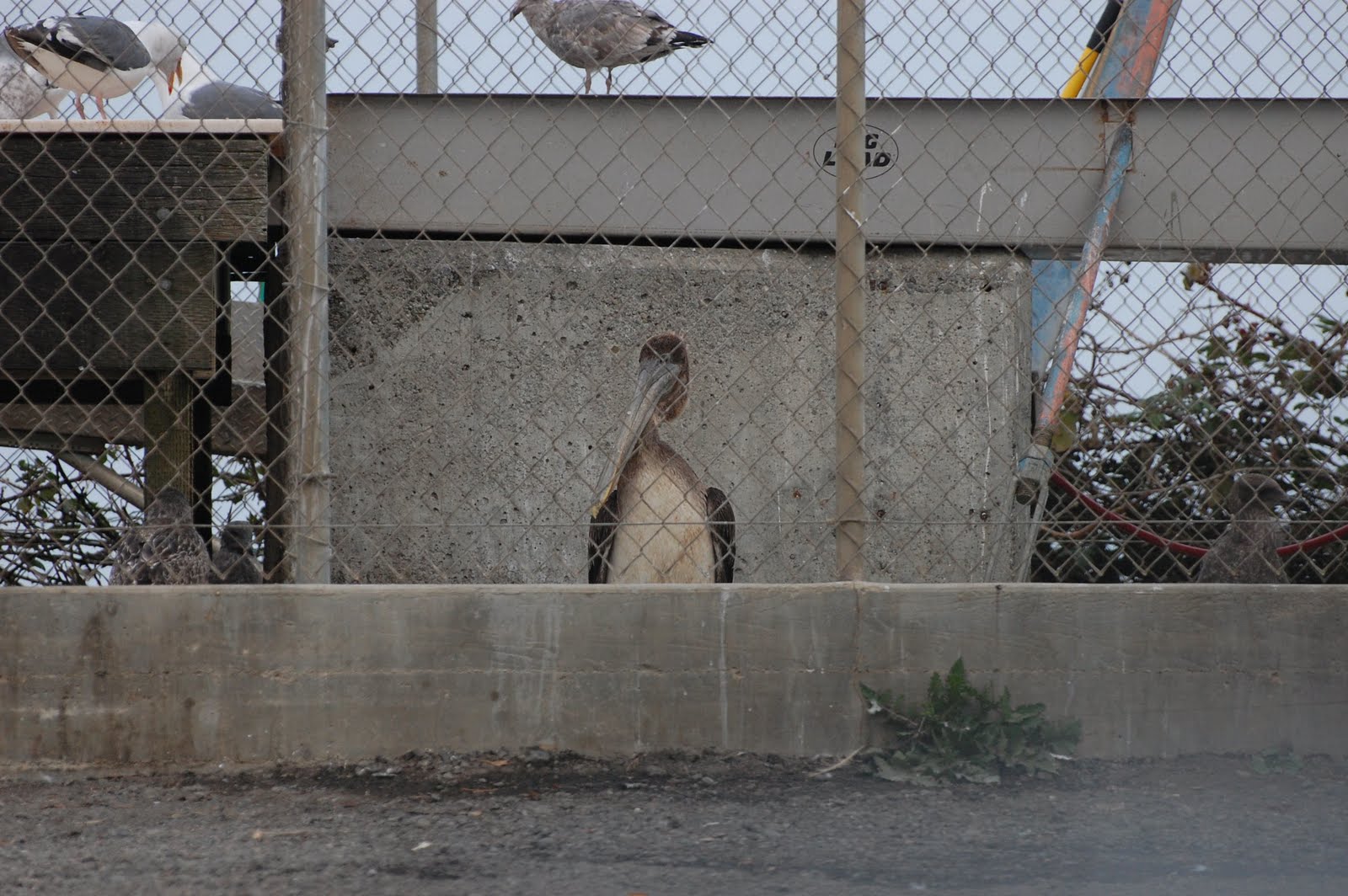 A Pelican has nearly captured himself. This bird is currently in care and awaiting wash.
The next day we returned to find the cleaning station clean of any fish and no birds near the area. After driving down the long sloping road to the boat launch and beach, we were able to see Brown Pelicans perched on a small knob of rock that is part of the bluff overlooking the cove, about 150 meters away. We approached on foot and soon realized that all 11 pelicans in view were contaminated and, fortunately within reach.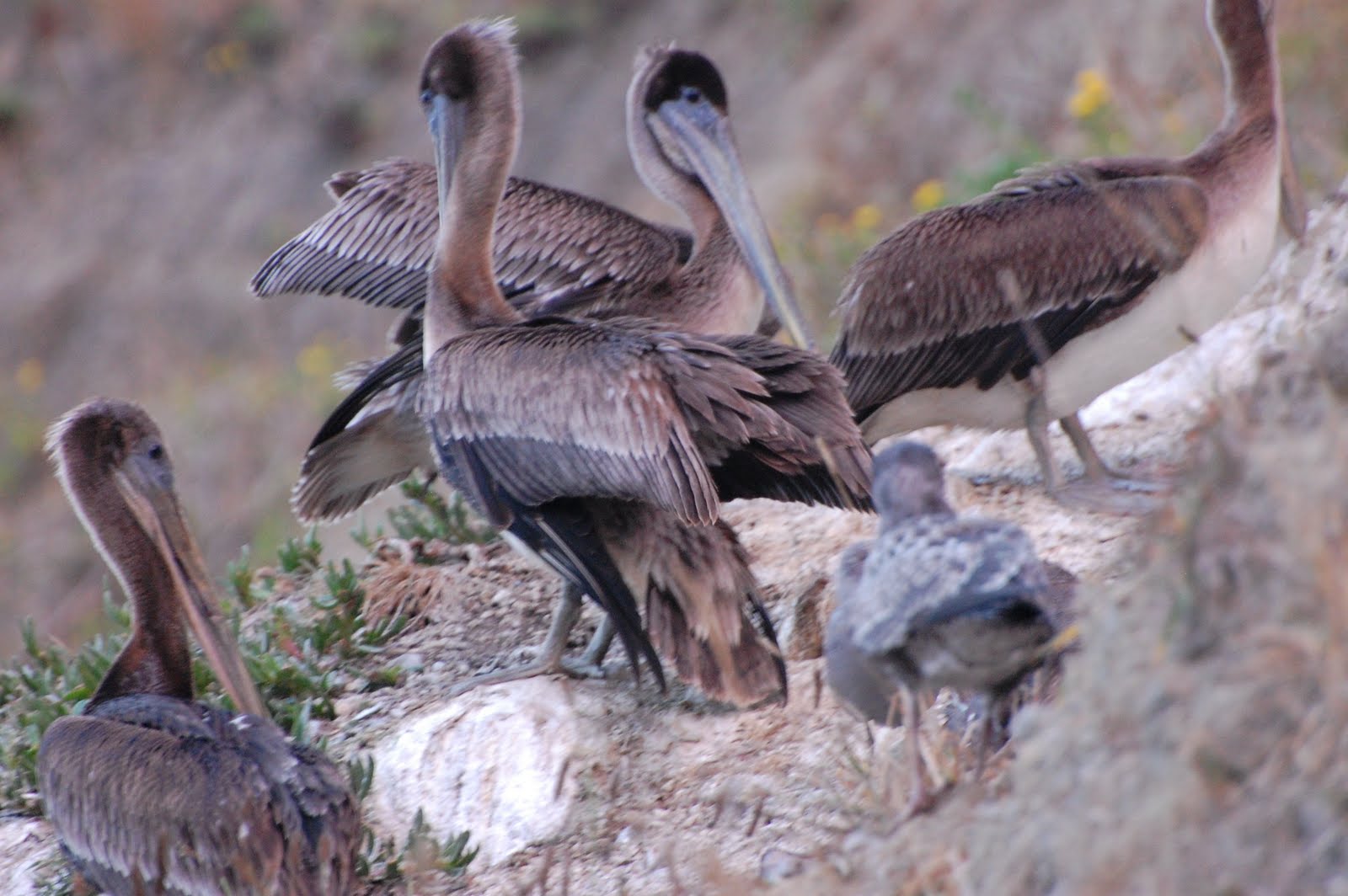 Contaminated pelicans in Shelter Cove. Four of these birds were rescued by BAX staff
Using bait and a net we were able to capture 4 pelicans before the light receded and the tide came in, forcing us to quit for the day.
These birds were significantly more dirty than the Crescent City pelicans, possibly due to the way fish waste is ultimately treated at the Shelter Cove station. In Crescent City the problem was open bins of fish carcasses that allowed pelicans and other birds to climb in and become soiled. In Shelter Cove, fish carcasses were being left on the tables, apparently intentionally, so that birds could eat them. What wasn't eaten was passed through a large grinder and then piped down the bluff, ending about 10 feet above the surface of the ocean. Several of the pelicans rescued from Shelter Cove are completely covered in fish oil, suggesting that they are being doused by the offal that flows from the pipe, although this has yet to be observed.
In any case, restricting access to the fish waste is an easy solution to a problem that is deadly to birds.

Meanwhile, we believe there are between 5 and 10 more Brown Pelicans in Shelter Cove who are contaminated and in need of care. Further attempts to rescue them will be made this week.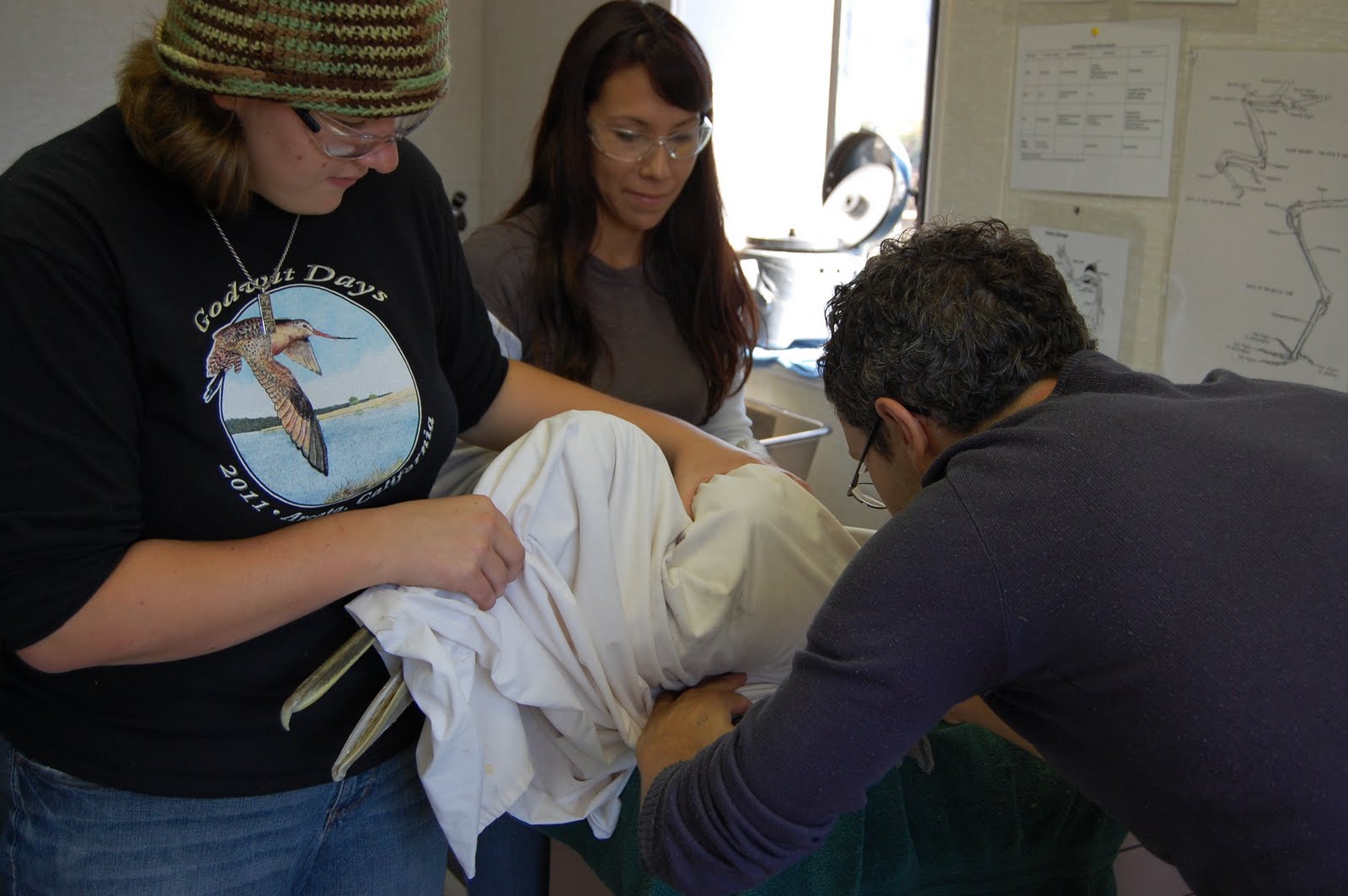 Lucinda Adamson and Lena Orozco of Humboldt Wildlife Care Center examine a pelican rescued from Shelter Cove with Vann Masvidal, of Bird Ally X.
Now, at HWCC we have 8 birds in need of cleaning, as well as the cleaned and recovering
pelicans
remaining
from the Crescent City incident.
We are building a wash facility at HWCC to care for these birds.
This will add significantly to the Care Center's capacity to rehabilitate aquatic birds, who often require cleaning as part of their care.
The costs of the upgrades to their infrastructure are high.
Any support is appreciated, especially financial.
More information on Humboldt Wildlife Care Center, and their current needs as they care for these birds can found at www.humwild.org.
Also, without your support, Bird Ally X would not be able to help smaller wildlife rehabilitation centers care for aquatic birds in crisis as we do. We appreciate everyone who has helped us.
Thank you, and we hope for your continued support.