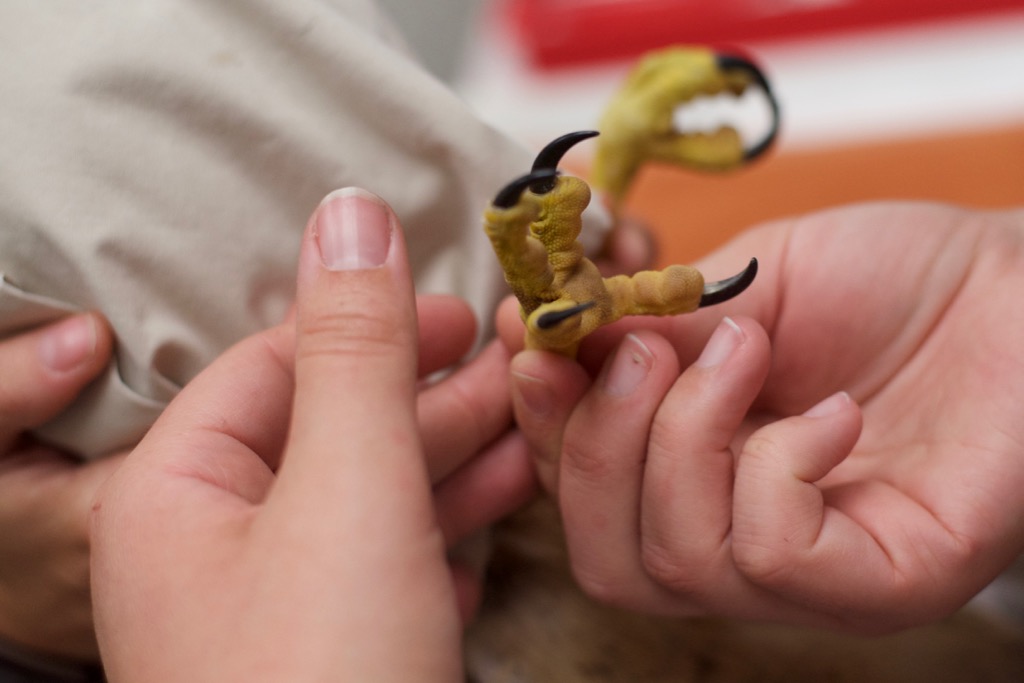 We have a million things to do every day. Patients in care require feeding, bandage changes, check-ups, and the like. Patient housing needs to be cleaned, sometimes several times a day. The phone rings regularly with new tasks waiting on the other end of the line – wildlife rescue, a conflict with a wild animal to resolve, a question. [Please help us close the gap for October! We are over $3000 away from our goal of $7000 this month! Your support is the only thing that will get us there! Donate here, if you can]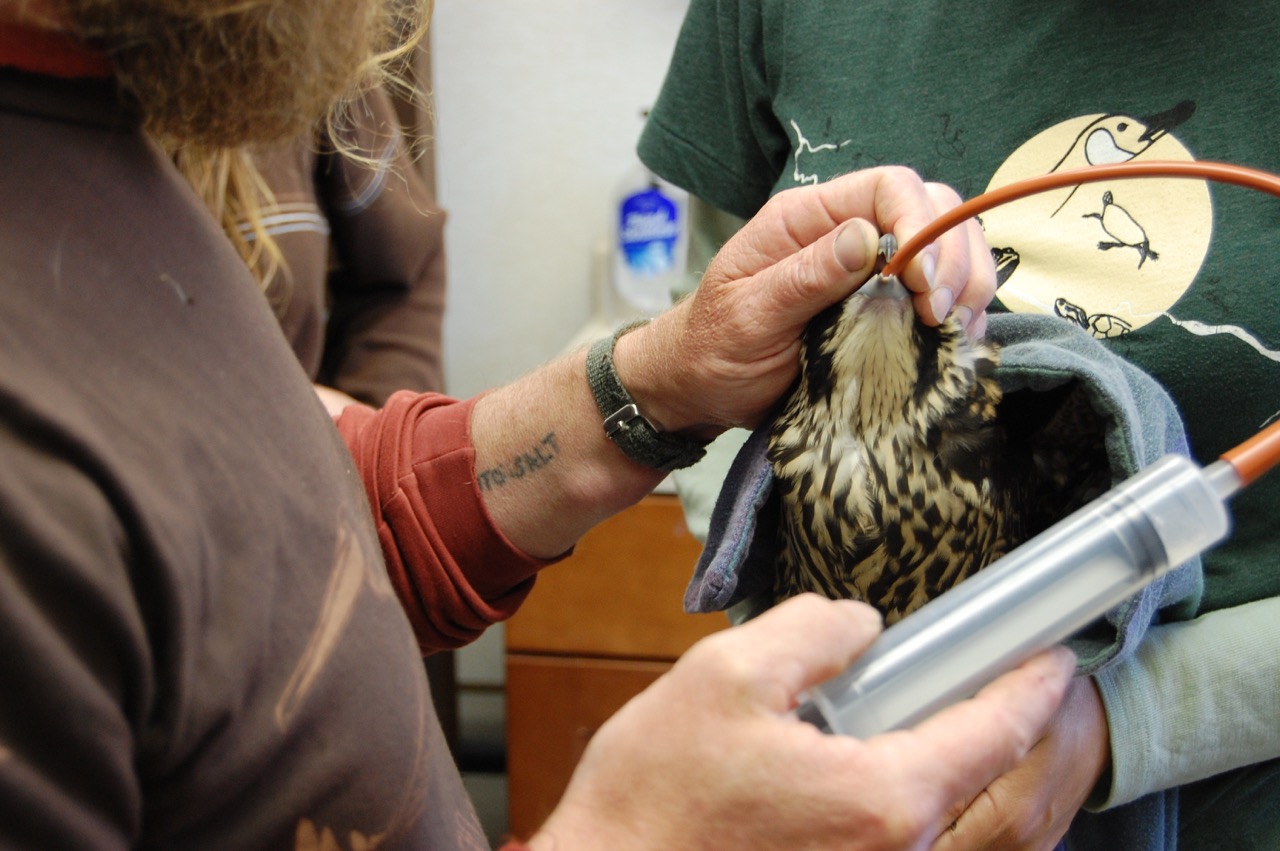 A young Peregrine Falcon is given rehydrating fluids after an initial exam.
---
Pools must be maintained. The floor needs to be mopped. Supplies purchased. Bills paid. New volunteers need to be trained. Staff and interns meet to discuss our work and learn.
Caring for wild patients requires many skills. We prepare and deliver workshops and books as part of our mission to advance the quality of care that wild animals can receive. We travel to conferences to work with colleagues from around the state and around the country to learn new skills.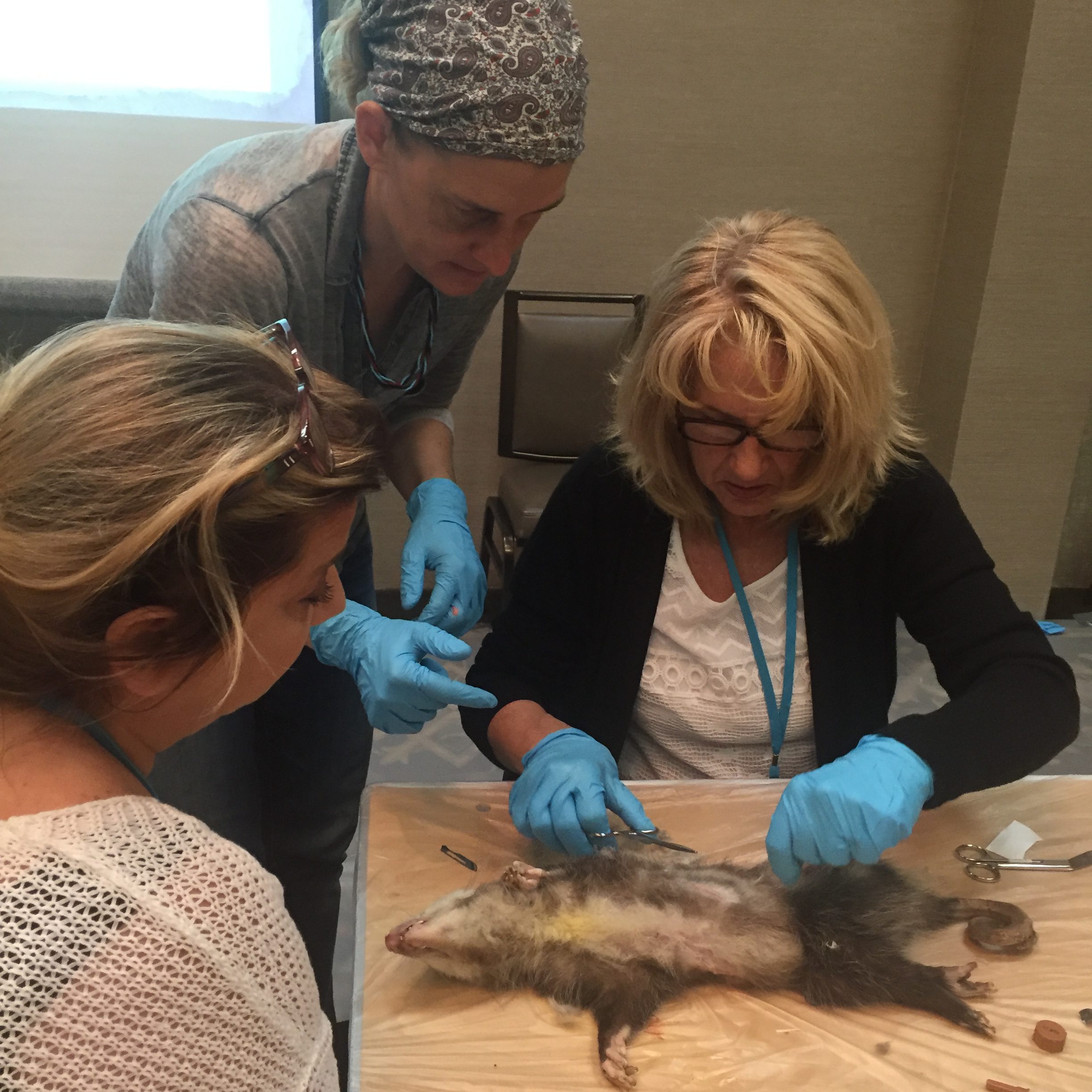 BAX co-founder Shannon Riggs, DVM instructs workshop attendee at recent California Council for Wildlife Rehabilitators (CCWR) annual symposium.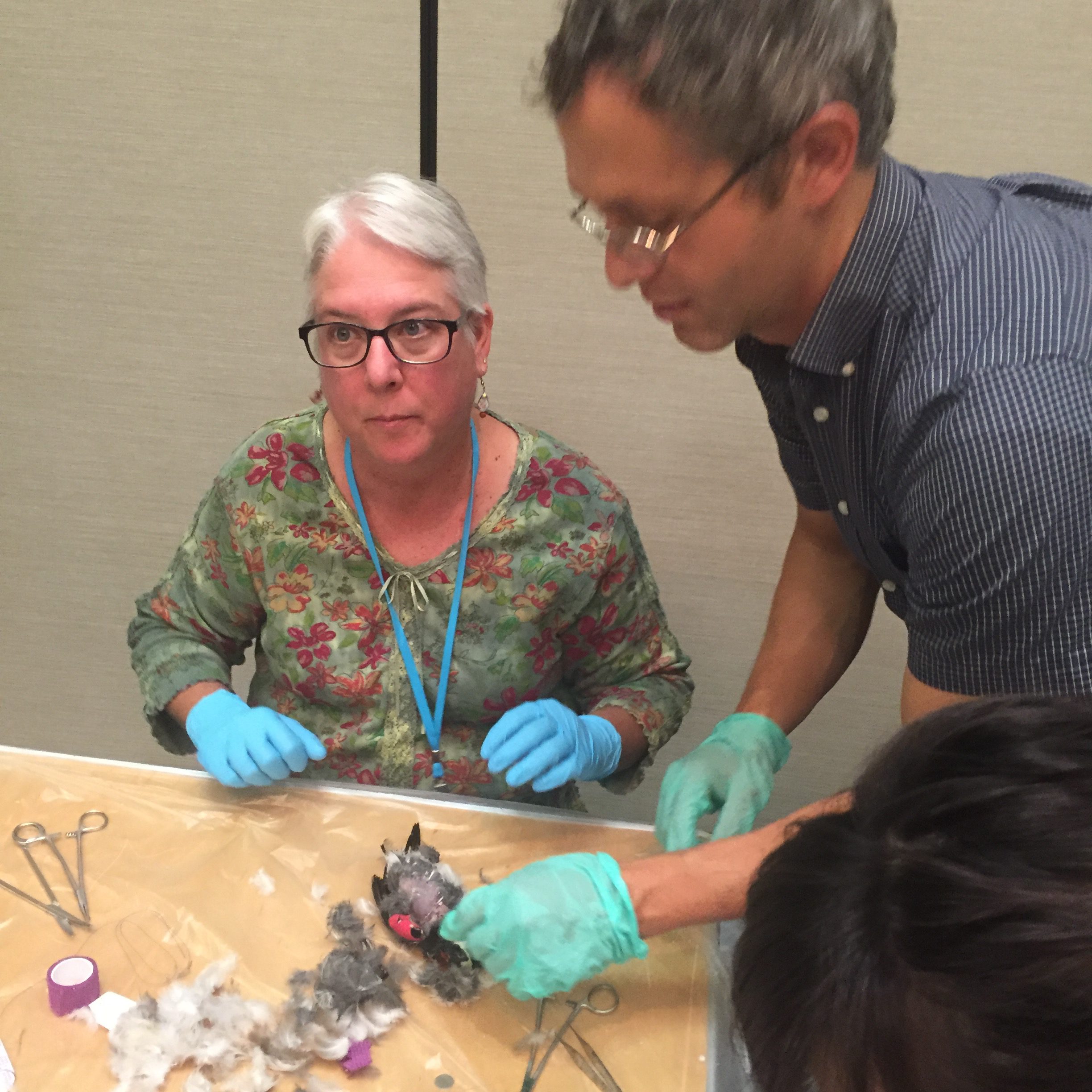 BAX co-founder Vann Masvidal in a teaching moment at 2016 CCWR symposium.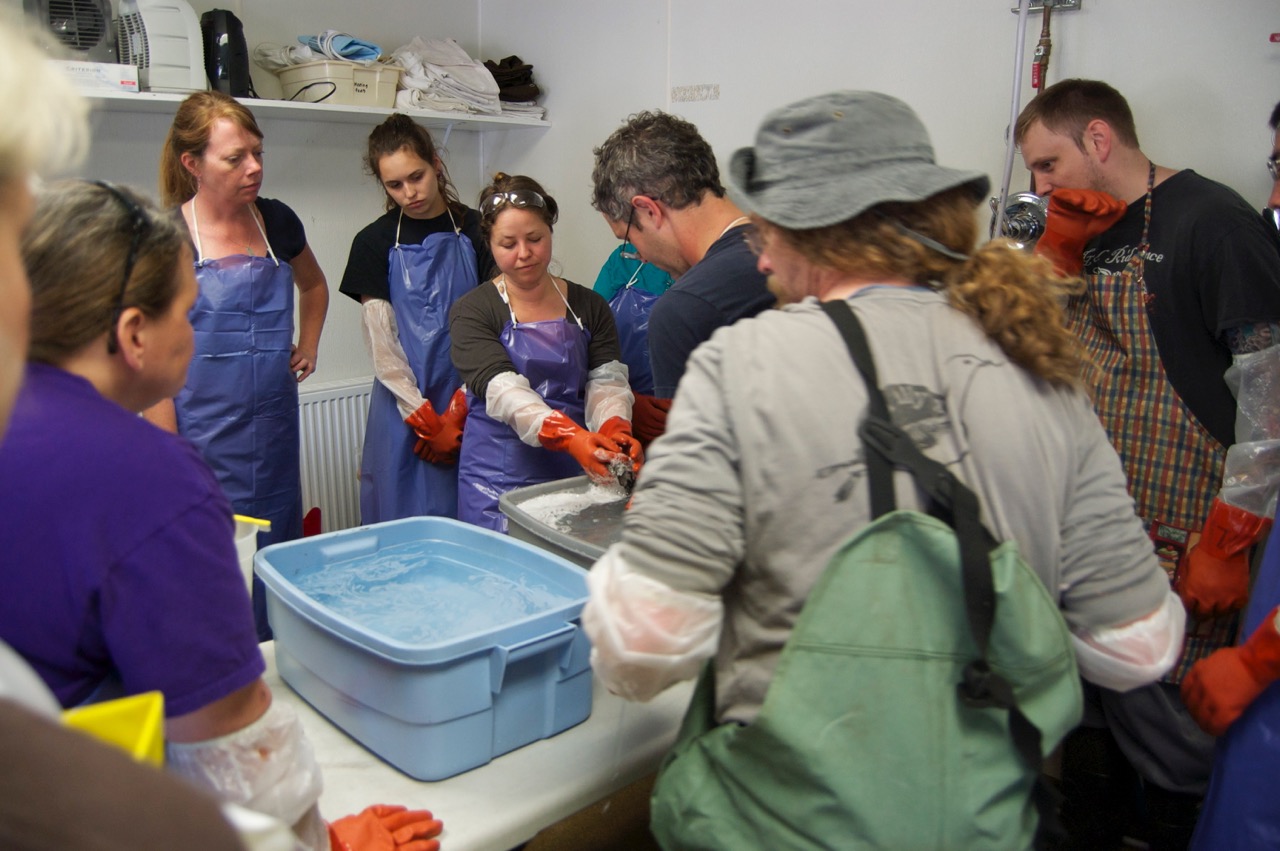 BAX co-founders Marie Travers, January Bill, and Vann Masvidal teach a workshop on cleaning oiled marine birds at a workshop we delivered in Morro Bay in 2014.
---
We follow public policy and proposed legislation that impacts our society's relationship with nature. We attend public meetings so that we can advocate effectively on behalf of the Wild.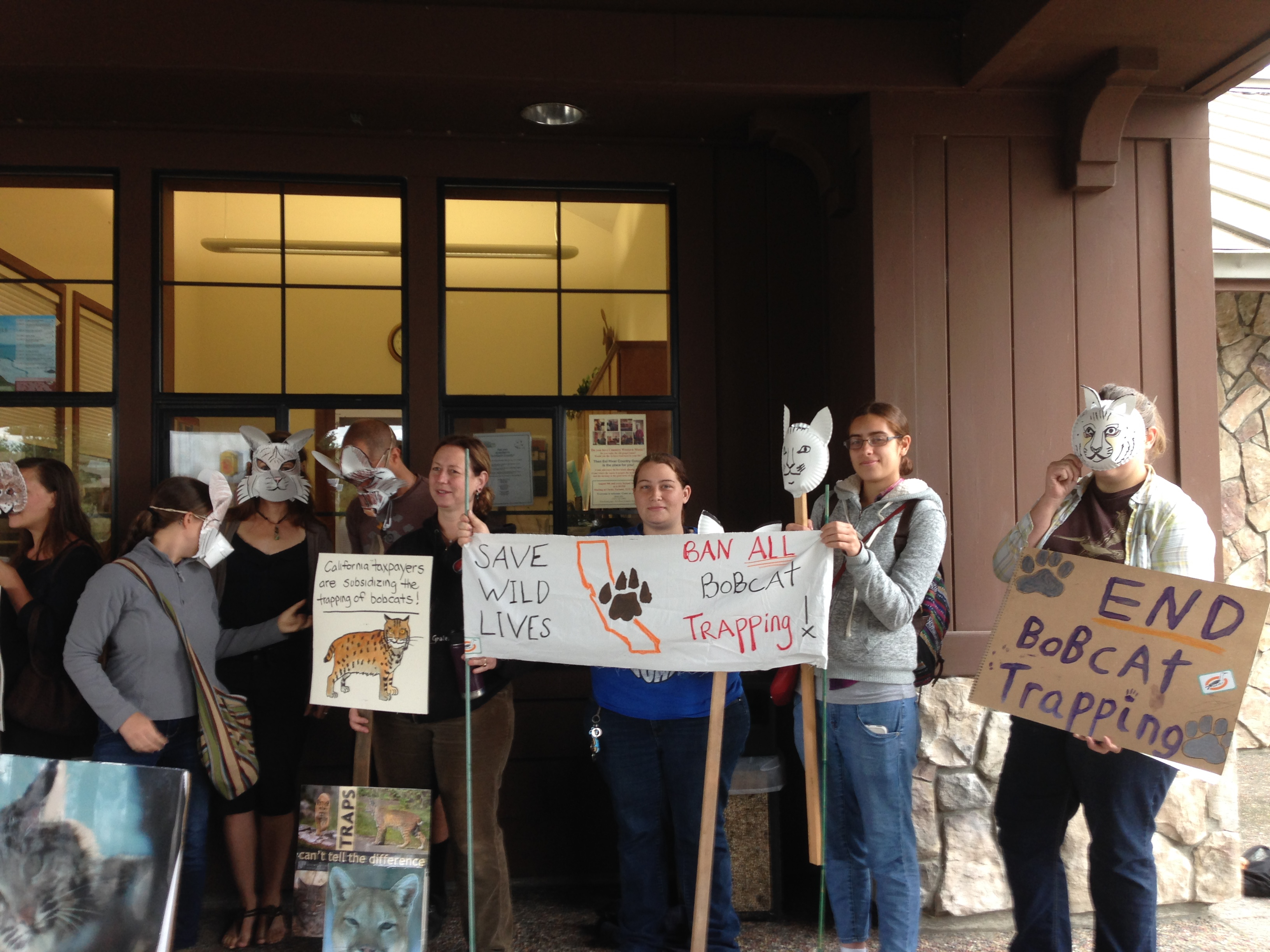 BAX/HWCC staff and volunteers attended the Fish and Game Commission's meeting in Fortuna where it was decided to ban all Bobcat trapping in our state!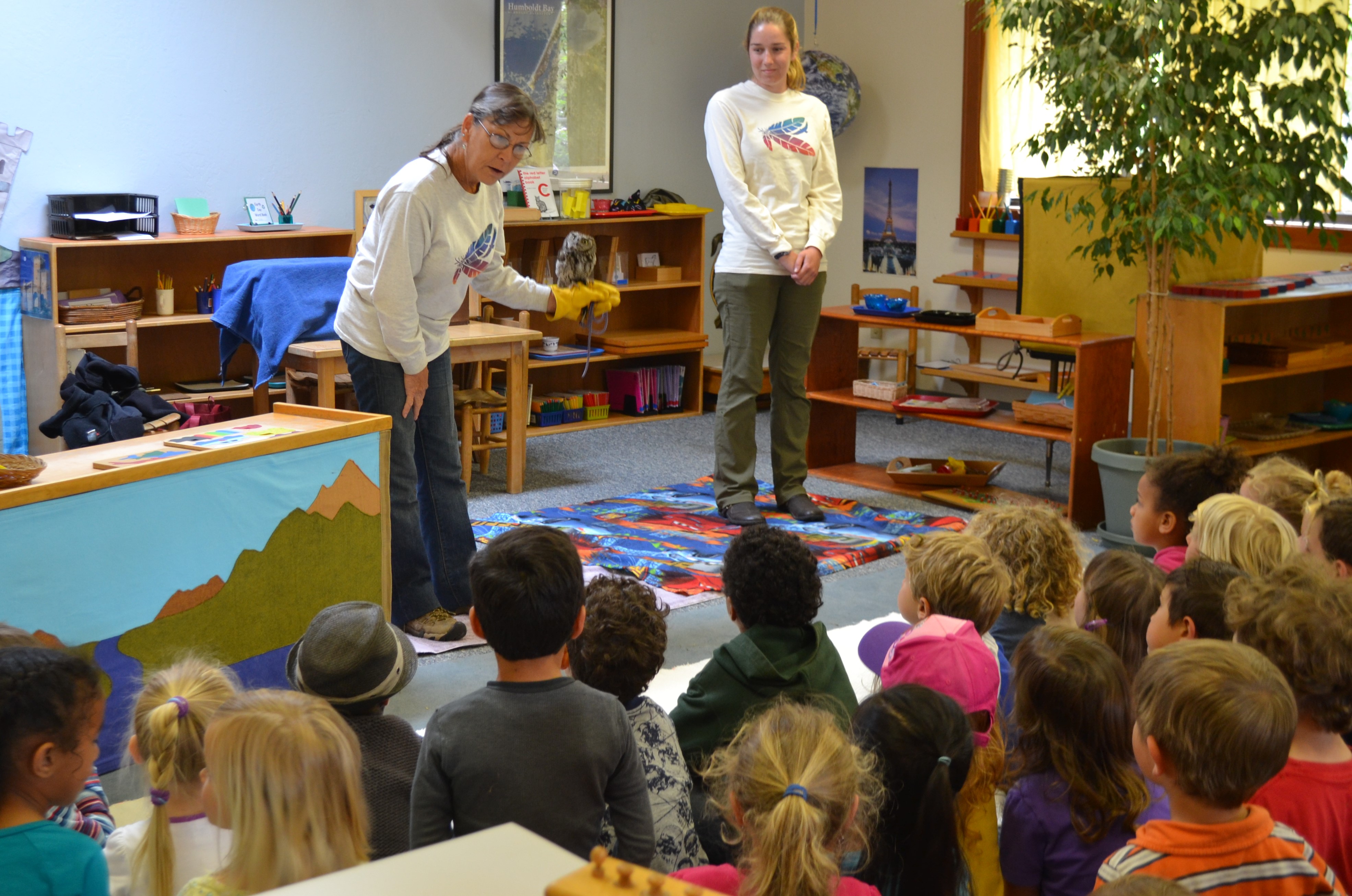 Our Wildlife Ambassador birds visit hundreds of school kids of all ages each year with a message of peaceful co-existence with the wild.
---
These are each important and no matter what the circumstances, must be accomplished. Sure we prioritize when our caseload is large – we don't schedule trainings and workshops during baby season – we don't work on book chapters when the pool is full of Western Grebes. Eventually, though, each task is critical to our mission.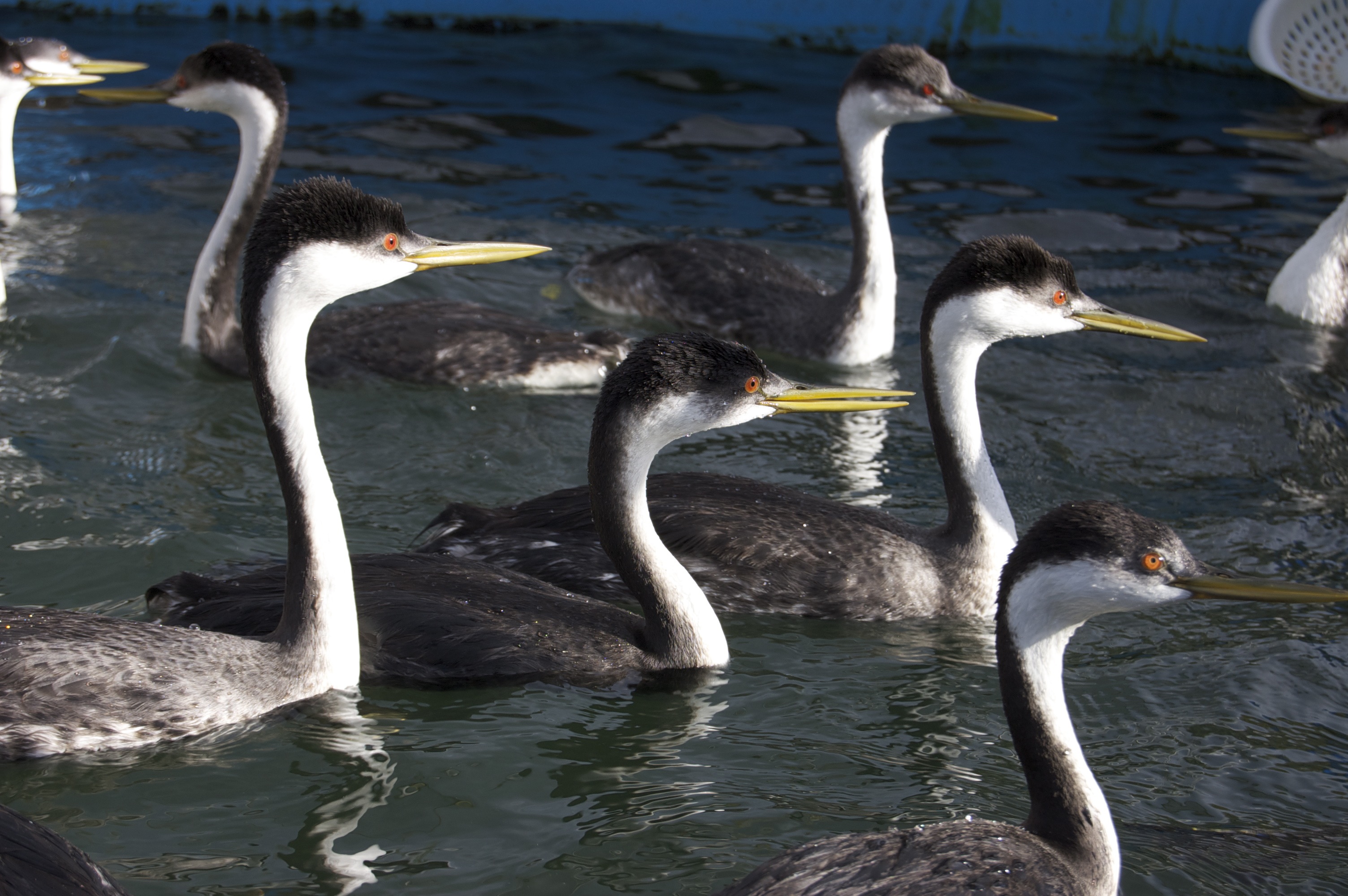 In the winter, our "quiet" season is only a storm away from a major and sudden increase in our patients in care… we need to be ready for this at any time! Functioning pools and a freezer full of fish are mandatory!
---
And then there is the task that so many of us dread. Yet without success here, all other work comes to a stop – the task of asking you, our neighbors, for help.
We need you. And at this time of year, we need you the most. We still have babies in  care from the summer – nearly two dozen juvenile raccoons!  We have aviaries that need repair and this is the time of year to do it! We have fish bills and water bills and our landlord likes to see a rent check once a month too. Staff must be paid! (or they leave to find a job that does!)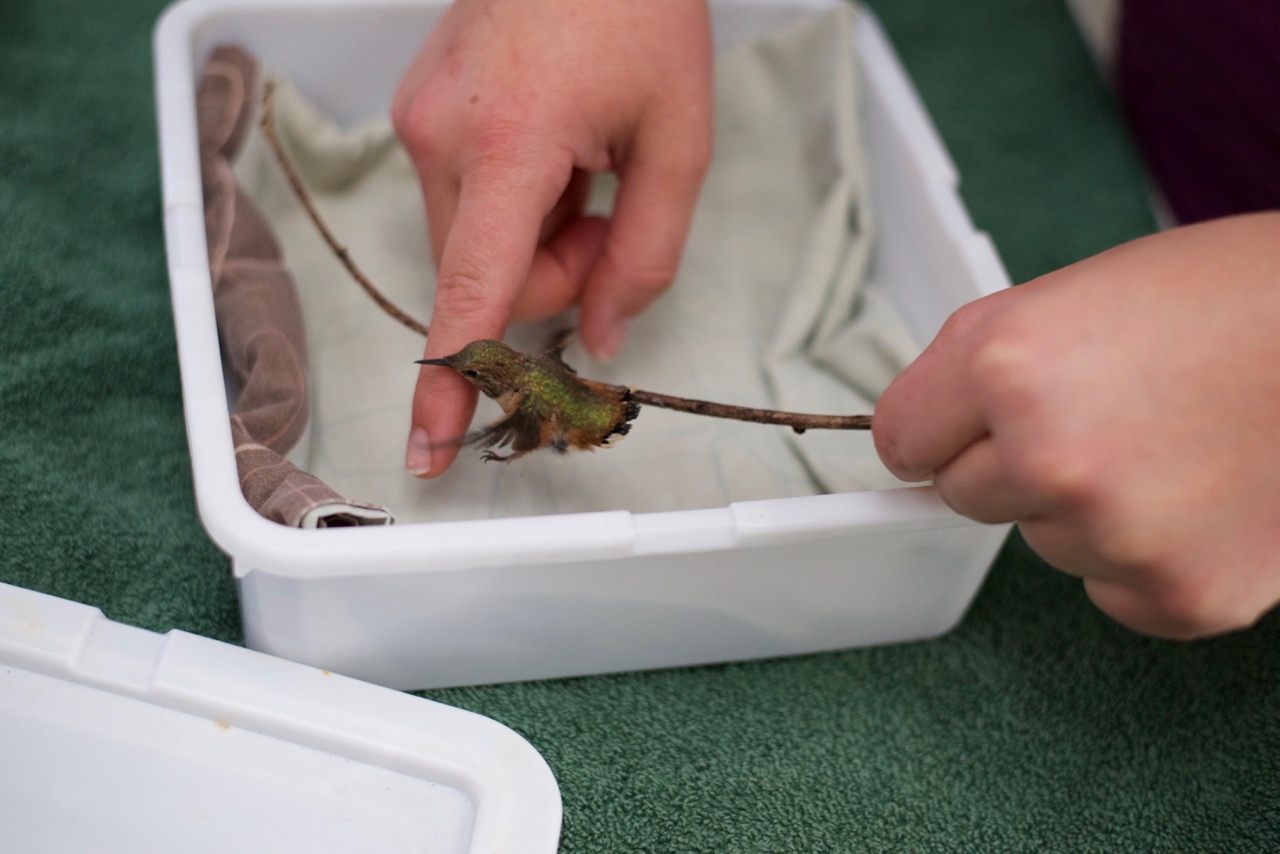 Our patients vary greatly in mass, but in spirit each is exactly the same size – infinite.
---
Food, medicine, electric, water, phone, internet – each of these is mission critical. Even garbage collection costs money!
The only source for money that we can rely on daily, weekly, monthly, yearly is you,
Our largest single project, Humboldt Wildlife Care Center is the only all species wildlife clinic in Northwestern California! We serve a region, one of the wildest in our state, that is larger than New Jersey!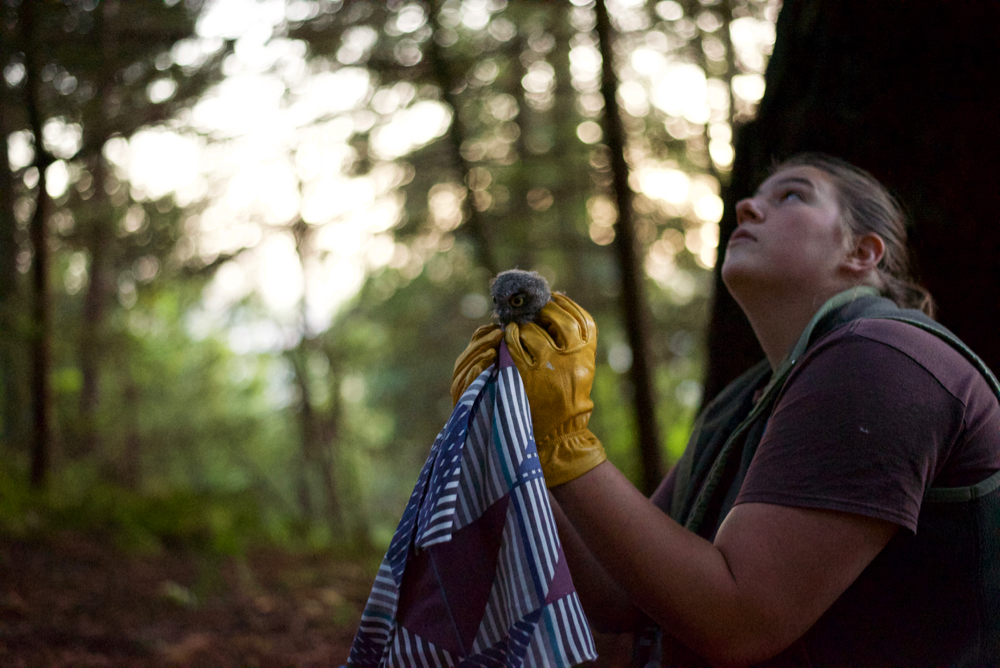 HWCC rehabilitator Lucinda Adamson listens for adults while attempting to reunite this juvenile Western Screech-owl with his family.
---
Right now, perhaps like many, we are struggling to make ends meet. Each month, our mission is made more difficult by this struggle. We need to raise at least $7000 by October 31 and we are only half way there. We need you. Our region needs you. Why? Because our injured, orphaned and threatened wild neighbors need us. Please help. Click here to Donate Now… every little bit helps… big bits help too! Thank you for your support and for your love of wildlife!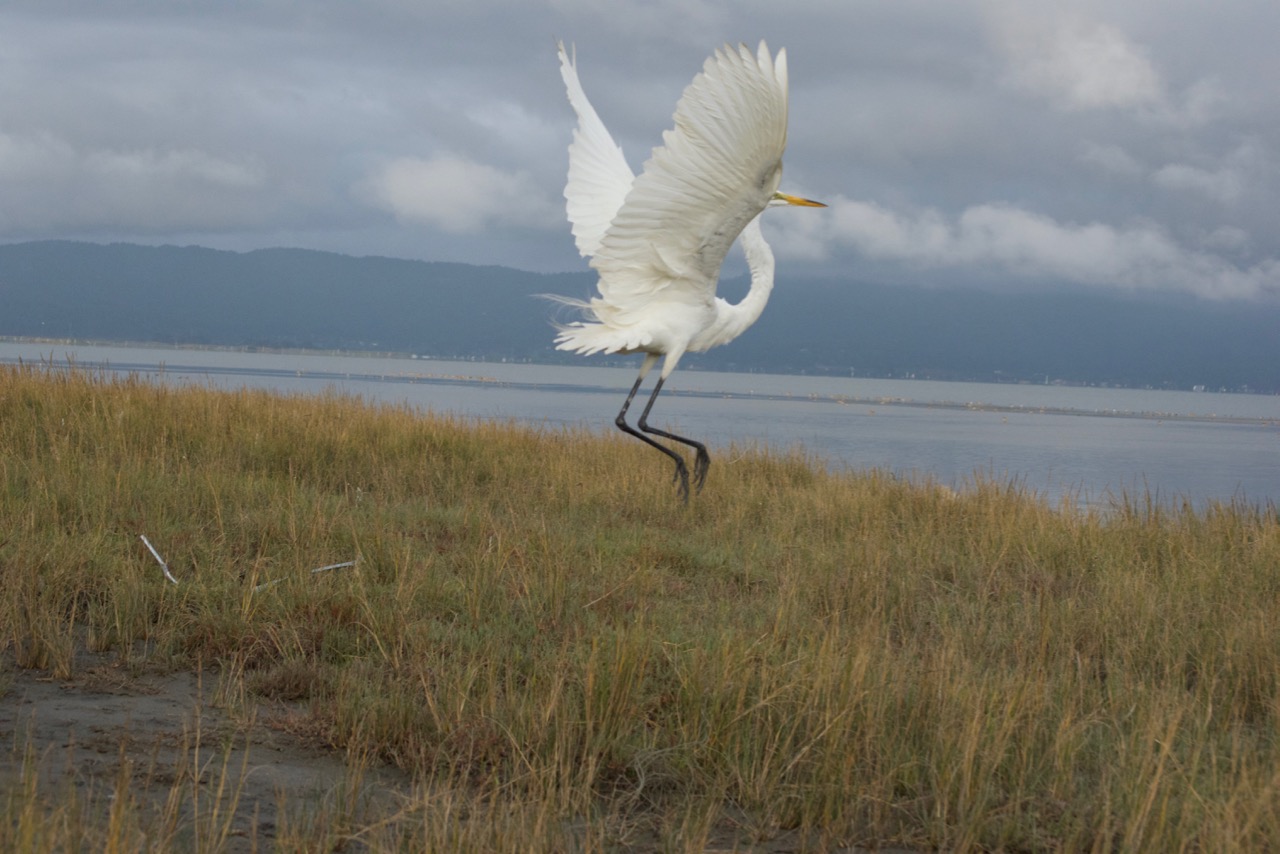 The real reward of our labor – releasing healthy fully recovered patients, such as this Great Egret (Ardea alba) we treated this summer, back to their free and wild lives.