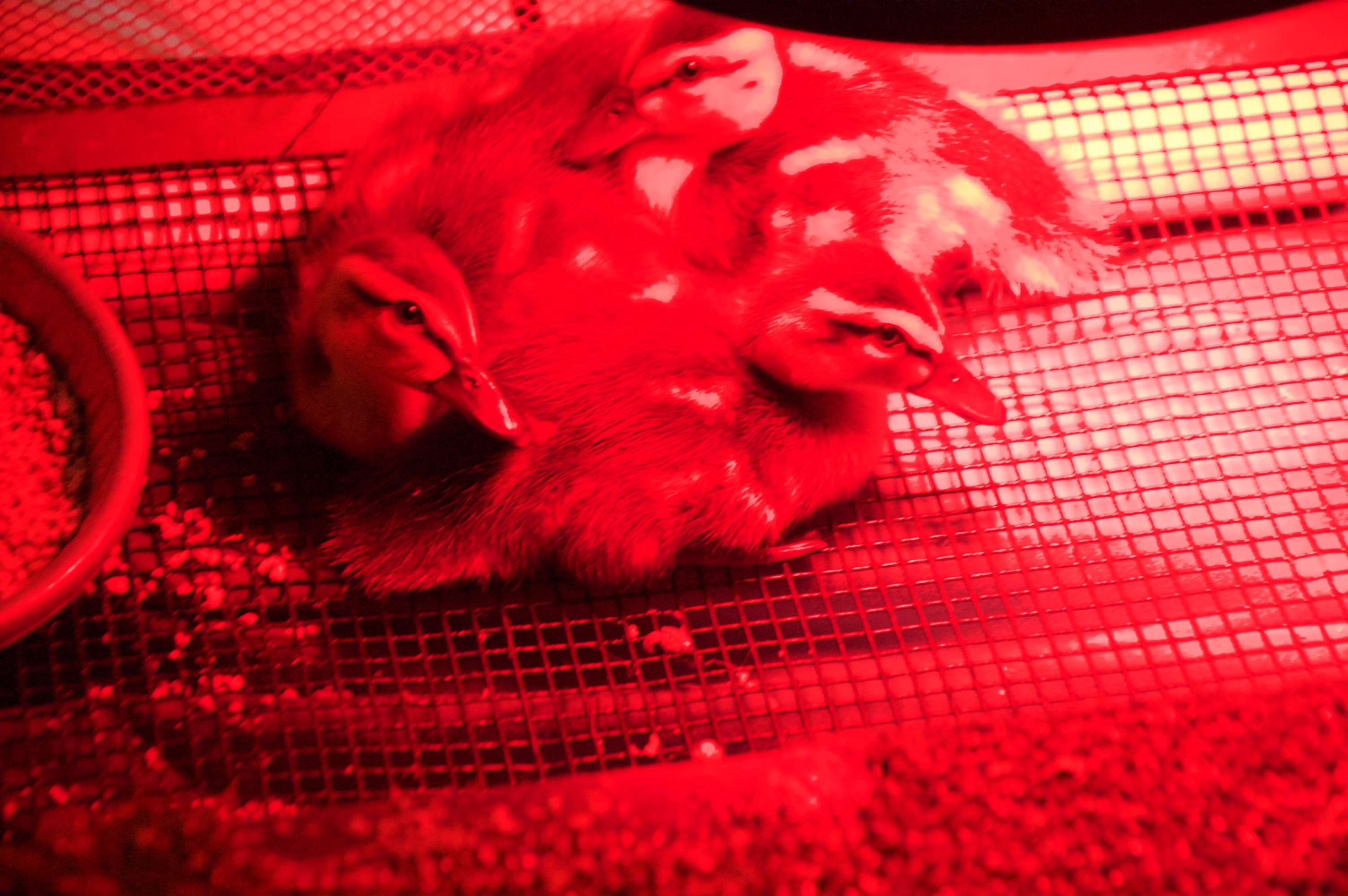 Mallard (Anas platyrhynchos) mothers for millions of years have selected safe secluded places to lay their eggs. Under bushy plants, in high grasses, and not more than a day hike from a nice pond. Once her babies hatch from their eggs, they are quickly on the move. Unlike songbirds whose young are altricial, meaning they are unable to do anything for themselves at all but open their mouths and accept food, ducklings are precocial – they come into the world ready to walk around and feed themselves. Within hours of hatching, mother Mallards lead their babies to water.
[Please support our work. Your contribution goes directly to the care of injured and orphaned wild animals and keeps our doors open! We need you! Please help. You can donate here now.] 
Of course in the intervening years, human have arrived on the scene, and in the last few thousand years began the process of covering the Earth in roads and other serious threats to our wild neighbors. Now an obstacle course of mayhem stands in the way of Mallard families and the ponds where they must grow, develop and learn to be successful adults. A mother killed by a car in traffic might leaving a dozen day old ducklings scrambling for their innocent lives. An off-leash dog might scatter a family with some babies never re-grouped. However it happens, thousands upon thousands of Mallard babies are separated from their families in California each year. Every year Mallards are the avian species most frequently admitted for rehabilitation in our state. Swimming pools with no way for a duckling to get out, pollution, traffic, dogs and cats, curious unsupervised children – the threats to young ducklings in human society are nearly endless.
At Humboldt Wildlife Care Center, we see less victims of these threats simply because we have a much lower human population. Still, we raise anywhere between 20 and 40 Mallard ducklings each year.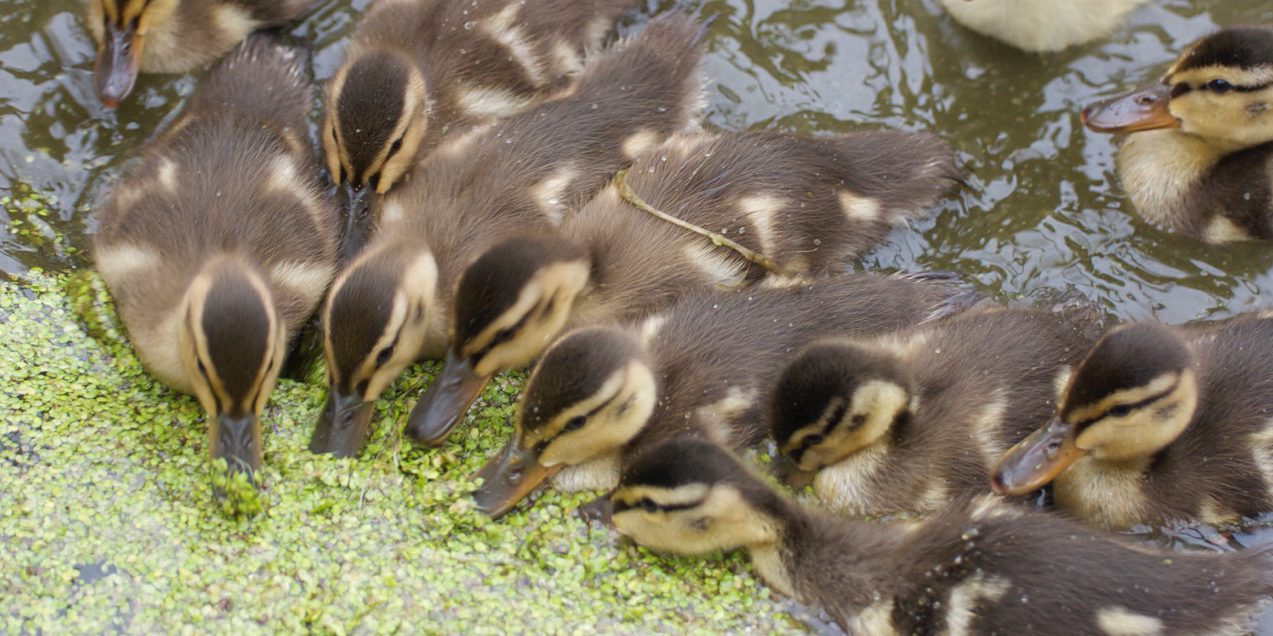 Orphaned Mallard patients from 2016, learning about duckweed, the miracle food!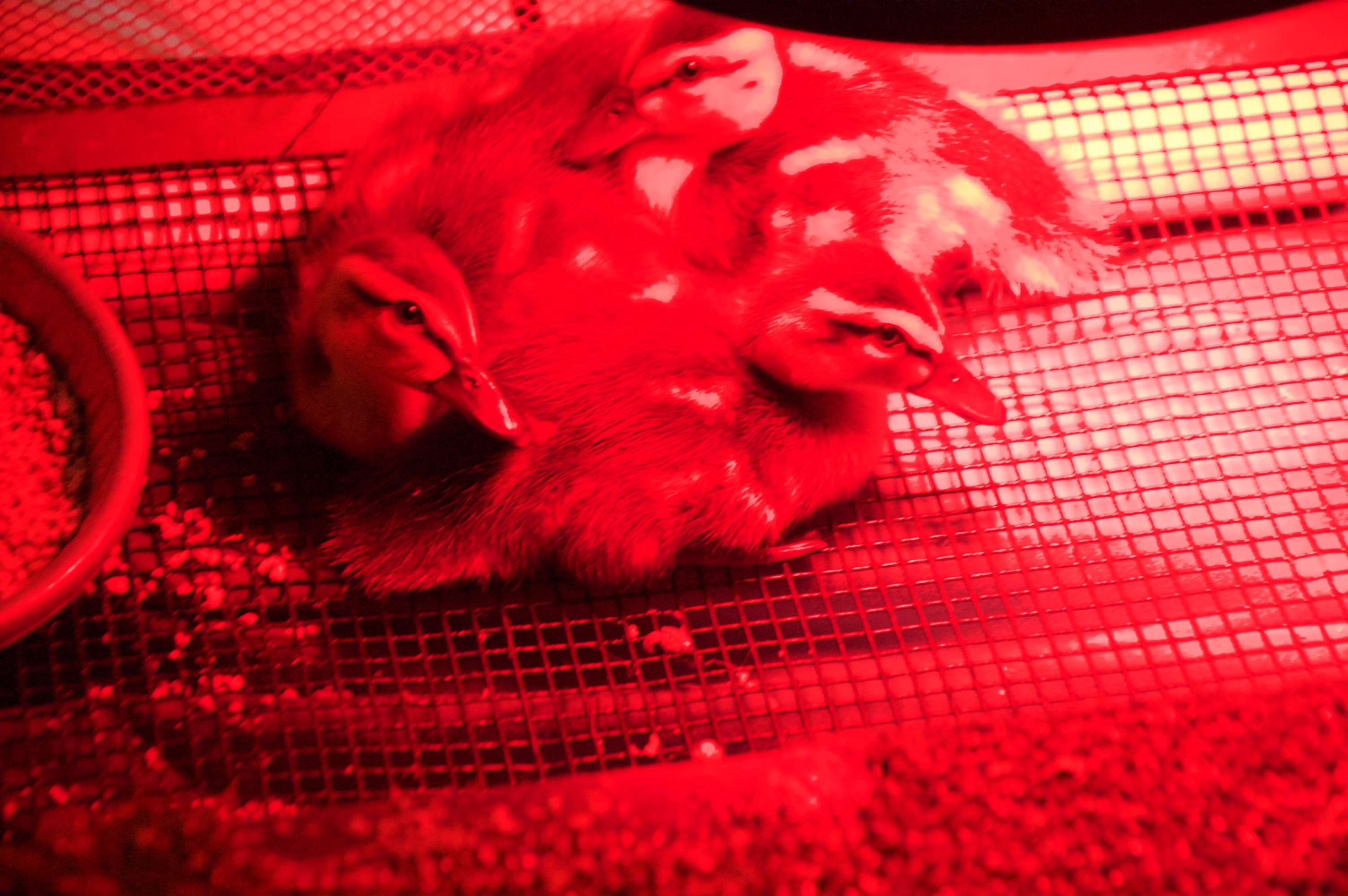 Our three young Mallards who are currently in care, under a heat lamp in our indoor housing. Soon they'll be old enough to be housed outside.
---
Last week we admitted the first Mallard orphans of the year. Found scrambling though a backyard in the coastal community of Manila, these three babies are doing very well, now. Currently housed indoors until they are big enough to stay warm through the night, soon we'll move them to our specially built duckling pond and then to our waterfowl aviary where they will continue to grow and develop in relative privacy – their wildness respected and protected – until they are old enough to fend for themselves. When they are ready, after about six weeks in care, they'll be returned to their free and wild lives.
---
Right now we are entering the busiest time of our year. Every day from now through the rest of Summer we will be helping keep wild families together and raising wild orphans when we must. The workload is intense and so is our need for your support. We are striving raise $25,ooo by May 31. We have $20,000 to go. Your support makes all the difference. Please donate today. Thank you!

photos: Bird Ally X