Helping Wild Mothers on Mother's Day (and every day)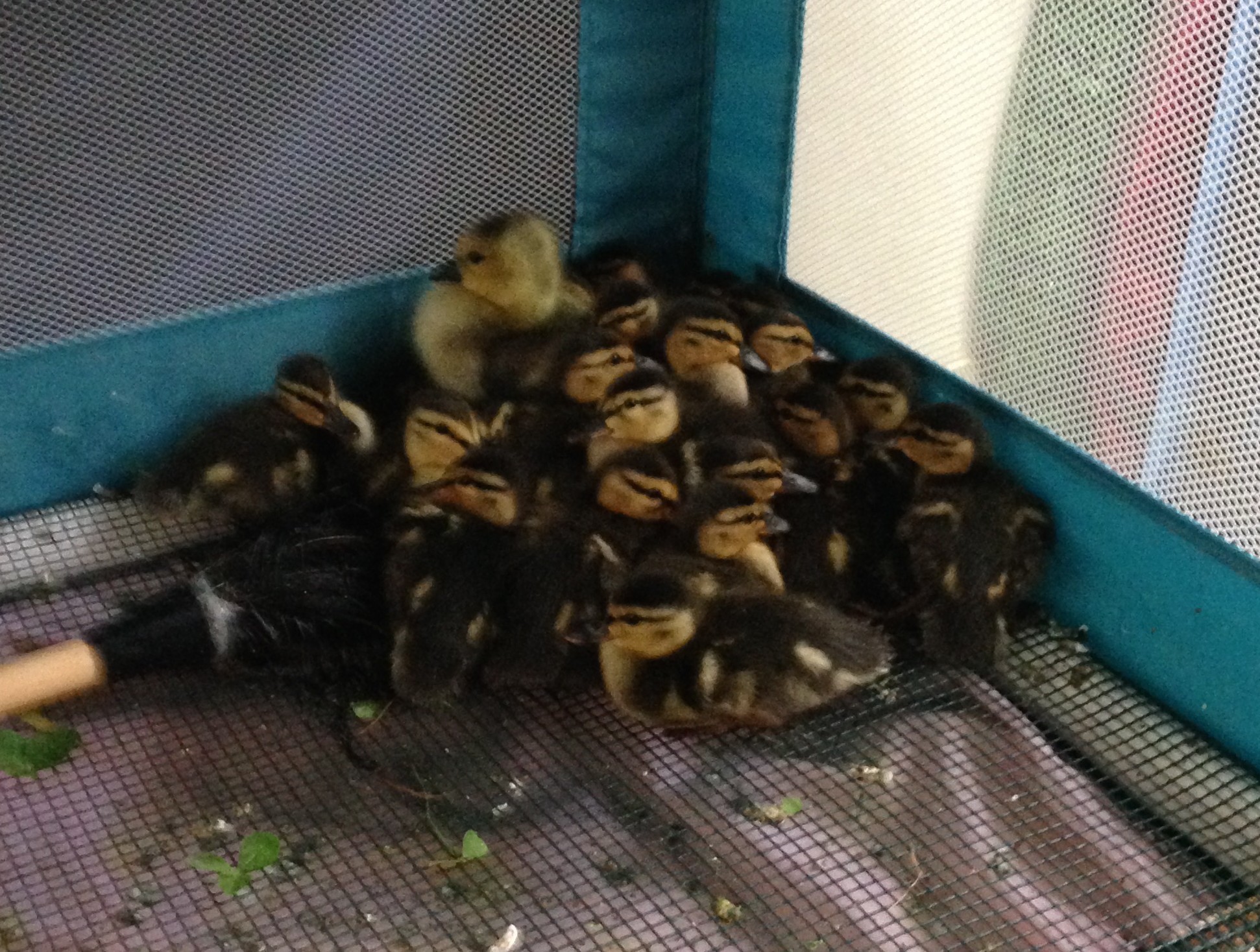 This year's Mallard babies at HWCC. We have two dozen mallard babies in care already!
---
Every year wildlife rehabilitation facilities admit huge numbers of orphaned ducklings for care. In California, Mallard ducklings top the list annually for numbers brought in to our state's permitted rehabilitators. This amounts to tens of thousands of young Mallards each year who are raised by people instead of their mothers.  The number of ducklings who die without being found is unknowably large.
The most common cause of separation is the death of their mother. Often, Mallard nests are far from water, safely hidden. But the journey to a pond, stream or river bottom that a mother duck must lead her babies on is fraught with hazards, and human activity is the most dangerous.
Automobiles and dogs are the primary reason the mallard ducklings are brought to our facility on Humboldt Bay. Humboldt Wildlife Care Center, because of our rural location, sees far fewer ducklings than facilities in San Francisco, Sacramento or the Los Angeles area, but still we get over two dozen each year.
So how can you help? There are many ways!
• See Wild Animals:  Wild animals of all species need to be able to move from one area to another. Our complex of roads and highways makes simply getting around the world a life threatening activity. Watch out for wild animals. Don't hit them with your car!
• Contain and Control Your Pets: Wild animals have natural rights to live and thrive on Mother Earth. Be a responsible pet owner and don't allow dogs and cats to roam unattended. The fawn your dog brings back to the porch, or the ducklings who are orphaned when your dog attacks the mother, songbird babies left behind from your house cat's carnage would have fared much better if left to live and learn form their mothers.
• Share the Wonder of Nature: Wild nature, of which we are a part, is a beautiful mystery. Happiness depends on our participation in this wonder. Wild animals have better chances when they are loved and respected by the humans who share their world. Be sure to love from an appropriate distance, though!
• Help Wild Animals Caught in Society's Traps: If you see a wild animal in trouble, call us! 707 822 8839 If you have a conflict with a wild animal, call us! If you have time, volunteer with us! If you have money, help us pay for our wild patient's care. The injuries that our human world causes to wildlife is OUR problem. Help us fix it!
Juvenile Mallards in our specially built Waterfowl Aviary enjoy their duckweed!
Thank you for a being of our lifesaving work!