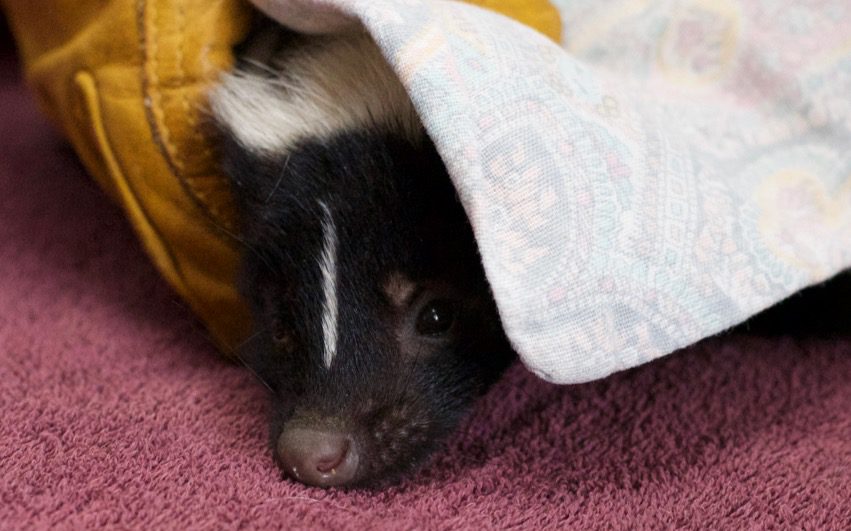 This story comes with recommended listening, Cornell Dupree playing Joe Zawinul's Mercy, Mercy, Mercy:
It happens and you don't even know why. Suddenly – you've just learned to walk, just learning to find bugs, just seeing the night sky – you're alone. Your siblings too. Maybe your mother was hit by a car. Maybe she was trapped and killed or taken far away. But no matter what happened, she didn't come back ever again. A day goes by, then two, then three. Before you know it you don't want to run anymore and then, if you're lucky, one of those people finds you, picks you up, puts you in a box. If you make it to a wildlife rehabilitator, you're going to be in boxes of one kind or another for a little while. But if all goes well, you'll be free again.
***
Last week at Humboldt Wildlife Care Center, we admitted our first baby Striped Skunks (Mephitis mephitis) of the season. 3 youngsters were found in a backyard in Eureka. They'd been seen for a couple of days, but no mother was observed at any time. When one of them was found not moving, all 3 were captured and brought to our clinic.
Right on the edge of weaning, they are old enough to eat solid food and can be housed in our outdoor small mammal housing. But they are far too young to be on their own with no protection and no one to teach them how to find food, how to hunt.
For the next 8 weeks, these distant cousins to the otters (and even more distant to ourselves) will learn to forage for insects, find prey, and recognize the foods that will sustain them in adulthood. We'll measure their progress and keep a distance between to protect their wildness and preserve their healthy fear of human beings.
We'll need your help.
What follows are photographs from their first day in care. Now they are housed outdoors, in privacy. We'll post more photographs as we can get opportunity during health checks over the coming weeks. Right now, they are gaining weight and using their new little teeth very well.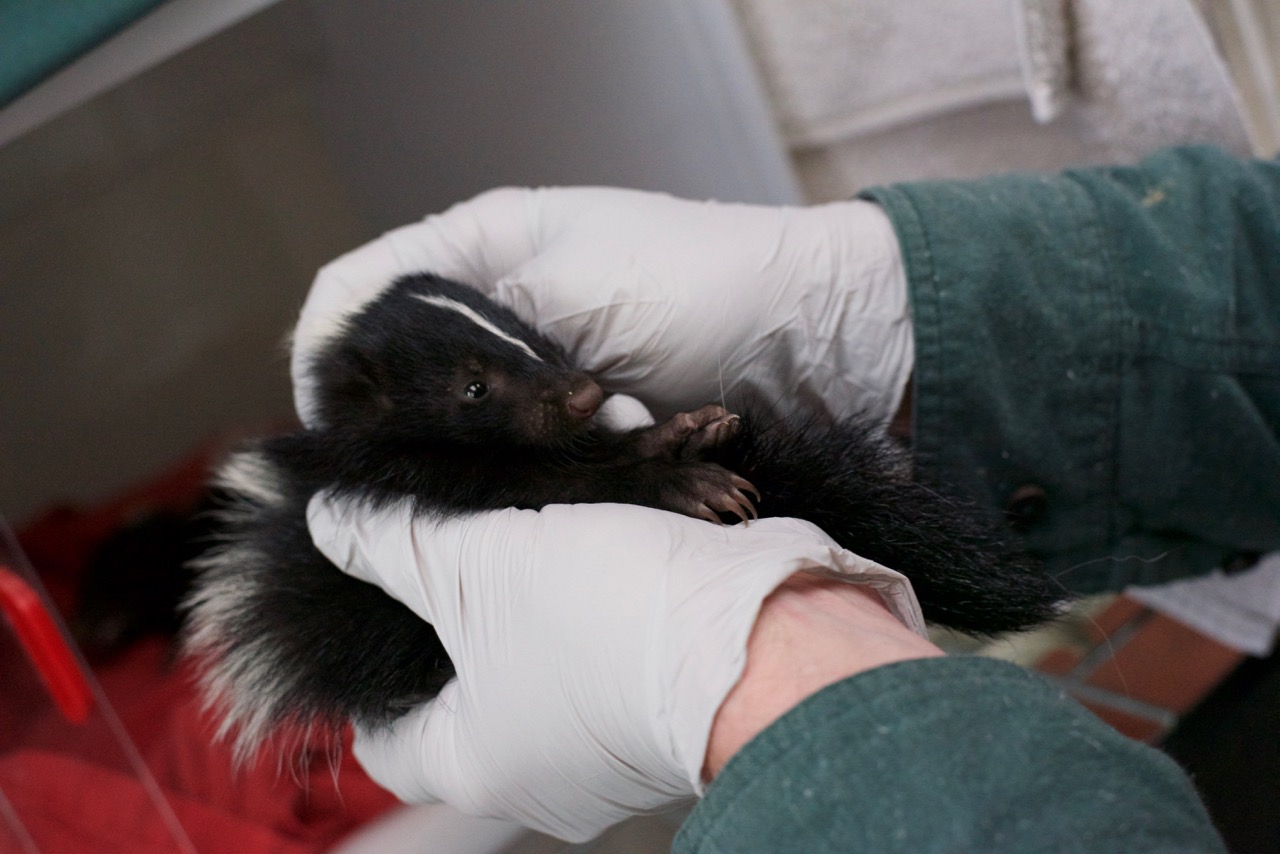 An exam of each skunk was made. One of them, the male of the three, was cold, lethargic and dehydrated, the two sisters were in much better shape. Each was given warmed subcutaneaous fluids. The male, initially  found immobile in the grass, had to be kept in an incubator for some time, but soon recovered and rejoined his siblings.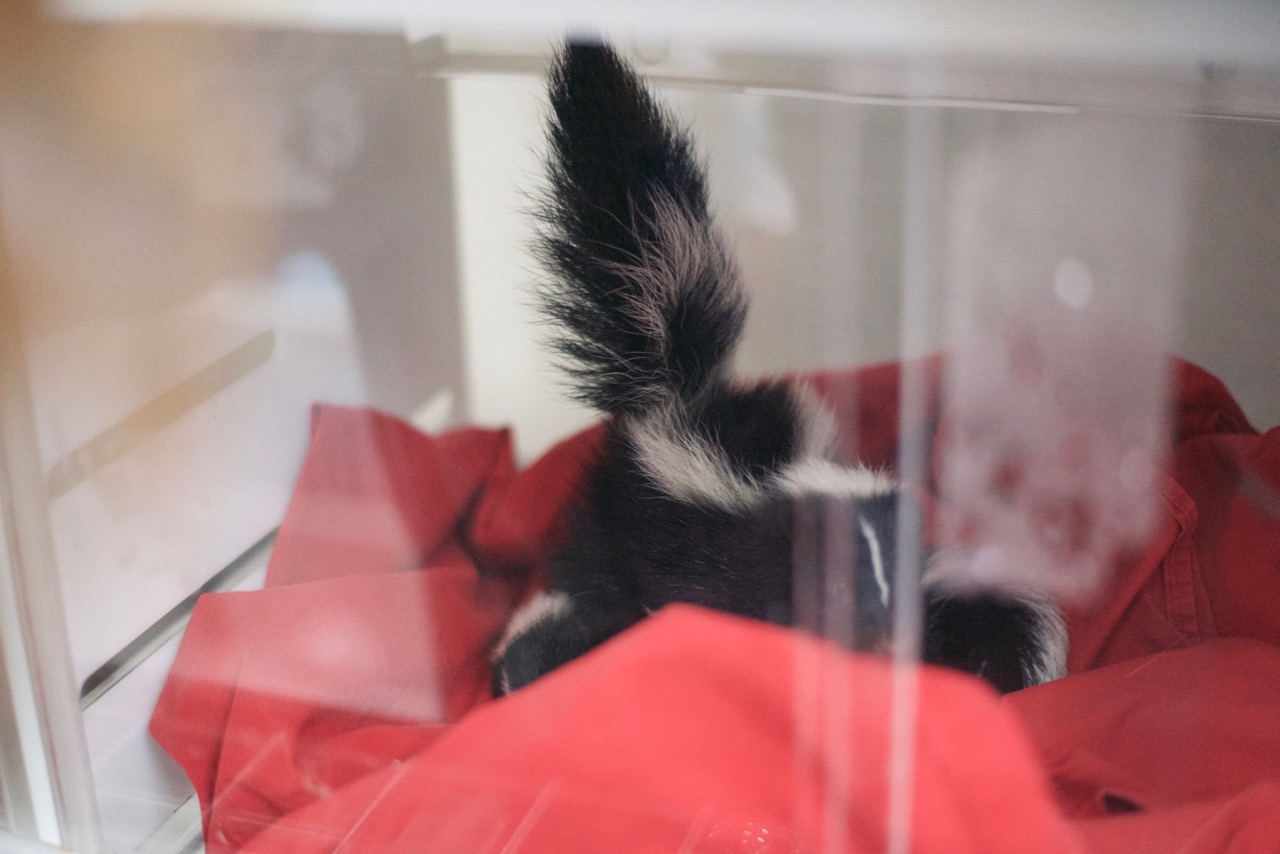 Tail up, the weaker of the three begins to signal his recovery as he signals his alarm at waking up in an incubator.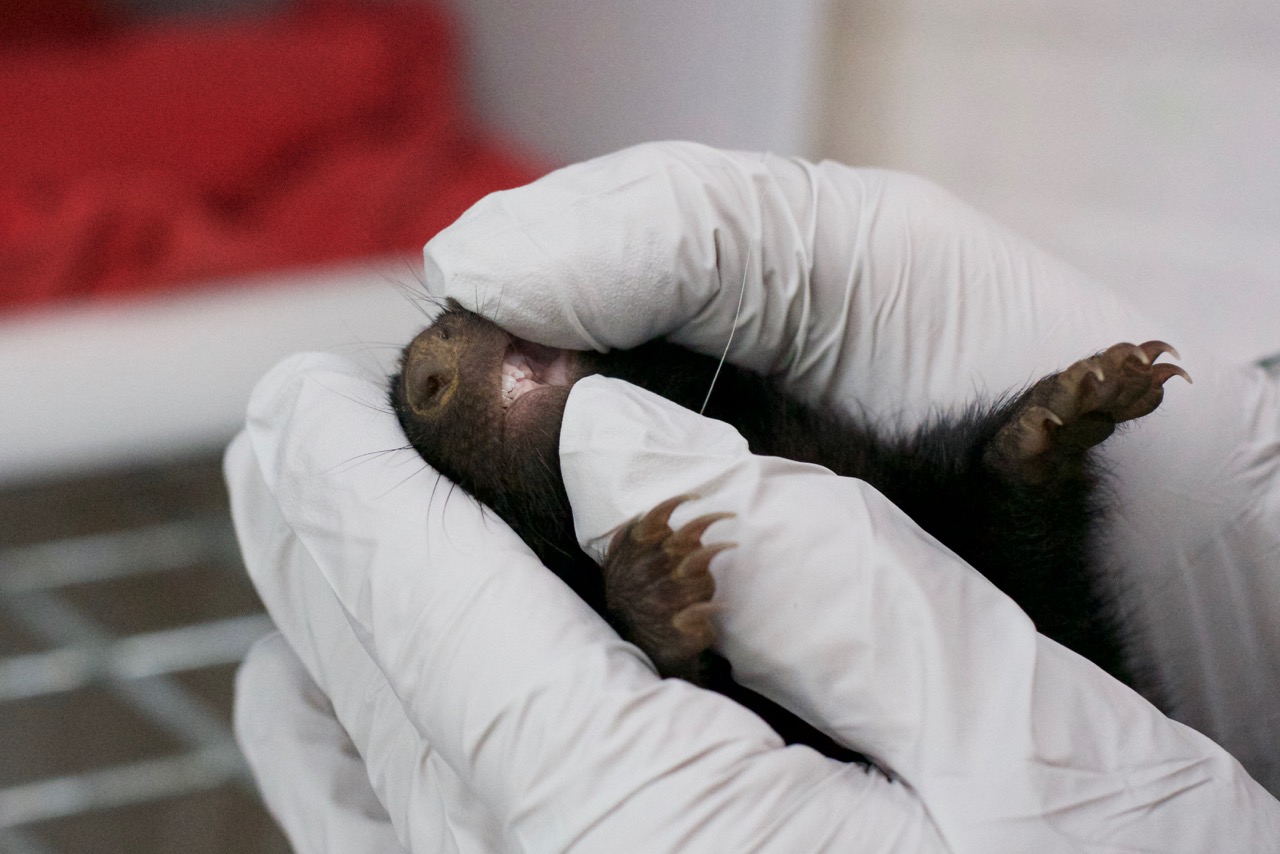 Oh yes, these teeth are ready from something to chew on!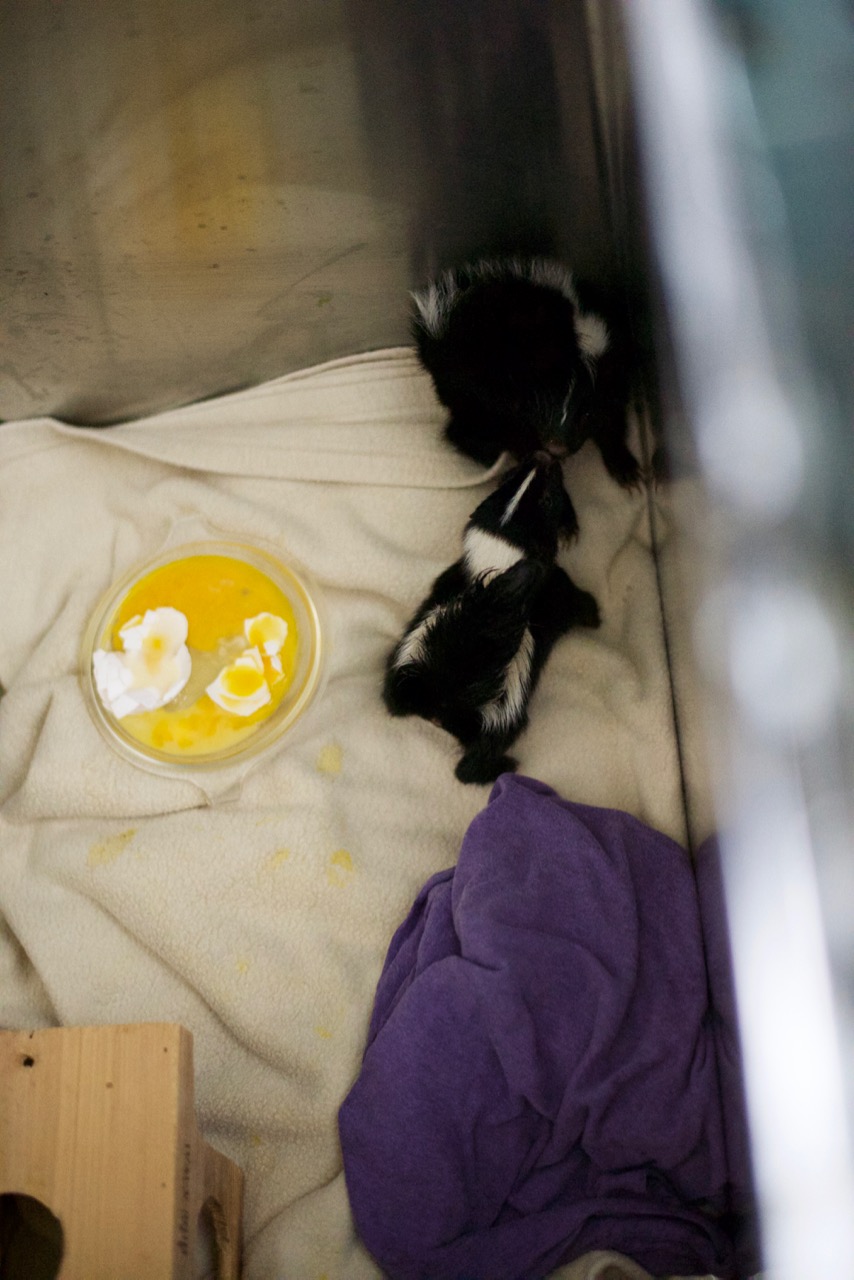 The two healthier sisters inside their initial housing to observe their stability, learn more about their state of health and make sure that they are eating. The brother soon joined them.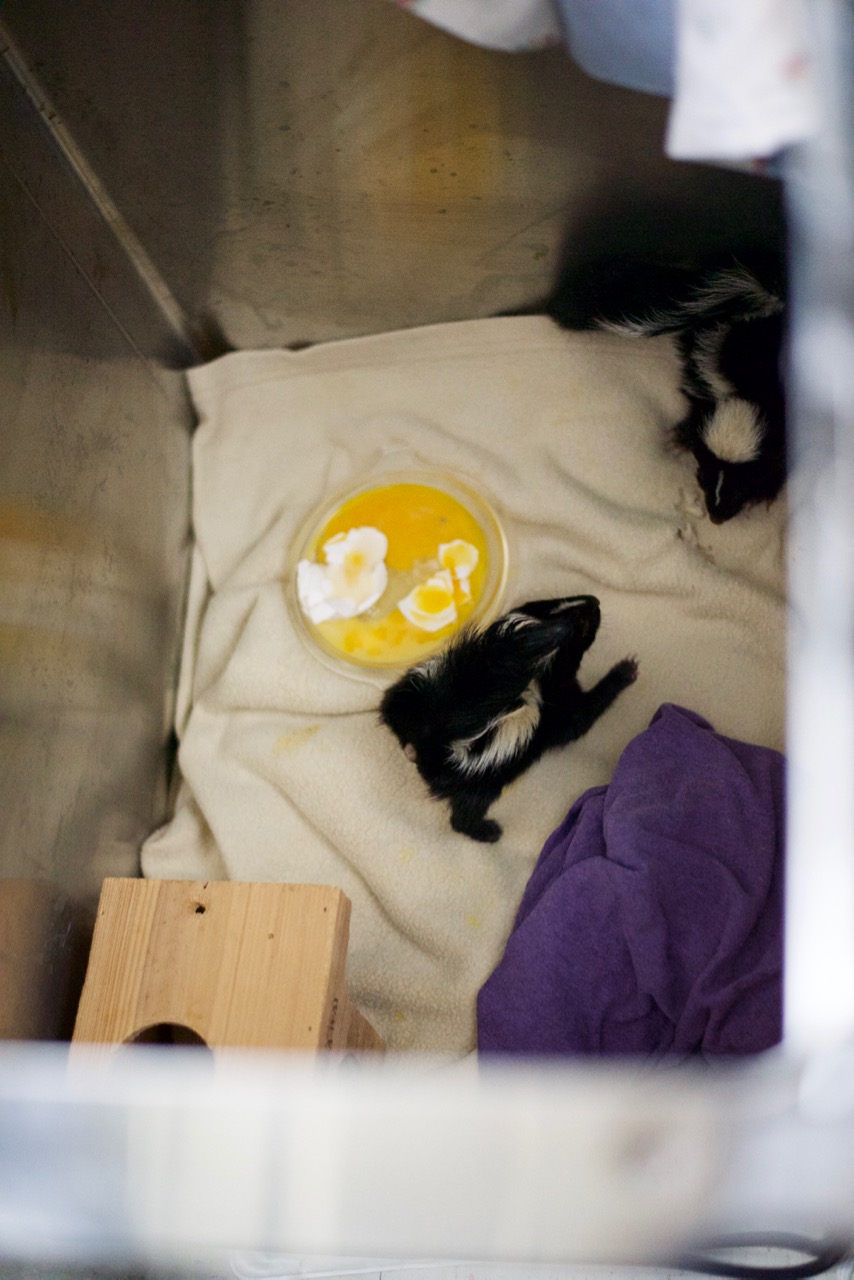 At this age, skunks don't have much ability to spray. Still the siblings stamp out warnings and lift their tails in mock battle. Play leads to adulthood!
---
It can be a hard sell – that these skunks matter. That any skunks matter. In a world such as ours, with demons at the helm, who put every thing that matters up on blocks in the front yard – the chopping block or the auction block – it can seem like we've got more pressing matters. But we don't. So much of what we suffer in this world is the result of a human arrogance that values its own engorgement over the very mystery that produces appetites at all. In this world, pleading the case of the wounded Robin, the orphaned skunk, the broken-winged gull can seem like too little too late. But if we're going to have a big world worth protecting, we'll find it the small miracles that surround us, the dense feathers of the seabird's belly, the strong musk of an evening's encounter.
Please help us care for these beings whose lives are their own, who determine their own value, victims of our thoughtless creations. Donate (here) if you can. Thank you.

photos: Bird Ally X/ Laura Corsiglia