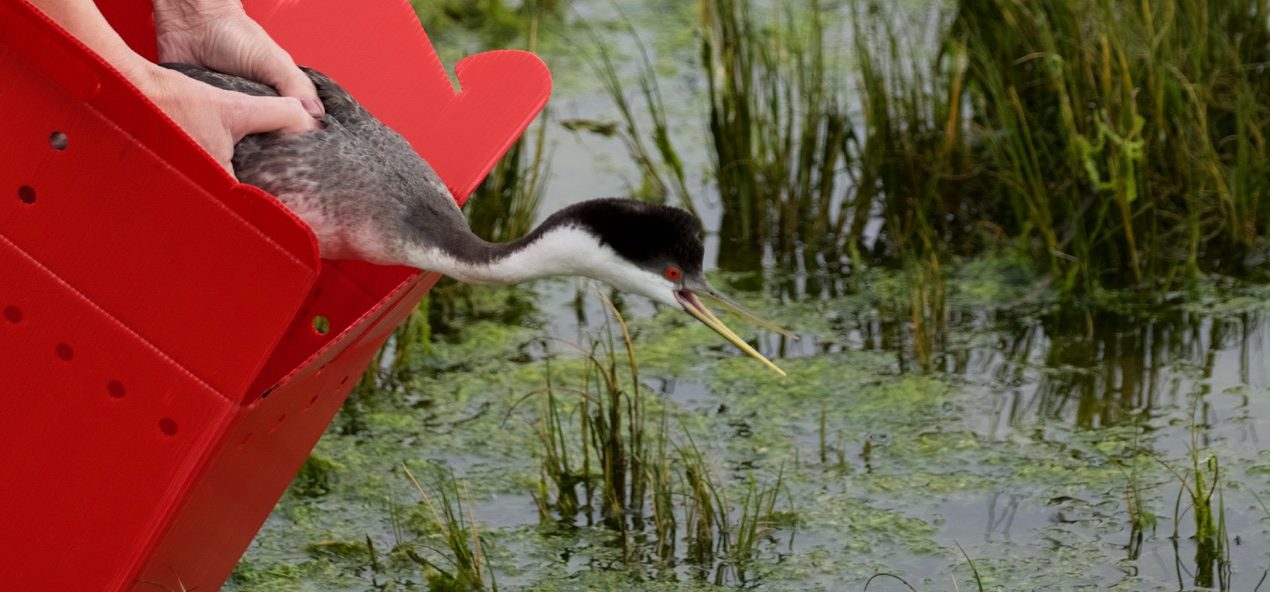 A storm-tossed Western Grebe (Aechmophorus occidentalis) was admitted last month at Humboldt Wildlife Care Center.
Western grebes are relatively common birds on the Pacific coast in winter where they can often be seen in the salt chucks, bays, lagoons, and the ocean, often in large groups, just beyond the breaking waves. We treat many each year. Last year we provided care for nearly 30 Western Grebes. 2014 was a bad year for these elegant aquatic birds – we treated 97.
Because Western Grebes are frequent patients, we generally have good results treating their most common ailments, parasites such as tapeworm, emaciation, and loss of waterproofing due to contamination.
In most ways, the Grebe that came in last month was an ordinary patient. Found on the beach in Trinidad, small abrasions under her lower bill had bled and soiled her neck feathers, which caused her feathers to lose their waterproofing. But that wasn't her primary problem. Her biggest problem was that she is a juvenile who'd been facing her first winter of independence. This year's exceptionally stormy season got the better of her. Emaciated, dehydrated, and wet, she didn't stand a chance without rescue.
But in one critical way this Grebe's treatment was unusual.
Many of the aquatic birds we treat are piscivores, or fish-eaters. Ordinarily, it is the protocol in successful treatment of highly aquatic birds who require pools to offer these patients fish with low fat content. Pool water quality is important to protect and fish with higher fat content has caused problems, the fish oil contaminates the pool water and in turn contaminates the feathers of the patient, which disrupts the carefully maintained waterproofing. In the wild, these contaminants lead to death. Oil isn't water-soluble. A detergent of some kind is required to remove it. Once oiled, a bird needs to be cleaned.
Caring for aquatic birds is a specialized skill precisely because of their need for water. Pools, water quality, feeding techniques are each crucial elements in providing care, as are the efforts we make to protect our patients from the harm that can be caused by holding aquatic patients out of water. On land and inside our building, birds who typically float on water their entire lives, are highly susceptible to pressure wounds, respiratory infections, and other secondary problems caused by their time in captivity.
An aquatic bird housed in "dry-dock" needs protective wraps to guard against injures from even the softest solid surfaces. Even with these measures, the patient still must get back to water quickly.
---
Most of the techniques and protocols for rehabilitating injured aquatic birds come from oil spill response. During an oil spill, sometimes thousands of birds might be impacted. The techniques developed to increase success with such large caseloads is the basis for most current aquatic bird care. Generally we follow them with predictable and largely positive results.
However, something very unusual happened in 2016. The low fat fish we feed our patients, Night Smelt were no longer available. Our supplier said there would be nome until April, and that wasn't even certain.
Fish populations across the oceans are in trouble, of course. Rising sea temperatures, plastic pollution, over-fishing, agricultural waste run-off, acidification are all wreaking havoc on the marine environment and the health of Mother Earth.
So, we got the fish that our suppliers could deliver: River Smelt, known here on the Northwest coast as Eulachons.
Eulachons are a very nutritious fish, with twice as many calories as Night Smelt. They are also bigger. Not so big that they can't be swallowed whole by a Western Grebe (see video below) but five times larger than night smelt. Mathematically, it's easy to see how Eulachons are a better fish to feed. Two 50 gram fish hold a total of 150 calories. Night smelt, at 10 grams each and 70 calories per 100 grams, require 20 fish to reach the same energy content!
This Grebe wouldn't eat for her first week in care. She had no interest in food. She also had an injury just inside her cloaca, or 'vent', so it is possible that she was very uncomfortable when eliminating solid waste. In any case, we had to provide her nutrition via a feeding tube, a technique known as 'gavage' feeding – basically putting a fish slurry (a blend of smelt, vitamins, and a nutritionally enhanced liquid similar to a protein drink) directly into the patient's stomach.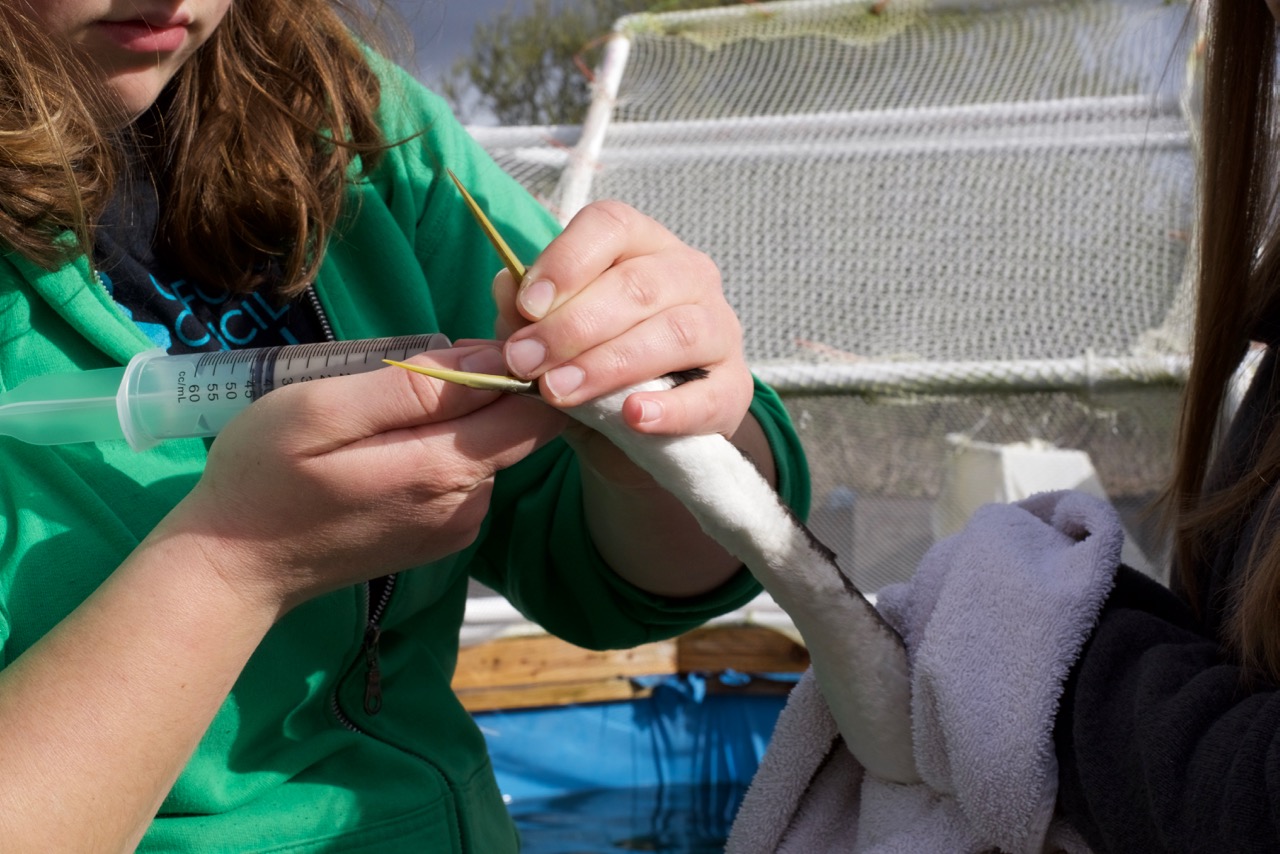 Gavage feeding is necessary when a patient isn't able to self-feed.
---
Her weight during this period gradually rose. Our schedule for feeding balanced the needs of the patient to not see our scary faces too many times a day against the calories she needed to recover from her near death by starvation.
Typically aquatic birds require about 3 weeks of Night Smelt to recover from clinical emaciation. Of course there is some variance depending on other factors, including the personality of the patient.
[Your support needed! We are several thousand short of our March goal of $7000! Any amount helps! from $5, to $5 a month to $5000 dollars, your generosity goes directly to our mission of direct care and education. Please donate today!]
After the first week in care, going in and out of the pool, the Grebe struggled with her waterproofing. Her feathers around her vent were consistently wet. Besides for the confirmation that she might indeed have a wound healing just inside her digestive tract, her waterproofing issues were keeping her from spending all her time in the pool, which she needed badly. She had begun eating on her own and her weight was climbing steadily. The only thing holding her back was the persistent wetness around her vent. So we applied detergent to that area to give her a boost. Within a day she was waterproof.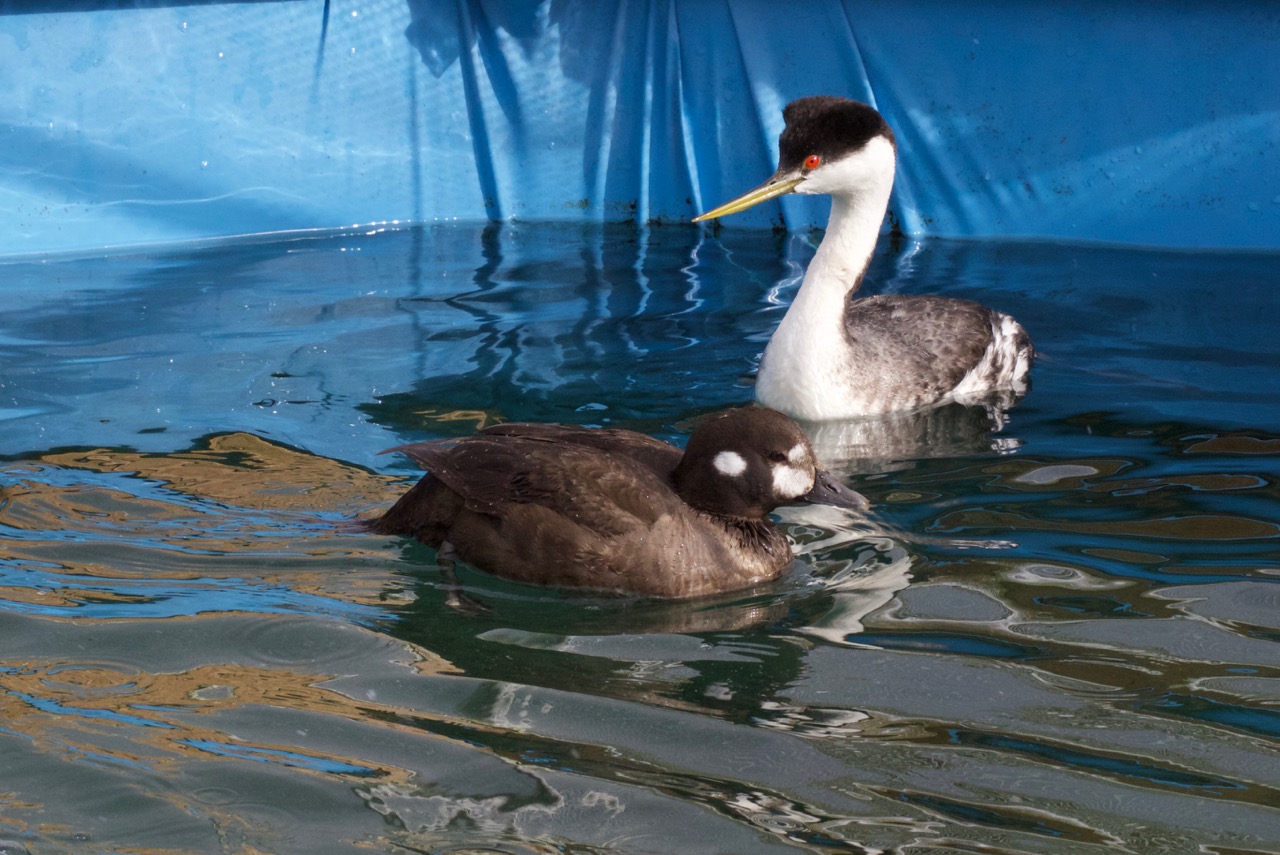 After a week in care, she'd started eating on her own, and with our help, she was waterproof.
---
After 48 hours in the pool, we thought she was going to be released very soon. And then came a major setback. A volunteer went out to check at the end of the day that the birds in the pool had food and our Grebe was completely soaked, sitting on the little net (we call it a 'haul-out') we have for birds who need get out of the water. A healthy bird rarely uses it – it's essentially a lifeboat for a bird who is struggling.
We pulled her from the pool, put her under a pet dryer and kept her indoors overnight. We analyzed the pool for what might have caused her problem. An obvious suspect, of course was the fish, the fatty Eulachons that had been such an effective food for her emaciation.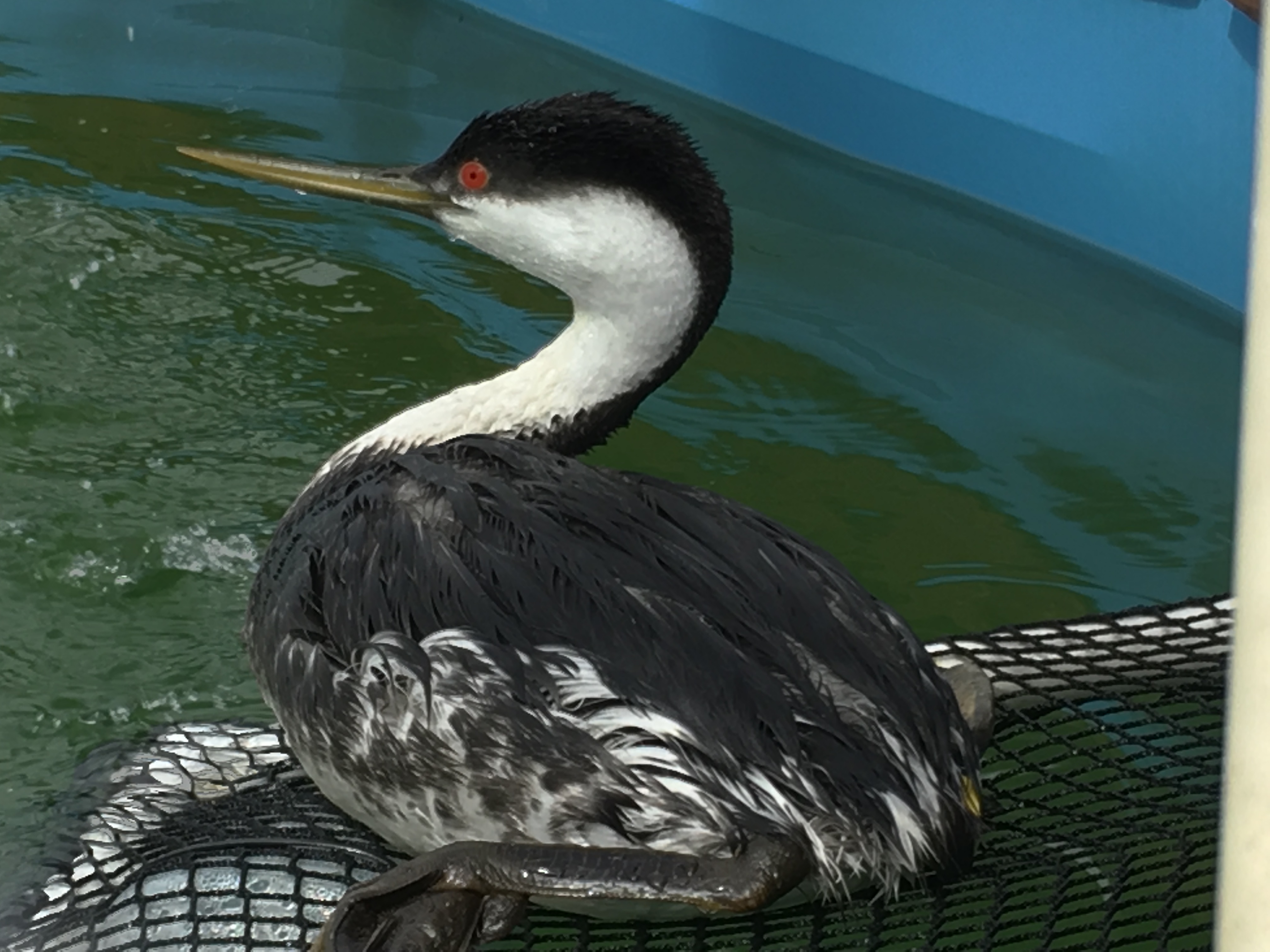 This is a very soggy bird using her haul-out. 50˚F water isn't comfortable for warm blooded animals without thir protective shell. Aquatic birds rely on their feathers to satay warm and dry.
---
How fish are presented in pools is a tricky proposition no matter what the fat content is. Pieces of fish rather than whole fish are an oily mess even with Night Smelt. Our pools all have an overflow system so that any oils from fish or feces on top of the water are constantly being eliminated.
The problem was identified and we took corrective action. The basket we place the fish was not allowing water to freely flow, trapping oils. Every time our patient put her head in that water to grab a fish, she was picking up the oils and then spreading them around body when she preened, the time-consuming work that most birds must do every day to keep their feathers in good, functional shape. It was a simple problem, simply fixed.
We re-washed her. Within 24 hours she was fully waterproof. 48 hours after that, she was released, 300 grams heavier than when she was admitted, her wounds healed, and her life back on track. Her total time in care, with set backs: 15 days. The Eulachons, even with the problem, shaved a week off her recovery time. That's simply too good to reject. So we amend our ways to accommodate the oil.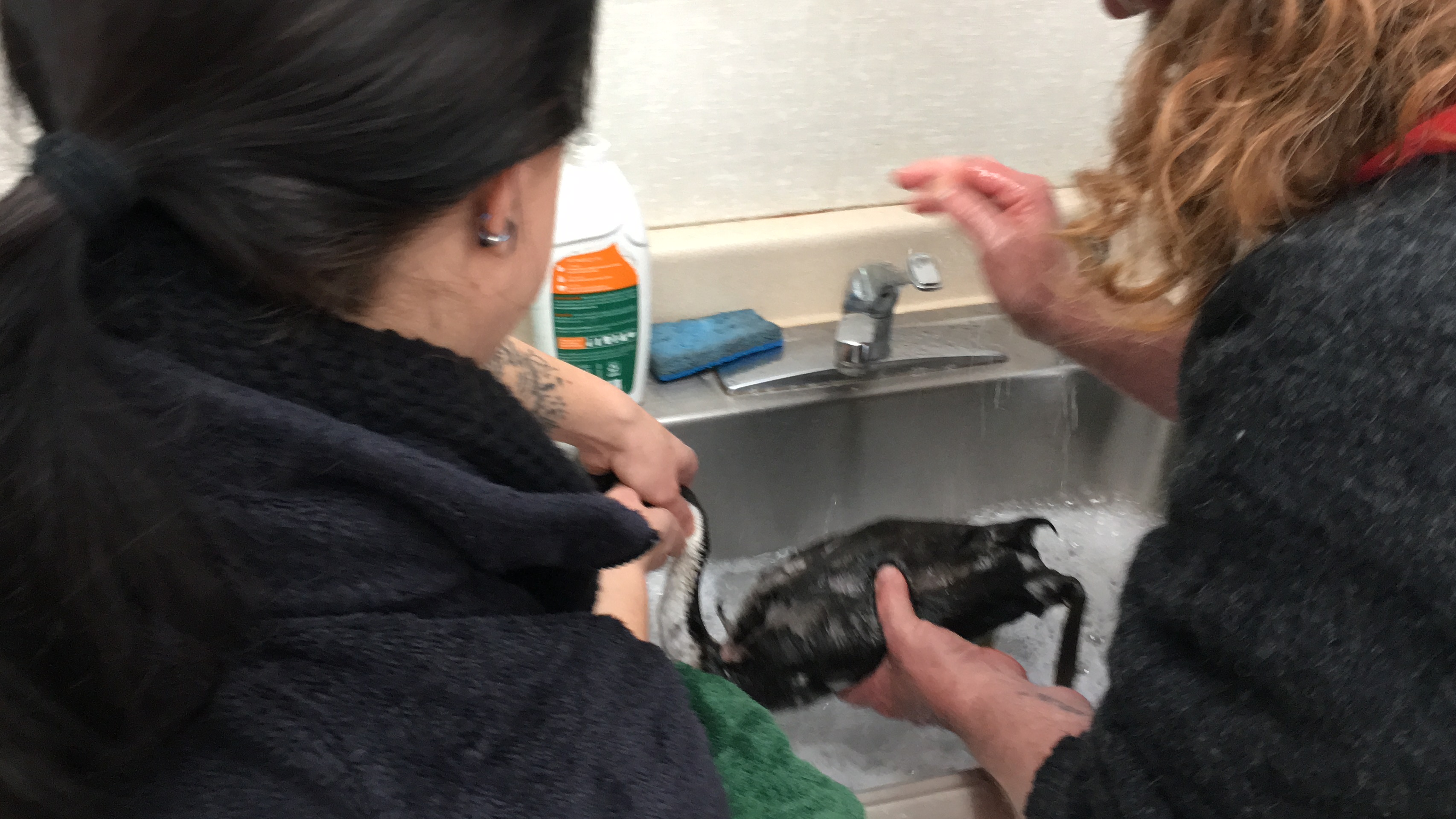 Using a very mild detergent and warm water, the Grebe was quickly washed. From here she was palced in a warm water pool where she essentially rinses herself, finishing the job. Another day of preening and she'll back on top of her game. A hidden camera caught her as she works to reolve her feather issues in private. She also likes fish!
---
After another 48 hours in our pool, with modifications made to our system, she ate Eulachons and gained even more weight. After 2 weeks in care, she was released back to her wild freedom.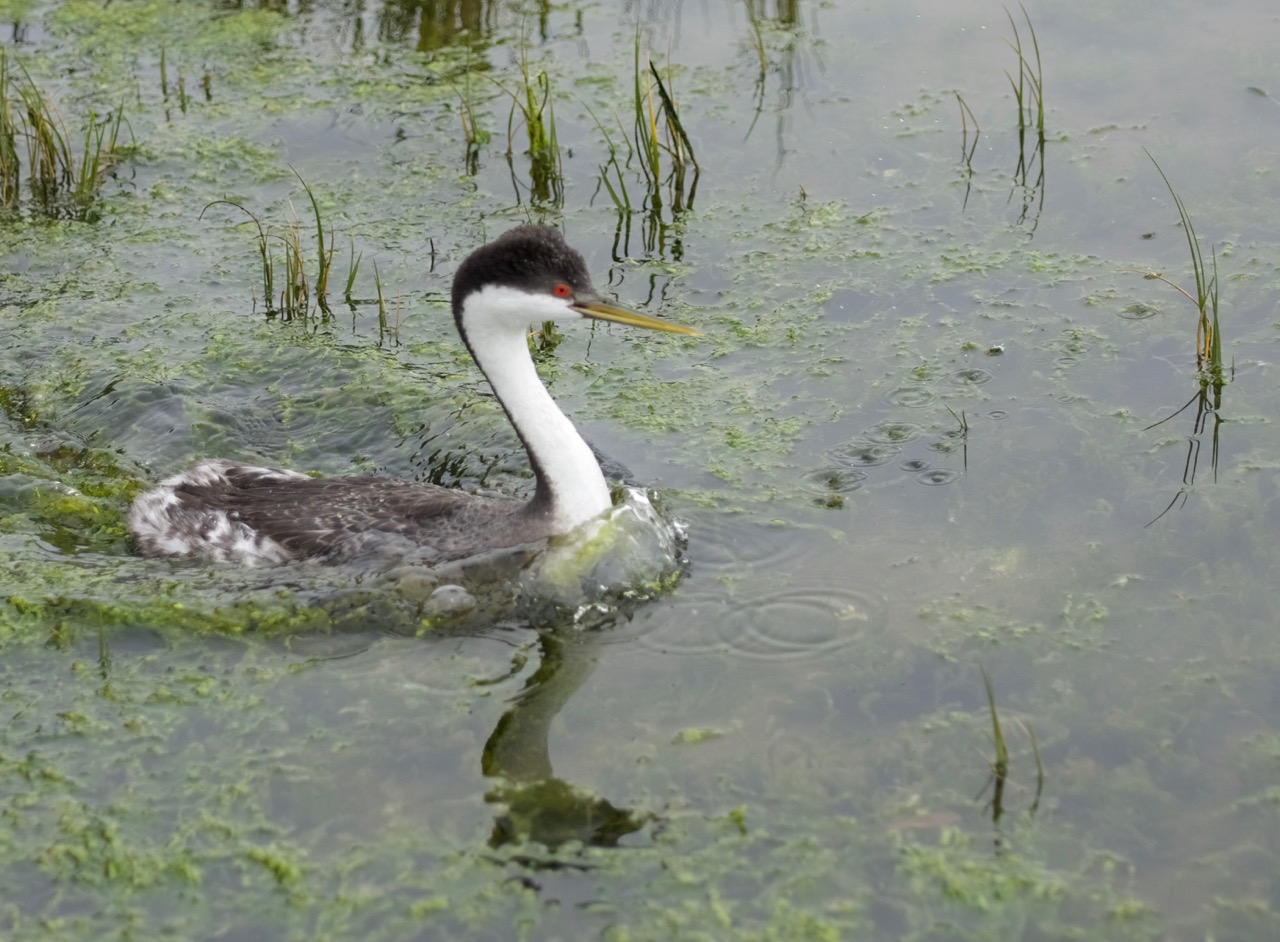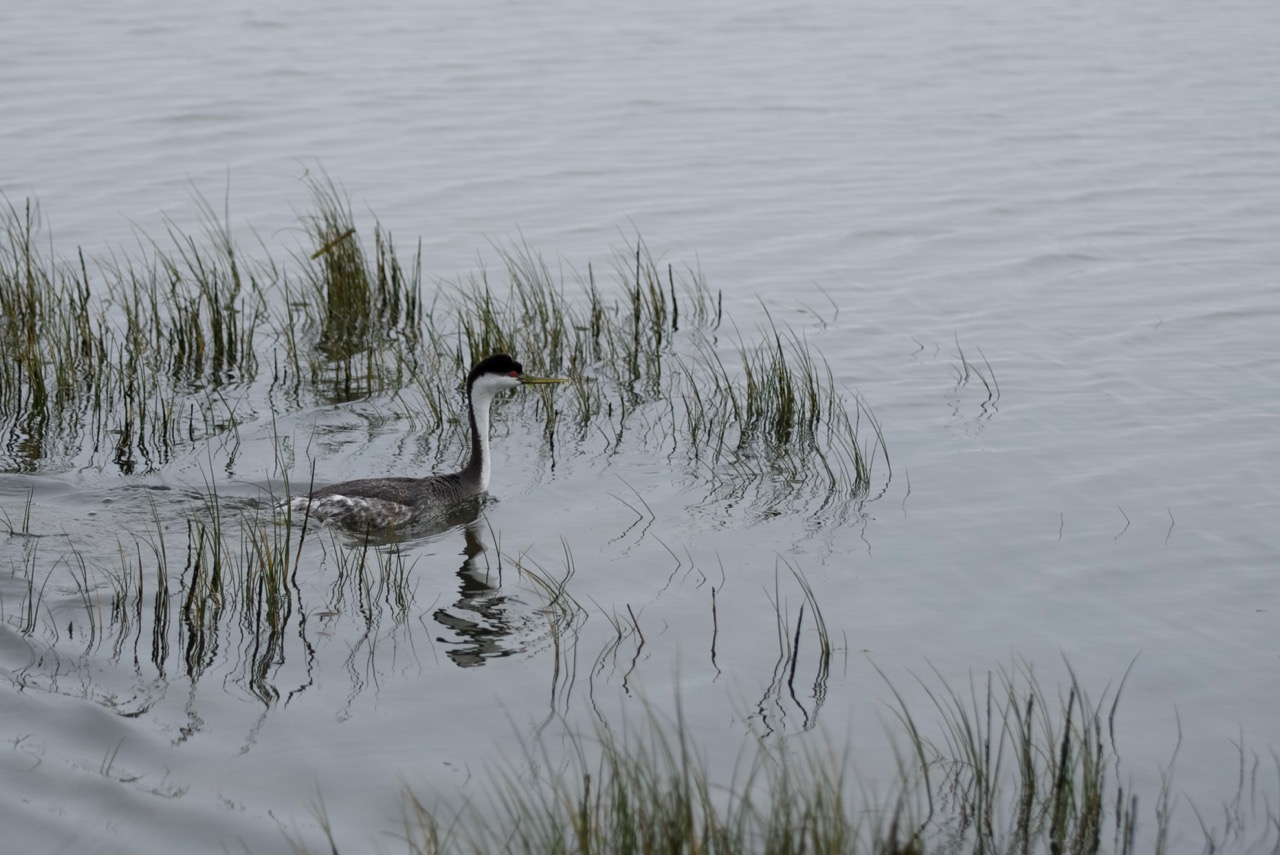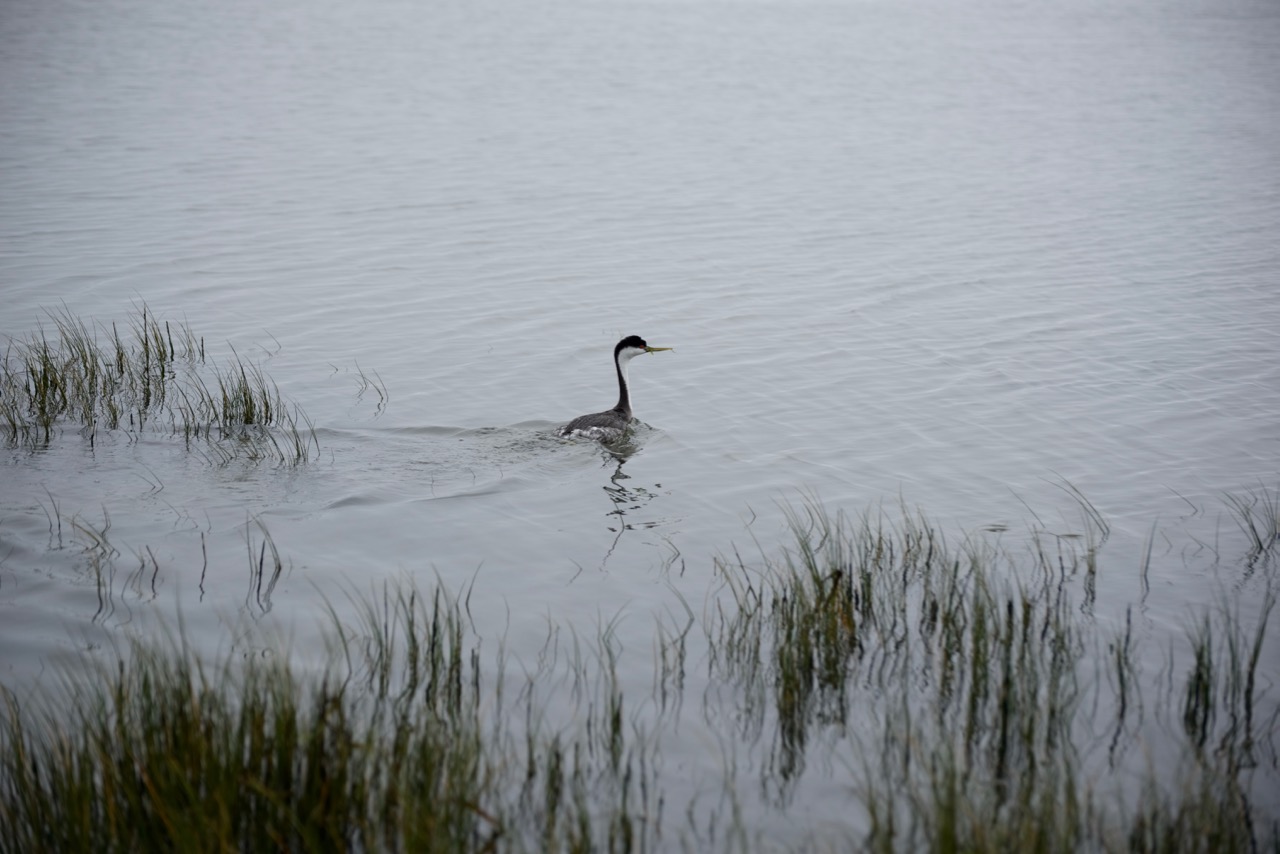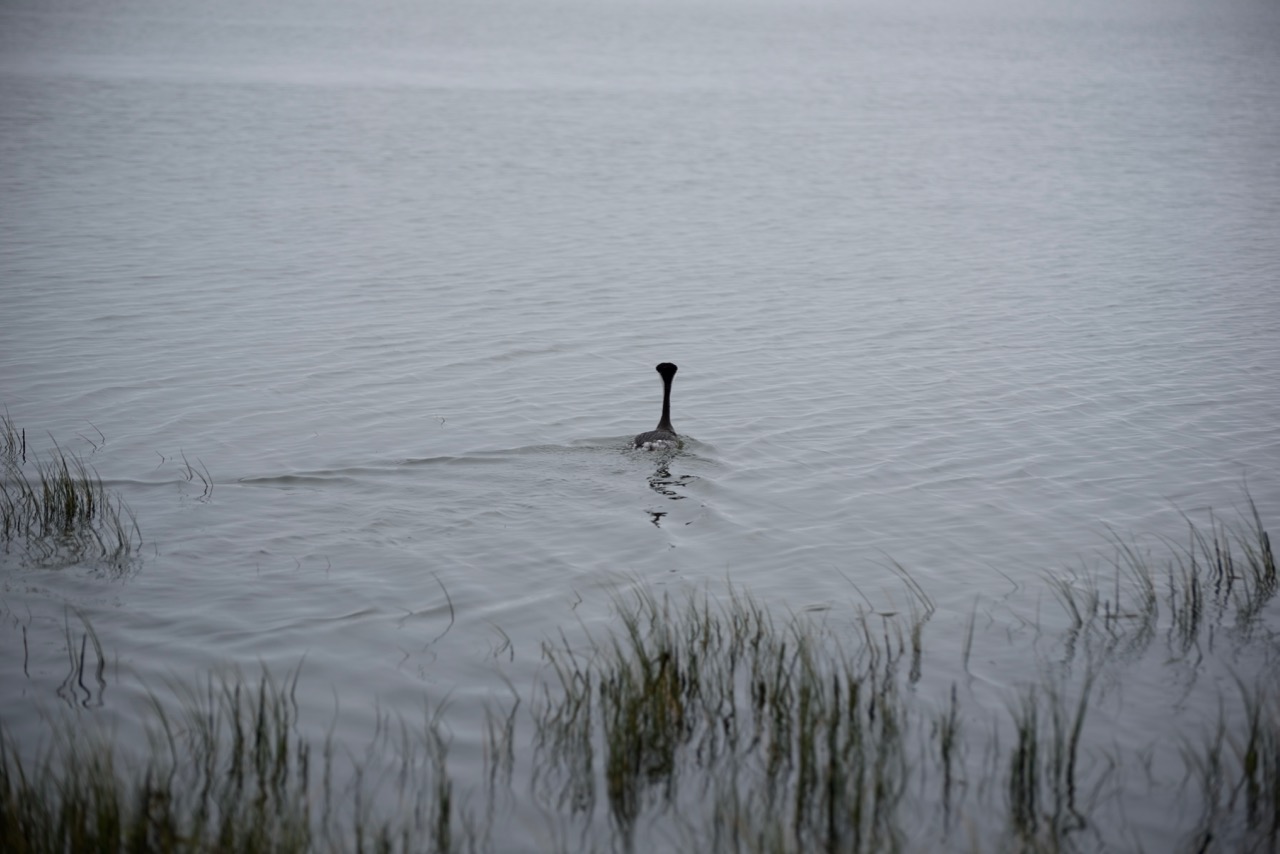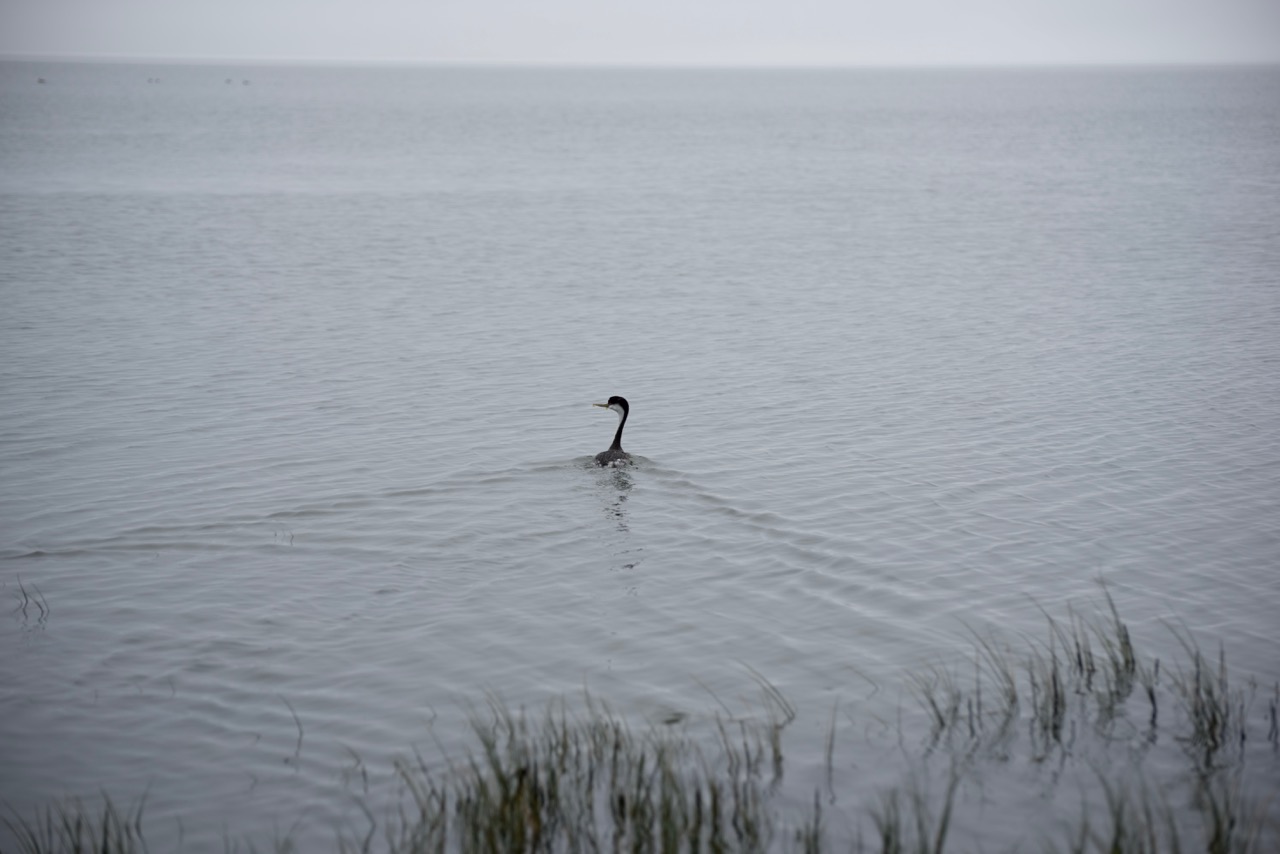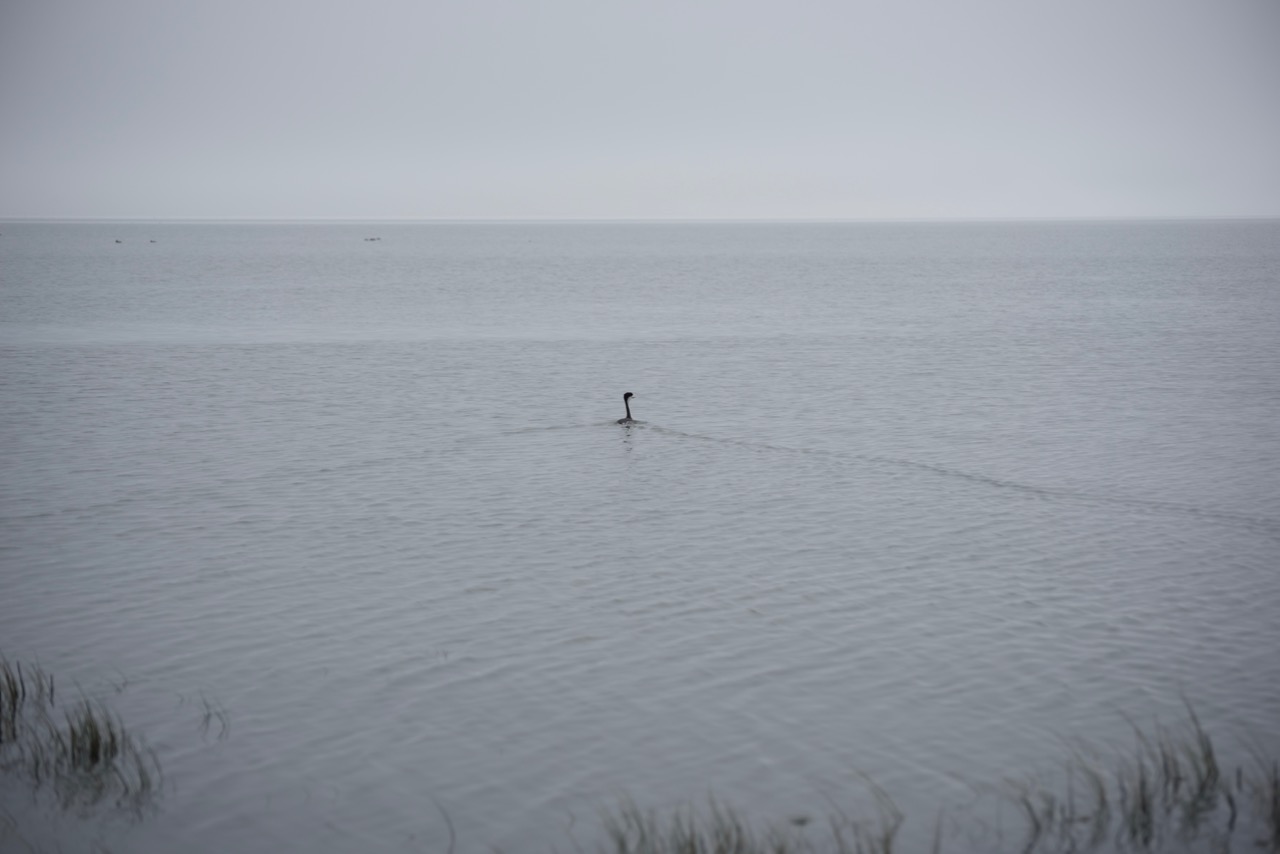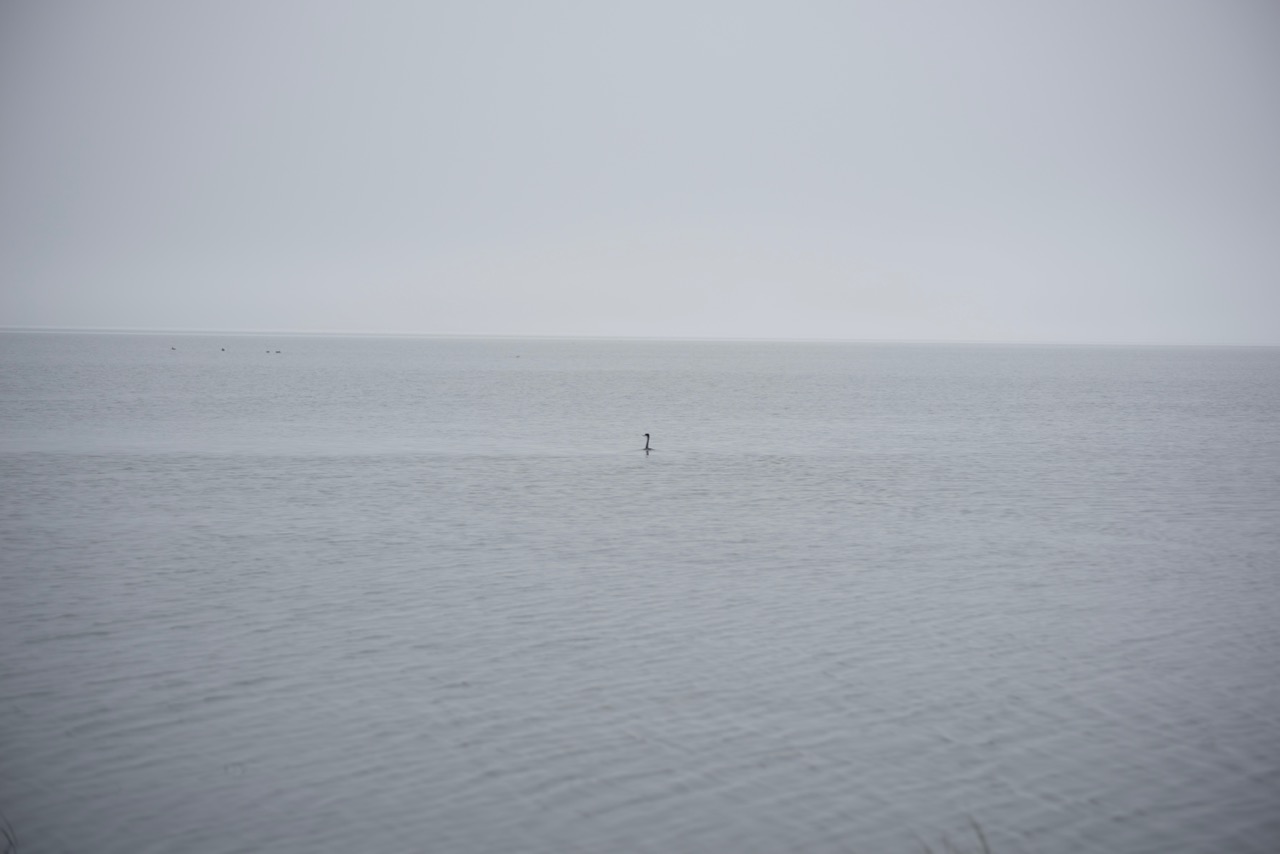 And then she was gone.  Our intimacy with her is done. She returns to her rightful place, out of our hands.
---
Right now we don't have a choice. Eulachons, or river smelt, are what we can find. But even if we do have a choice, we'll be sticking with the Eulachons. Our goal is to provide the best care, and good nutrition is cornerstone to that goal.
At our clinic in Bayside, with 1200 animals per year in care, we have the opportunity to elaborate on the gains made in aquatic bird care that emerged from high casualty marine disasters such as oil spills. We have the opportunity to develop strategies using our hard won knowledge to improve the care individual animals receive. Will Eulachons be a good fish choice to feed patients in an oil spill? Maybe, but we'd need to devise methods to improve water quality in ways that aren't currently available. For individual patients, however, or for the much more common caseloads that coastal wildlife rehabilitators face daily, at our teaching hospital here on Humboldt Bay, we are doing the cutting edge work of improving the results of our care. Just as importantly, our efforts here don't stop here. Through workshops and conferences we take the results of our work to other rehabilitators, demonstrating techniques and processes that they can use, on limited budgets, with limited resources. This necessary self-reliance seems to be the future of all rehabilitation work.
As we enter this period of dire uncertainty – with the Endangered Species Act under threat, with the Environmental Protection Agency openly attacked – in this terrible anti-bloom of the post-conservation era, our work is critical to the future of wildlife rehabilitation.
No matter how bad things become, no matter what night mare unfolds, wild animals will continue to suffer from human activity, human structures, and human caused problems such as quickly deteriorating ocean health. There will be those among us, today, tomorrow and as long as humans are present, who will be compelled to help. If we meet the challenges of our mission, those rehabilitators to come will have reliable information on how to provide good care.
Your support is the only thing that makes any of our work possible. Thank you!

All photos/videos Bird Ally X.