Bird Ally X creates and publishes reference literature for wildlife rehabilitators, and conservation outreach materials for the public.
Book:
An Introduction to Aquatic Bird Rehabilitation
150 pages, copyright © 2012 by Bird Ally X
ISBN 978-0-9851805-0-8
Authors:
January O. Bill
Laura Corsiglia
Vann Masvidal
Monte Merrick
Shannon M. Riggs, DVM
Marie Travers
A 150 page manual for wildlife rehabilitators, featuring a section on each aspect of caring for wild aquatic birds: Anatomy, Handling, Physical Examination, Captivity-related Problems, Feather function and structure, Waterproofing, Diet, Housing, and Release. With over 100 black and white and color photos, appendices covering common parasites, frequently used medications, and re-usable protective keel wraps, as well as a full glossary, this manual is a first of its kind. With examples intended for the novice or experienced rehabilitator, and with suggestions to meet any budget while still providing quality care.
Buy the Book
This book is also available through the National Wildlife Rehabilitators Association, and the International Wildlife Rehabilitation Council.
Sign up for our mailing list to receive news of new publications.
Review
"Wow! Where was this book 20 years ago when I started working with seabirds?! But then again, many of the techniques described in this manual hadn't been developed back then. An Introduction to Aquatic Bird Rehabilitation is what the title says–and so much more! This is a "must have" reference book for anyone working with aquatic birds…whether just beginning or a veteran to their care, the book contains a wealth of information on examining, evaluating, treating, housing, feeding, waterproofing, and releasing most aquatic birds. The generous use of photos and diagrams to illustrate procedures, clear section headings, and many handy reference tables make this a very user-friendly manual. The new appendix containing a glossary, drug dosages, and a parasitology section complete with life cycles is itself an invaluable resource. Congratulations to our colleagues at Bird Ally X for creating this book!"    – Erica Miller, DVM, Tri-State Bird Rescue and Research

Poster:
Fish waste/Bird safe marina poster
Poster suitable for Marinas, Boat Launches, Fishing Docks, wildlife rehabilitation centers and other places
At-a-glance information on keeping wildlife safe from the deleterious effects of the oily waste that comes from cleaning catch.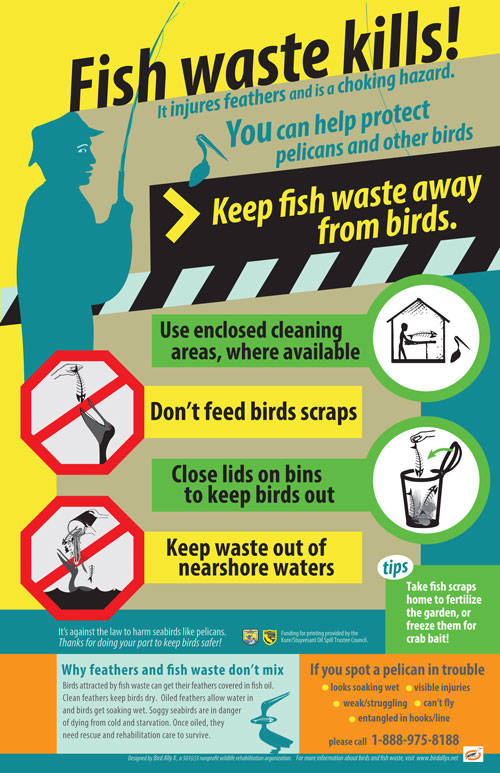 size 11″ x 17″
Designed by BAX and made possible by a grant from the Kure Stuyvesant Trust, this poster is available for FREE while supplies last. Available either on paper or on vinyl for durable outdoor use. Shipping and handling to be paid by the orderer.
Request a poster – Scroll down the Shop page. You can also pick one up at Humboldt Wildlife Care Center.