Like most years, this winter Humboldt Wildlife Care Center has seen a significant increase in owls admitted for care that have been hit by a vehicle.
Very often the injuries to a Barn Owl (Tyto alba) after being hit by a car are too severe for successful treatment. There is simply no chance that the injury will heal, fully recovered. The bird will never be able to be returned to the wild and free life which is their birth right. It's a tragic thing to admit an owl, in perfect body condition, at the prime of adulthood, but with a humerus no longer attached to the clavicle, ligaments torn, the shoulder joint torn apart, no longer able to use that wing forever.
Sometimes though, a Barn Owl gets a little bit of luck.
In mid-December, a Barn Owl was hit by car on US 101 in Arcata where the highway runs past the Mad River bottoms. Bottom land, such as we find all around Humboldt Bay, is perfect habitat for rodent-eating Barn Owls. Most of the Barn Owls we admit who've been hit by a car come to us from places where higher speed traffic cuts through the flat ranch lands of Arcata, Hydesville, Ferndale, and Loleta.
This Barn Owl, like many who are admitted after being hit by a car, suffered a wing fracture, rendering her unable to fly. Because of her size, at the upper end of the 400-550 gram weight range typical for her species, we assumed her to be female.
The fracture was in a tricky spot. Bird wings, forelimbs evolved for flight, have bones that are fairly analogous to our arms. Like all mammals and birds, Owls have a humerus that is connected to a clavicle (collar-bone), scapula (shoulder blade) and a coracoid (only birds have this bone, which provides support for the powerful downstroke of a beating wing and is not palpable). These bones come together in a mass of complex muscles and ligaments that form a shoulder that is capable of flight. Any of these bones can be fractured and recovery might still be possible, but dislocating bones from this joint, causing soft tissue trauma, ends in a patient who will never fly again. The functioning of this joint must be perfect or flight isn't possible. Unfortunately, many birds suffer traumatic injuries to this joint when struck by vehicles or by collisions with buildings, usually a window.
Humerus fractures can be a problem because powerful flight muscles make it difficult to preserve alignment of the pieces of bone while they heal – usually this type of fracture requires surgery – a pin or some other kind of fixator must be used for the bone to heal properly. When presented with injuries like this, we often will send our patient south to Pacific Wildlife Care in Morro Bay, where Dr. Shannon Riggs, a highly skilled wild avian orthopedic surgeon who is also a BAX co-founder, works as Director of Animal Care.
After the humerus, just as with human anatomy, a radius and ulna make up the "forewing" after the elbow just as we have a forearm. Fractures to these bones run the range of easily healed with no problems, a complete return to function, all the way to broken beyond repair with no hope for recovery. The distance of the fracture from a joint, in this case the elbow or wrist, is an important consideration. Too close to a joint and a healed fracture might interfere with the range of motion, making flight impossible.
Beyond the wrist there are a couple of fused bones, the major and minor metacarpals, which are analogous to the bones between our fingers and our wrist. Next are three bones in sequence, vestigial digits after evolving for flight. The primary feathers, critical for controlled flight, attach to the wing along the digits. For mobility, lift, control and steering, the digits play a crucial role. At one time, fractures to the metacarpals and digits were not considered treatable. Fortunately, a splinting technique was developed that has changed that. It's a splint that we use successfully several times a year.
This owl's left wing, far beyond her wrist, was broken at the tip of her third digit. We stabilized the fracture with the splint that had been developed especially for this type of fracture. Using a piece of bandage material specifically for splints in conjunction with the rigid flight feathers to immobilize the fracture site while allowing freedom of movement to eat and perch, the splinted wing is held in place with a traditional wing wrap. We talked with Dr. Riggs about treatment, encouraged that fractured bone of the digit would heal much more readily than connective soft tissue.
The first examination also revealed that the owl was not able to stand fully, her left leg, no doubt the impact side, was much weaker than her right. Nothing broken was found in her leg, but swelling was present. Still, as injuries go, this owl was luckier than most in her situation. With splint applied, anti-inflammatory pain meds given, and some thawed out mice, her time in care began.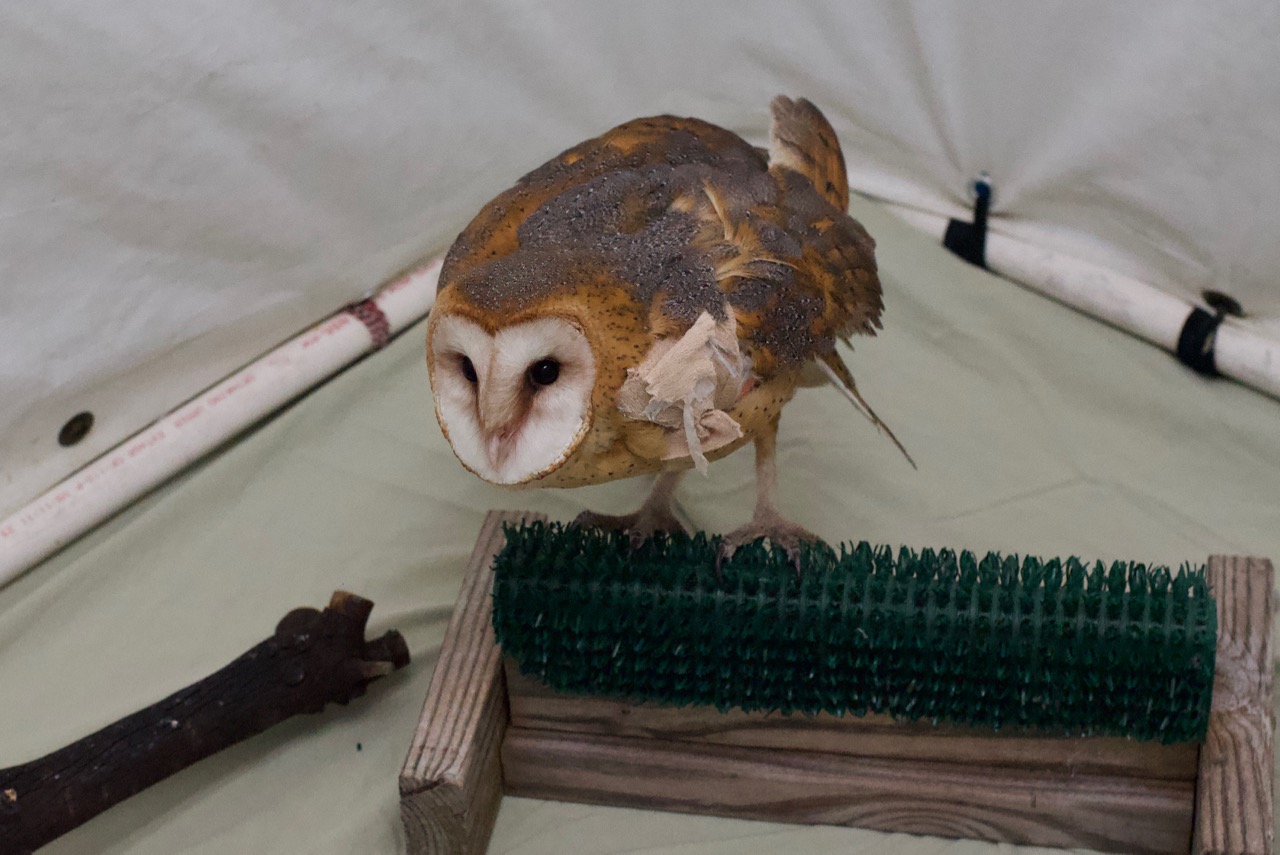 On a specially prepared perch that reduces captivity related problems such as pressure sores that can develop on the bottoms of a bird's feet when spending much more time than usual standing and not flying. Perching and other housing choices are an important part of providing effective care. Knowing the natural history of many different wild species is critical if we are to treat patients appropriate to their needs.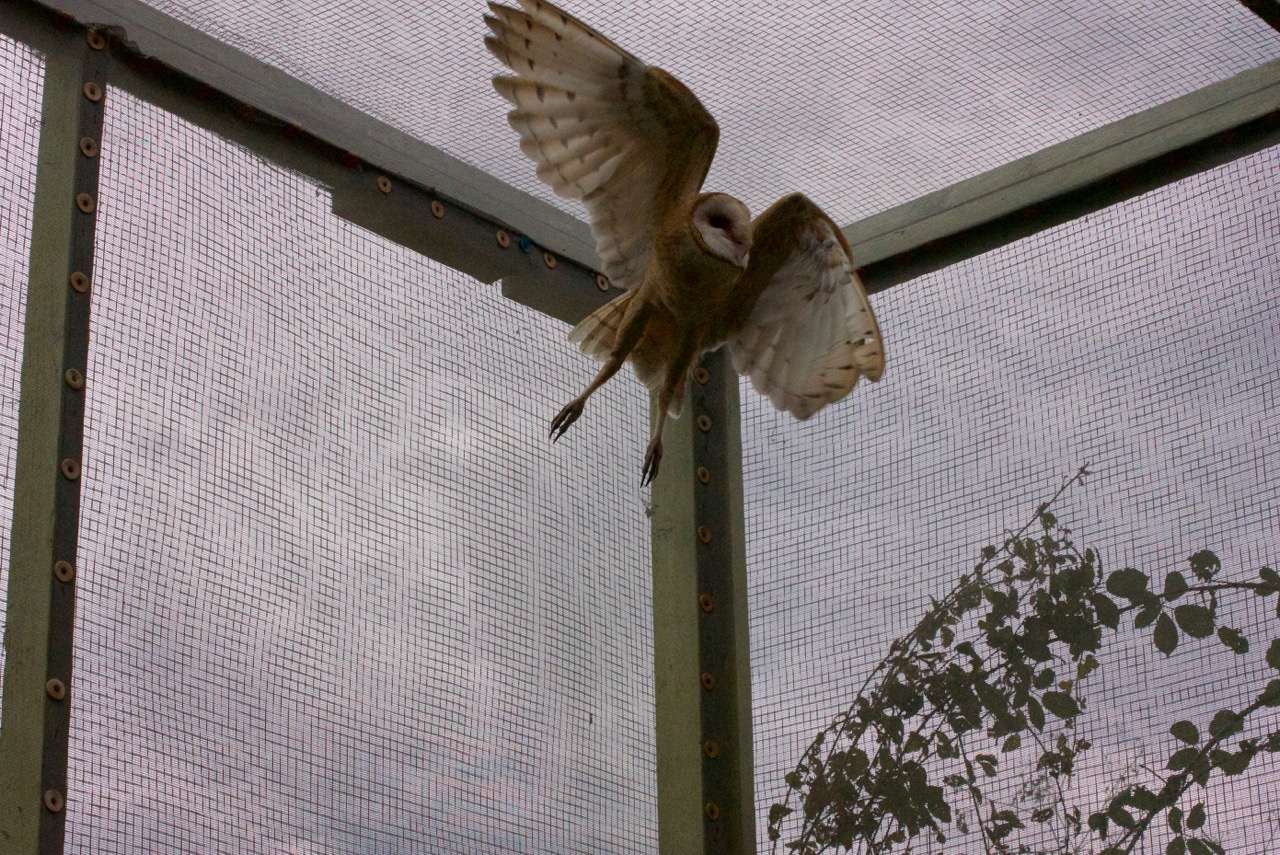 In our large aviary (the Merry Maloney Raptor Housing)  after getting her splint removed, the Barn Owl exhibits very good flight!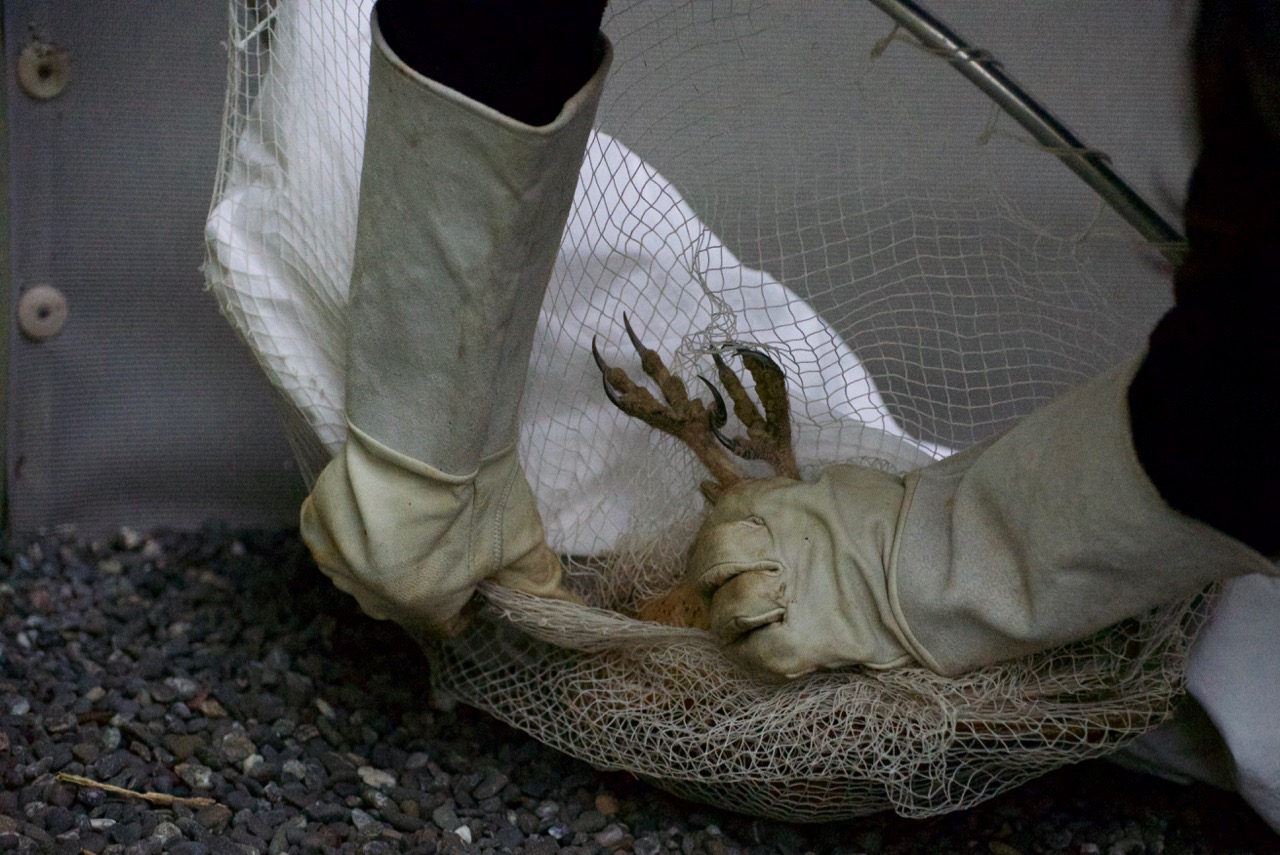 Captured for a routine exam, we are careful not to let these feet, both the tools of her trade and her only real defense against the likes of us, grab us. Tough enough to kill a large rodent, she'd cause some serious damage to a caregiver's hand if we didn't treat her talons with respect.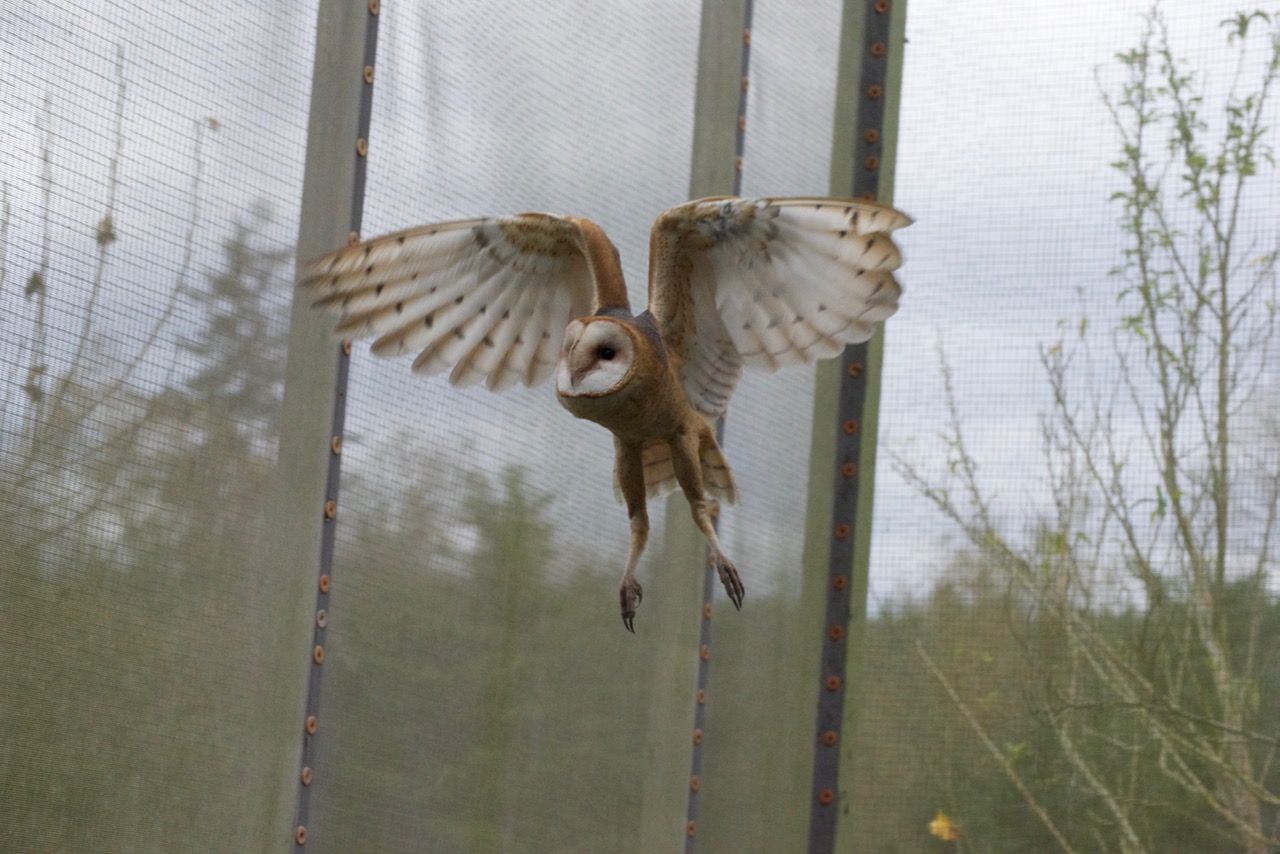 Silently swooping across the crepuscular sky, a Barn Owl is a swift and effective hunter. Even in an aviary, this owl's flight was awe-inspiring.
---
The swelling in her left leg and her reluctance to use it improved immediately. Within a few days she was perching normally, able to hop around her housing, albeit with one wing tied behind her back.
An advantage that birds have over mammals is their much greater metabolism, which means that they heal much more quickly. Break a finger skiing and you'll be in a splint for six weeks, while birds will heal in two! After 12 days, we partially removed the splint to check the progress of healing. The fracture site was nearly stable. We re-applied the splint and set her up for another check five days later, cautiously allowing a few more days than is normally required. Meanwhile, her attitude was becoming more fierce. After 17 days, the fracture site was was fully stable. We removed the splint and took her to an outdoor aviary. Immediately she took off n flight and flew around a corner and out of our view. We brought her some mice and left her alone. In a few days, after observing her flight in the aviary, we examined her one more time. In very good health, strong and fully recovered we released her back to bottom lands she hunts.
That moment when the patient realizes she is free and acts on it is a moment like no other.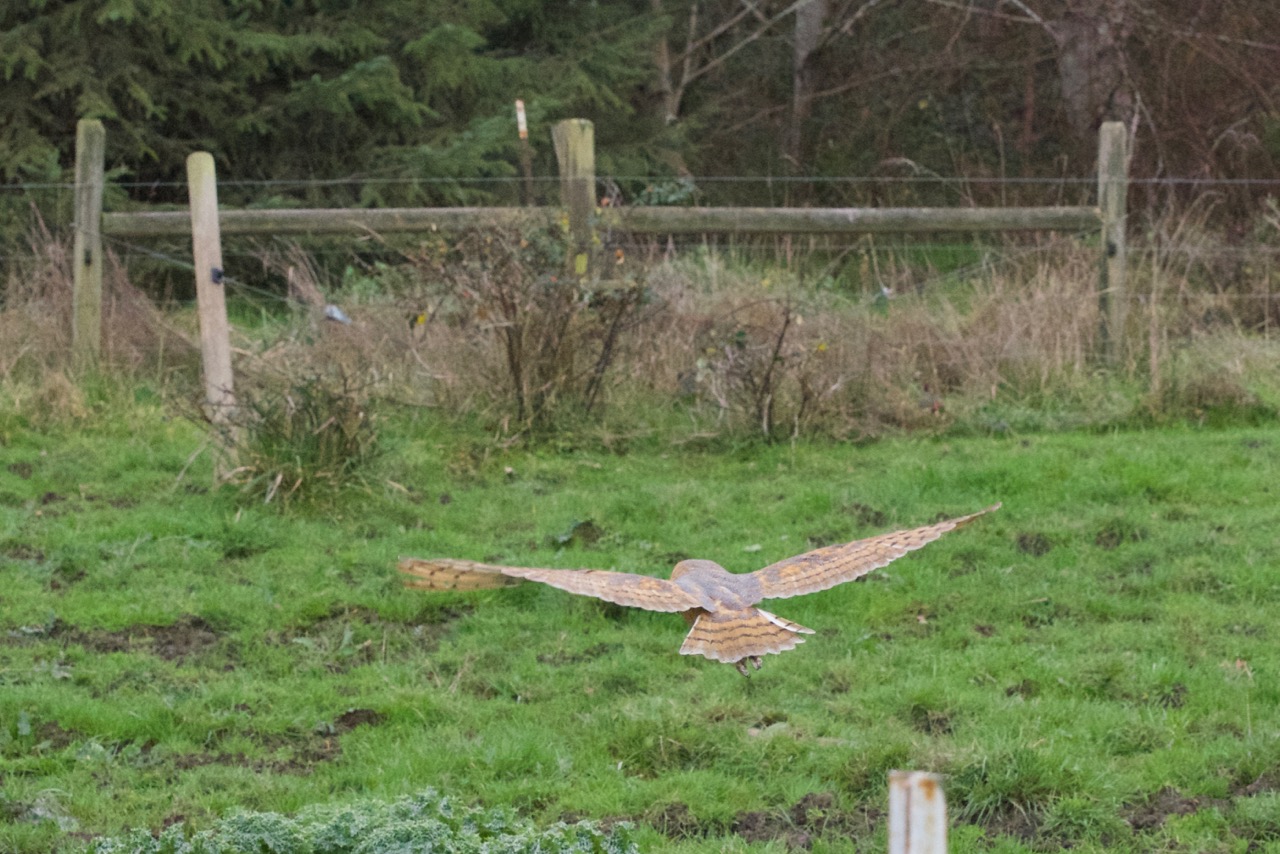 Across the field…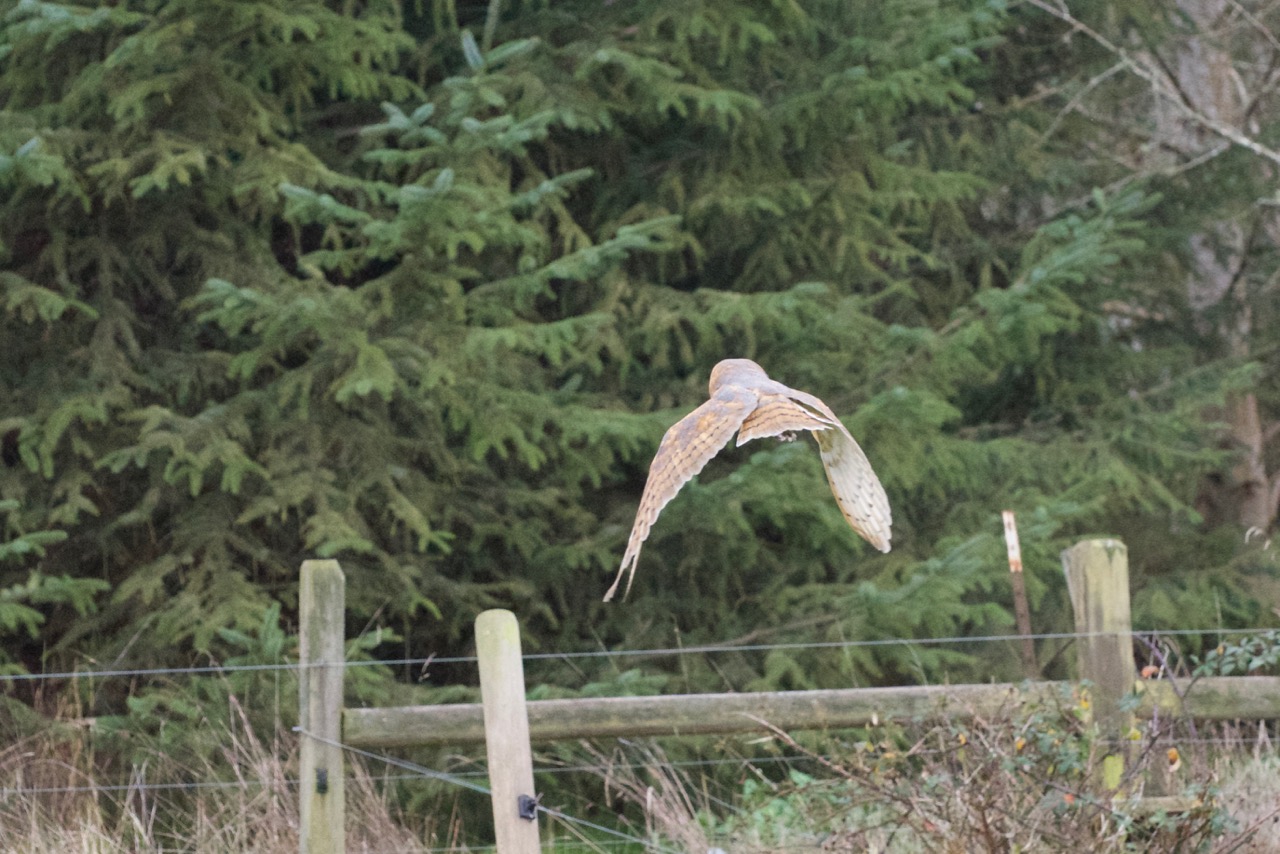 And up toward the trees…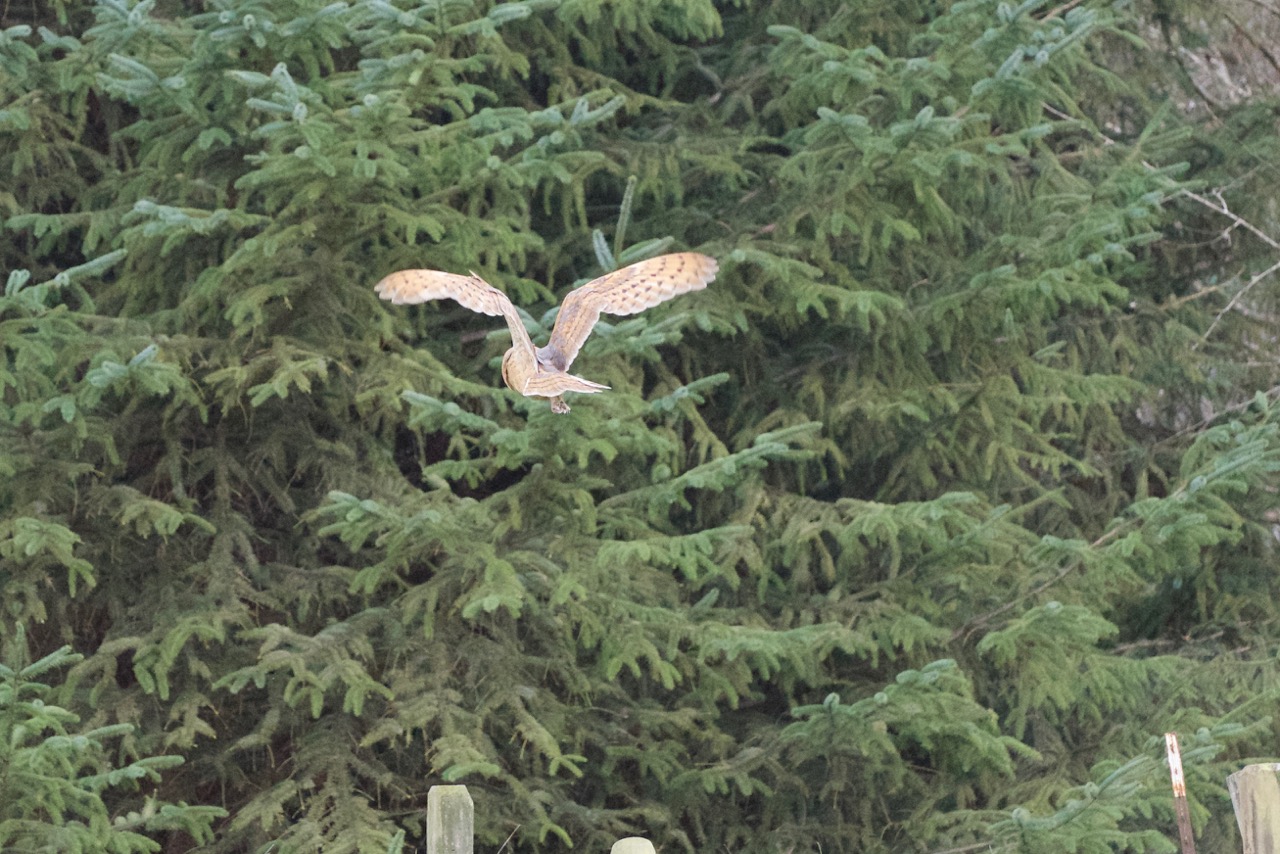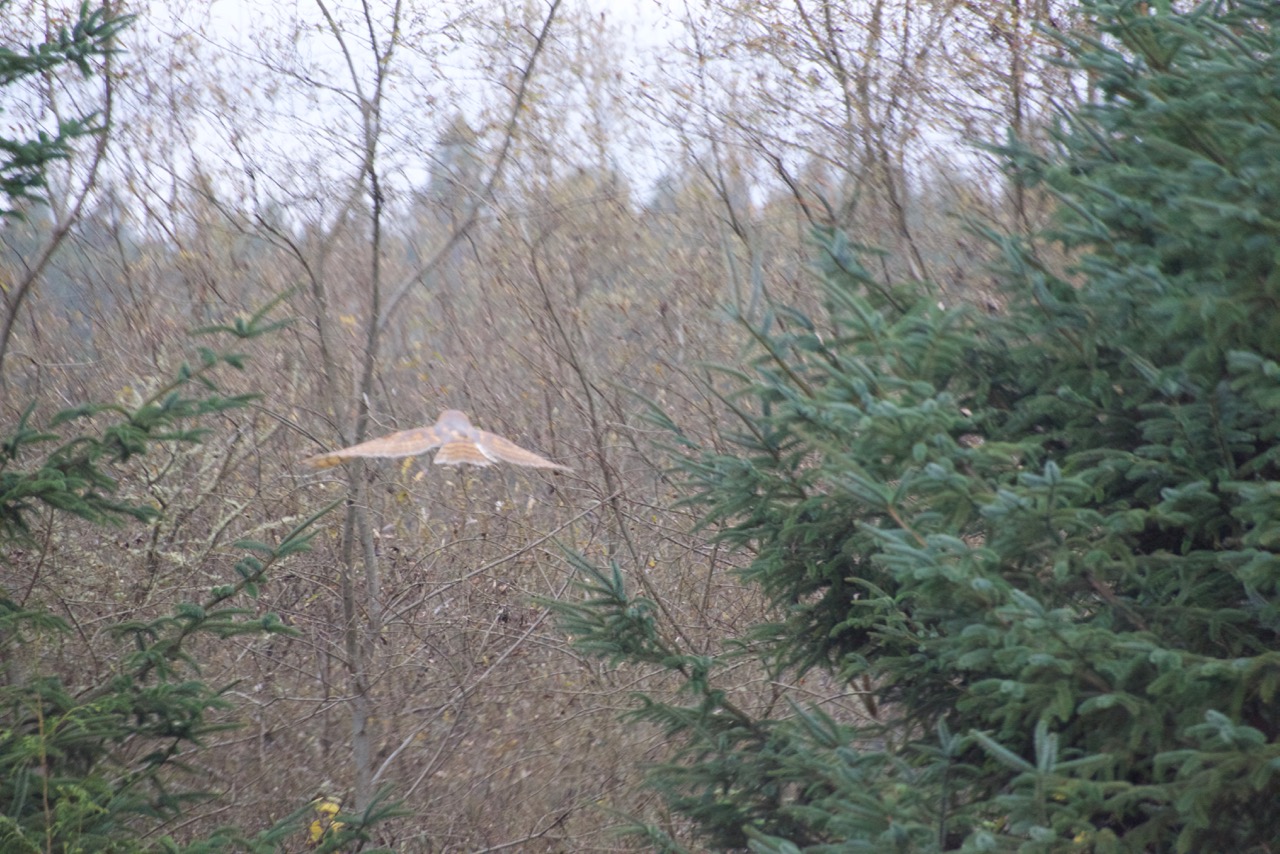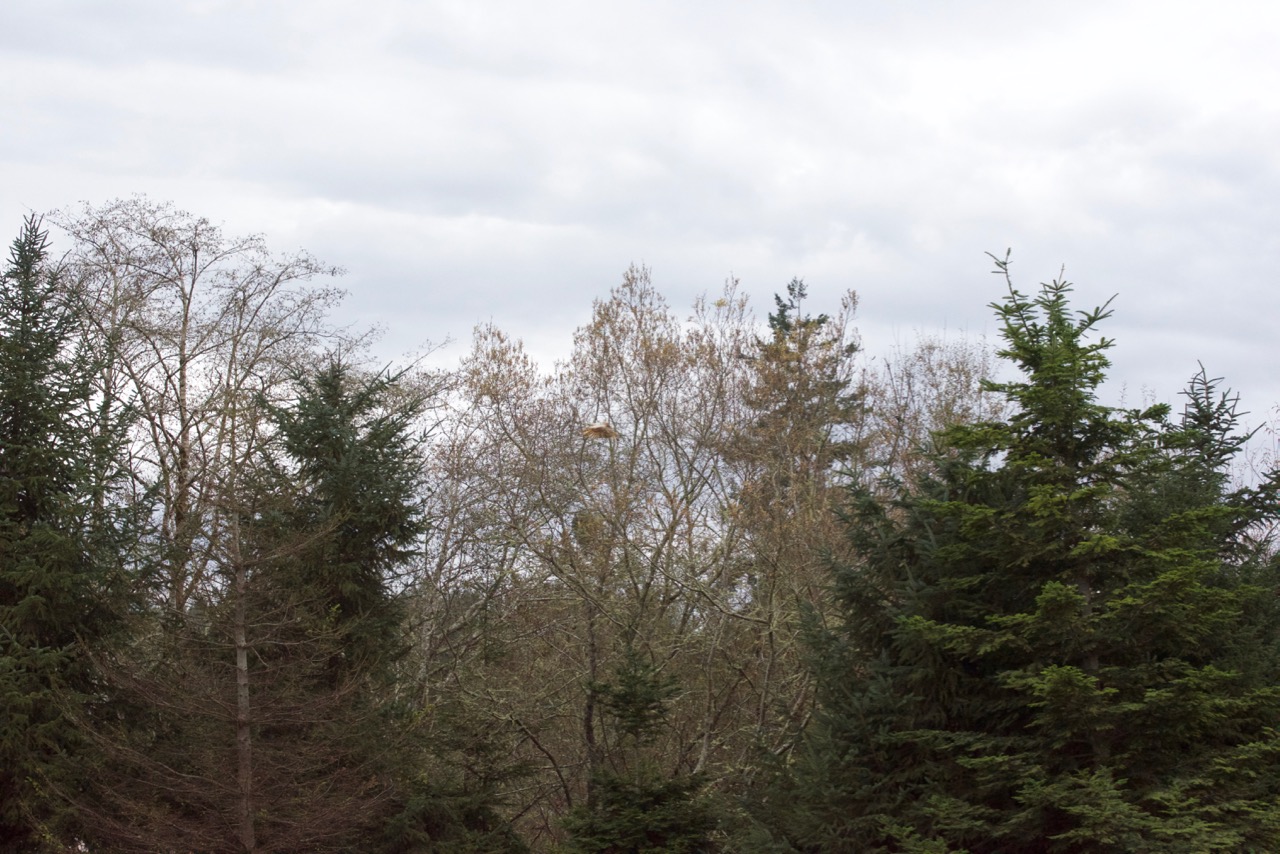 Putting as much distance between us as she can before stopping…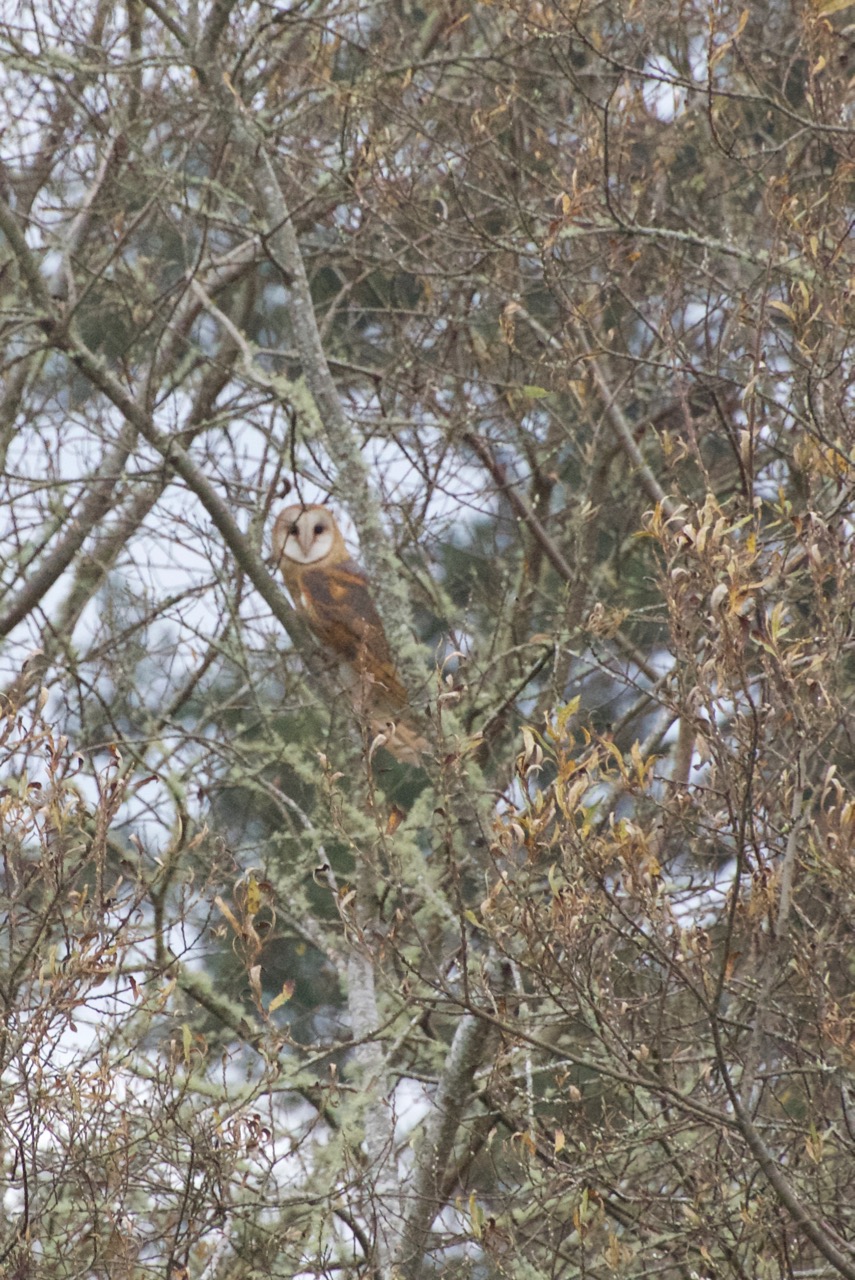 She alights on branches at the top of these tall alders and looks back toward us, toward her captors… does she know we helped? Who knows? It doesn't matter. What matters is that she is free, using a second chance that was given her and this is the last of her looking back…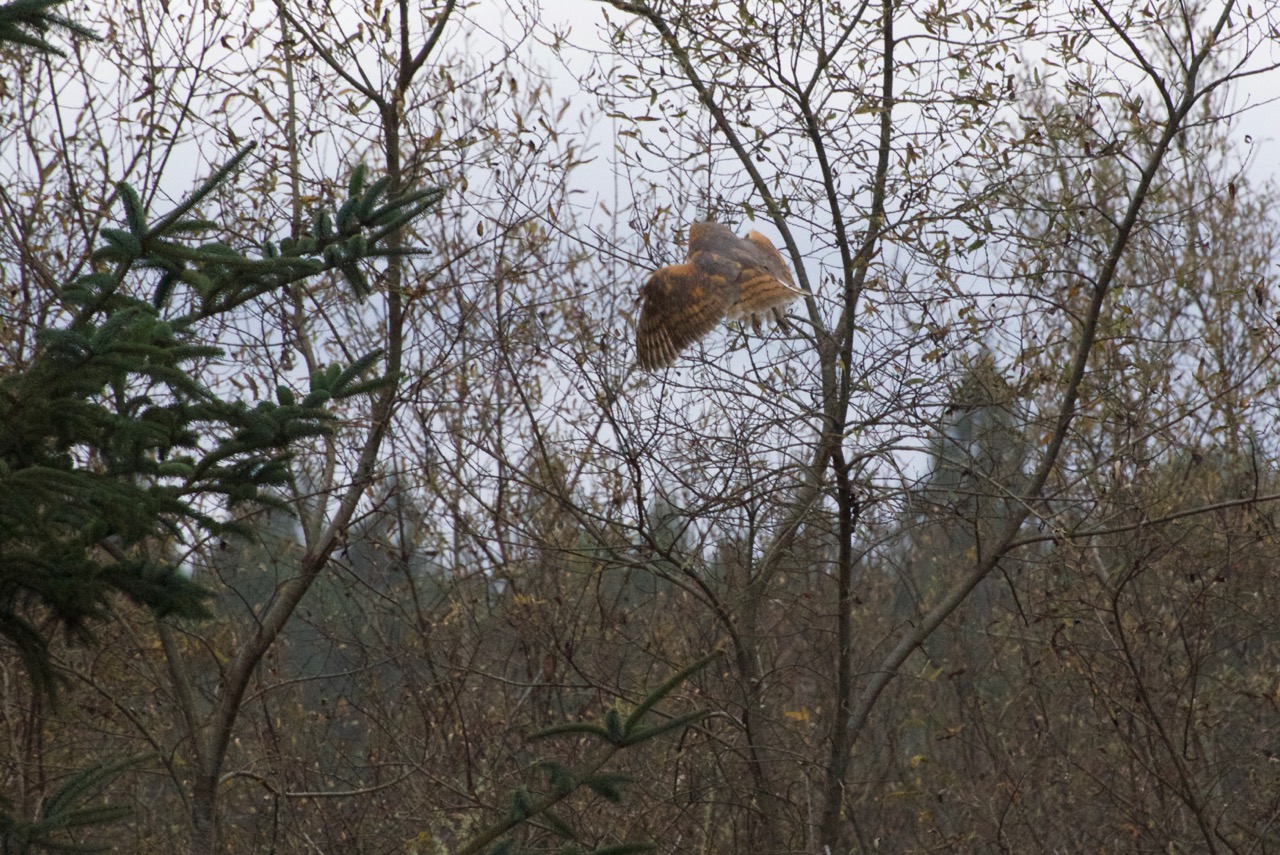 And then she leapt back into flight and was gone… returned to her wild freedom in the real world.
---
Wildlife rehabilitation is at least as old as human compassion, but as a profession it's been less than 50 years that rehabilitators have been using trainings, regulations, and professional associations to improve available care for injured and orphaned wildlife all over the country. Innovations like the splint that gave this owl her second chance are made because of support generously donated. These innovations and improvements are passed on to other caregivers and are taught to the next generation of rehabilitators using the resources that your support provides. This Barn Owl is hunting the night-time world of the bottoms surrounding northern Humboldt Bay thanks to you making sure that we are here, doors open and ready.
Barn Owls are awesome and fortunately easily observed. But it's their proximity to us, to the hazards of our modern world that are nothing but traps to animals evolved to the standards of Mother Earth, not industrial mechanized society  that are the greatest threat. It's up to us to do what we can to slow down, be aware of the dangers we present to wild animals and modify our actions when we can. Co-existing with Barn Owls: it's only natural.
all photos: Laura Corsiglia/BAX