Early Monday morning the phone rang at Humboldt Wildlife Care Center. It was Lynn Roberts of the US Fish and Wildlife Service, a biologist who specializes in locally threatened Marbled Murrelets (Brachyramphus marmoratus). Tourists in Prairie Creek State Park, an important area for these seabirds who nest high in the strong limbs of old-growth Redwoods, had found who they believed was a Marbled Murrelet fledgling in the middle of Newton B. Drury Scenic Parkway, which wends through the park's ancient groves. Lynn was going to bring the young seabird to our clinic as soon as she had him in her care.
Marbled Murrelets are one of the most unusual seabirds. They make nesting in trees seem strange! While most seabirds nest on rocky cliffs and islands, in the portion of their Pacific coastal range that is forested, from Southeast Alaska to the southernmost point just north of Santa Cruz, B. marmoratus nests primarily in the high horizontal branches that can only be found in very old trees, the Sitka Spruce (Picea sitchensis), Douglas Fir (Pseudotsuga menziesii), Western Hemlock (Tsuga heterophylla), and our region's coastal Redwoods (Sequoia sempervirens) as far as 60 miles inland from the sea. Parents fly each day from the ocean where they dive for fish back to the nest to feed their growing chicks. When their chicks fledge, they must leave the nest and make it to the Pacific on their first flight. This is a natural challenge that all Marbled Murrelet chicks have faced for millions of years and for which they are very well suited.
[Want to help ensure that Humboldt Wildlife Care Center is always open and ready to care for our wild neighbors in trouble? You can click here now to make a donation today! Thank you!]
However new challenges in the last 150 years have had a terrible impact both on the coastal Redwoods and their nesting seabirds. Approximately five per cent of the Redwood forest that was thriving here in the mid 19th century remains. What is left is punctured by roads, surrounded by continued industrial logging, and threatened by development. And in the ocean, climate change, agricultural run-off, plastic pollution and other modern disasters that have no relief in sight mean that B. marmoratus has no escape from the devastation caused by colonialism, resource extraction, and a culture-wide myopic disregard for the natural systems that sustain all life.
The endangered status of Redwoods (International Union for Conservation of Nature (IUCN) Redlist) and Marbled Murrelets (IUCN Redlist, US Endangered Species Act threatened) increases the stakes when a young Murrelet is in trouble. While it is true that we treat each of our patients with dignity, respect and with the knowledge that every individual experiences her or his own existence as central, threatened and endangered species receive significantly more attention from the agencies (USFWS, CDFW) whose task is their protection when they are admitted for care.
For this Murrelet chick, given the cool and foggy night that the bird was found, it's possible that the damp pavement of the road looked deceptively like open water, tricking the young bird into landing. Once on the ground, there is no way for a Murrelet or almost any other seabird who needs open water and a running start in order to take off to regain the sky. Were it not for the people who scooped the fledgling off the road, this is likely where the young bird's short life would've ended.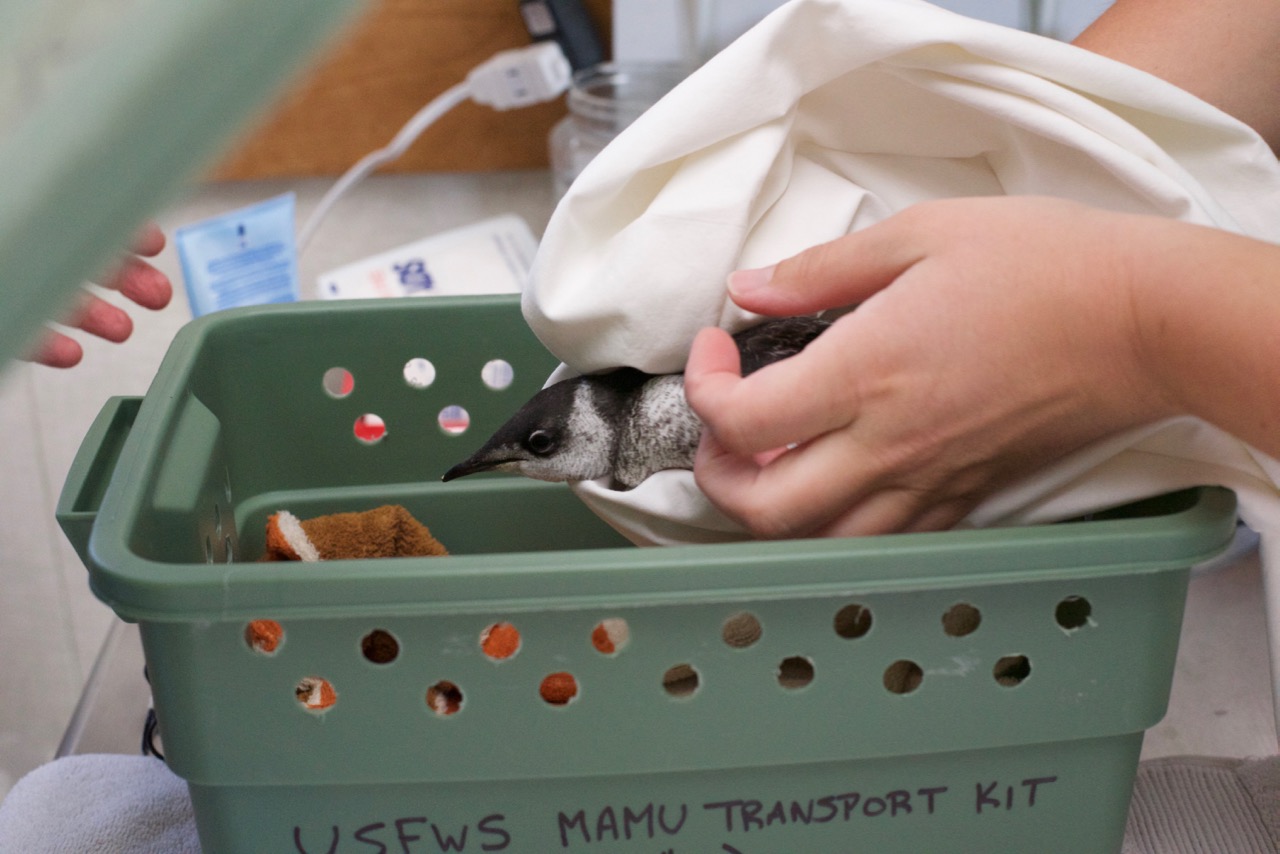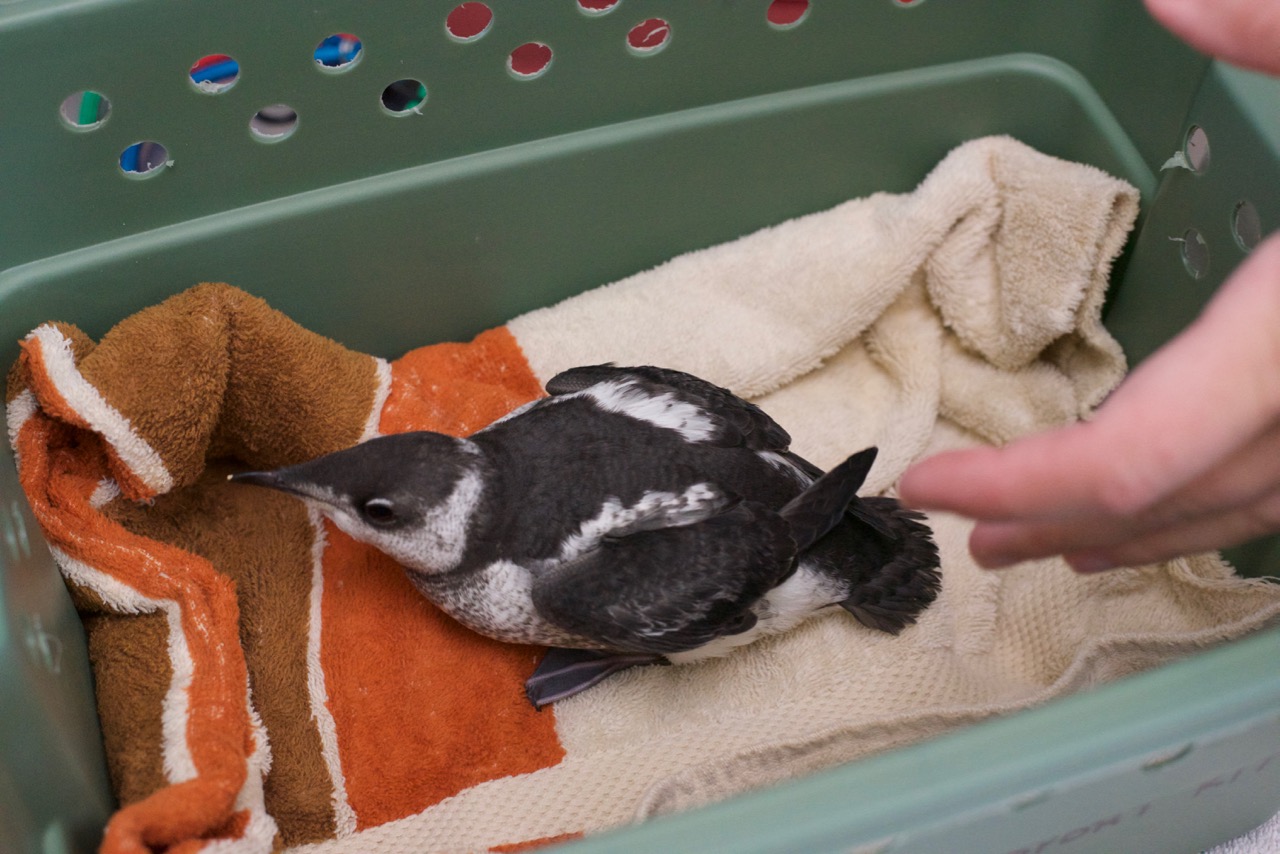 Getting ready to go to Sea! Not how most Murrelets get there, but any port in a storm!
---
Instead, the youngster was found! And soon after calling our clinic, Lynn Roberts showed up with one of these precious and few ambassadors of sea and forest in a box with a soft towel. During the admission examination we discovered no problems at all. This young Murrelet was in good health and without any injuries. All s/he needed was help getting to the ocean. We provided hydration and a safe place to rest until arrangements for transport to sea could be made.
Lynn contacted some local sea kayak enthusiasts who volunteer with USFWS. They were ready and willing to take this bird out to a safe location just beyond the rocks and surf near Trinidad.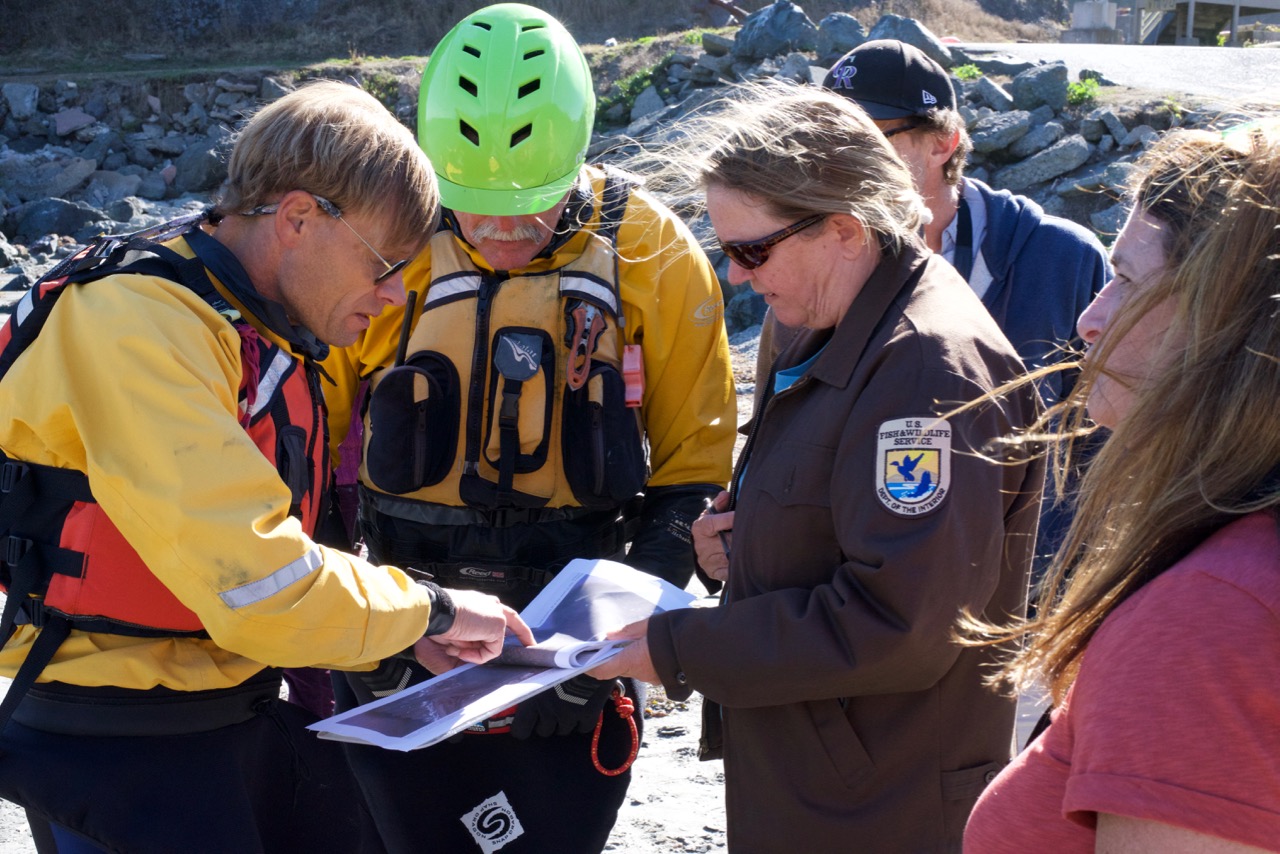 USFWS Biologist Lynn Roberts discusses with the volunteer kayakers where best to to take the young Seabird.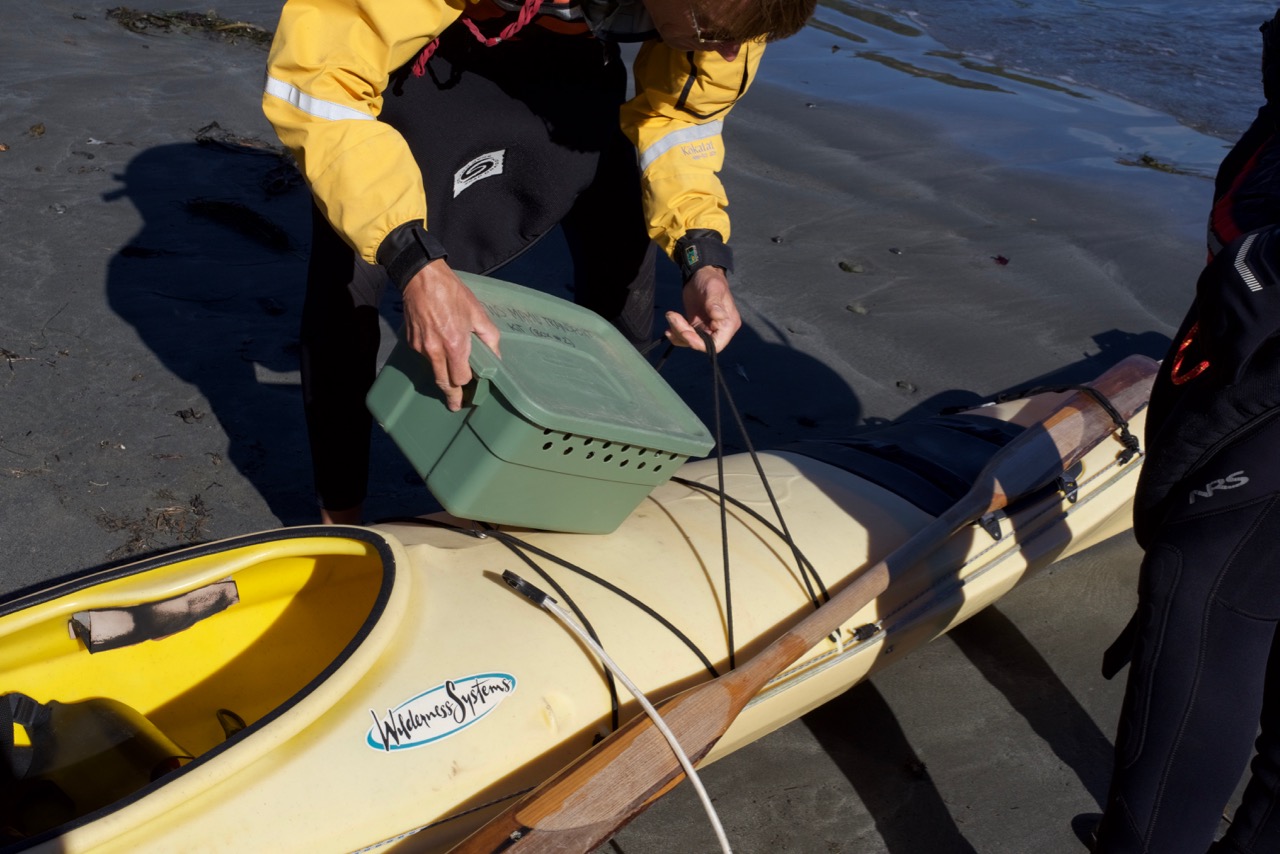 The young Murrelet is secured to the kayak for a paddle out to sea.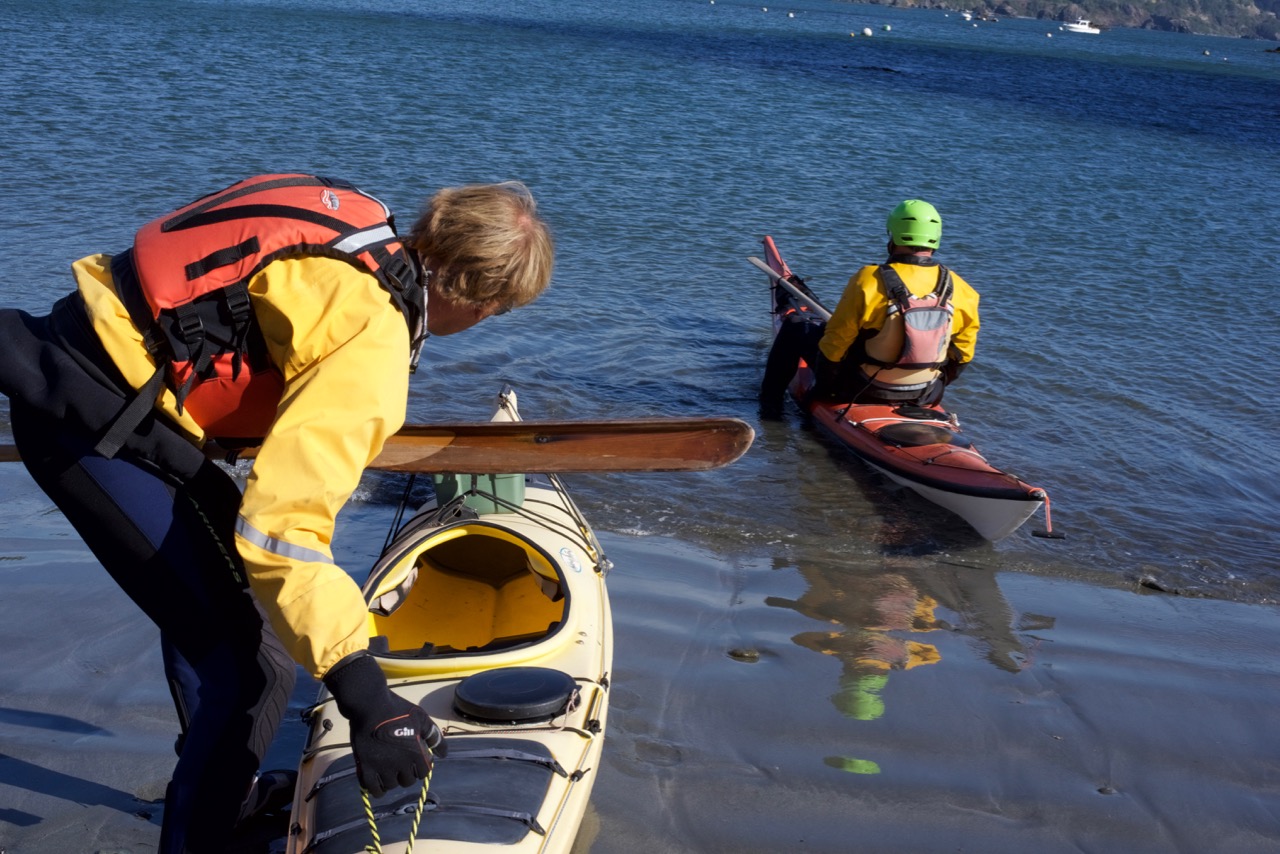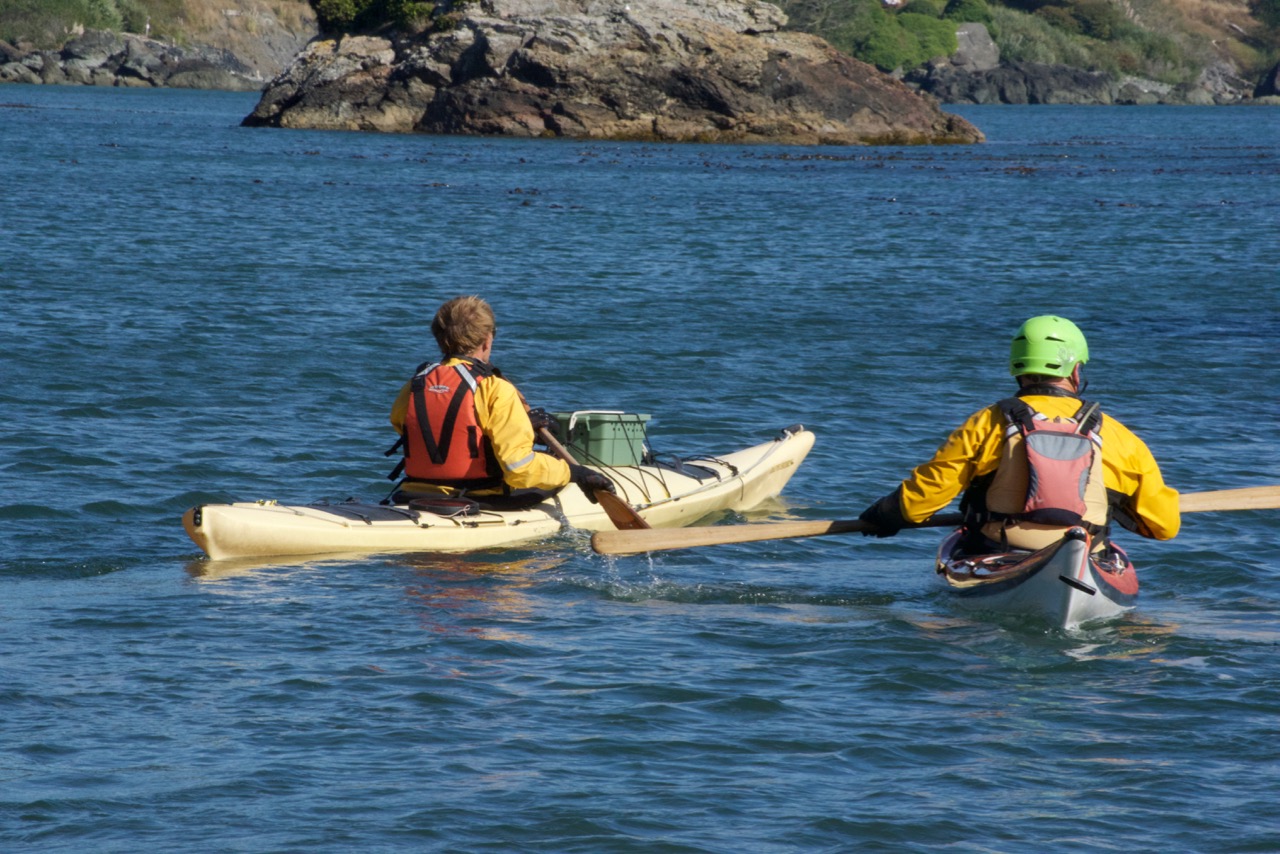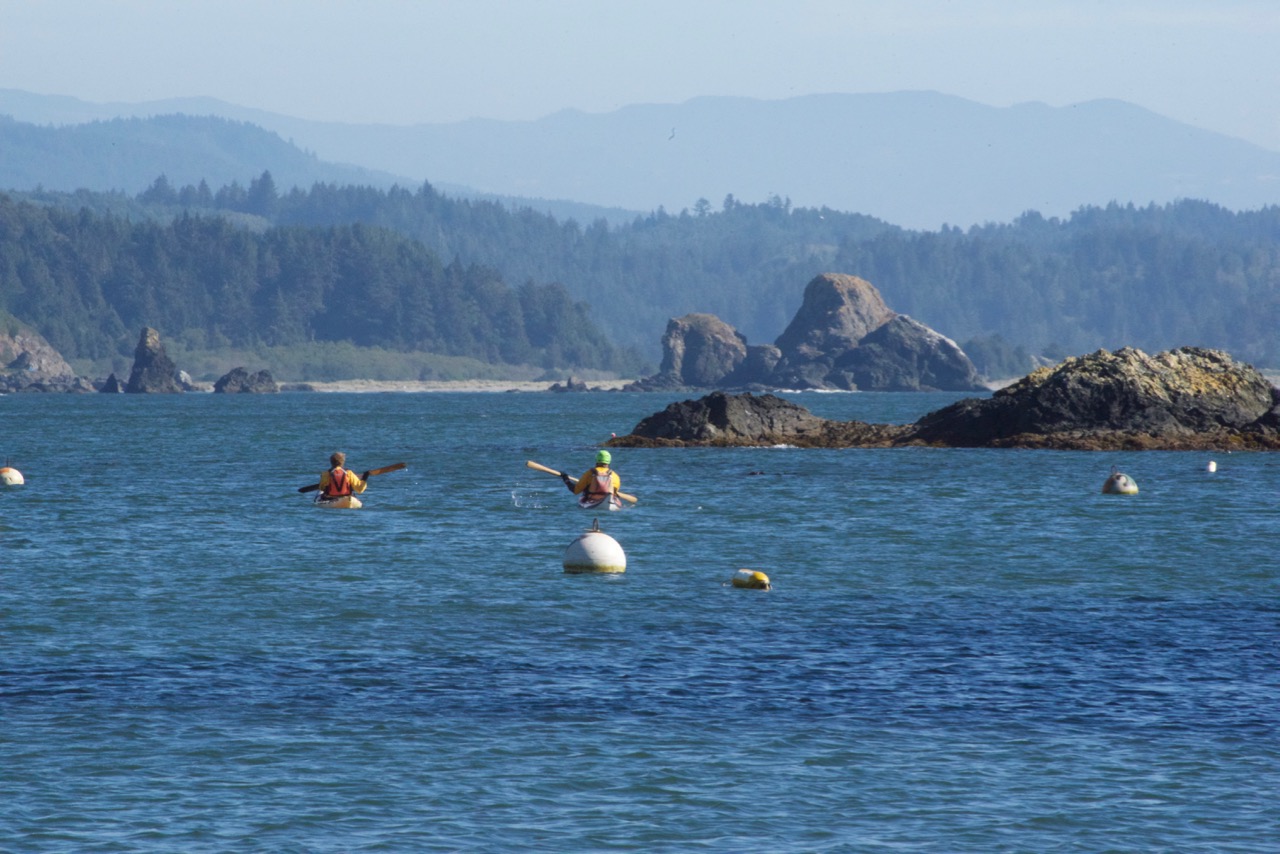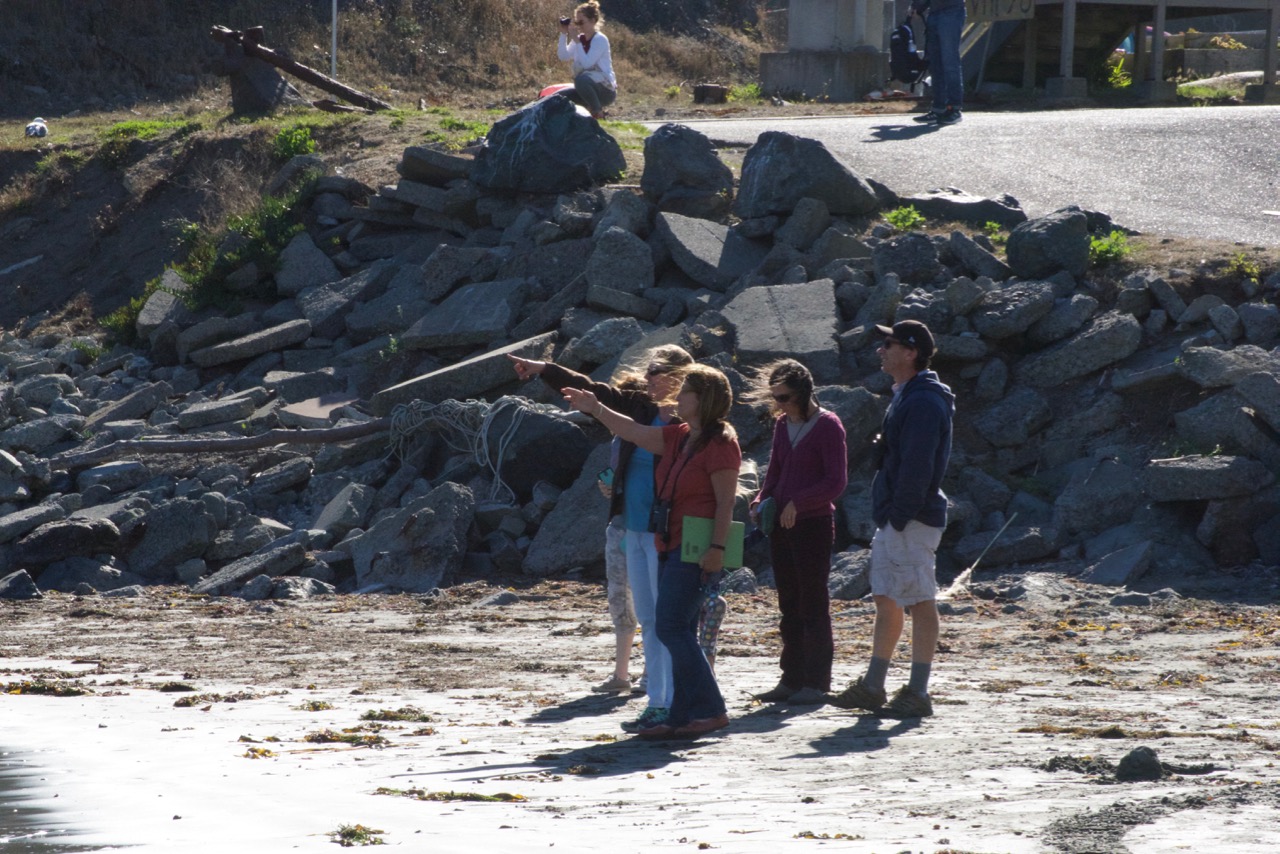 There are a lot of passionate, committed people working very hard to ensure that Marbled Murrelets continue to be a part of our shared world. In these trying times, it is good to know that compassion and love for the wild aren't rare!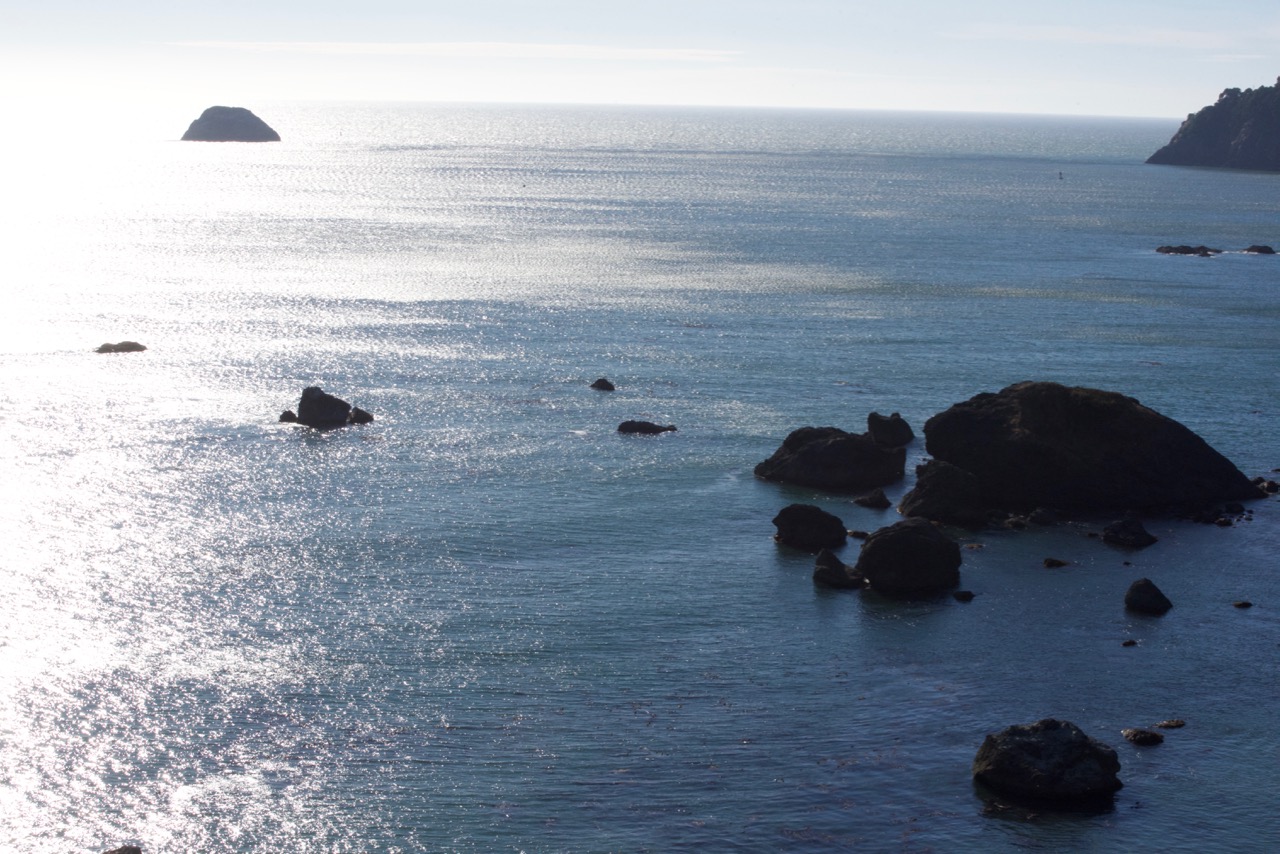 The Sea: home to Marbled Murrelets and mother to us all. 
---
It isn't everyday that we have the opportunity and need to help such an endangered and helpless young bird find their way home. But everyday we do help whoever comes through our door. The day we admitted the young Murrelet we also admitted a cat-caught Song Sparrow (Melospiza melodia), a beached Double-crested Cormorant (Phalacrocorax auritus), a Big Brown Bat (Eptesicus fuscus) found inside someone's living room, and a Green Heron (Butorides virescens) who was found severely injured on the bank of the Eel river in Southern Humboldt County. It isn't easy work. Often we have joyful tasks with wonderful results, such as the care we provided this Marbled Murrelet, yet just as often we have difficult tasks with heartbreaking outcomes – such as ushering that Green Heron whose injuries were too severe to successfully treat into the next realm.
No matter what our tasks, we would not be able to complete them without your support. Your generosity keeps the only all-species wildlife hospital between Santa Rosa and the Oregon border open and ready to help our wild neighbors when they're injured by the machinery of our world. Your donation is appreciated more than we can say! Donate today! Thank you!

all photos: Laura Corsiglia/BAX