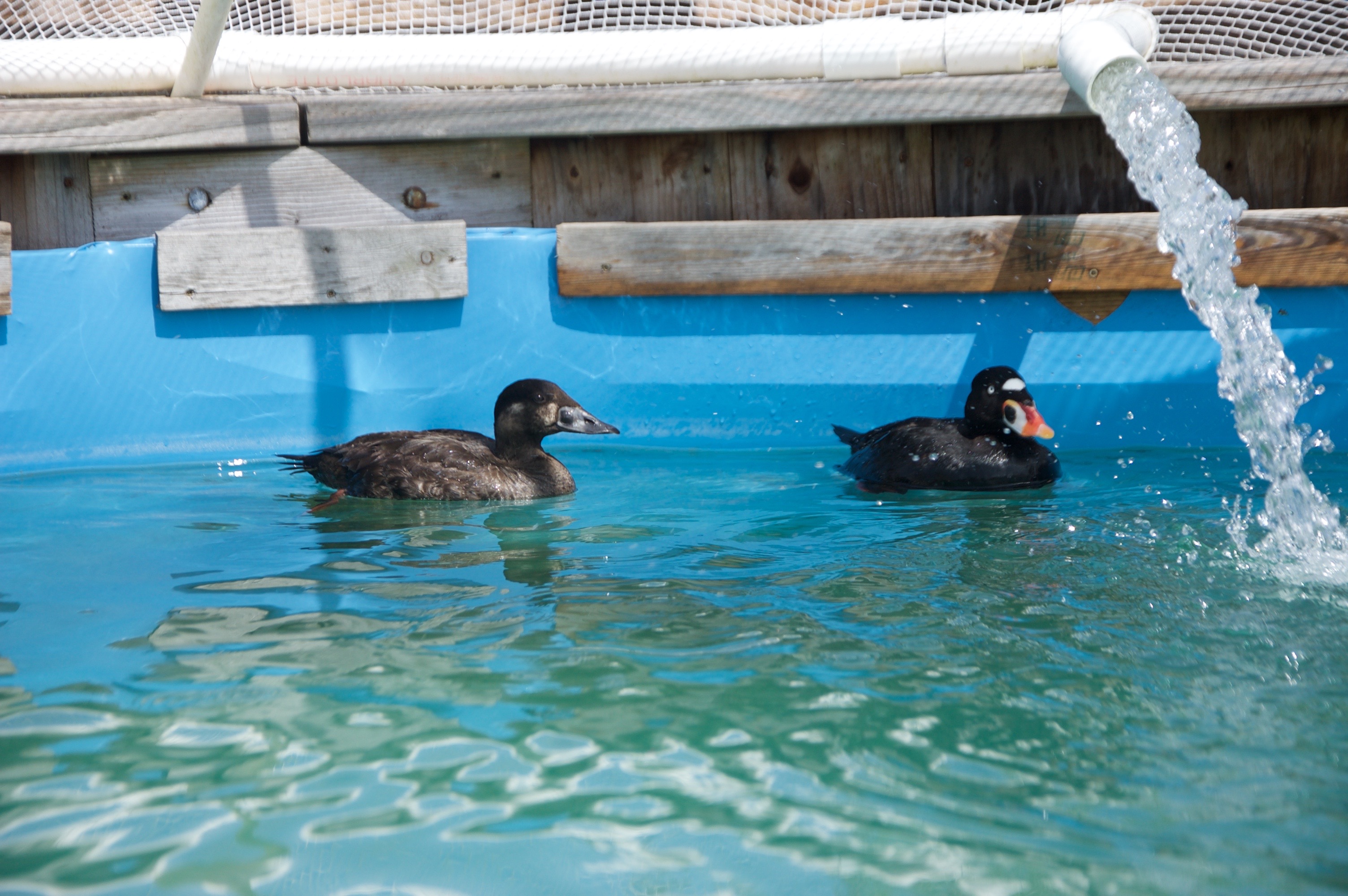 The telephone rings:
"Humboldt Wildlife Care …"
"Hi, I'm on Clam Beach and there's a bird right here that can't walk or fly. I've never seen a duck like this. It's black and white and orange…", says the caller.
"Sounds like a surf scoter -" and the caller interrupts to yell out to someone else, "He says it's a surf scooter." That's what most people say when they first hear this duck's name. The word scoter just doesn't compute – must have been scooter. And actually, they're right. Scoter, rhyming with motor, has the same etymology as scooter, meaning one who goes quickly – the motor scooter follows the duck, not the other way around.
Almost always, a Surf Scoter (Melanitta perspicillata) on the beach is a bird in trouble.
[If the caller can do so safely, we ask them to pick the bird up, wrap in a towel or jacket and bring them to our facility, Humboldt Wildlife Care Center. If for some reason they can't, such as no towel, they have dogs with them, or they just don't think they can do it, we ask for a precise location and organize volunteers to go out and try to capture the ailing bird. Given the size of our region, this is often impractical. By the time we organize a trip to Crescent City from Bayside the chance that bird is still there is slender. So it's very helpful when a caller becomes a rescuer.]
Surf Scoters are fairly large sea ducks who spend their winters in coastal marine habitats, including the Redwood Coast, often visible just beyond the breaking waves in large groups, where they spend most of their time, except when searching for food in the surf, as their name suggests. Come Spring, the adults leave the coast for far Northern freshwater lakes in Alaska and Canada to raise the year's young.
As wildlife rehabilitators, we never see Surf Scoter babies. They aren't introduced to us until they have learned to fly. In the past Surf Scoters have arrived on the California coast from their breeding grounds in early fall. In ordinary times, we typically treat birds who are struggling with basic survival, often for reasons we might never learn. Weak, very thin, dehydrated – our most likely Scoter patient is found like this on area beaches.
The beach is a bad place for a Surf Scoter. A Scoter is  shaped by the sea. After millions of years of living on water, sea birds who spend most of their time on water, have legs set far to the rear of their bodies and are very awkward on land. Also, unlike dabbling ducks, such as Mallards, sea birds, including Scoters, can't simply fly from the land. They need a a running start to gain flight. Also, there is no food on the beach. Surf Scoters eat aquatic invertebrates, such as mollusks and crabs, found in near shore waters on the ocean floor, among sand or rocks. They dive up to 25 meters (approx 75 feet) deep, using both their wings and their feet to swim beneath the surface. It's an environment that demands any of its inhabitants' A game. But if you can't make it there, coming to the beach is only a temporary solution. For a sea bird, the beach is the beginning of a rapid decline, with death the only outcome unless rescued.
Another serious threat to Surf Scoters is petroleum. Surf Scoters are rated in the second highest group on an index for vulnerability to oil spills.(1) West coast winter storms increase the risk oil spills. Surf Scoters are very common residents of the bays along the coasts, exactly where oil empire infrastructure is likely to be, and likely to malfunction. In 2007 when a container ship, the Cosco Busan, collided in dense fog with the bridge that connects Oakland and San Francisco, tens of thousands of gallons of the vessel's fuel was spilled into San Francisco Bay. Thousand of birds were killed. Among the hardest hit were Surf Scoters. It is estimated that nearly 4 percent of the wintering population of these birds was killed by that spill.(2)
If all that isn't bad enough, with a changing climate that is strongly affecting the circumpolar north already, and ocean conditions that have not been favoring the food chain, Surf Scoters, like all marine species, have an uncertain future.
Currently, we have two Surf Scoters in care. Each was found stranded. Neither suffered any injuries, but both were admitted very thin, with internal parasites, dehydrated and weak. Right now they're prognosis is guarded, but we're optimistic.
For the same reasons that the beach is a terrible place for a seabird, so do these specialized birds require a pool when in care. If we housed them in a "cage", they would soon succumb to multiple kinds of secondary injuries that such housing would cause. Pressure sores would develop on every part that came in contact with the hard surfaces. Compared to water, even foam is a hard surface.
At our clinic we provide species-specific care, which means that we must have multiple kinds of housing available for the wide array of wild animals we rehabilitate. These two Scoters are housed in one of our seabird pools, where they can float comfortably in privacy, regain body mass, receive treatment for parasites and any other condition that they present, and recover.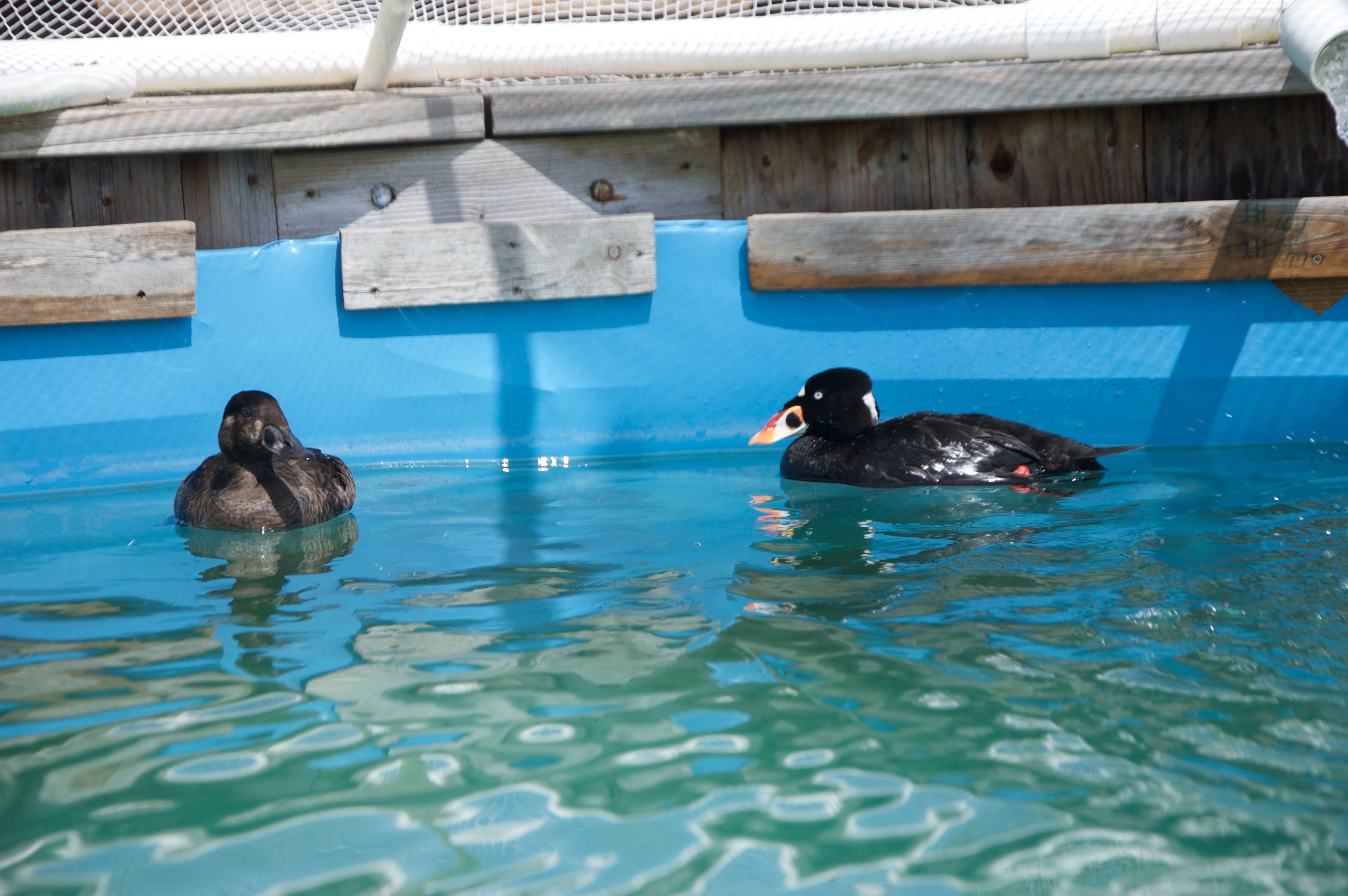 Even though both birds are Surf Scoters they are still easy to tell apart. The bird on the right is an adult male and the bird on the left is an immature male, just beginning to molt into his adult feathers. If they were both mature males, we'd have to put on temporary leg bands in order to keep them straight.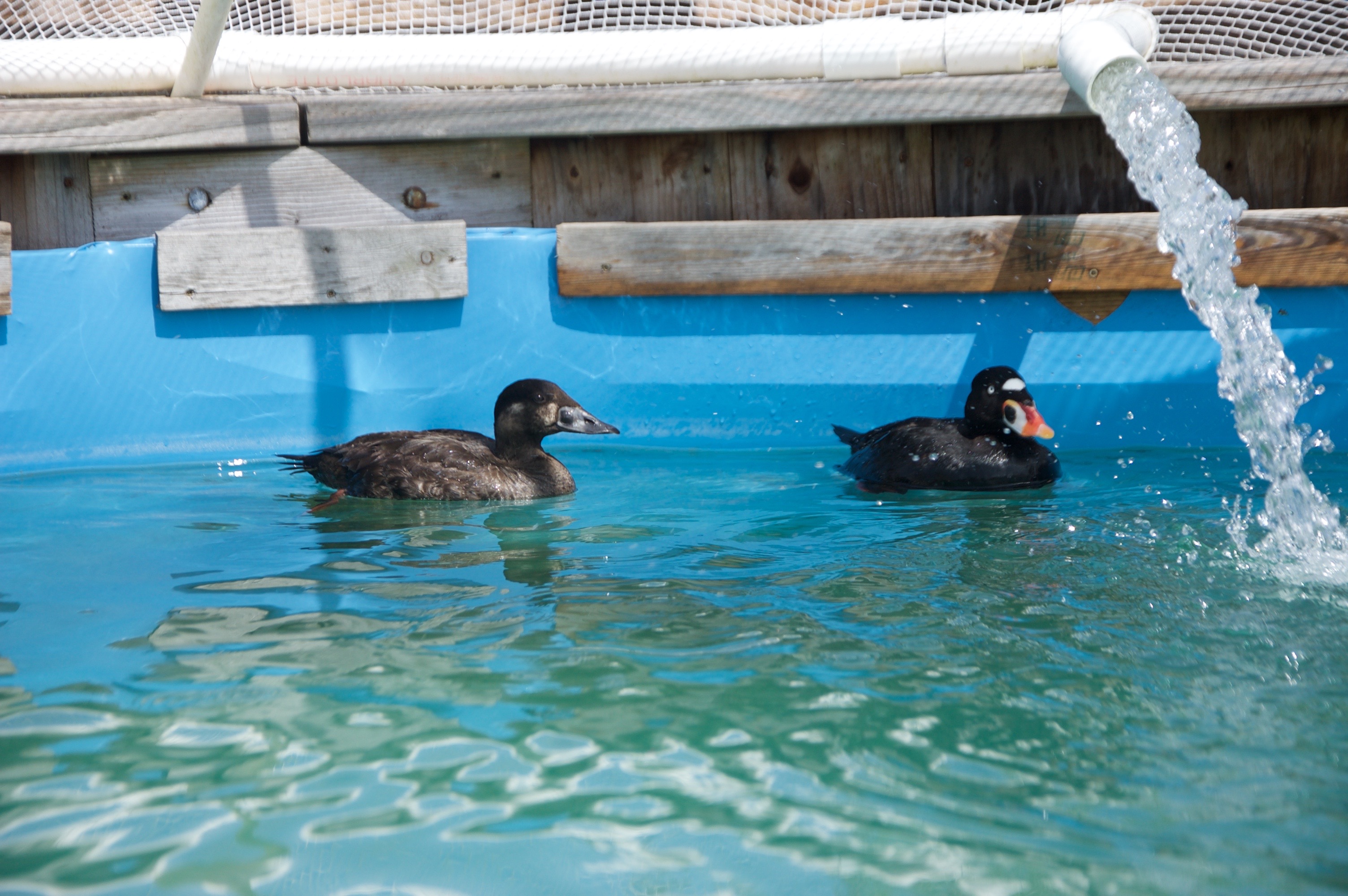 Water is expensive! We recover and filter our water as much as we can.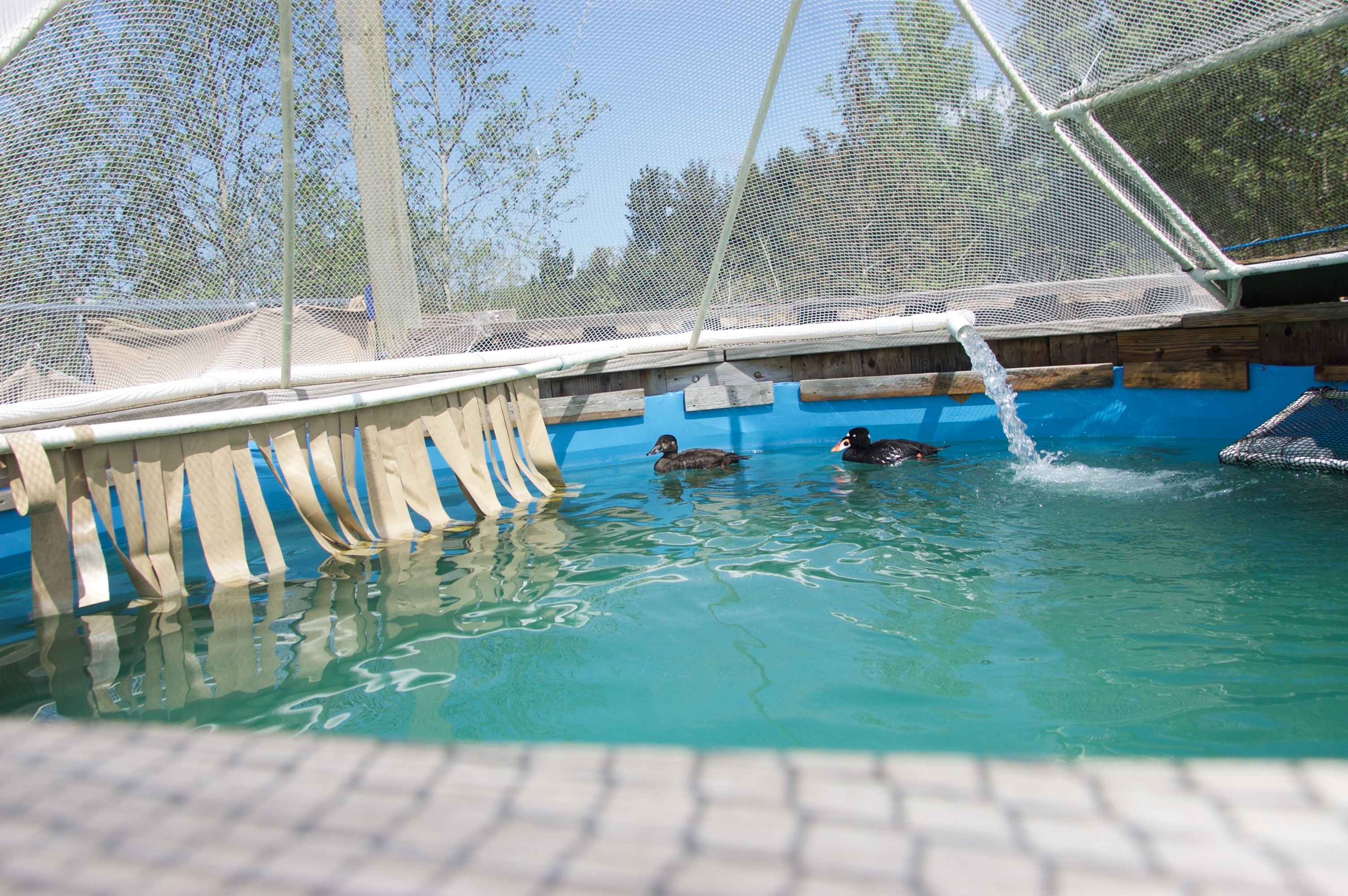 All our patients need privacy. When recovering, stress is very contra-indicated! Elements are added to all patient housing that provides a place to hide when human caregivers are nearby, such as the hanging strips that these birds can swim behind.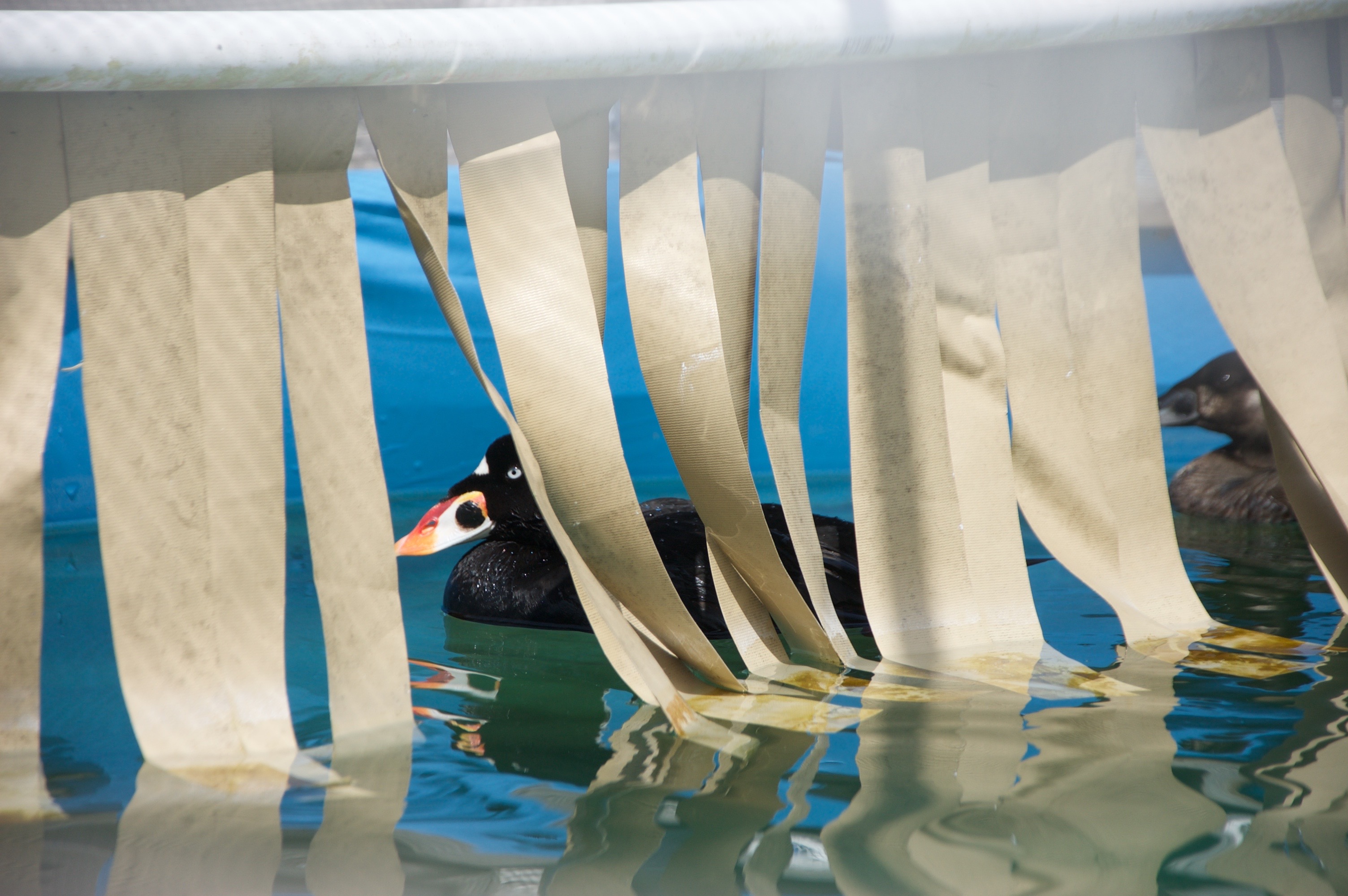 Feeling safer behind the barrier, a stealthy photographer can observe these birds at rest and better assess their true condition. When a sick or injured wild animal is aware of  our presence, they will often try to appear stronger than they really are, only letting their guard down when they feel alone.
---
In the best of times all are deserving of compassionate and skilled care. Wildlife rehabilitation would be an important project no matter how rosy an outlook we faced. In times as uncertain as ours, when our shared world is under a constant barrage of threats and all of us kindred live things are in peril, providing care for the innocent wild animals that are caught in this terrible net that Nature did not weave, our work is even more critical. Your support keeps us from stranding. Qith your support, we not only are able to provide individual care to a diverse array species, but we are also able to learn and teach how to give quality care on very few resources. In the coming decades, this will be increasingly necessary. And besides, good husbandry of resources is always a good idea.
You can help us meet the challenge of our busy Spring and Summer seasons. Your support keeps our freezers full of food, our pools full of water, our wires full of juice. Thank you!

---
all photos: Bird Ally X
(1) King, J. G. and G. A. Sanger. 1979. "Oil vulnerability index for marine oriented birds." In Conservation of marine birds of northern North America., edited by J. C. Bartonek and D. N. Nettleship, 227-239. Wildl. Res. Rep. 11: U.S. Fish Wildl. Serv.
(2) Anderson, Eric M., Rian D. Dickson, Erika K. Lok, Eric C. Palm, Jean-Pierre L. Savard, Daniel Bordage and Austin Reed. (2015). Surf Scoter (Melanitta perspicillata), The Birds of North America (P. G. Rodewald, Ed.). Ithaca: Cornell Lab of Ornithology; Retrieved from the Birds of North America: https://birdsna.org/Species-Account/bna/species/sursco