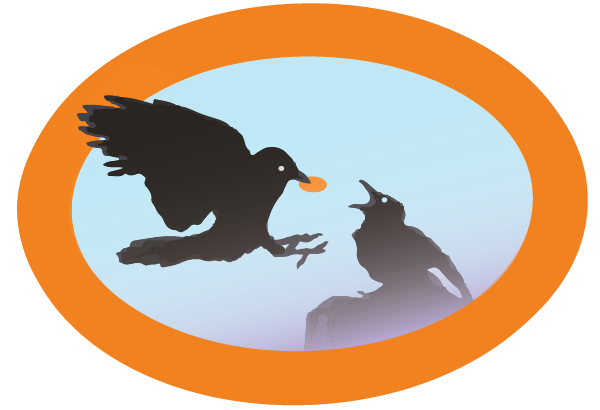 Admitting a wild baby for care immediately poses questions that must be solved. First! Is this baby an orphan? Wild babies are better off with their families. If the family is intact, our first task is to reunite the baby with parent or parents. For some species this is easy, for others less so … Finding a mother Mallard(Anas platyrhynchos) who's lost one or more of her chicks is nearly impossible, while getting a mistakenly grabbed Raven(Corvus corax) chick back to her parents is one of the easiest things you can do.
But often the family is gone, a parent killed, or their whereabouts unknowable (a dog drags a fawn up to the front porch, uninjured, but who knows from where…). However hope for a real wild upbringing isn't completely lost. In some cases we can "wild foster",  a technique in which orphans are placed in a wild family of their own species although not related. For some species, including most raptors, this can be easily done. (check out the work of  The Hungry Owl Project, one of the organizations that helped spread the use of this technique for raptors in California.)  We attempt to wild foster our young orphans whenever we can, or is necessary.
If re-uniting and fostering are not an option, we still have our faithful standby: we raise the orphans ourselves. While not ideal, successfully raising orphaned wild animals is done every day across the world by compassionate people, mostly volunteers, who take the business of being wild very seriously. We protect the wild nature of our patients fiercely, as well as their absolute right to freedom. To successfully prepare our patients for their adulthood means to provide them an upbringing that will give them the opportunity to develop the necessary tools for surviving and thriving – meeting their rightful destiny.
It may same a strange activity, but taking care of babies not even of your own species isn't just humane, it's natural.
Consider how tenderly this Bald Eagle(Haliaeetus leucocephalus) feeds this Red-tailed Hawk(Buteo jamaicensis) chick at this eagle nest. How this hawk found his way into this nest we may never know, but we do know this: This eagle is giving this hawk a second chance! Just like we do. One feeding at a time.
In this remarkable video, Bald Eagles in their nest at Roberts Bay, near Victoria, British Columbia are seen feeding a Red-tailed Hawk nestling. Apparently raising orphans of a species not your own is a perfectly natural endeavor! [EDIT: more information on this nest here.]
---
As with all aspects of our work, raising wild orphans requires specialized skills and a facility that is flexible enough to meet the shifting demands of our caseload and the diversity of our wild neighbors – raising Common Murre(Uria aalge) chicks and Raccoons(Procyon lotor) do have some similarities, but mostly they have a multitude of differences!
Whether we raise these babies ourselves, wild foster them, or return them to their families, our ability to act, to weigh the considerations and have resources available so that the our best course of action can be followed. All of our work stems from your support. Without your support, none of this ever happens. Please help us now in the midst of our busiest time of the year. We have a lot of mouths to feed. Donate Now.