Getting hit by a car doesn't usually end well. But when you only weigh 9 grams (about a third of an ounce) you can get lucky. At the end of April an Orange-crowned Warbler (Oreothlypis celata)* was found in the middle of the street near downtown Eureka. Dazed and confused, the small bird, most likely hit by a car, would have been run down again if not for his rescuer. Once brought to Humboldt Wildlife Care  Center, she was already beginning to recover. Given a mild anti-inflammatory medicine, soon she was flying inside her patient housing. After 24 hours of observation, she was her old self. We returned her to Eureka where chances are good she's in the middle of keeping eggs warm. We're sure her partner was glad to have her back.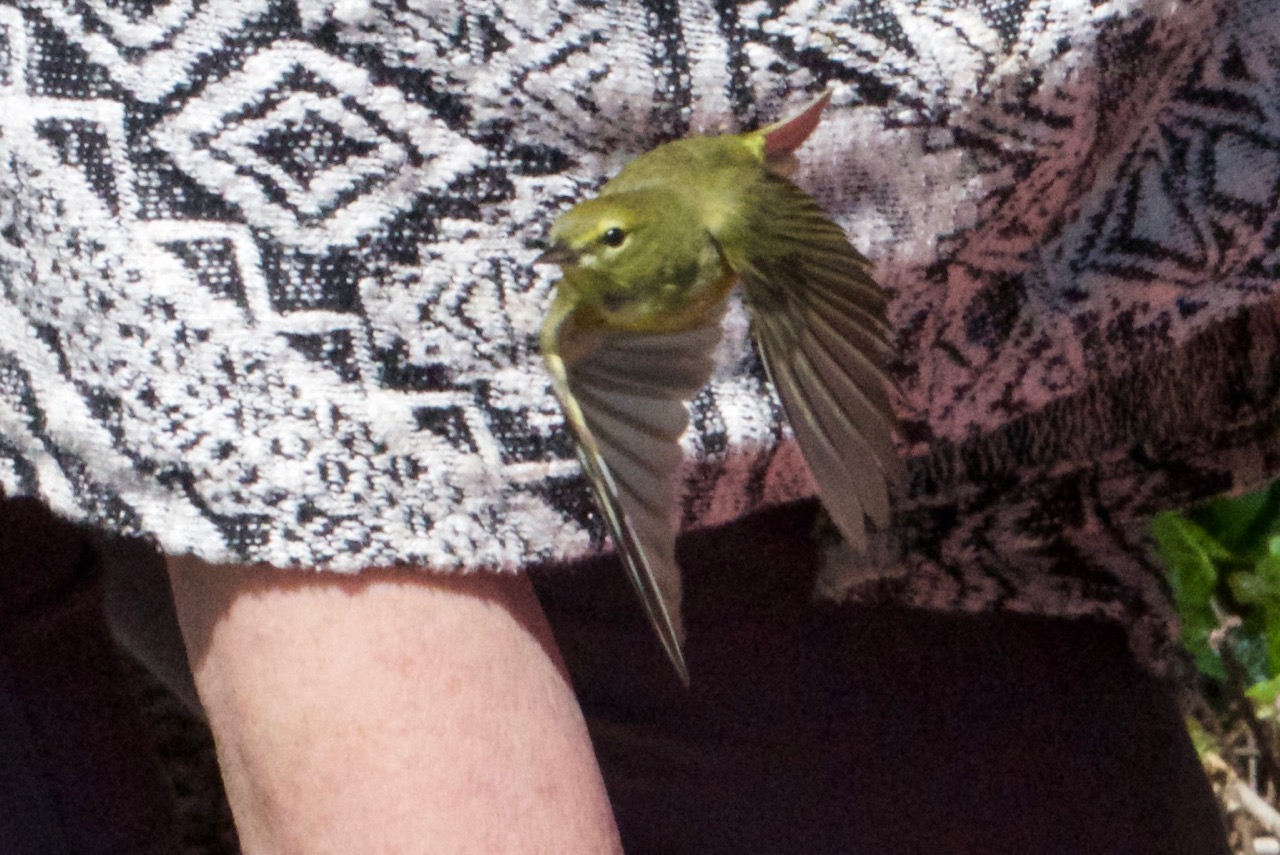 Out of the box and back in the game! Orange-crowned Warbler gets while the getting is good!
---
It is estimated that cars kill between 90 million and 340 million birds each year in the United States alone. This number doesn't include possible secondary deaths caused back at the nest when a parent bird doesn't return with food forever. Who knows how many young nestlings die each Spring, starving in their nest.
At this time of year most adult birds in the Northern Hemisphere are very busy finding mates, building nests, brooding eggs and raising their young. While car fatalities can sometimes be unavoidable, increased awareness of our wild neighbors and consideration for their lives can go a long way toward keeping wild families together.
When an adult is rescued at this time of year, we don't know how many lives might actually be saved. Your support helps keep our doors open. Your support provided a second chance for this Warbler and for all of our patients. Thank you!


Want to support our work? That's terrific because we need you! Just follow this link to make a one time donation or to become a Sustaining Member! Thanks again!
*Correction: This story was originally posted incorrectly identifying this bird as a Wilson's Warbler. Sorry!
---
photos: Bird Ally X/Laura Corsiglia