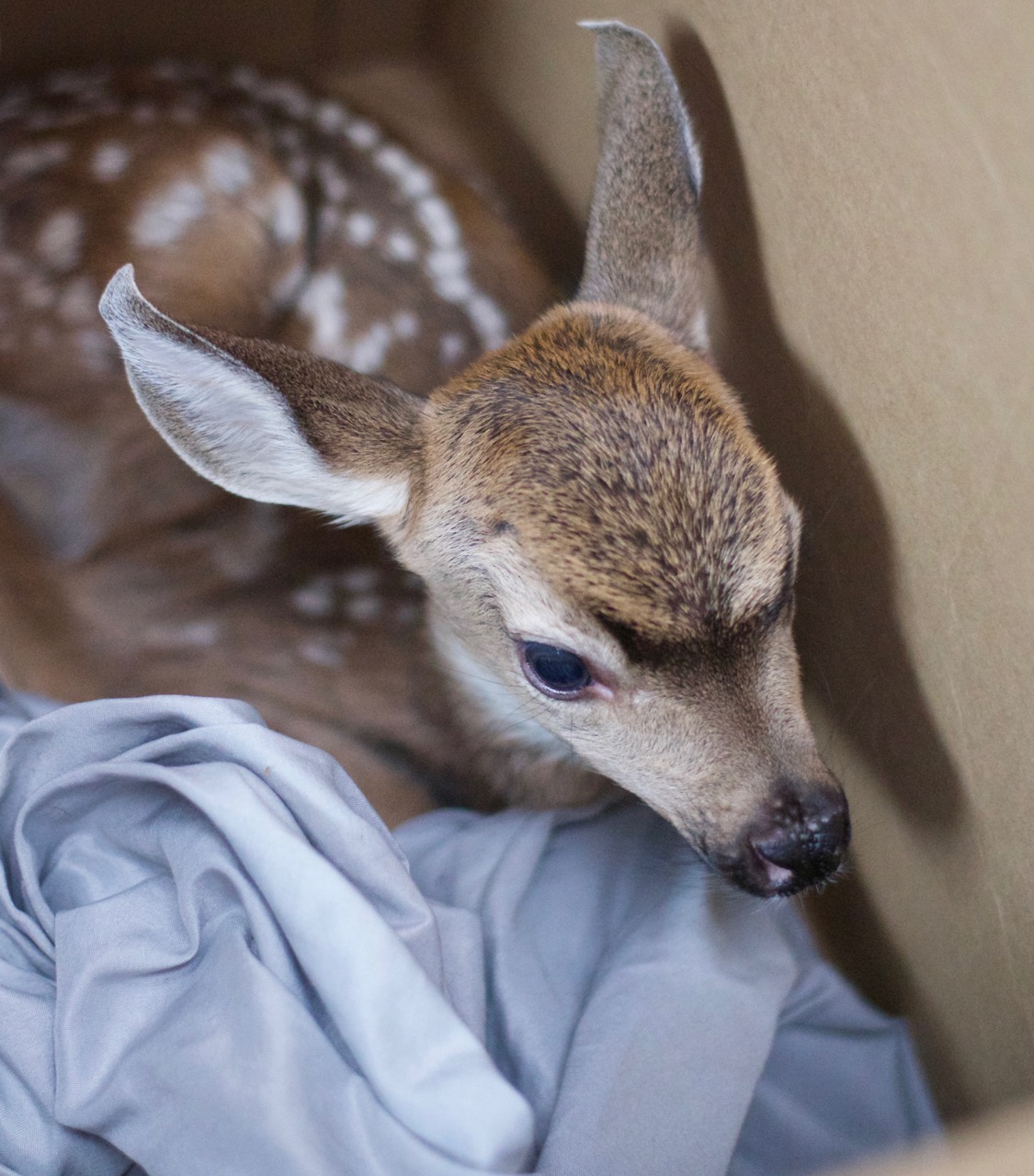 2017 has been unusual. While it's perfectly normal right now, in the height of our Spring and Summer wild baby season, that we're very busy with a huge demand on our resources, what's strange is the number of baby mammals we've admitted. Typically our patient caseload is 75% birds, and 25% mammals, with only a few reptiles such as snakes, lizards and turtles admitted for care, year in and year out. This year though we've seen a large increase in orphaned baby mammals. Instead of 25%, we are at 39% mammals for 2017 to date!
In part this is because we've started to accept more wild babies from northern Mendocino County, where permitted wildlife rehabilitators are scarce. (But there is one! Shout out to Ronnie James of Woodlands Wildlife near Fort Bragg!) That counts for less than a dozen raccoons however and not a 16% increase. So what else might be the cause? We don't know.
What we do know is that we are as active as ever helping people resolve wildlife/human conflicts peacefully and keeping wild families together. This has been the wettest year in six years of keeping our digital database. Between loss of habitat, encroachment on the wild, increased traffic and of course the great destabilizer, climate change, it's nearly impossible to know at this time what exactly is happening. Every day we get calls about stranded or orphaned youngsters in need of help. Every day we hear about dead wild mothers on the highway.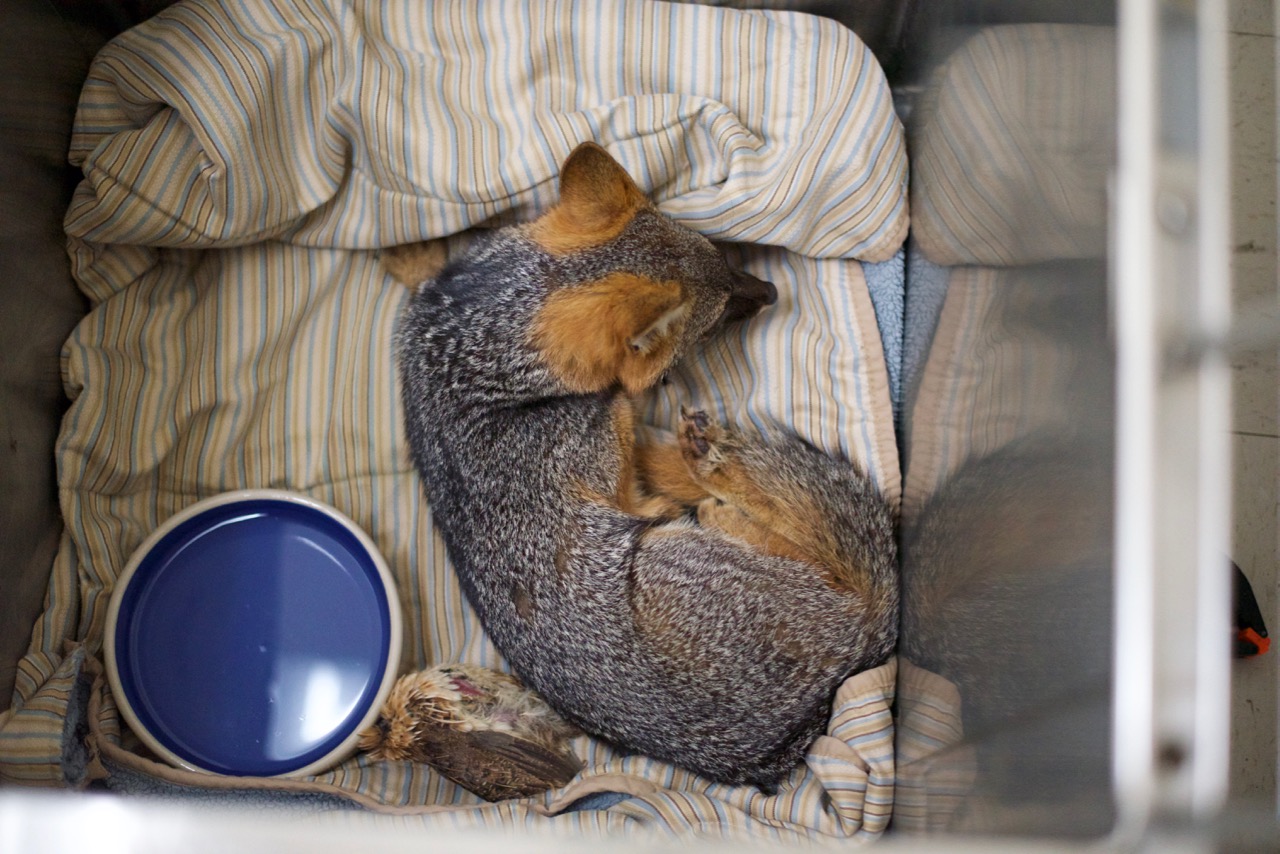 Every story of the wild animals we treat has heartbreak in it. This adult Gray Fox (Urocyon cinereoargenteus) is a nursing mom. She was hit by a car and found on the side of the road on the north side of Crescent City. Her first week in care, she was barely aware of her surroundings or the handling she endured while we proved supportive care.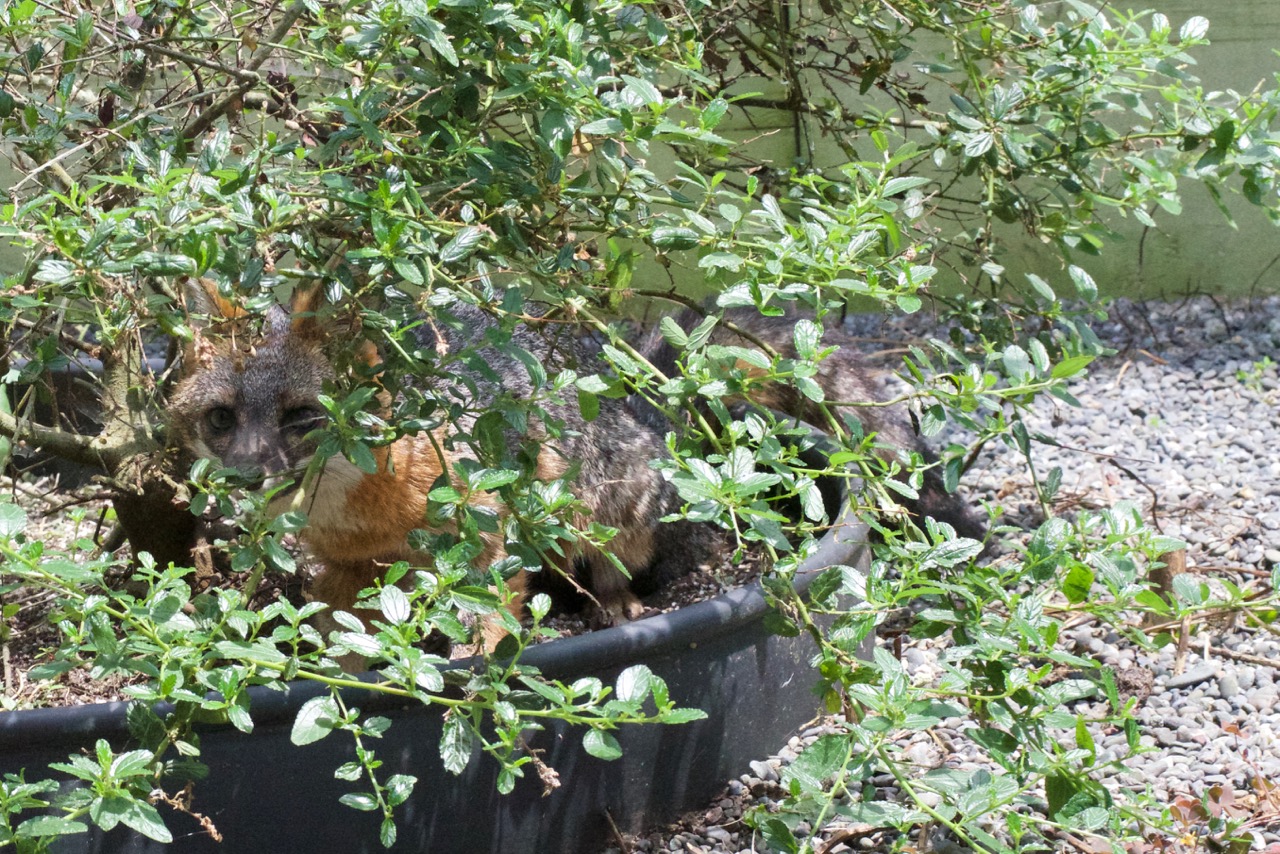 Gradually she regained her wits. As soon as she could stand and walk, we moved her to an outdoor enclosure where her agility and alertness began to quickly return.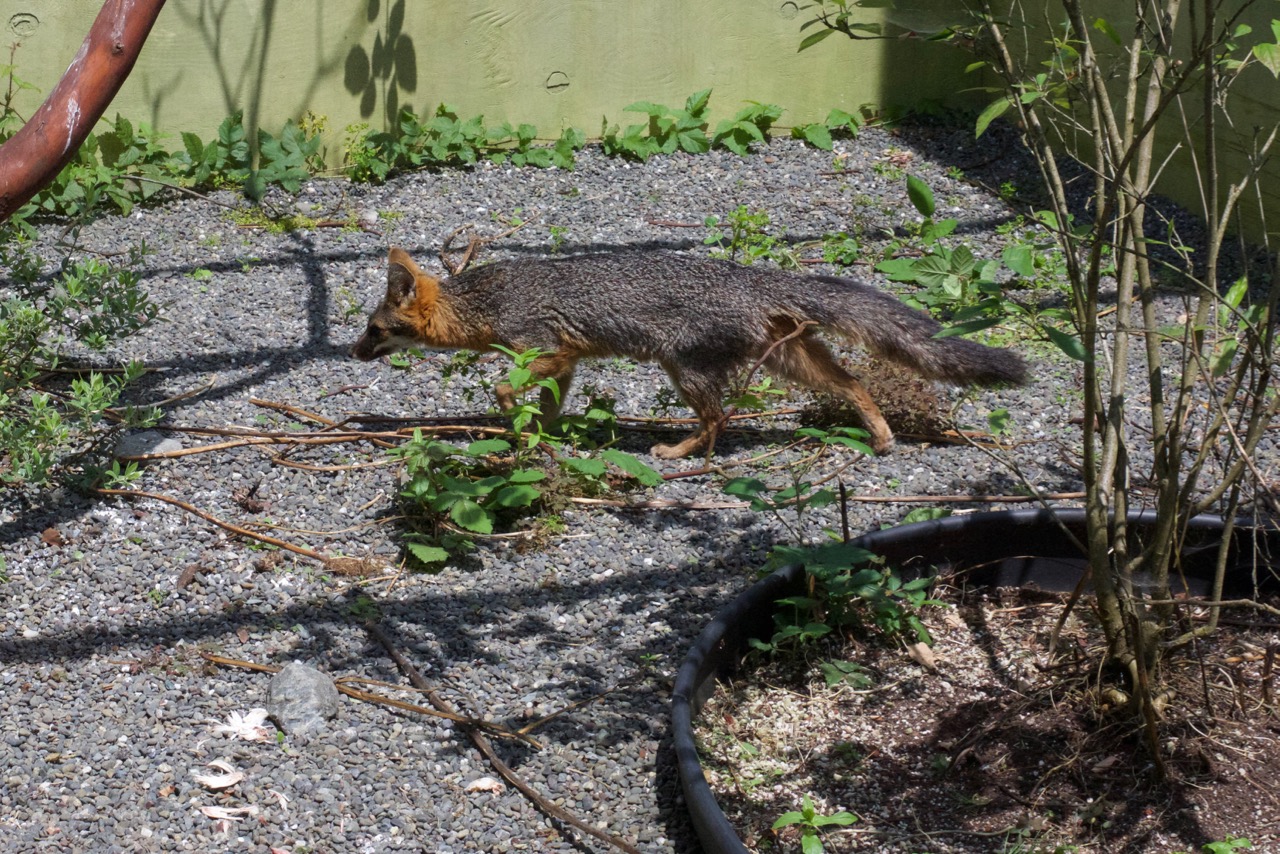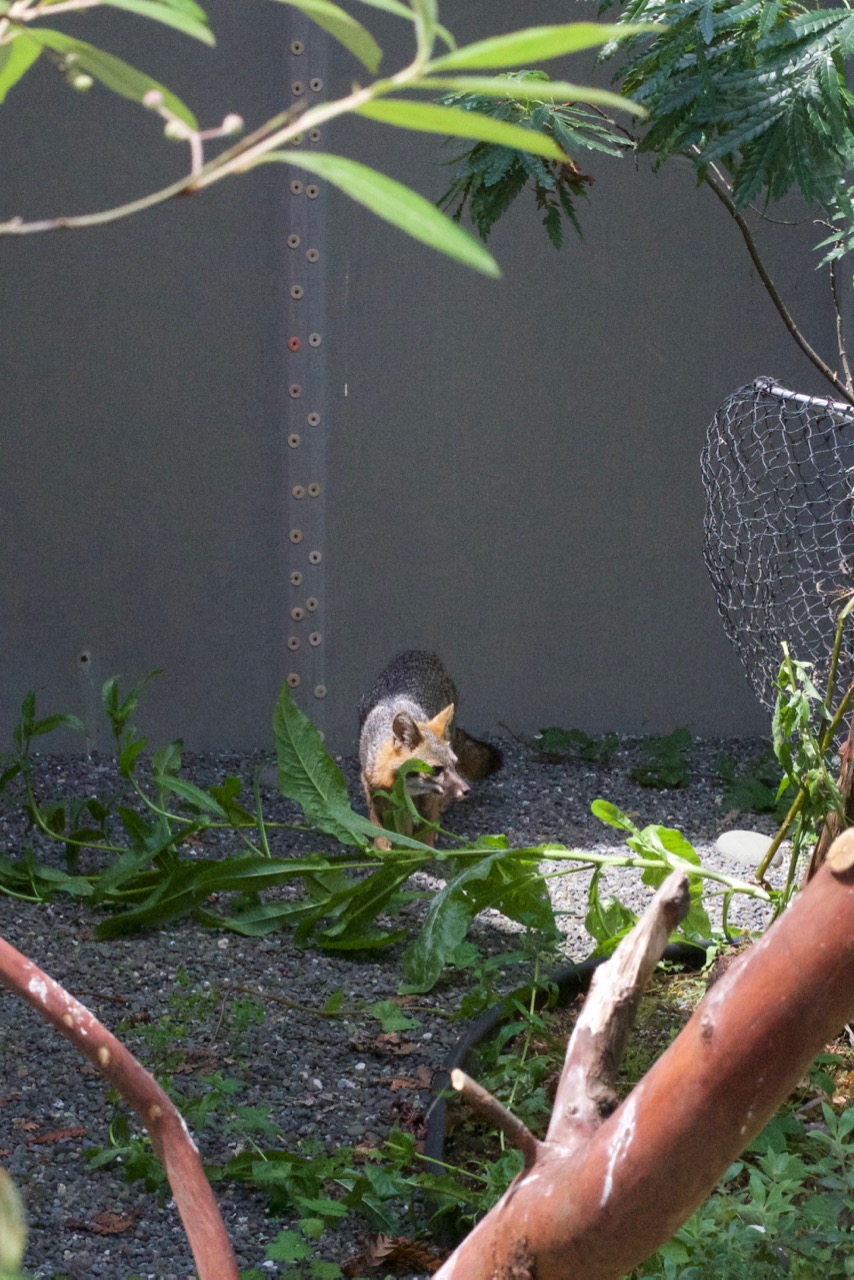 Her wariness on the day of her release examination was a welcome sight. As she tried to evade capture she demonstrated a crucial intelligence and bravery that she will need when she's home in the wild.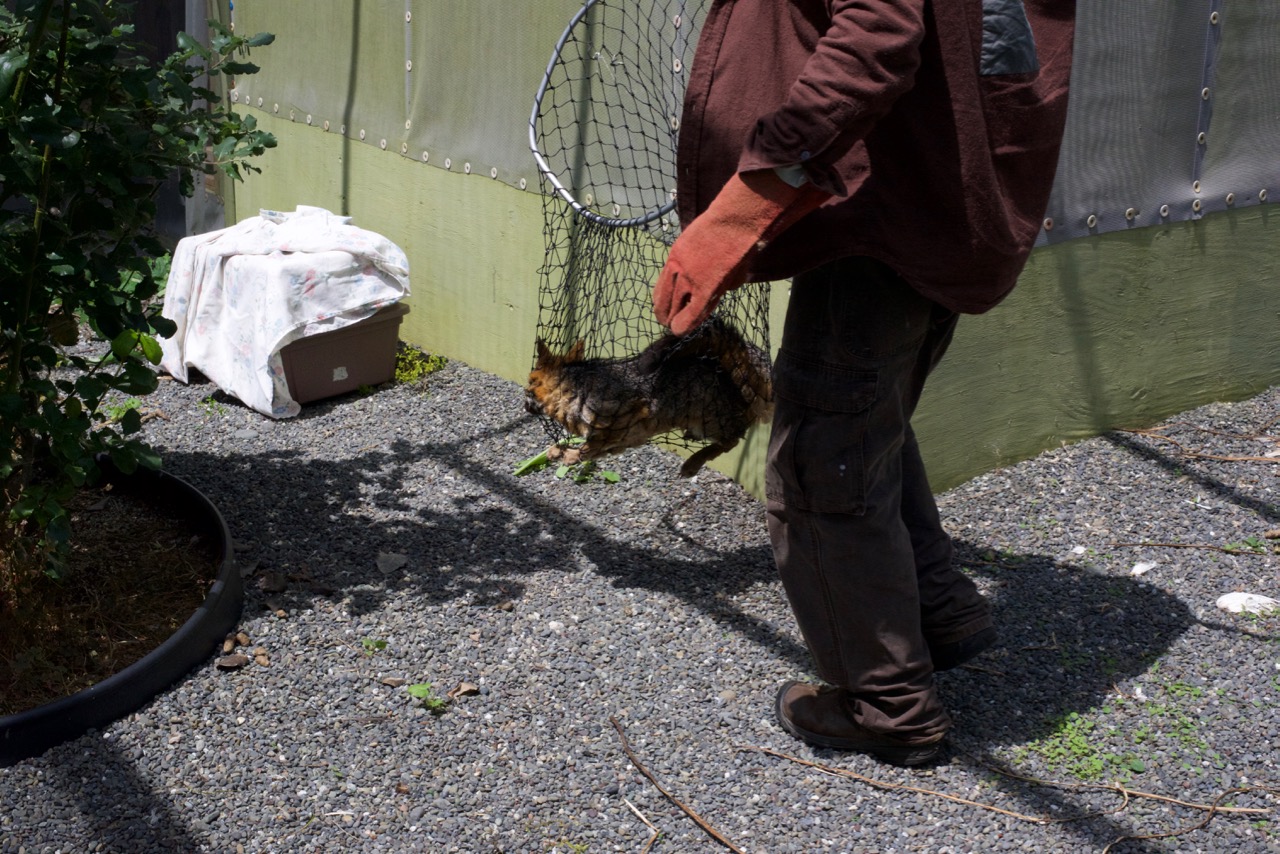 This net capture is the last indignity that she must face before freedom!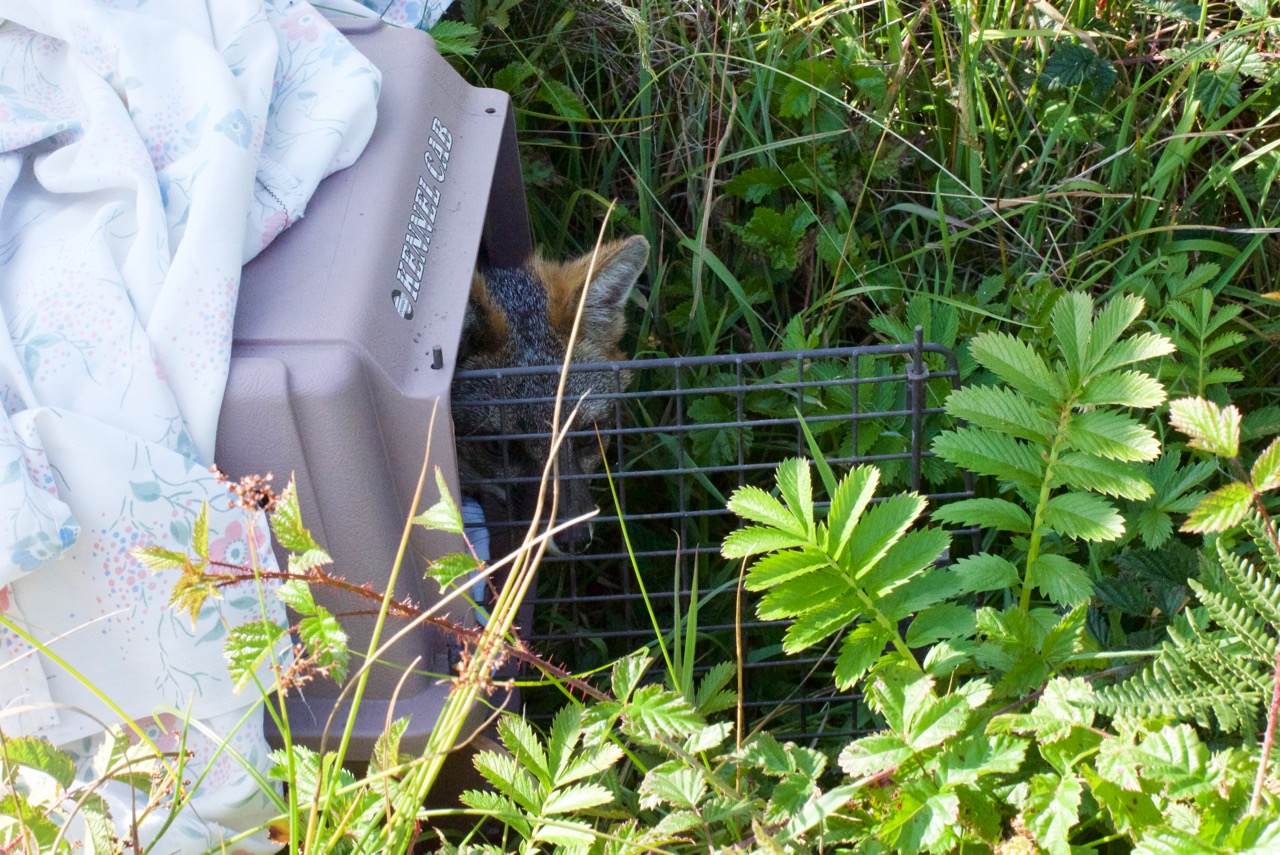 Her release very near her rescue site: the mother Fox takes a cautious moment to look around.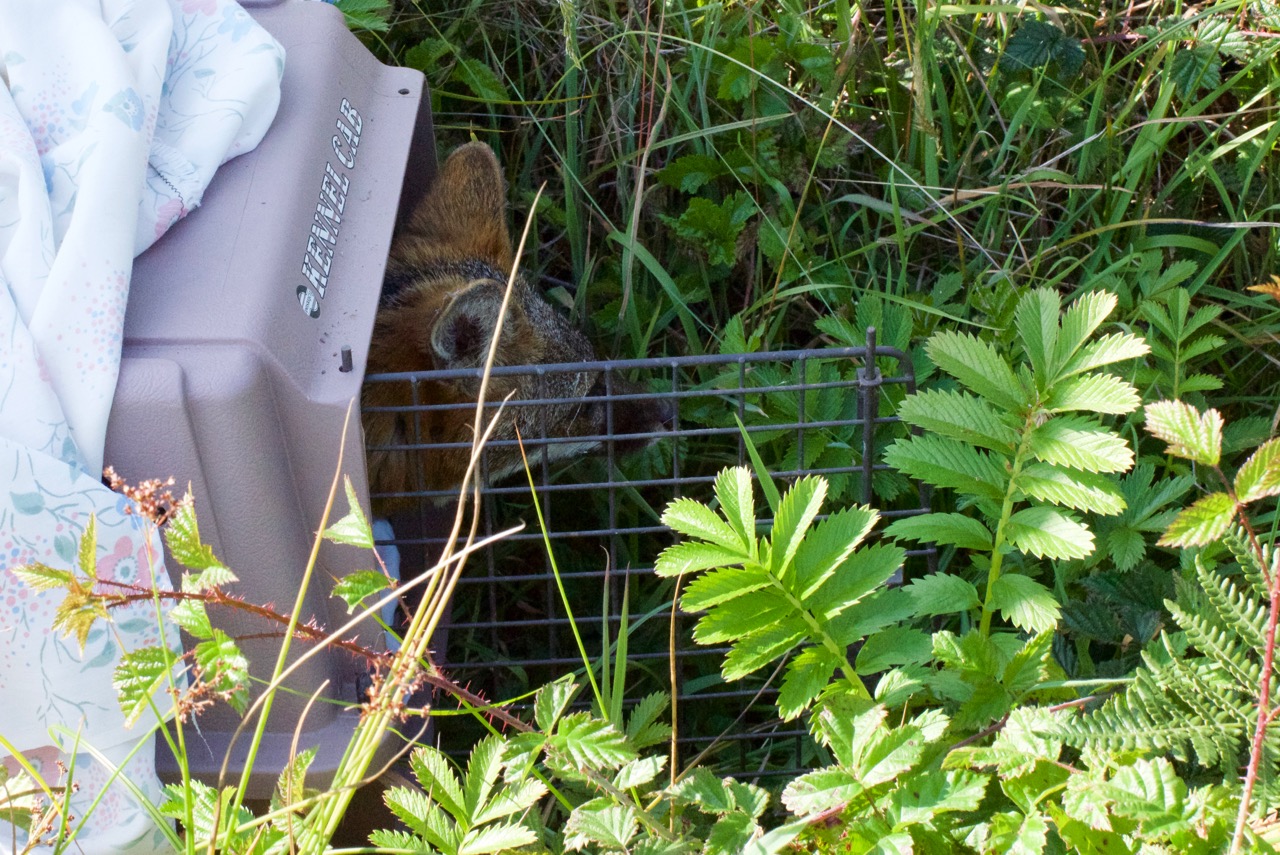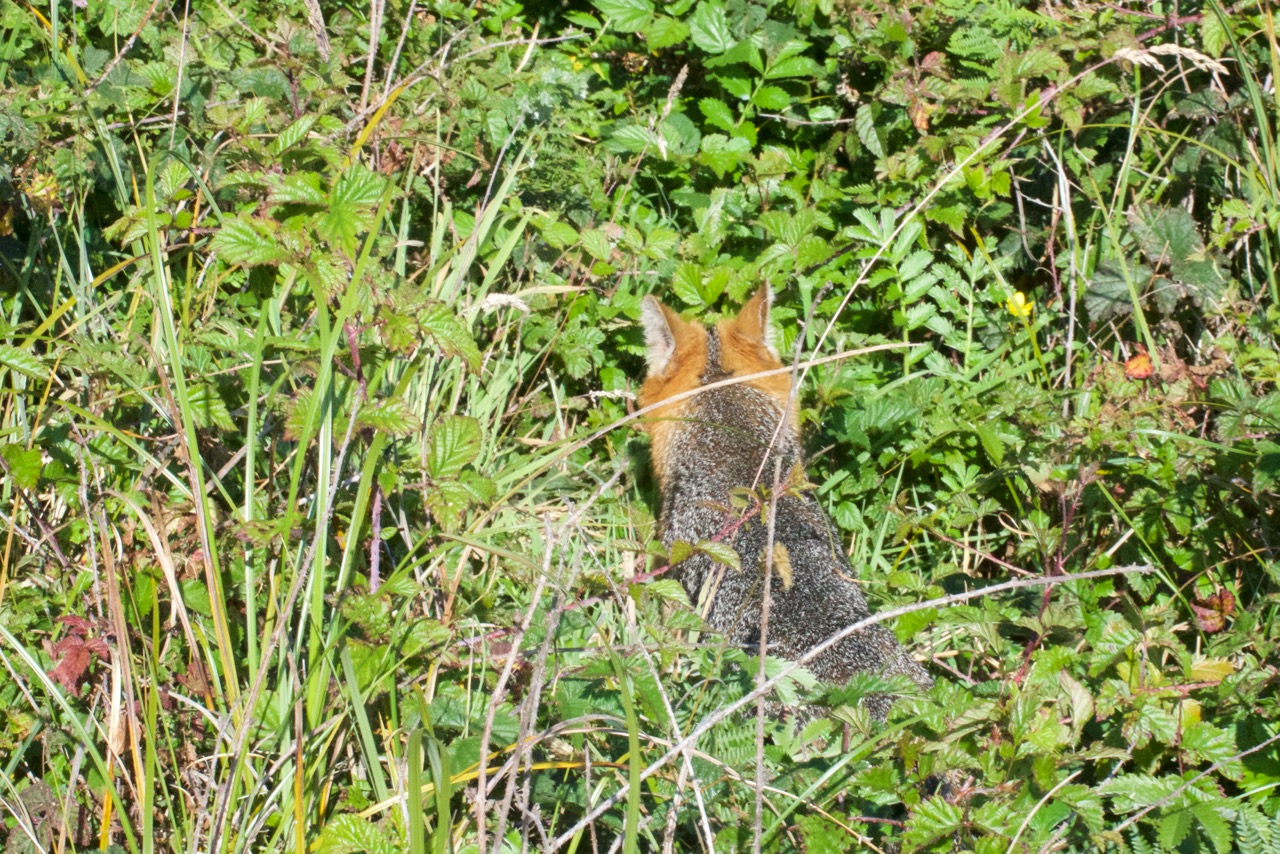 And then she breaks for it! – into the hedgerow, into the tangled bank!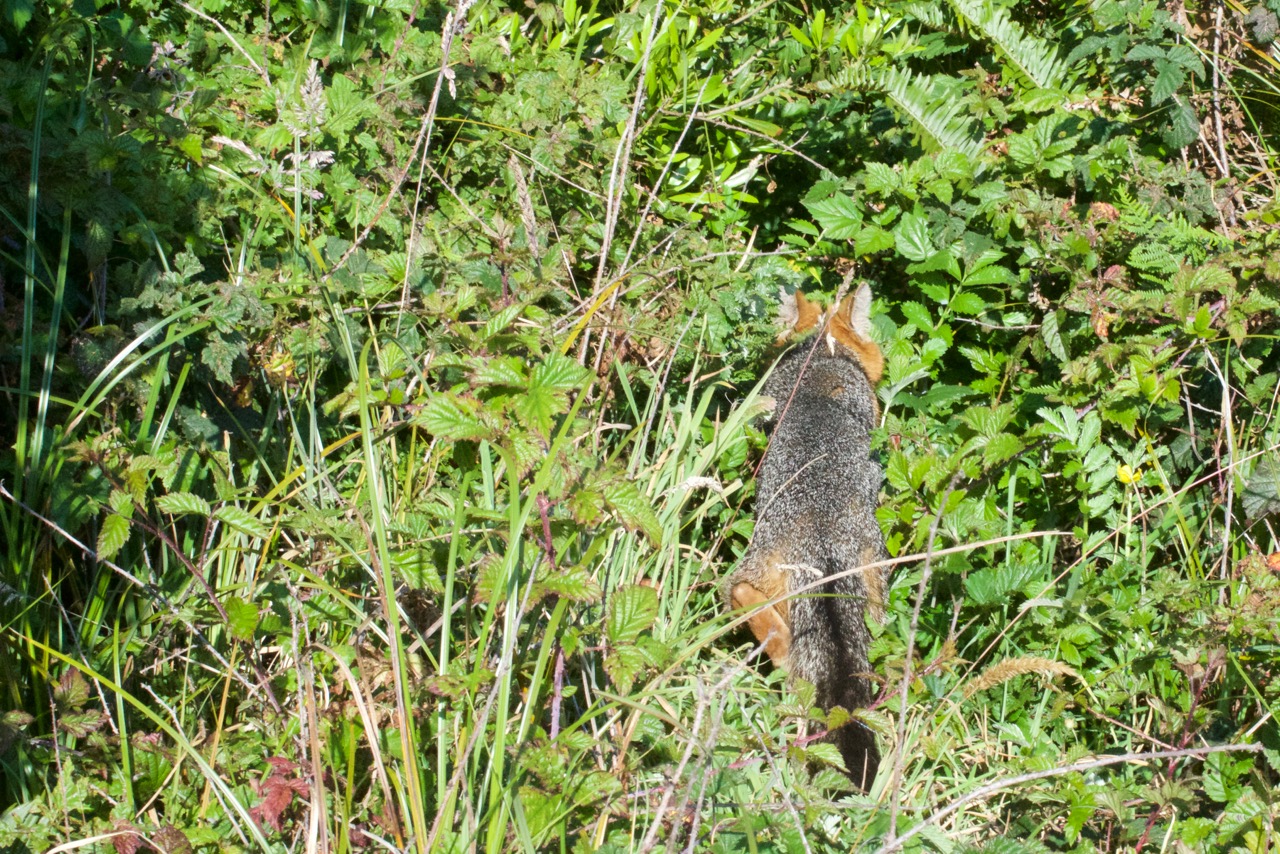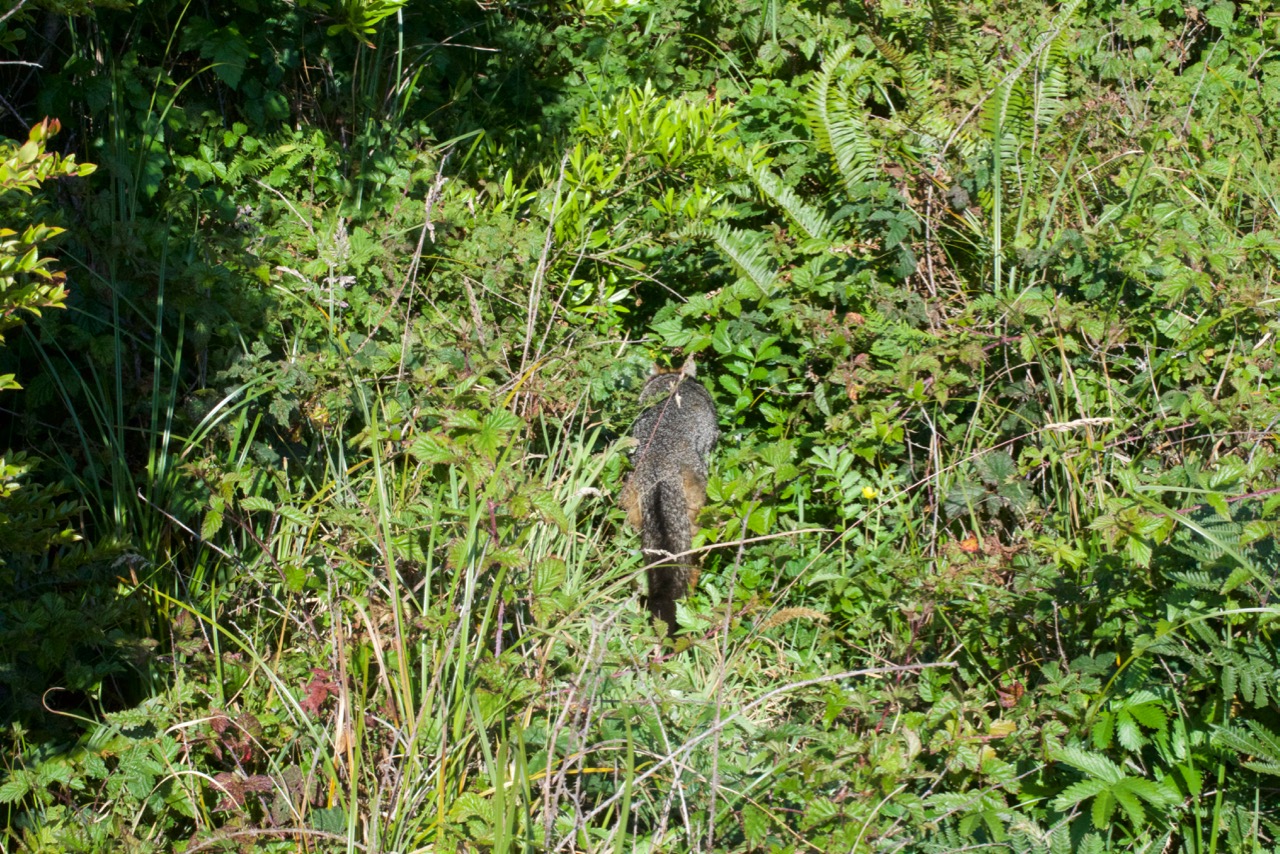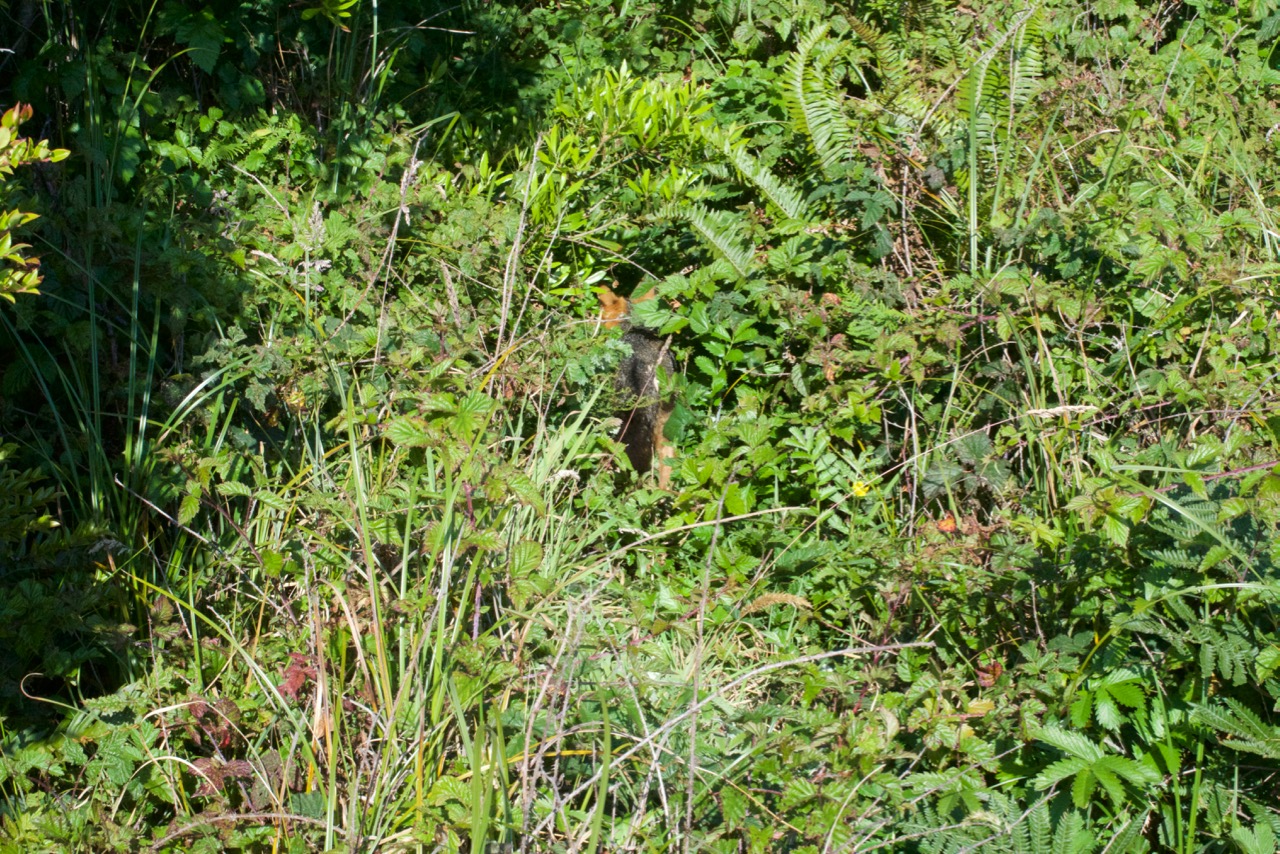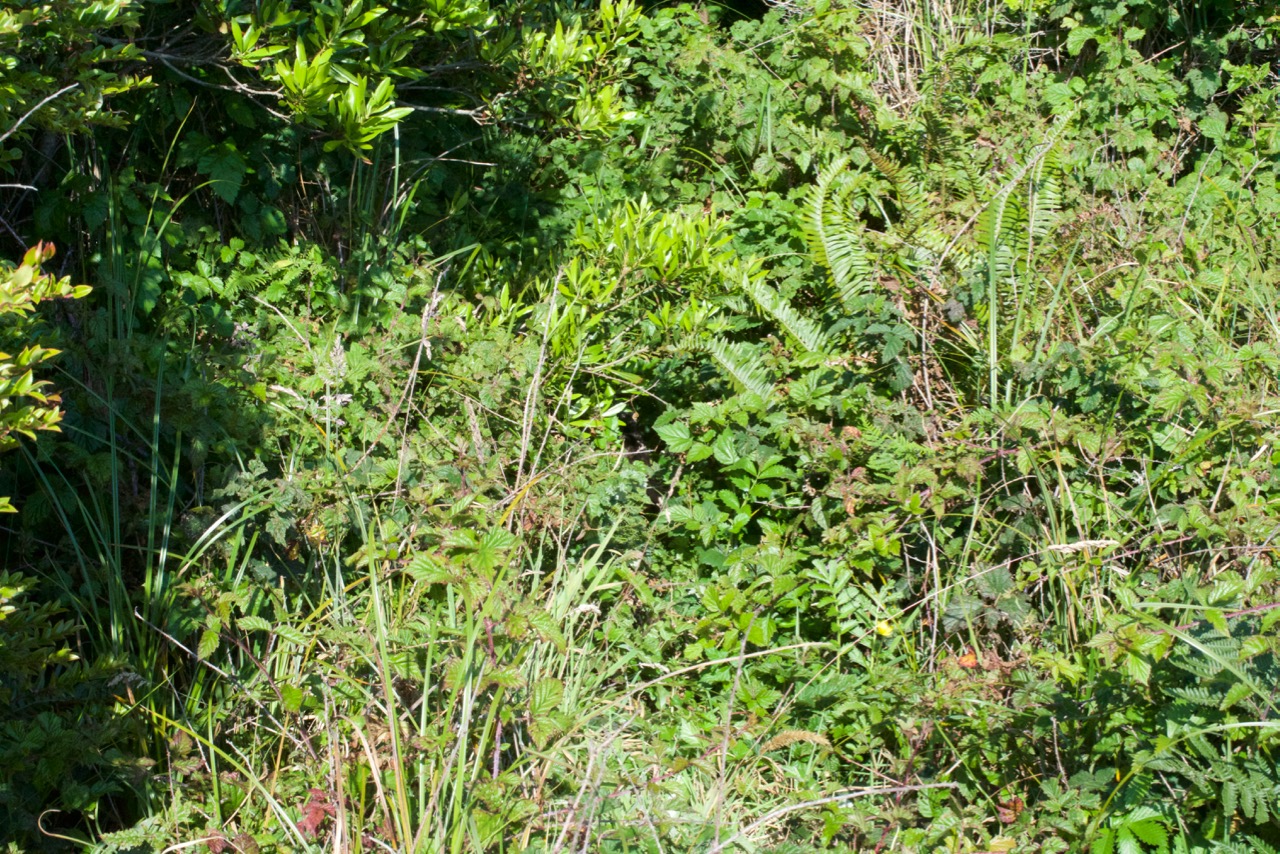 And she is gone, back into her realm, her freedom – out of our grasp and away from our gaze. The luck of being found and rescued saved her life. It is impossible, knowing she was a nursing mother, to not acknowledge her kits, as many as four of them, who died without her care after she was hit by the car. But she is in great health otherwise, a strong and muscular vixen, who has lived to raise another family. 
---
How do we provide this care to our region's injured and orphaned wild animals, every day of the year? Easy. Only with your support. Please donate today. Our Season is only half way through! We need your help! Donate Now.
---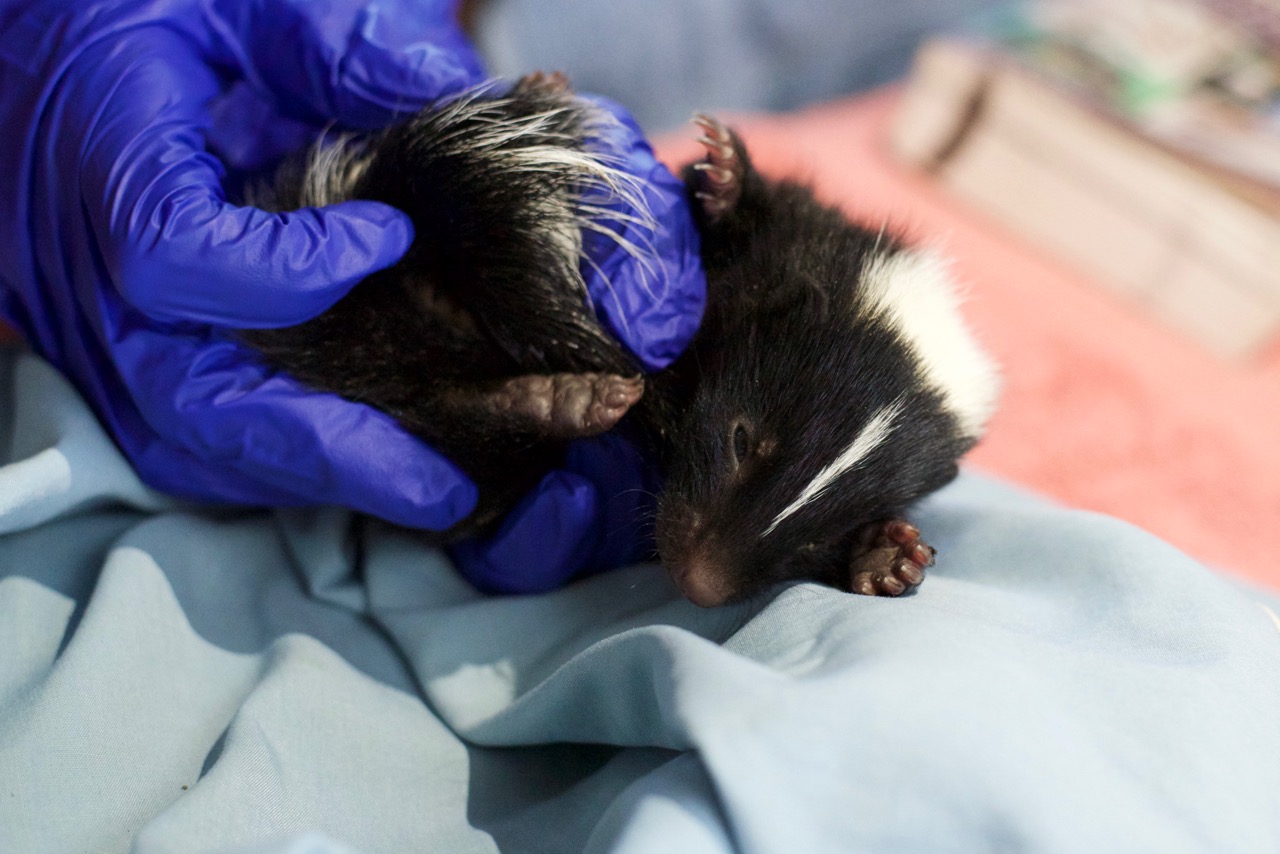 So far this season we've admitted twice as many juvenile Striped Skunks(Mephitis mephitis) than in any year previously!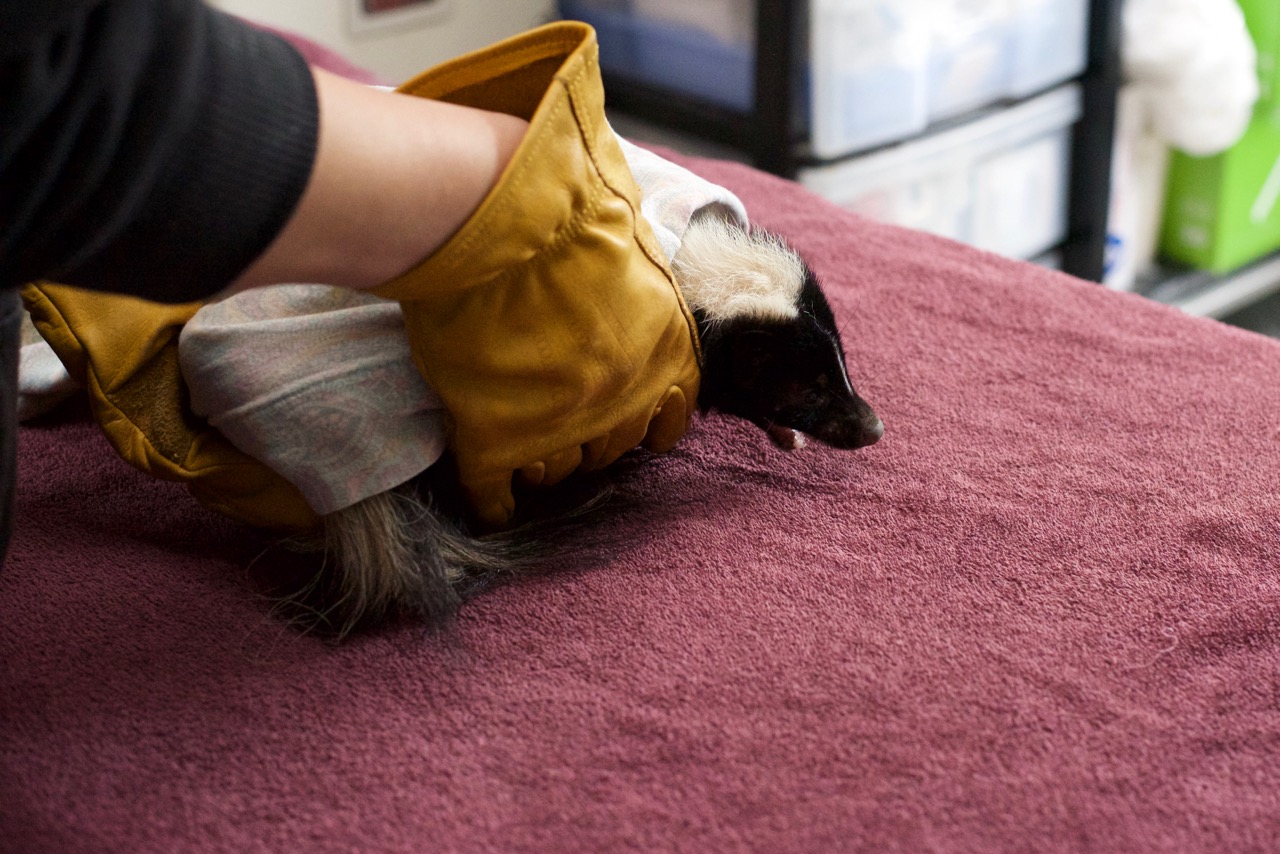 While it is easy to avoid getting sprayed during care procedures, such as weight checks and other examinations of our young skunk patients, there is still a psychological barrier to overcome when handling them. Fortunately at this age, their defensive spray is fairly mild.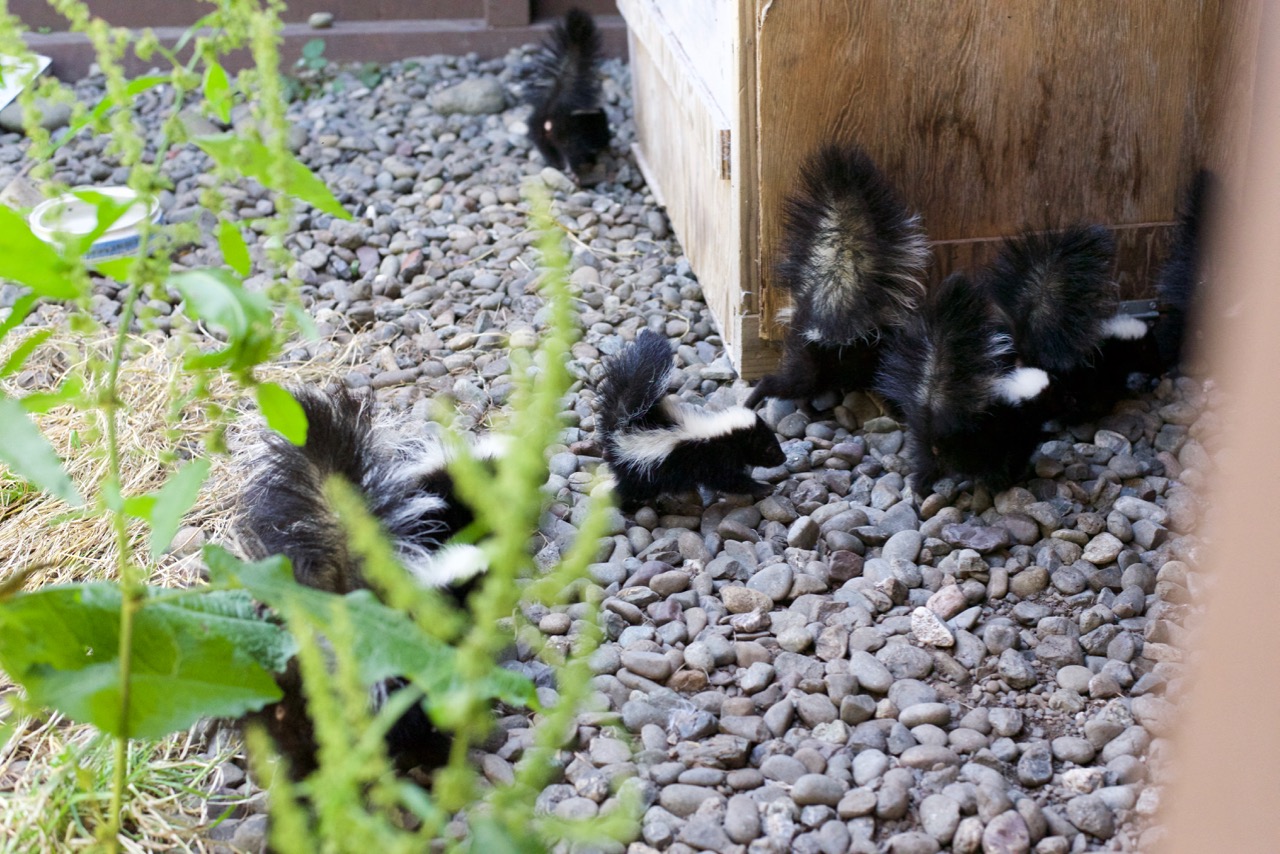 In our skunk housing, youngsters learn to dig for insects, eat meat, and hide from threats, among other skills they will need to succeed as adults. Your support makes our facility possible! Thank you!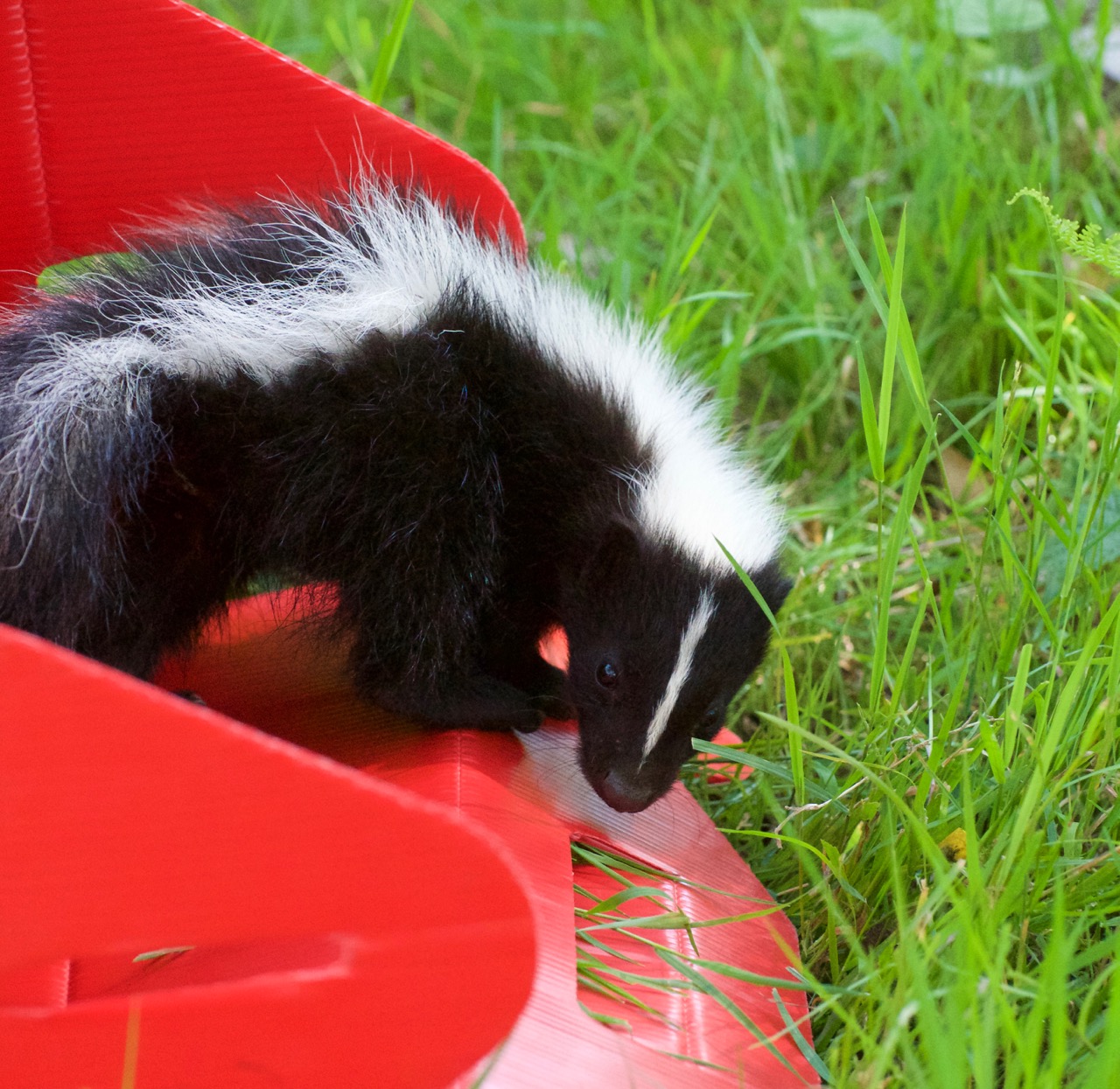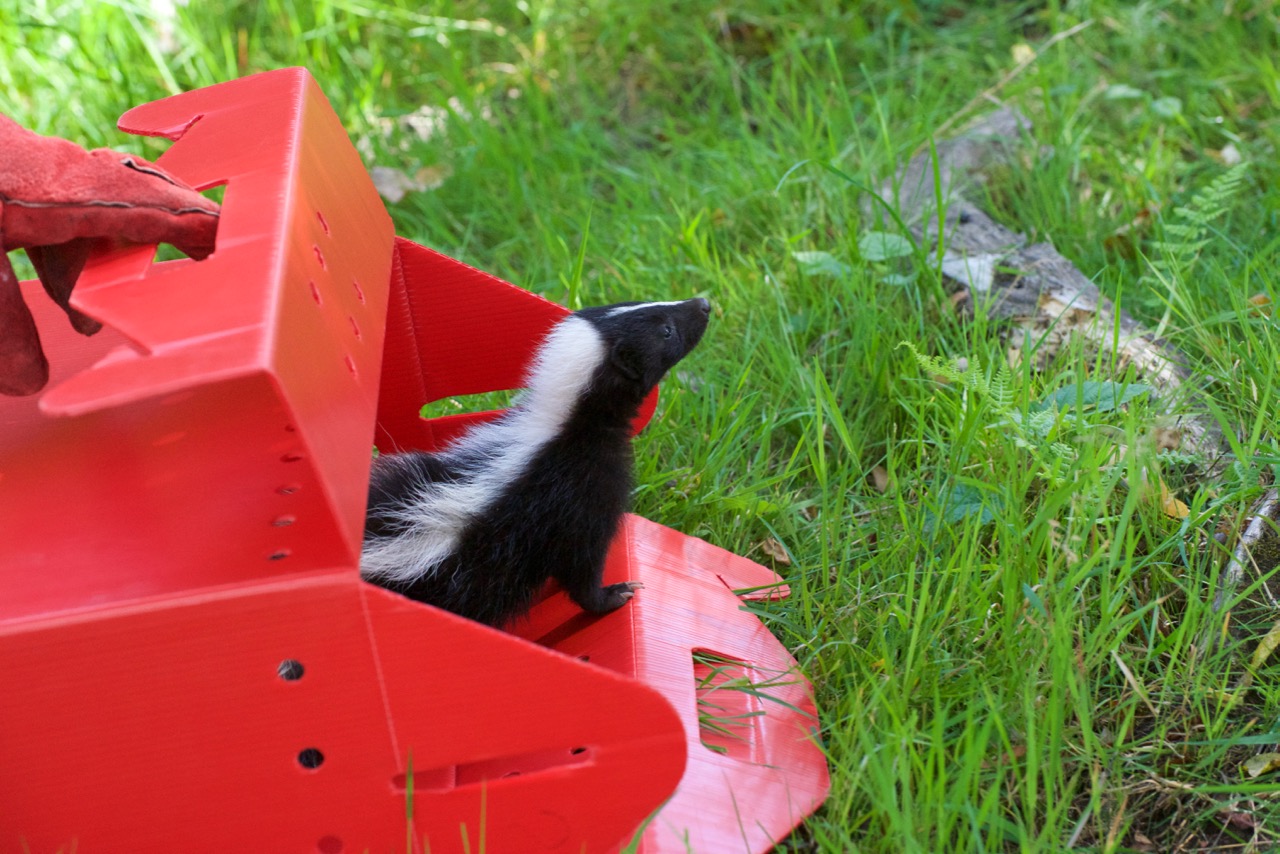 A young skunk from this year's babies smells freedom again, and it is sweet.
---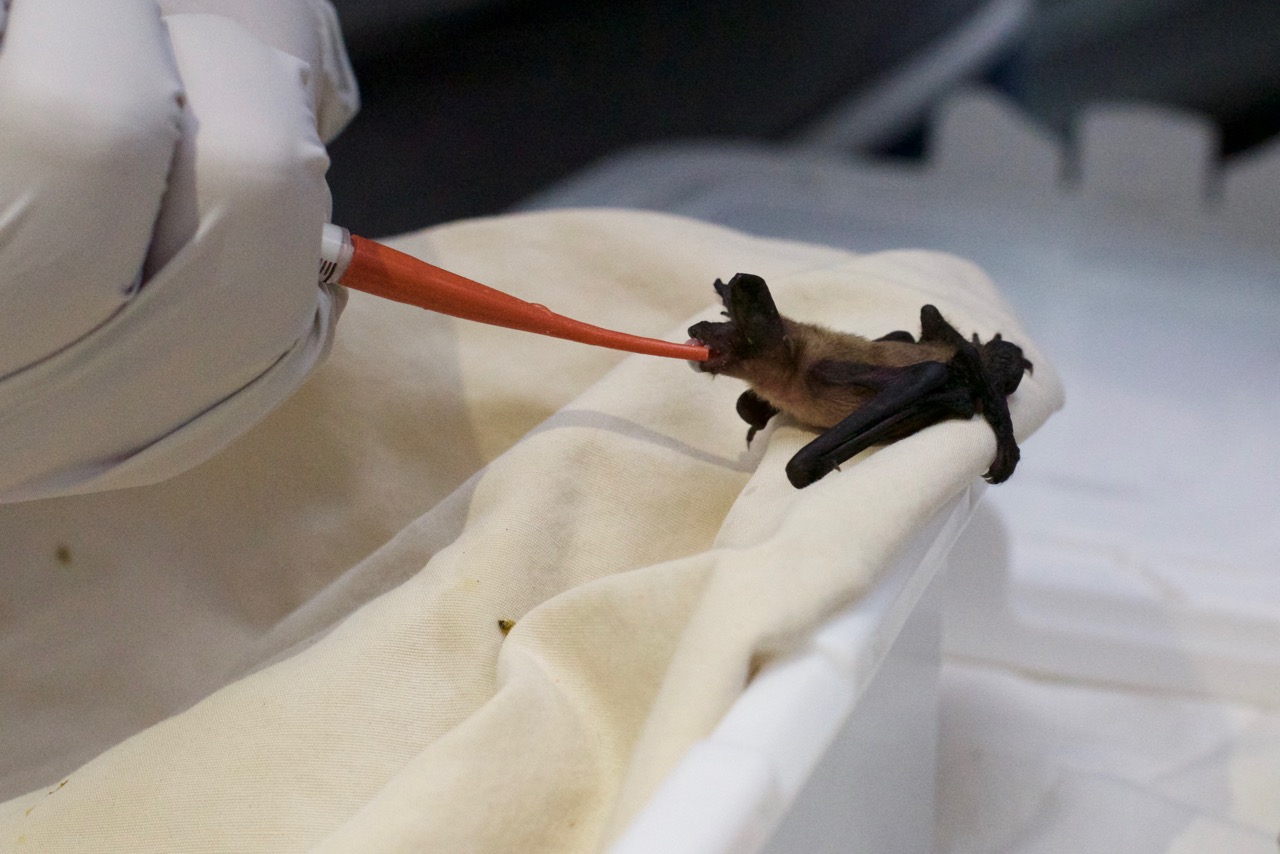 A very unusual patient! We treat many bats year 'round, but this is only the second time in 6 years that we've admitted a very young Little Brown Bat (Myotis lucifugus). This little bat came in nearly fur-less, eyes closed and in need of regular formula feedings. We were unable to locate his colony and return him, so we raised him at our clinic. Now weaned and eating strictly insects, soon he will begin flying, and soon after that he will be free. 
---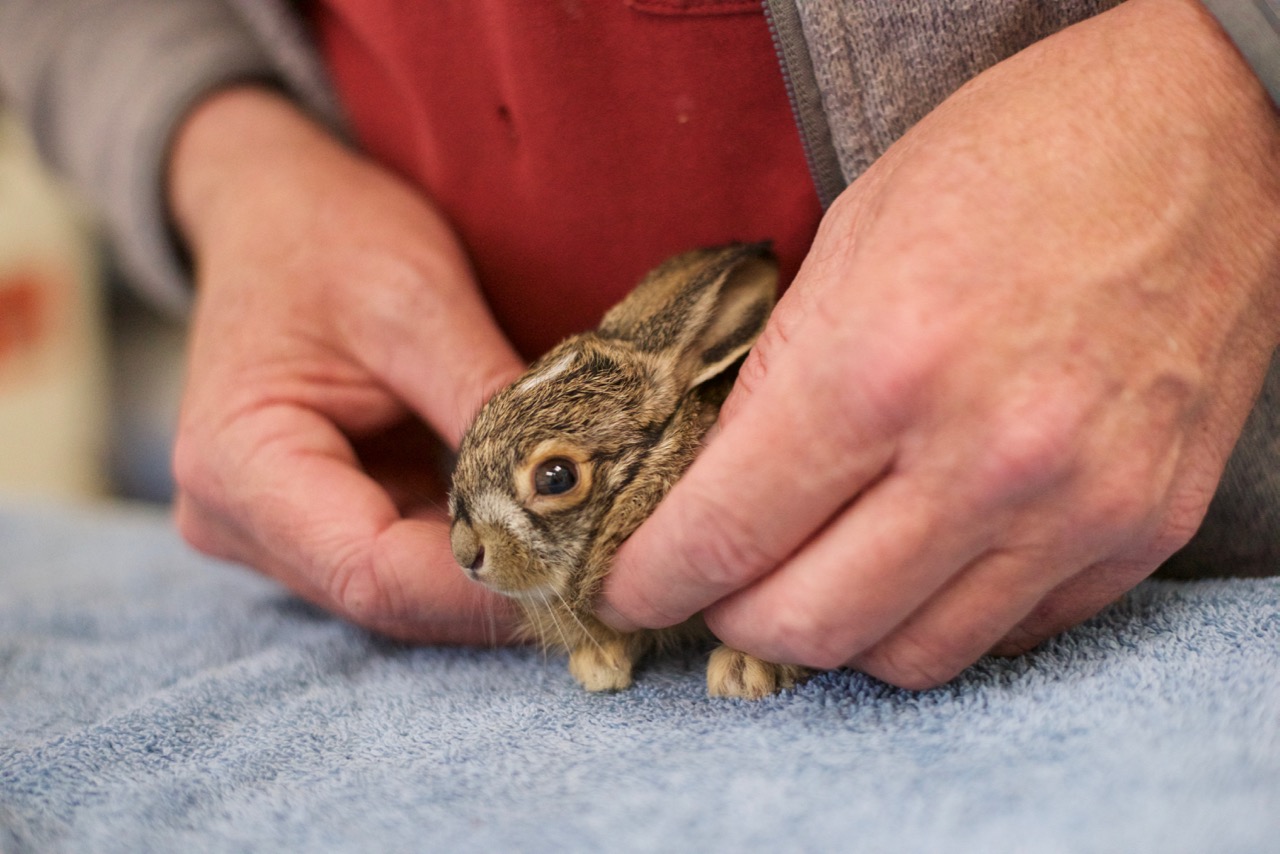 Brush rabbits(Sylvilagus bachmani) are often victims of house cats, especially when they are very young and first out of the nest…  this baby succumbed to the infection caused by the cat bites he received. Free-roaming cats take a terrible toll on young wild animals. 
---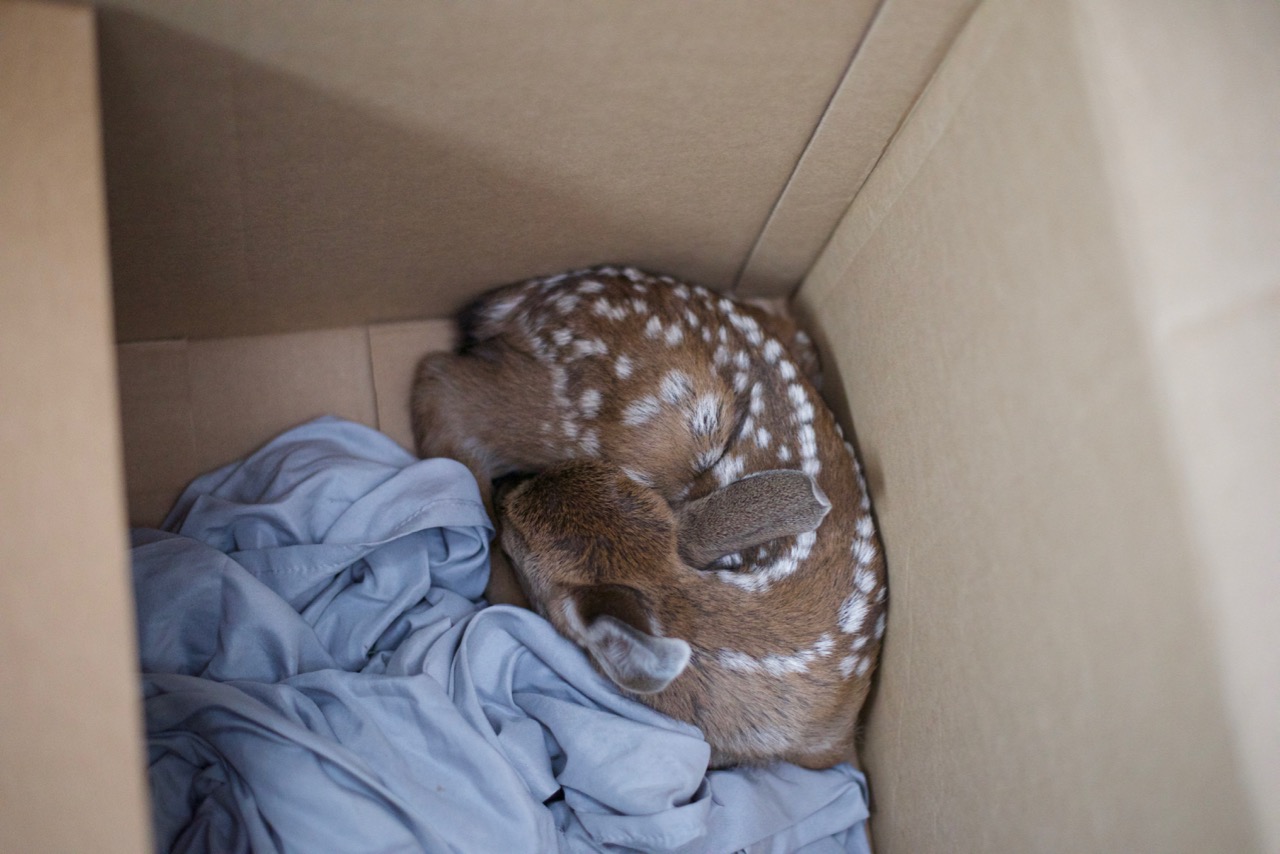 Almost every Black-tailed Deer fawn (Odocoileus hemionus) that we treat has been traumatized. Usually found along the side of the road with their dead mother, they come in to care obviously depressed. It can take real effort and convincing to get a fawn who has just seen their mother killed by a vehicle to accept a bottle. For the past two years we have been feeding goat milk instead of formula with good results. Availability is much improved and we receive occasional donations of fresh milk from our neighbors who have goats! Thanks to everyone who has donated goat milk!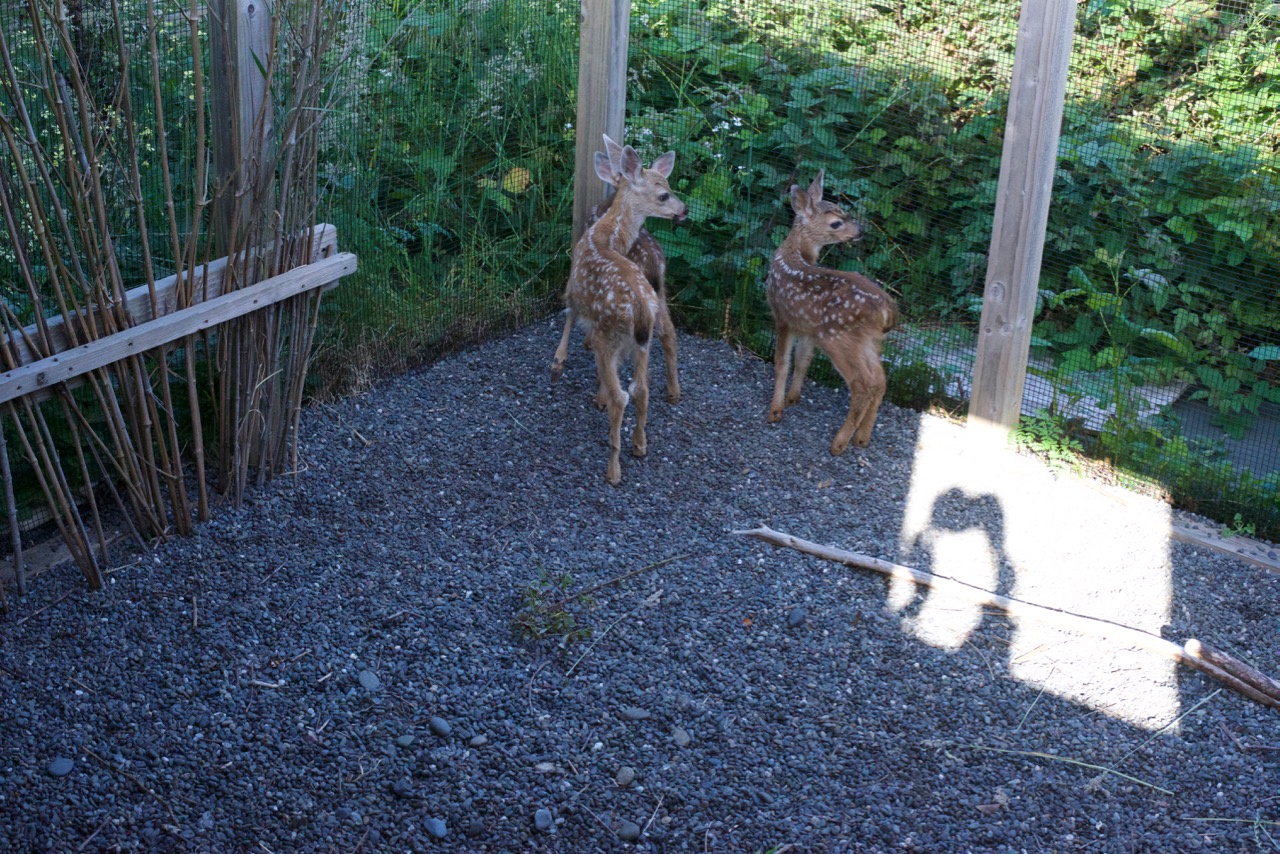 Housed outside we keep a distance from these fawns, providing them with fresh leaves every day supplemented with milk fed in a blind bottle rack. When they are weaned we begin planning their release. Most fawns that we receive calls about are actually fine and don't need rescue! Like with Rabbits, Does park their babies someplace safe while they forage, returning now and again to nurse. If you see a fawn lying in the grass, simply back away and give them space. Unless a dead mother is seen, in nearly all cases she is nearby watching. As always, if you are unsure, give us a call and we can help you figure out what's best.
---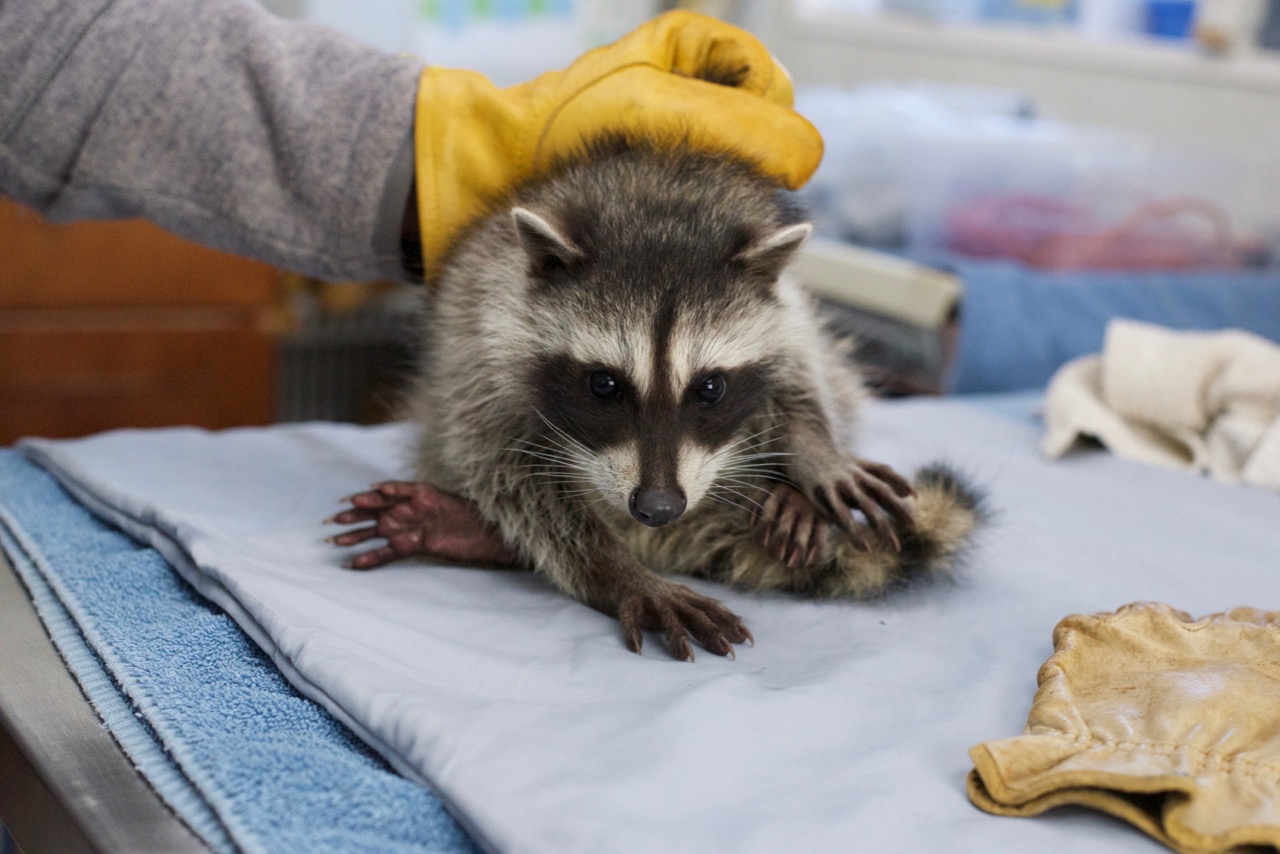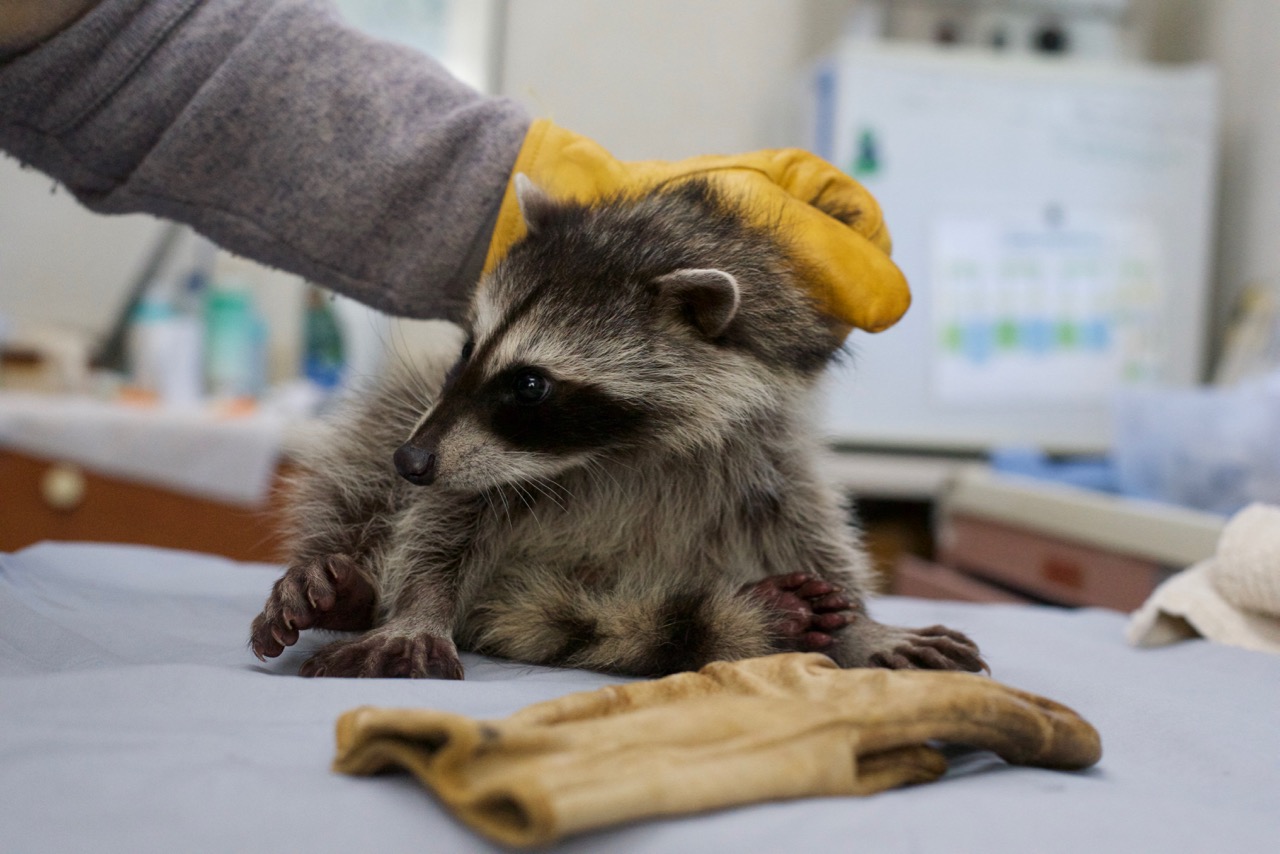 We currently have 20 Raccoons  (Procyon lotor) in care. Labor intensive, hungry and with an insatiable curiosity that makes housing them for the duration of their care a challenge, Raccoons are one of our more common patients. Uncommonly intelligent, steps to preserve their wildness are critical to their success. A raccoon unafraid of a back porch is soon going to be in serious trouble. Many people have no qualms about trapping and killing these hot sparks of wild life. The world as it is needs as much intelligence as it can find. Help keep the world safe for these natural geniuses. Don't leave food or pet food outside, keep your garbage secure – all wildlife will benefit from these steps.
---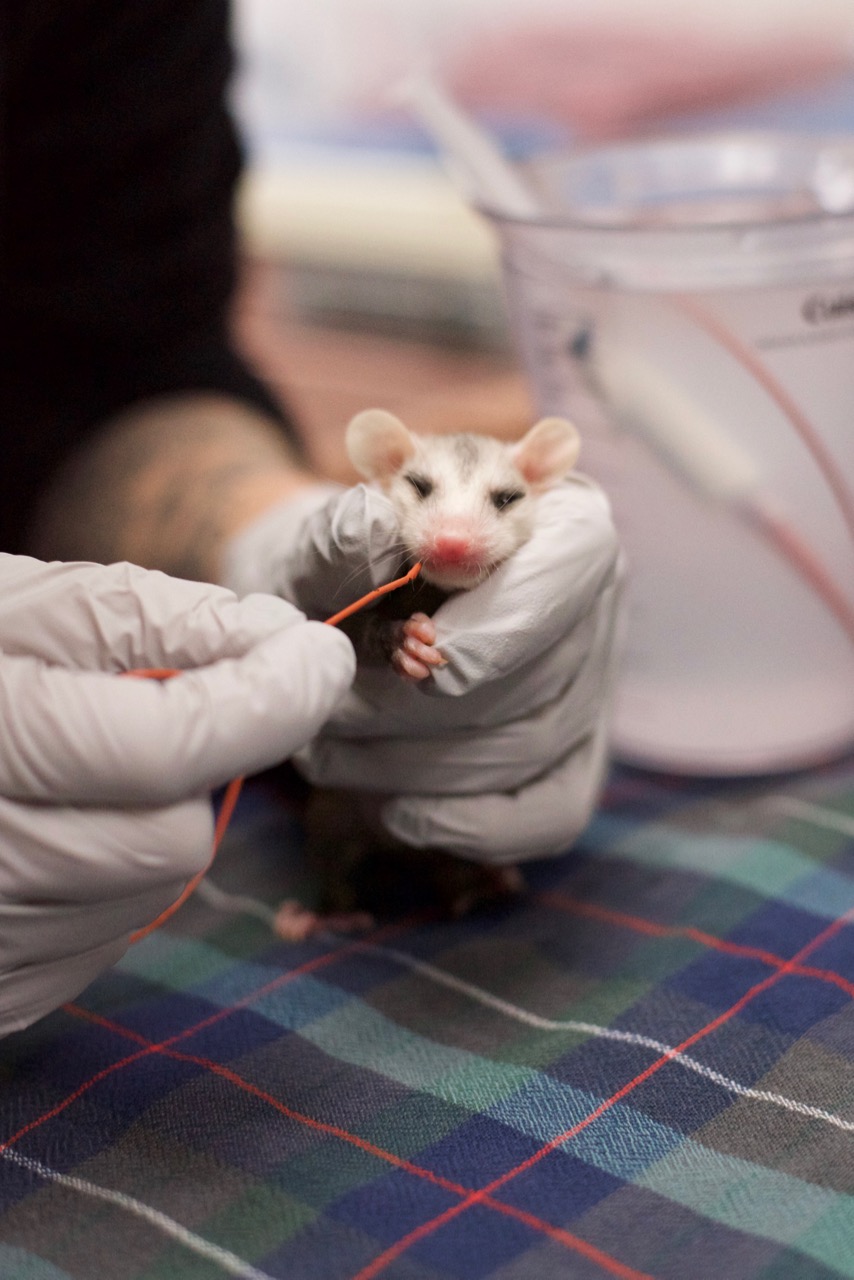 Opossums (Didelphis virginiana) were once considered non-native on the West coast of North America, thought to have been introduced by immigrants from the East. Now it's not so certain. Native to the areas of northern Mexico directly South of their current West coast range, it is considered possible and even likely that their range has expanded on their own steam as they migrate and spread into habitat that suits them. Short-lived (most wild opossums live no more than 4 years) these unobtrusive, nocturnal animals, North America's only marsupial, are the mammal most often cared for in California. Litters often have ten or more babies. When a mother is hit by a car, she often has a pouch full of nursing youngsters. Opossums are on the go all night long. Be vigilant when driving!
Young opossums in the first stages of learning to feed themselves are offered a dish of the same formula that they are fed on schedule. Soon we'll add egg, squash, and then bits of  slivered fish. Preparing healthy wild diets is one of the pleasures of our work. Your support makes it possible!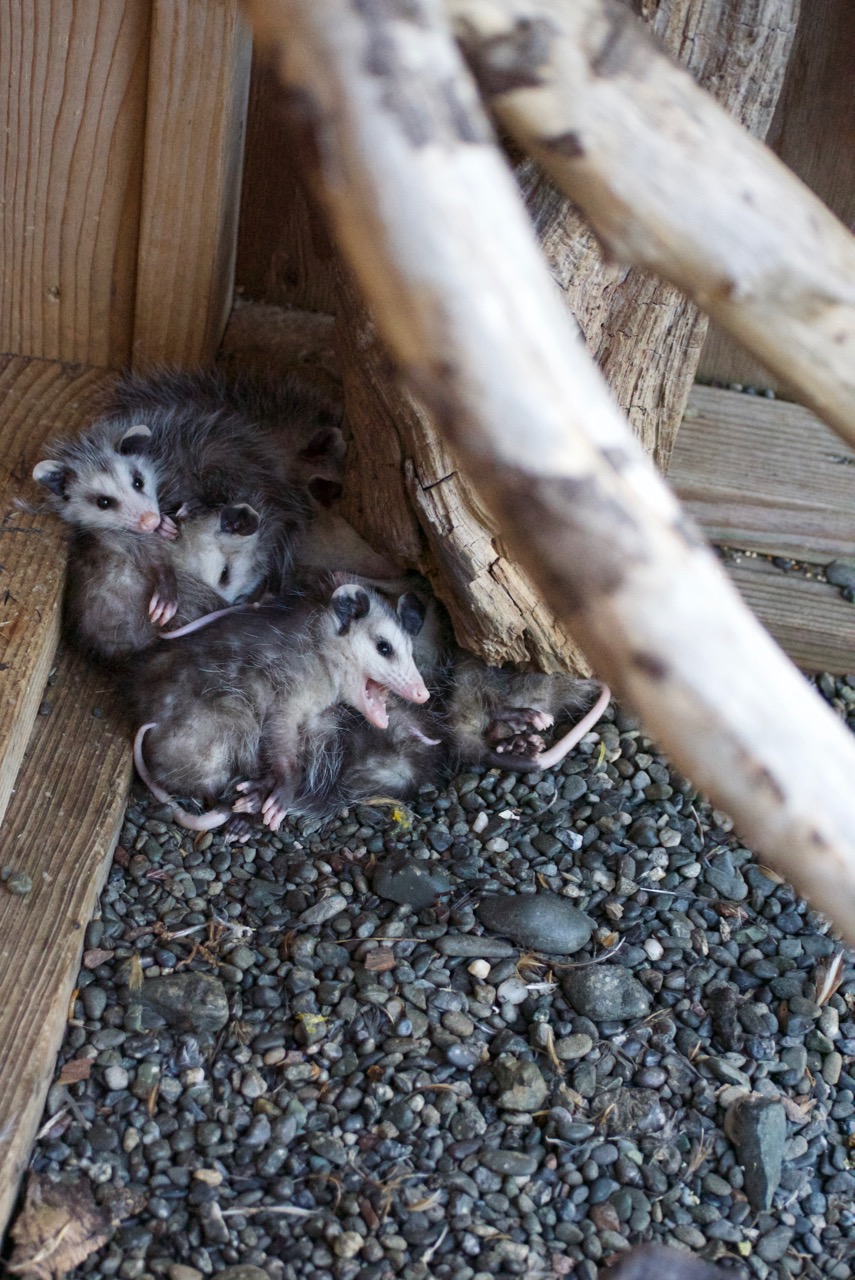 In their outdoor housing, young Opossums  learn to climb, recognize appropriate food, exercise, and dig for insects. As soon as they are the right weight and exhibit the necessary skills, they venture out into the world, making their way. If you see an opossum, remember, we are each sojourners in this world, and there are none abiding… Give an opossum a break. It is impossible to order the parts of the universe by most and least important. Let's help each other not make the foolish mistake of thinking we can! 
---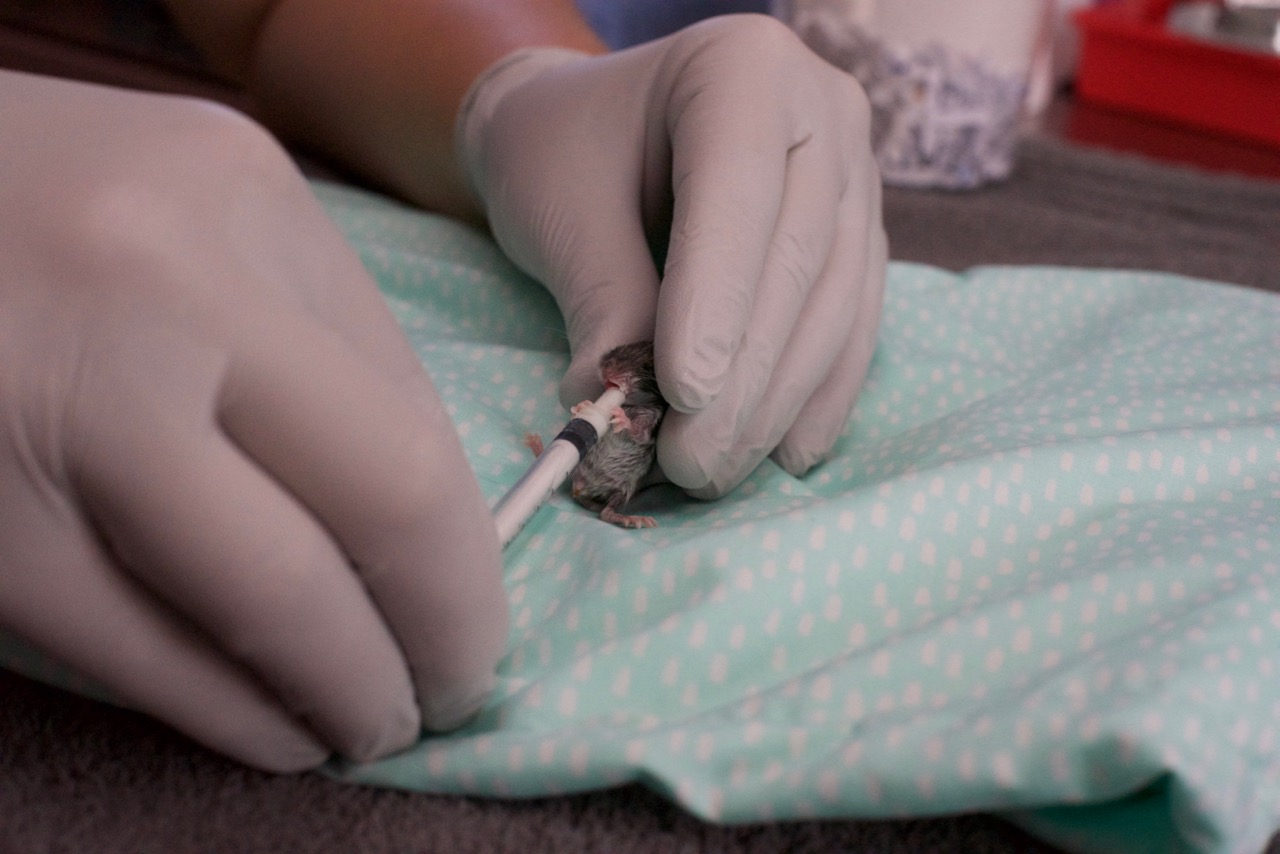 A tiny Deer Mouse is fed formula. The humble Deer Mouse (Peromyscus maniculatus) is native over much of the western continent. Only occasionally do we treat them at this age, but we do see adults throughout the year. Once you've held a 2 gram baby mouse in your hand, and wanted them to thrive, what can you do but make sure that a heat lamp, a regular round of formula, and a chance to grow and learn are provided. We have a lot of mouths to feed and a mission to feed all who come our way. 
---
As noted above, we don't know what the difference is that makes this year so full of orphaned mammals in our care. We only know that we have a mission to provide where needed to injured and orphaned wild neighbors and to work to build a way to continue helping wildlife in distress as we enter a very de-stabilized future. We won't be able to do this with out your help.
This part has always been true.
2017 has seen much uncertainty, and we feel it too. Support for the care of the almost forgotten wild babies of the world can be hard to come by when so much anxiety about so many predicaments is a-foot. Just two weeks ago, scientists warned in the New York Times that we are entering an era of "biological annihilation".
It is here, where we live, where see the impacts of such horrors. And it will be us, in our communities, who do what we can to soften the blows to the innocent wild among us. Please help us meet our mission. Your donation today and every day goes directly toward care of our patients and advocacy for all of the wild. Thank you for your support! Donate Here.  

Photos: Bird Ally X/ Laura Corsiglia