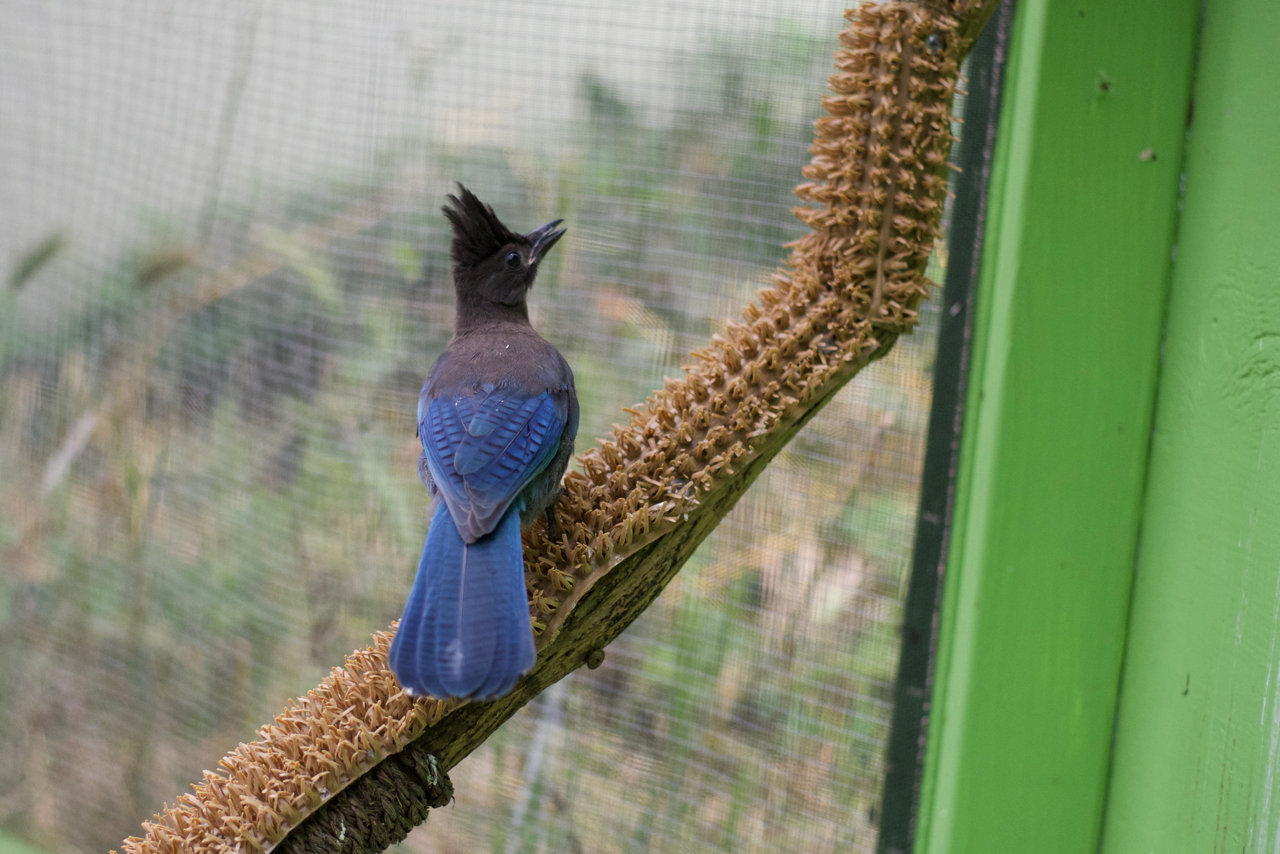 Earlier this season, at the beginning of June, we received a call from a zoo near Redding with a complicated story. Complicated stories often have unpleasant endings, so we proceeded with some trepidation and concern. They'd been contacted by a person in northwest Trinity County, far from any wild animal care resources, who had raised four nestling Steller's Jays (Cyanocitta stelleri) from soon after they'd hatched.
In deeply rural or near-wilderness areas, people who find injured and orphaned wild animals, far from a licensed rehabilitator or completely unaware that wildlife rehabilitators even exist – will often take on the unofficial role of caregiver. We see this frequently in the rural area we serve. Although HWCC has been operating since 1979, many people may not know we exist! When we come across such a situation typically someone who has been helping a wild animal in trouble is happy to get their patient to our facility, where we have dedicated, trained staff and a facility to provide appropriate housing to help any species recover. People stepping up to provide assistance where none would be available is natural, normal, and frankly, this is where the profession of wildlife rehabilitation was born. Compassion for our colleagues on Mother Earth is older than we'll ever know.
However, the people from the zoo led us to believe that these young Jays had been taken from their nest. The person who'd raised them was hoping that the zoo would take them for a display.
The zoo called us to let us know that we might be hearing from the Jay-napper. They also wanted to assure us that they could take two if necessary. The information that we didn't get? Where the Jays were and who had them. For some reason we thought they were in Crescent City. But really, we had no idea.
A week and a half later, we received a note sent to our email, info@birdallyx.net. A person near Orleans had four Steller's Jays who'd "fallen into [their] lap." They'd had them for four weeks. They thought that the birds were not releasable. They said we were their last resort. They gave us their phone number.
A few days later we had the birds in our care. Fully grown, but with poor feather condition, especially the large patches of feathers missing around their faces. Had their family remained intact, these birds would have left the nest as much as two weeks before they came to us. And more time in care was necessary.
---
Our July Appeal for support continues! WE NEED YOUR HELP! Please contribute! Your support goes directly to the care of our injured and orphaned wild animals and efforts to promote a peaceful coexistence  with all of the wild! Click here to Donate Now
---
Basically, each bird was in decent enough condition that we could house them in an outdoor aviary. We rarely interacted with them. Concern that they'd spent too much time with their would-be rescuer leading to overfamiliarity with people, along with the fact that much of the problems they faced were captivity stress-related, it was best for us to use as hands-off an approach as we could while still monitoring their progress. Our newest addition to our patient housing, the octagon shaped songbird aviary (codename: Octaviary!), saw these birds as its first occupants. It often happens that we increase our capacity just in the nick of time…
---
In our newest aviary, these four Steller's Jays safely gained strength and replaced feathers.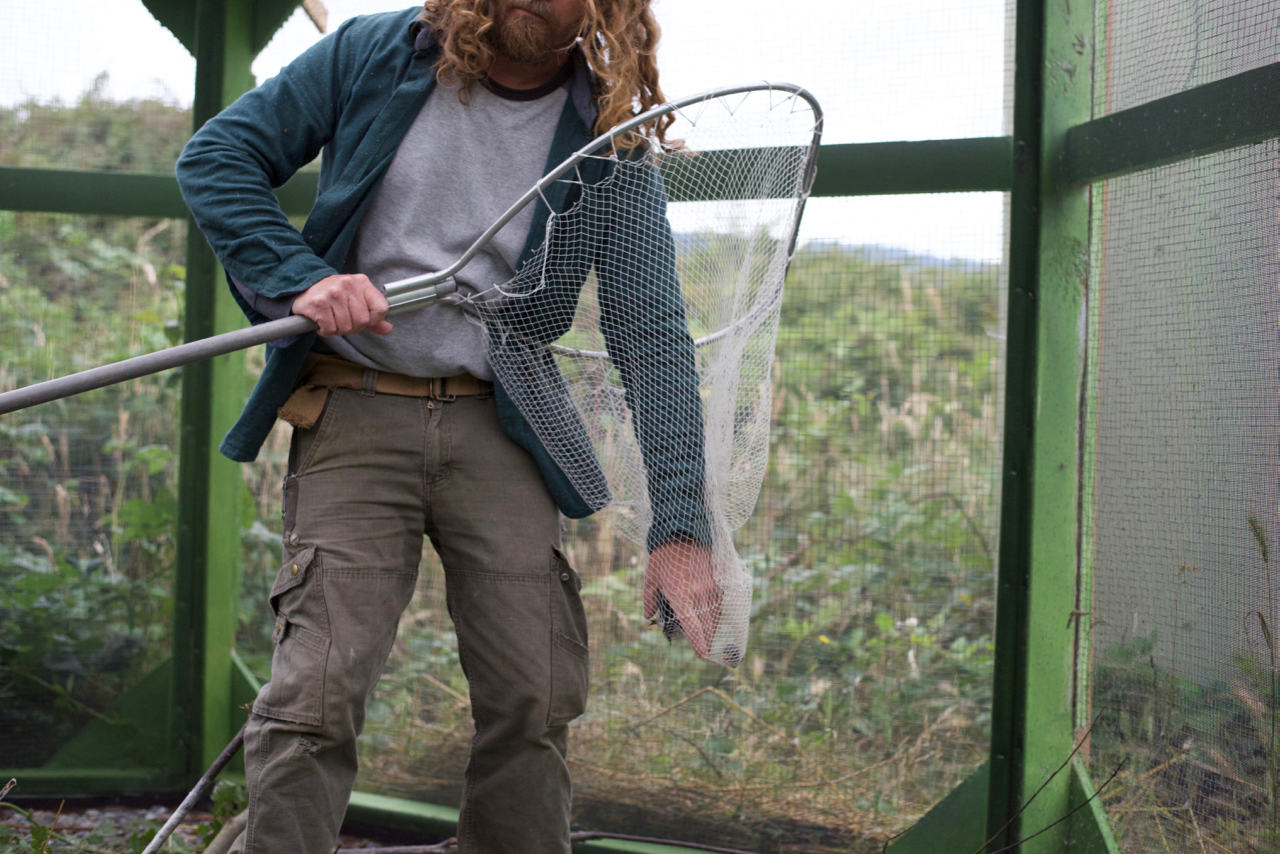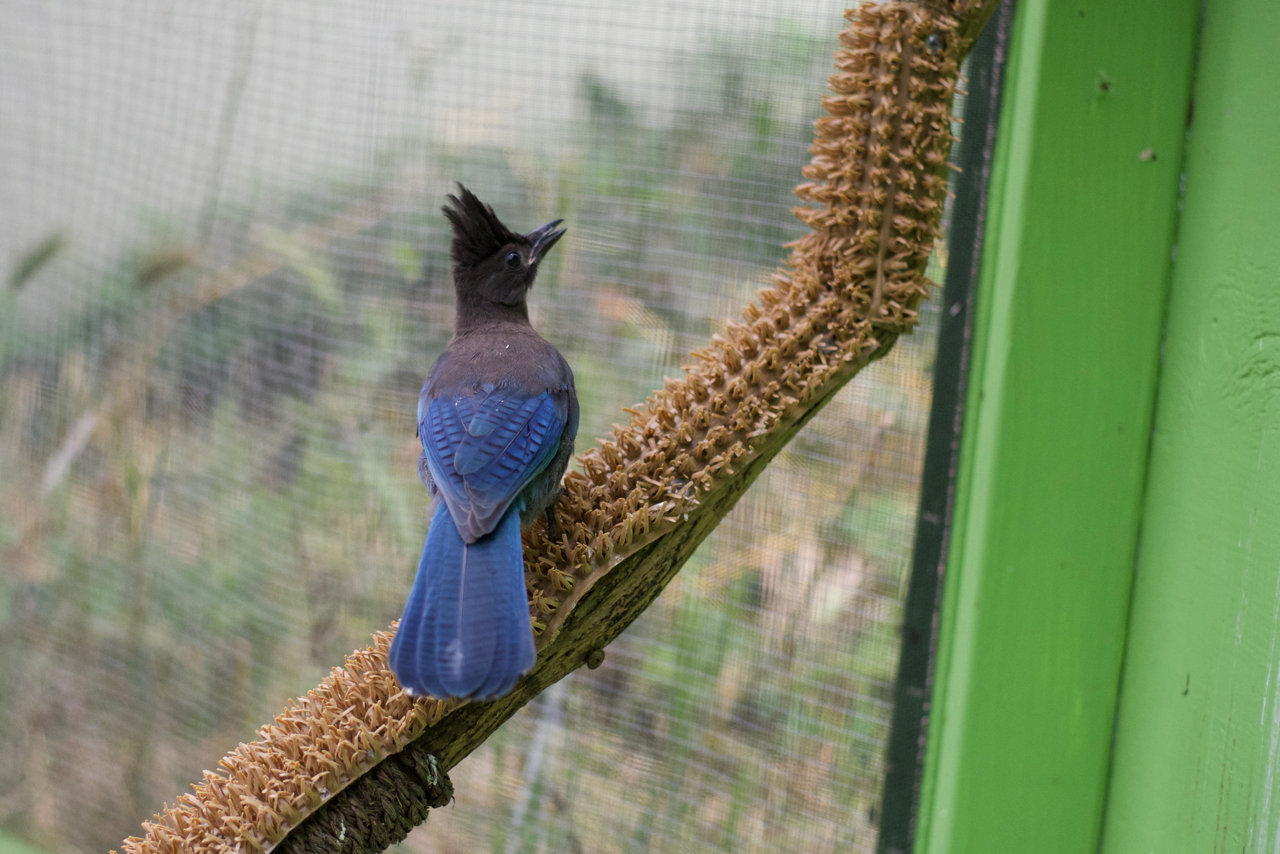 By the time of their release, they were very difficult to catch in the aviary – an excellent indication!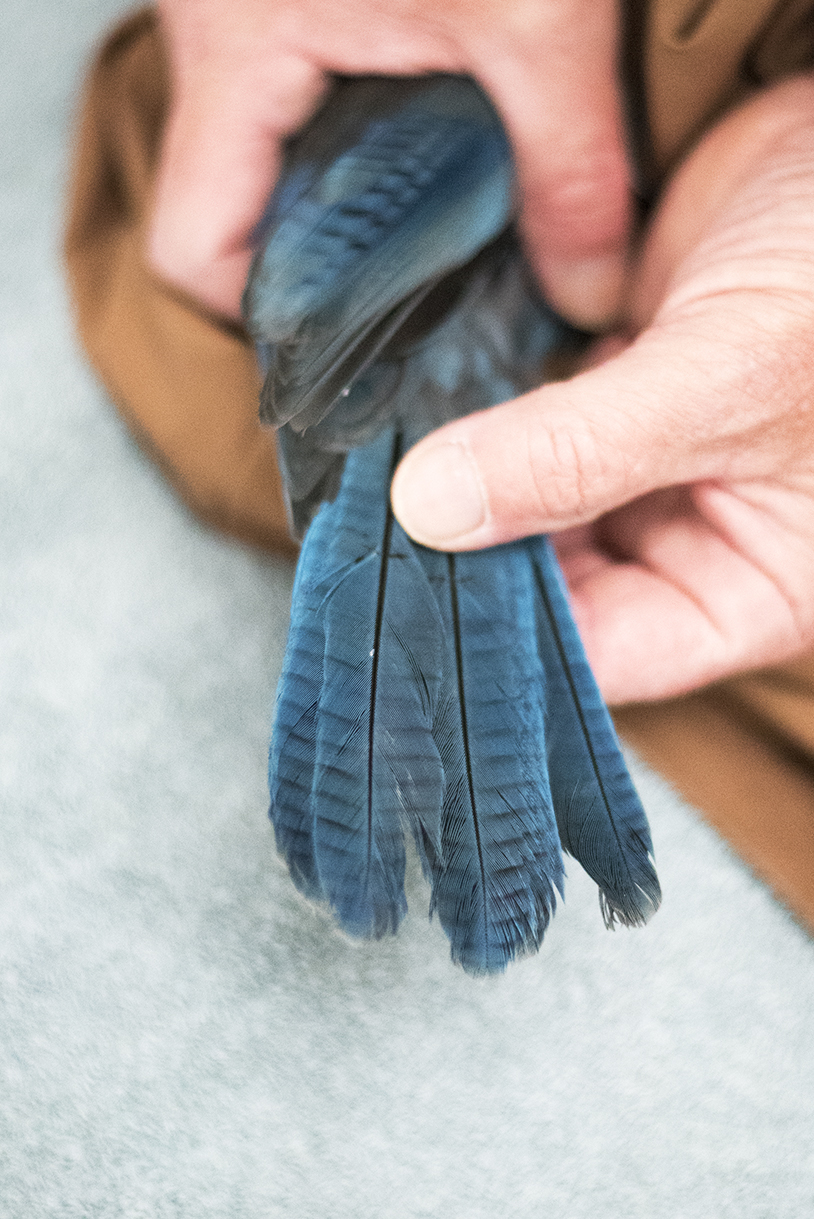 Not all of dark horizontal lines in these tail feathers are natural color. Some of tose lines are "stress bars"  which mark the time in this juvenile's life was not getting physical needs met. These bars are weak points where the shaft might break. Too many and the bird would be unreleasable without some kind of intervention or the natural growth of new replacement feathers.

---
As time passed, we realized that  these birds were not interested in people at all. Entering the aviary caused them to be extremely stressed. We reduced their checkups to weekly and devised way to feed them without entering too deeply into their space. We removed them from the aviary to clean.
After four weeks of a natural omnivore diet appropriate for a Steller's Jay, they were  each in excellent body condition, strong and able fliers, with most of their feather problems resolved. Release from the stress of captivity was now the best course of treatment, which is the best diagnosis any wild patient can get.
---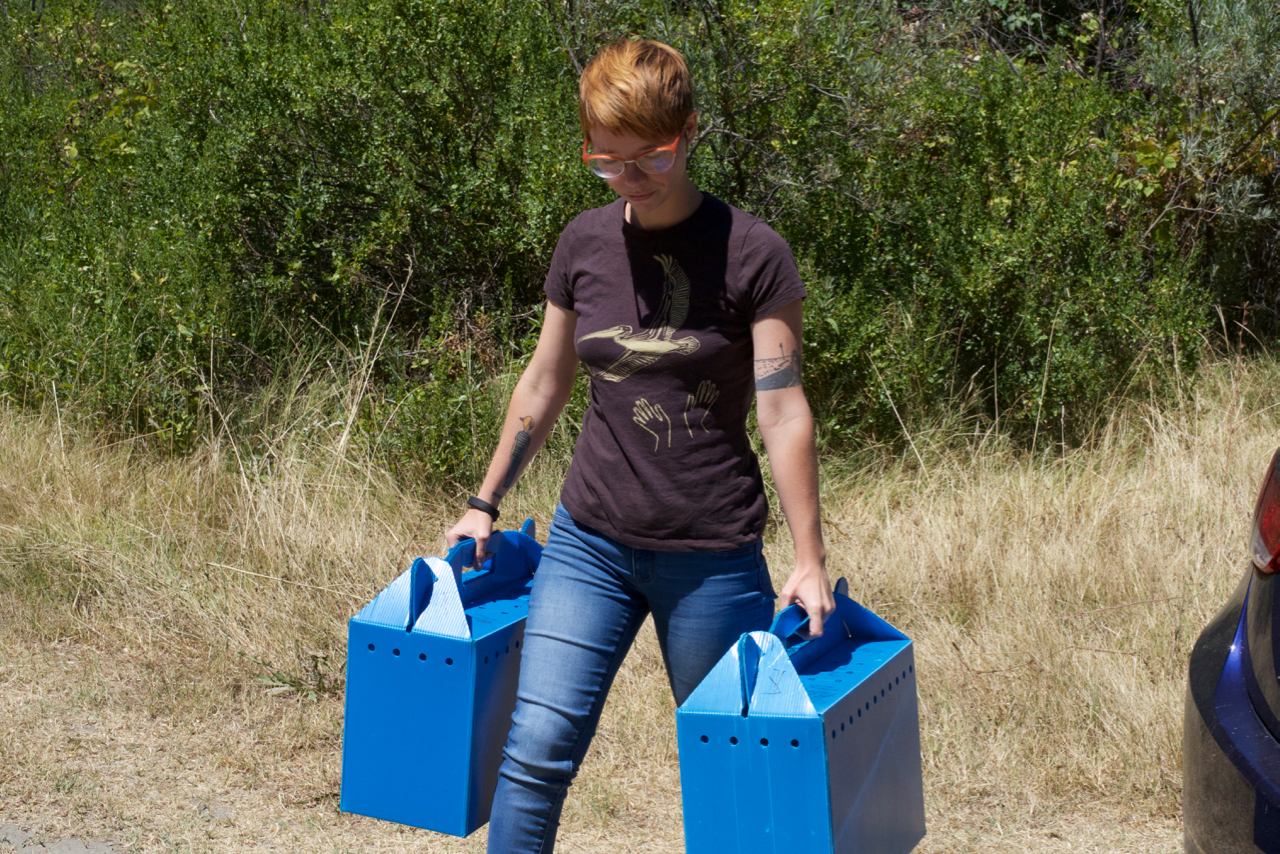 After a 2 hour drive, the birds are brought to heir release site along the Klamath River.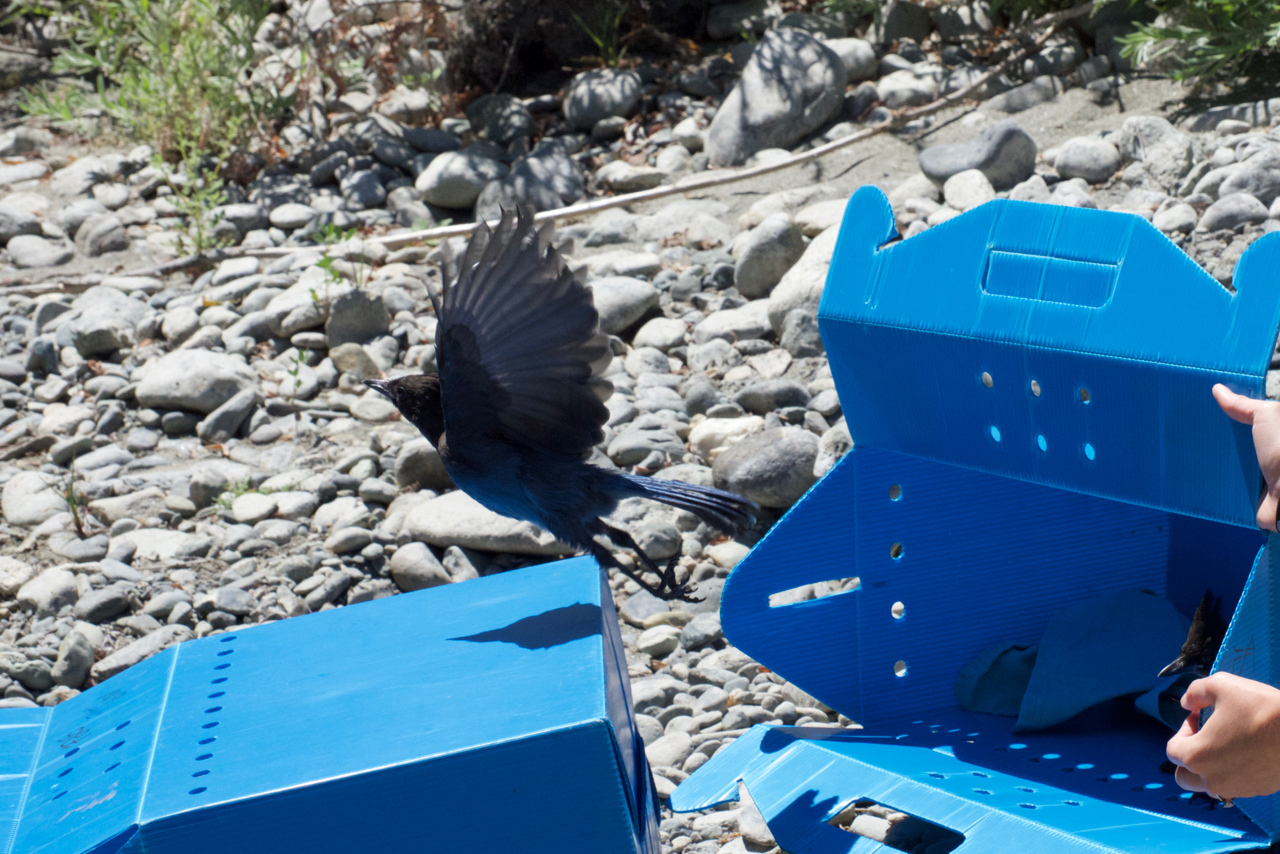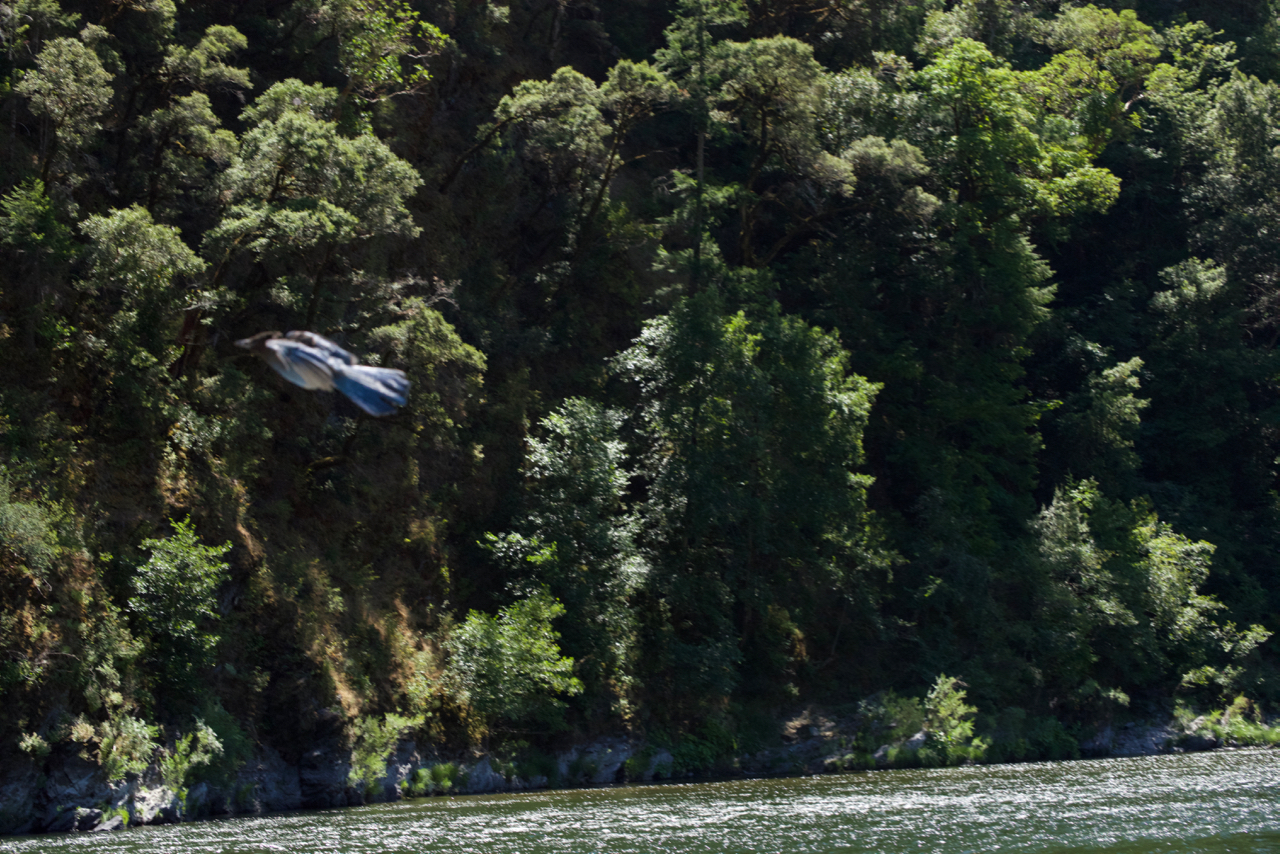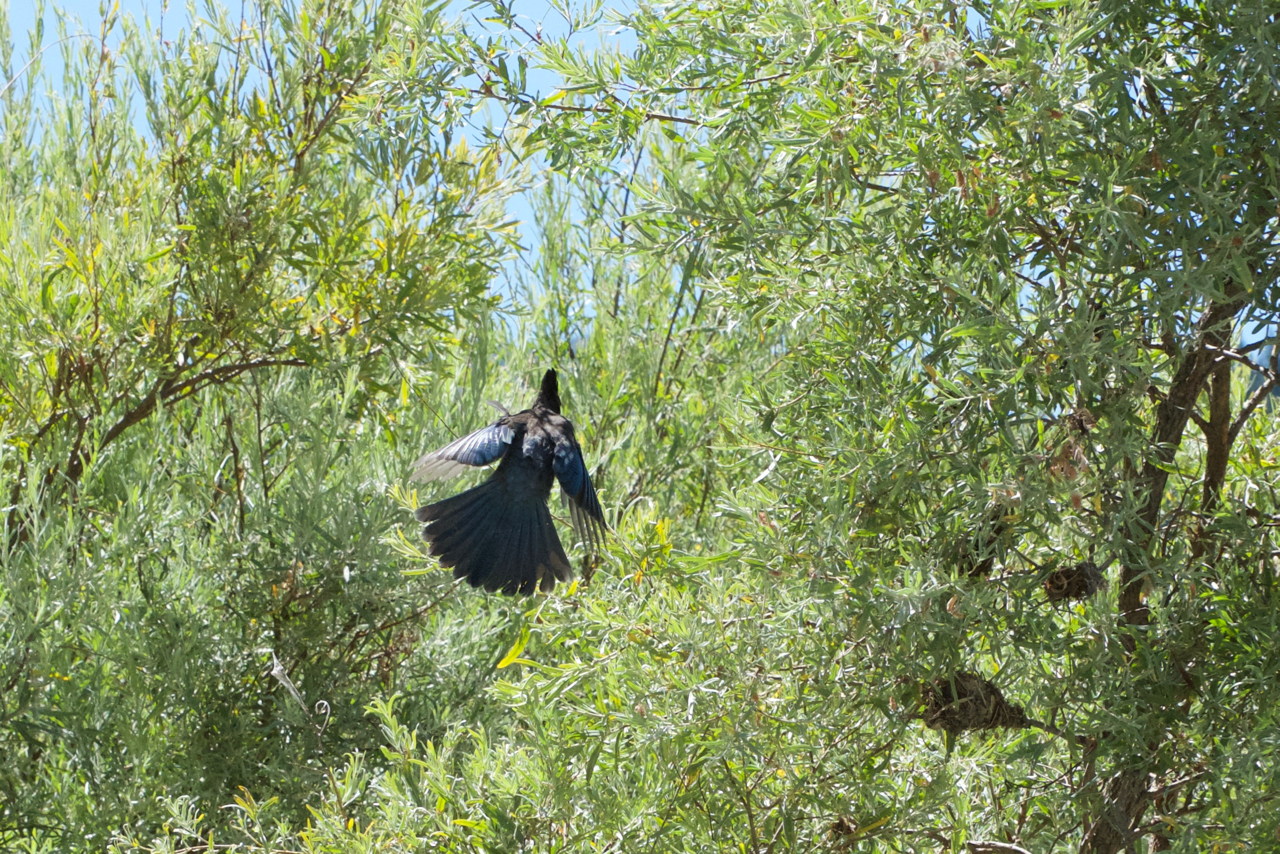 ---
Each of these birds is out there right now, blinking in the sun, drinking from the river's edge, preening new feathers, finding small bits to eat here and there, scheming with nature for the next amusing thing like any self-respecting corvid would. Why? Because you support our work. Thank you.

If you find an injured or orphaned wild animal, please, contact your closest wildlife rehabilitator. We're not that hard to find.
all photos: Laura Corsiglia/Bird Ally X