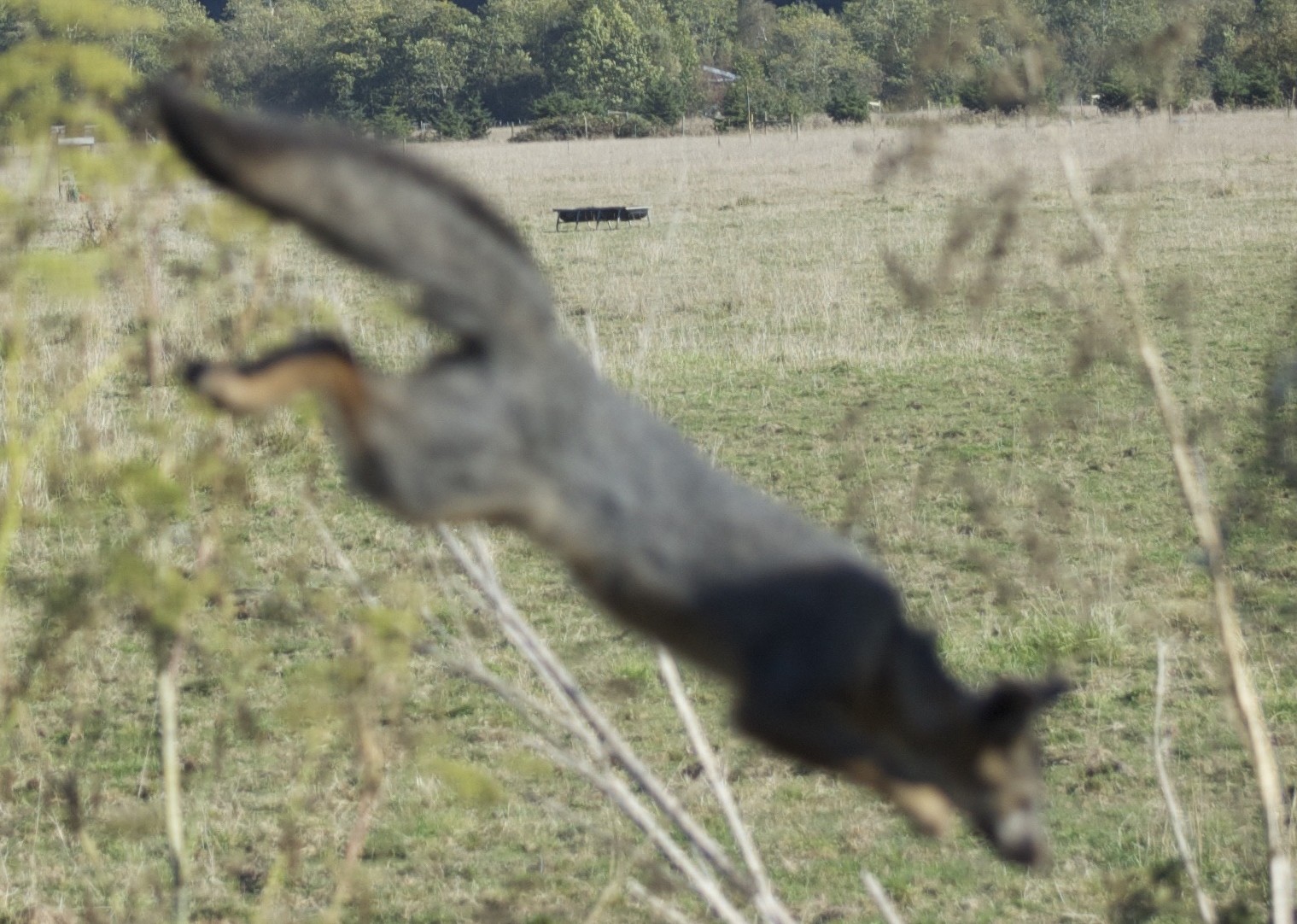 ---
[Fall Fundraiser: Bird Ally X/Humboldt Wildlife Care Center need your support! Summer bills must be paid. Winter maintenance must be done. Food and medicine for patients must be purchased. Utilities too! Without you we cannot keep our doors open, ready to accept into care all native California wildlife, orphaned or injured by the impact of our towns, our highways, our trash, our reckless disregard for our wild neighbors. Please contribute today. Any amount helps. Please give what you can.]
---
Early September, during a Sunday morning shift, this Gray Fox (Urocyon cinereoargenteus) was brought to Humboldt Wildlife Care Center with her head caught in a hard plastic cup. Her rescuer, a traveler passing through, was able to catch and restrain her, locate us on the internet and walk her over. He and his companions brought her in just past 10am. (read more of her first day in care here)
Over the course of her treatment (read about her time in care here) she rebounded quickly. Although at first we worried that the trauma to her ears was too severe for her to be returned to the wild, soon she was alert, ears up, wounds healing quickly and snarling mad!
We kept our hands and eyes off her as much as we could during her course of treatment, balancing her need for wild privacy with our need to monitor her recovery.
On a diet of fish, thawed rats, eggs and occasional car-killed pigeons, her weight shot up from 2000 grams to 2700 grams (4 1/2 pounds to 6 pounds – a big gain for a small animal!). Her agility and energy increased dramatically as well. (see photos below!)
After nearly a month in care, her wounds were healed, her fur growing back in nicely, and her body strong and lithe. It was time for her to be released. She couldn't have agreed more.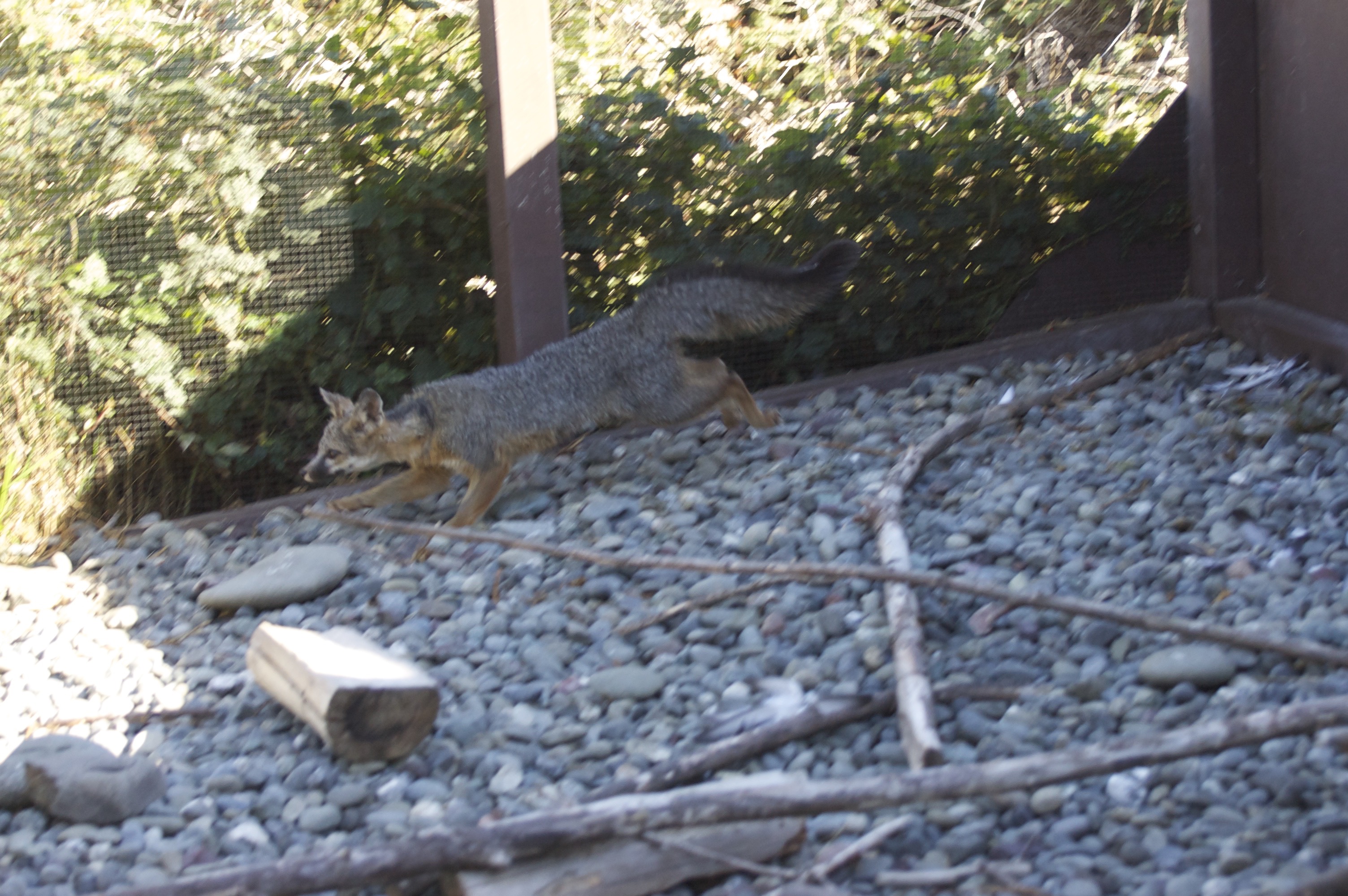 In the Gray fox' housing to catch for her release examination
---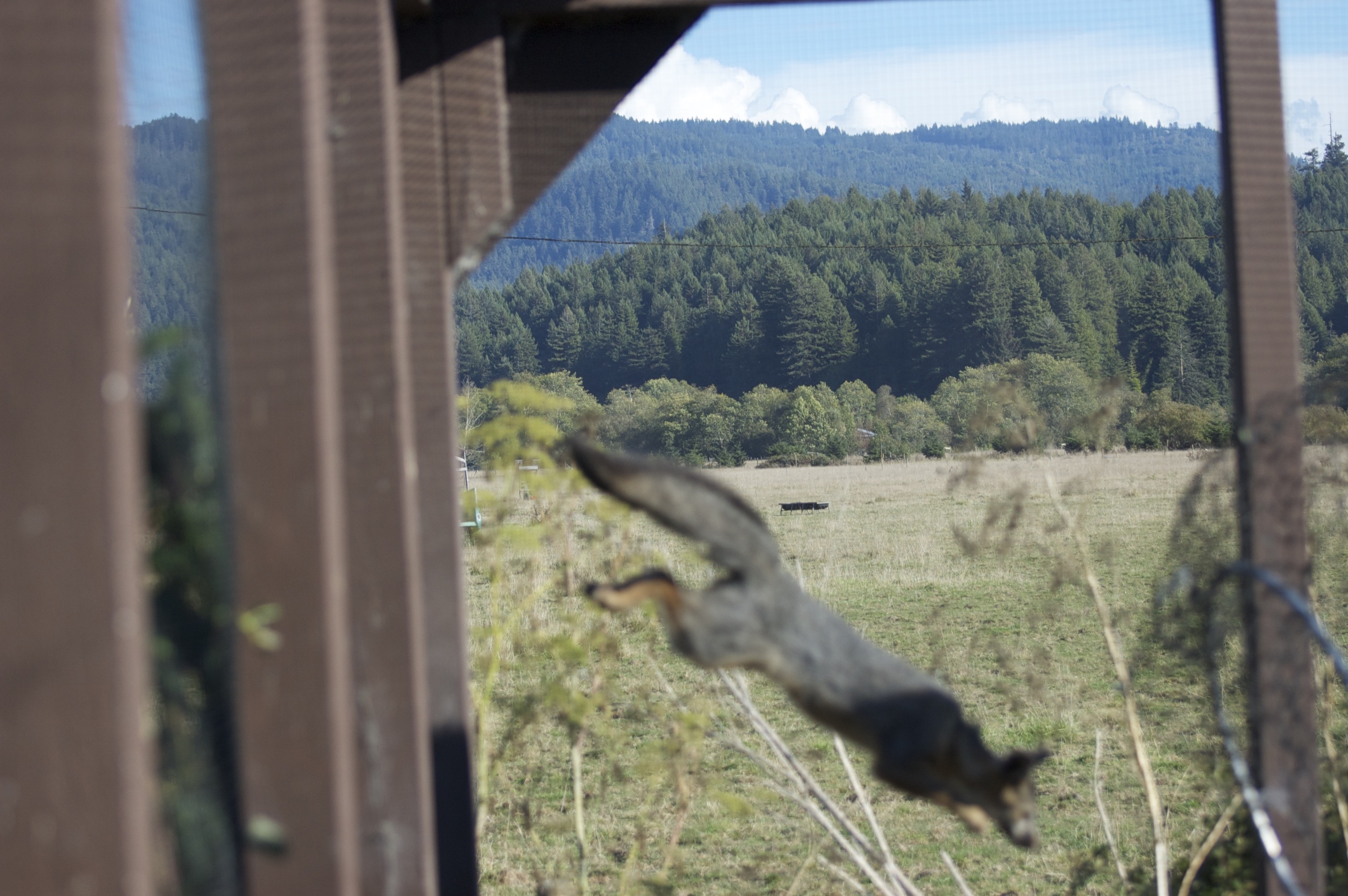 Flying fox? No, just anxious to be free.
---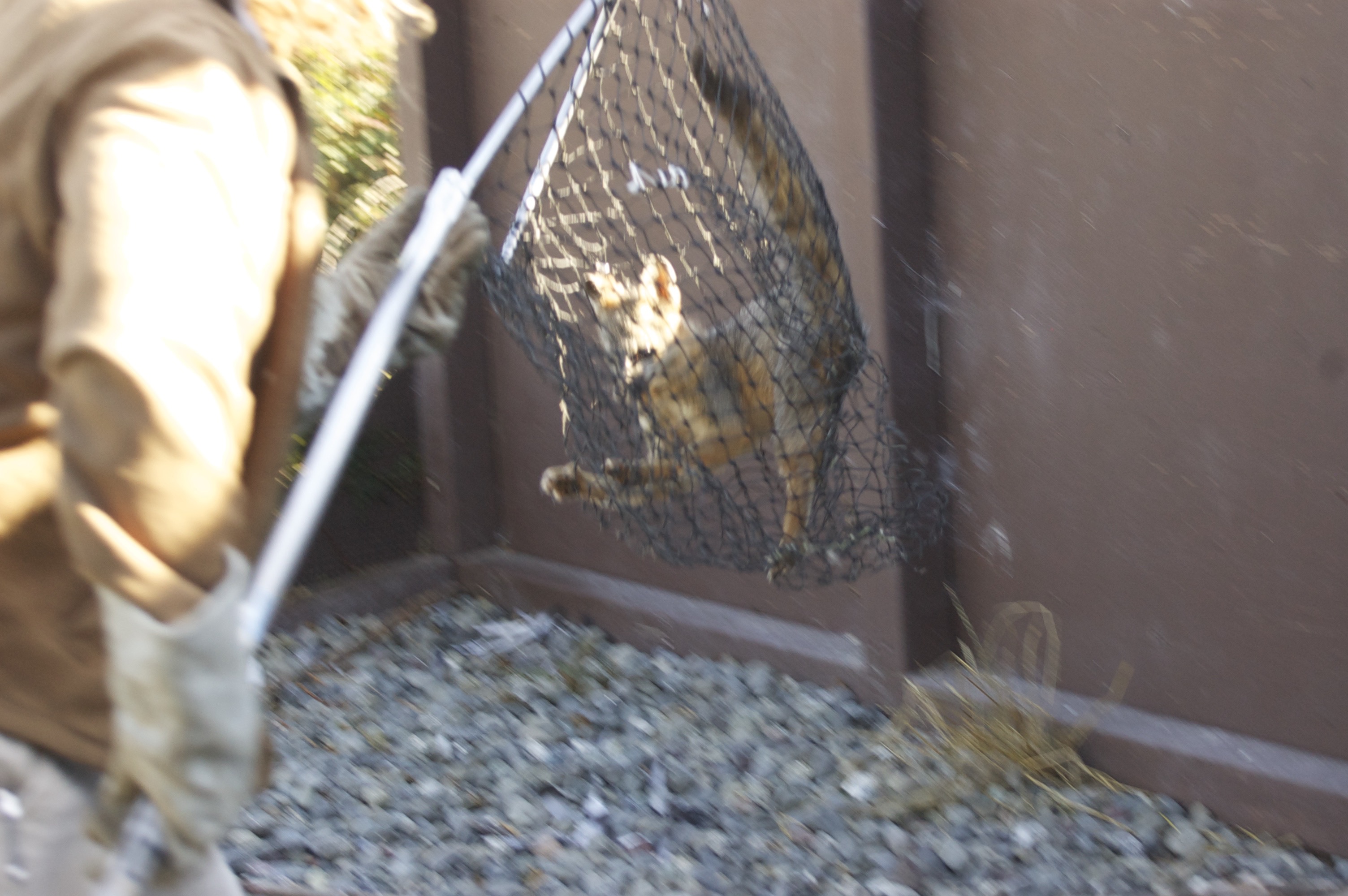 Nabbed!
---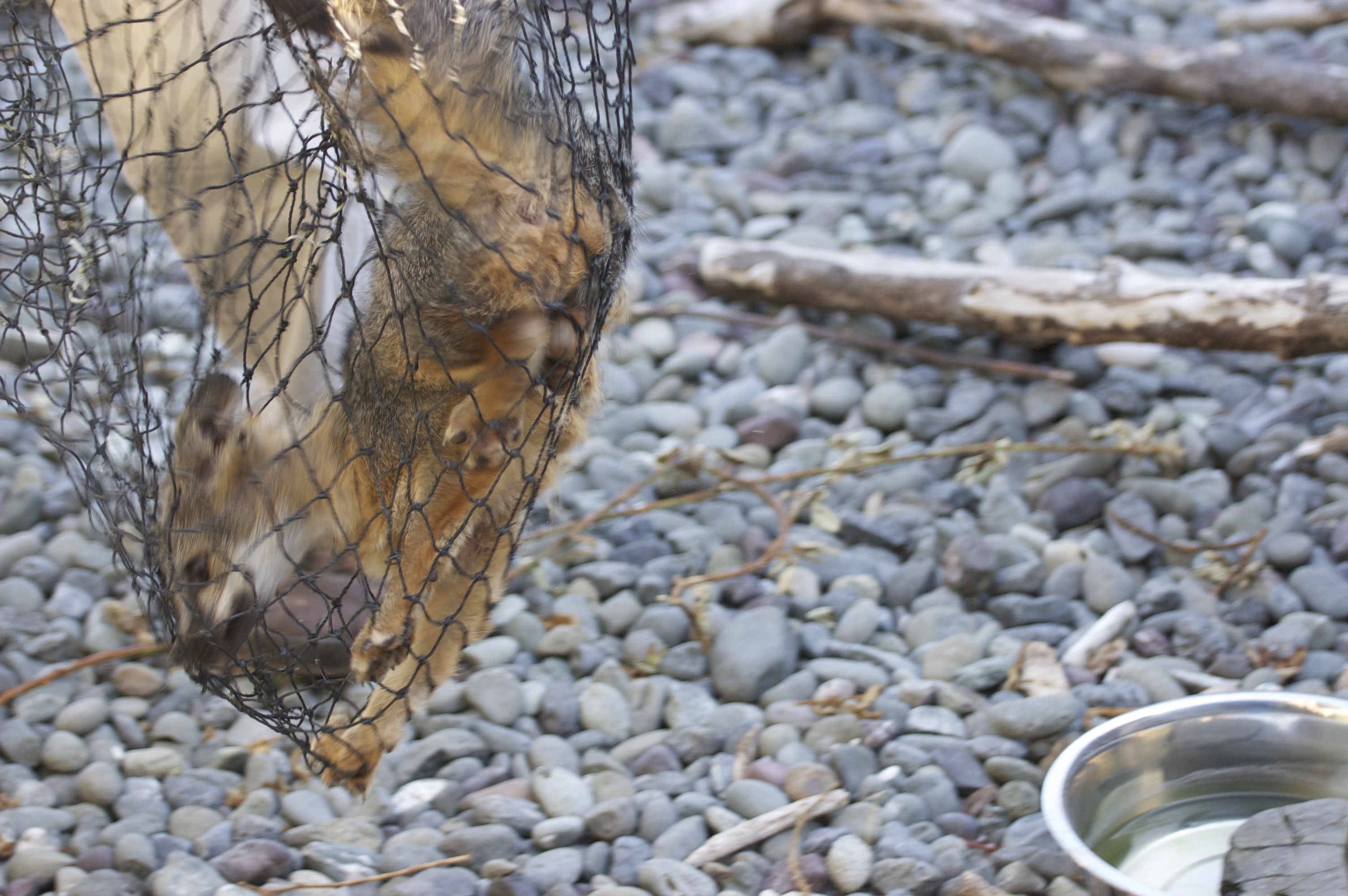 In the net for less than a minute, this is still a stressful moment for all concerned.
---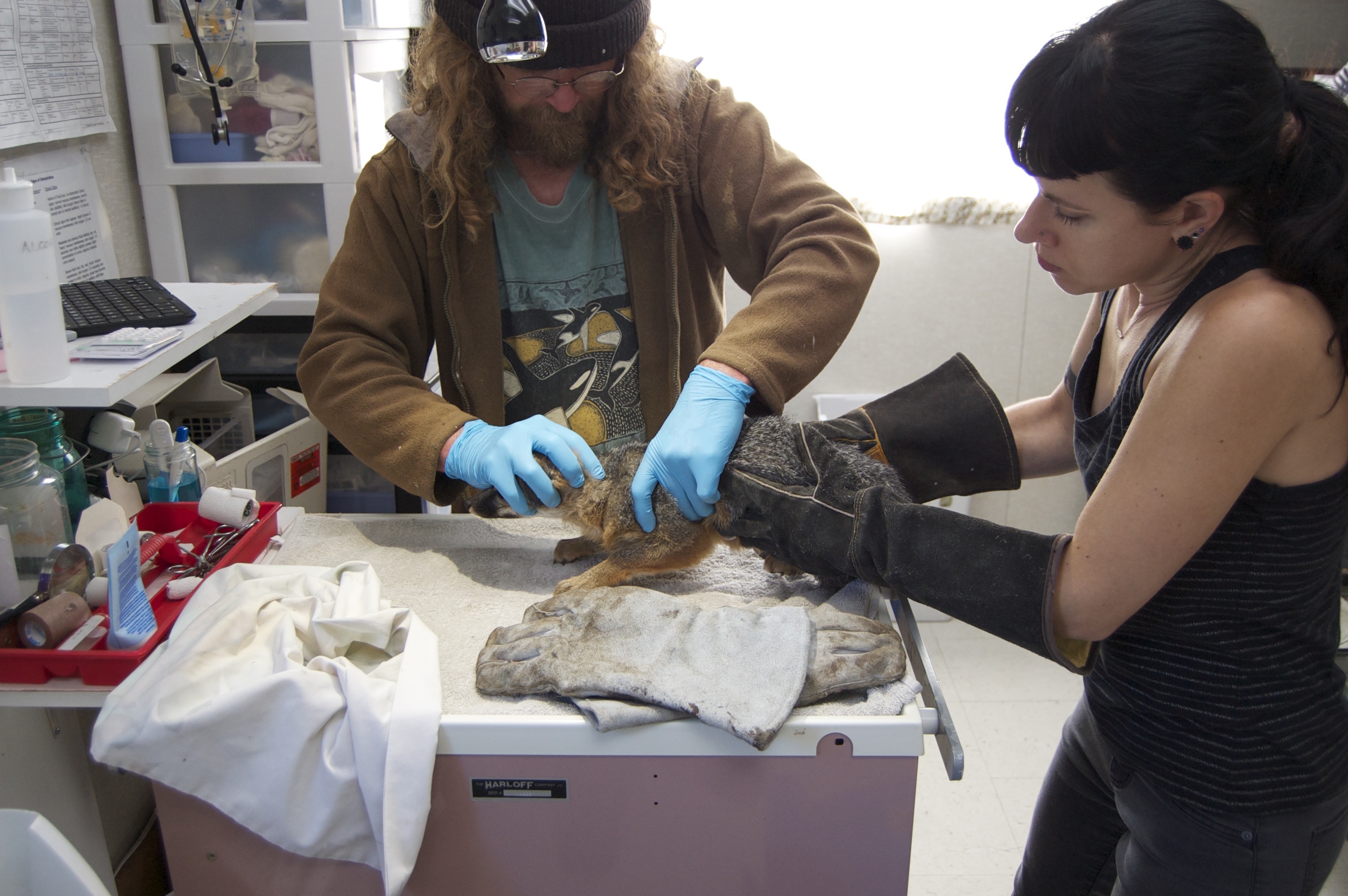 Onto the exam table for a look at her condition.
---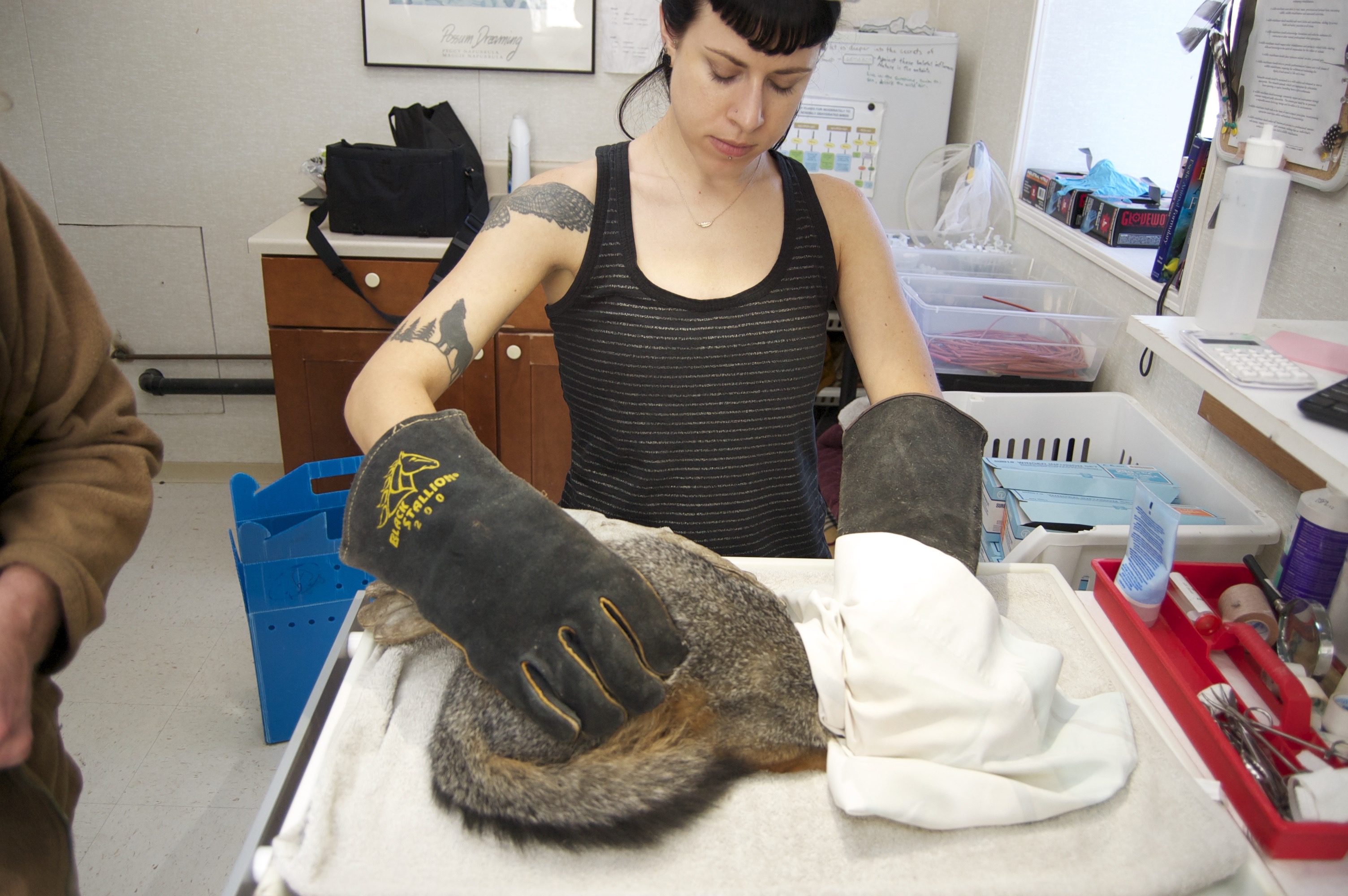 Bird Ally X/HWCC volunteer staffperson, Stephanie Owens, restrains our patient. Her job is to protect both patient and examiner. 6 pounds of fury can bite pretty hard!
---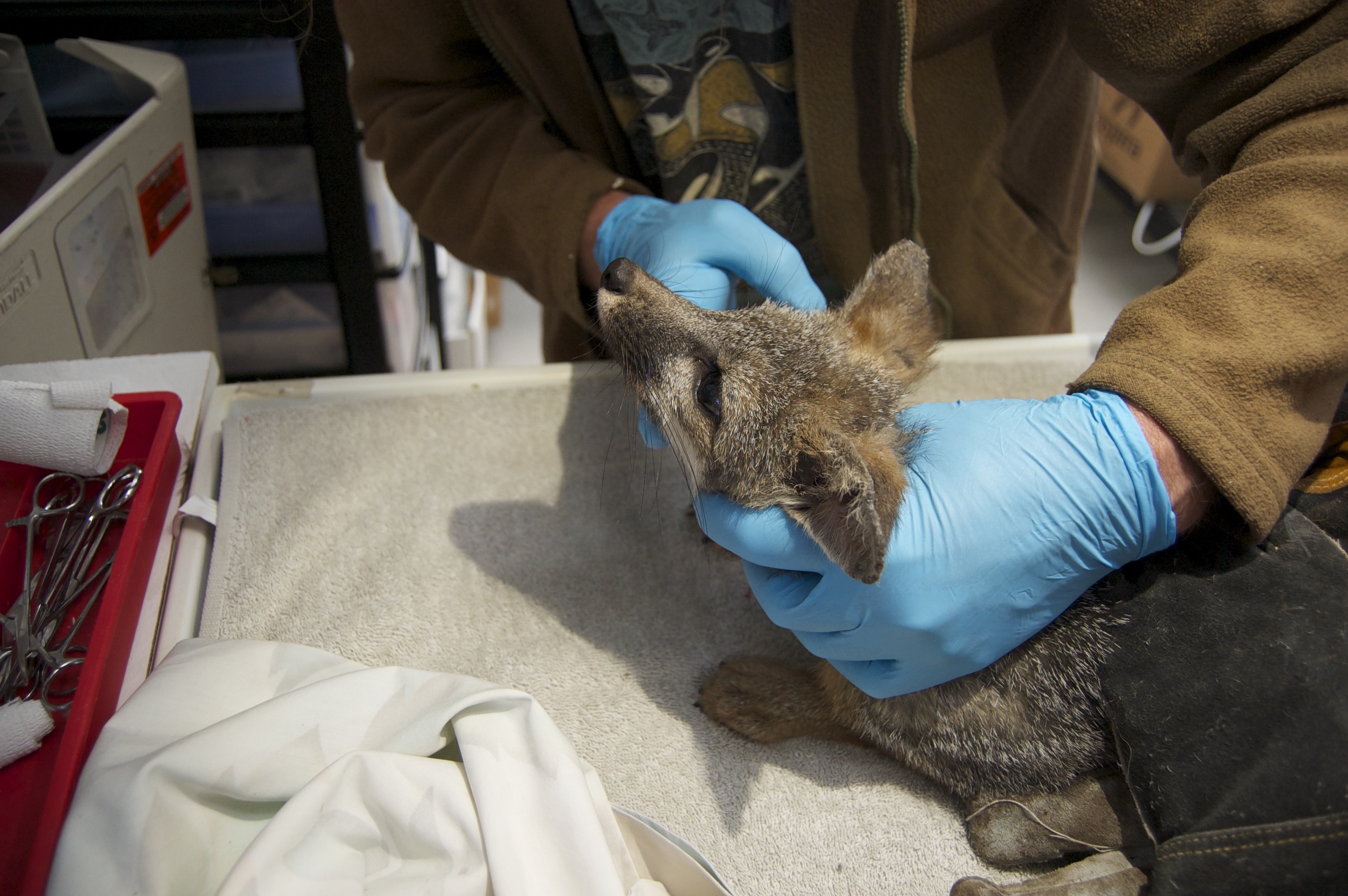 Hard to believe how quickly her condition improved. Her ears are nearly perfect now. Compare with the next photo of her on admission day!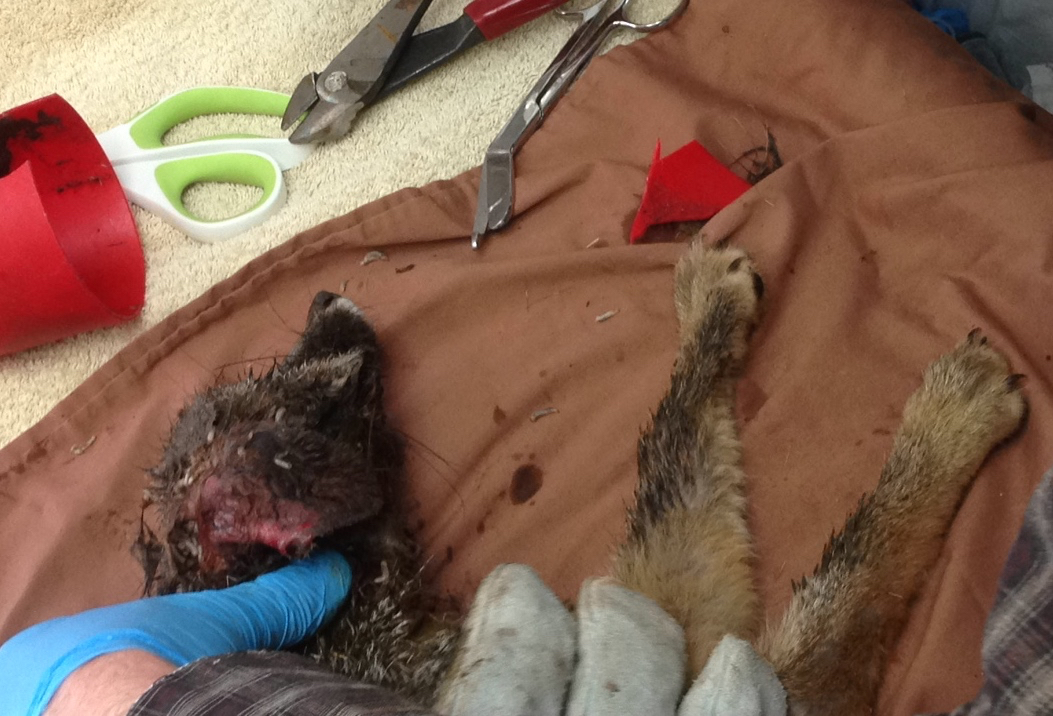 Raw, flattened by who knows how long in that cup, and infested with fly larvae (maggots) we were worried her ears would not heal well enough for her to hunt again. Thankfully she made a full recovery! (photo: BAX/Heather Freitas)

---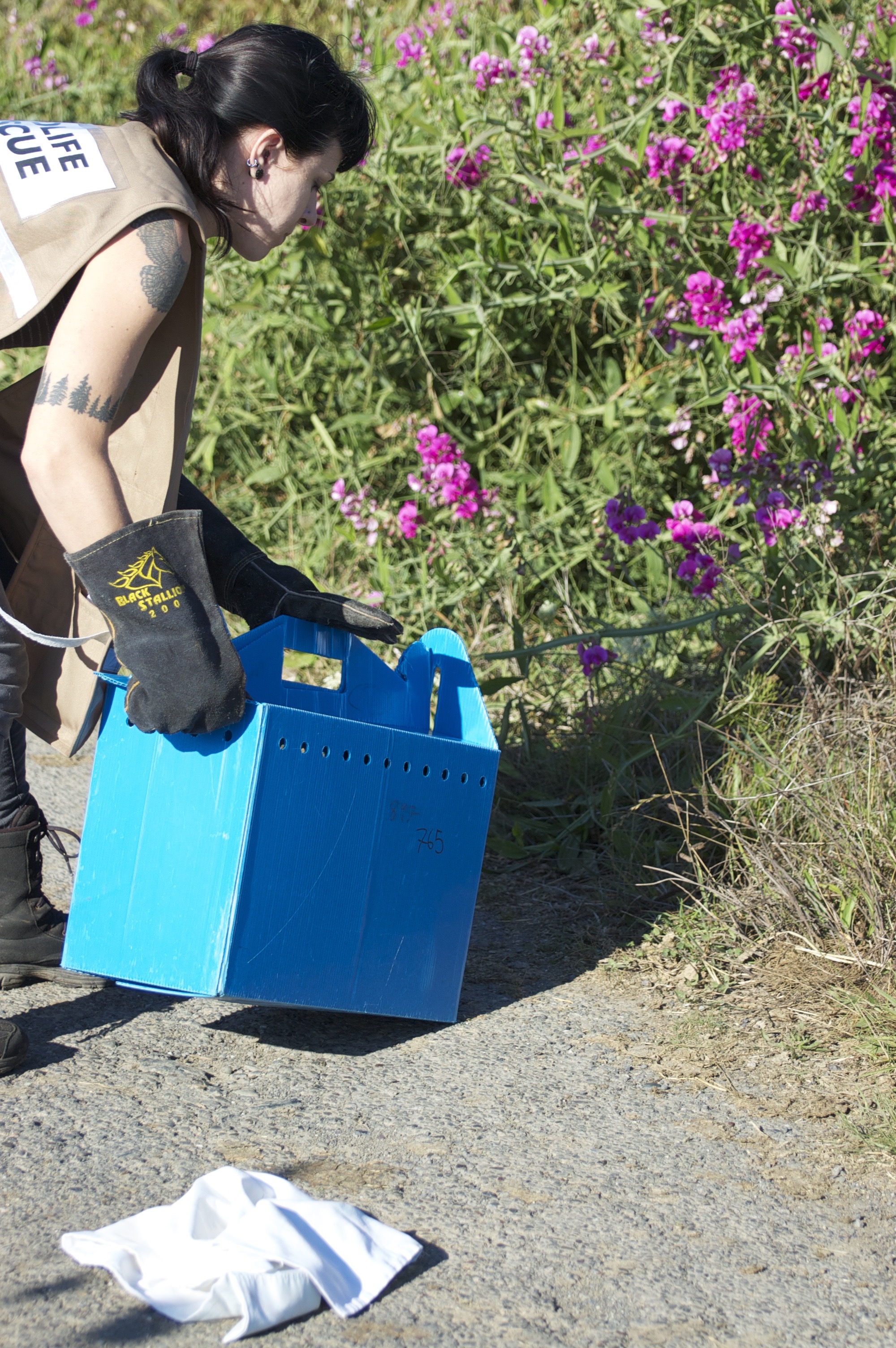 At the release site, close to where she was rescued. Freedom's just a box top away!
---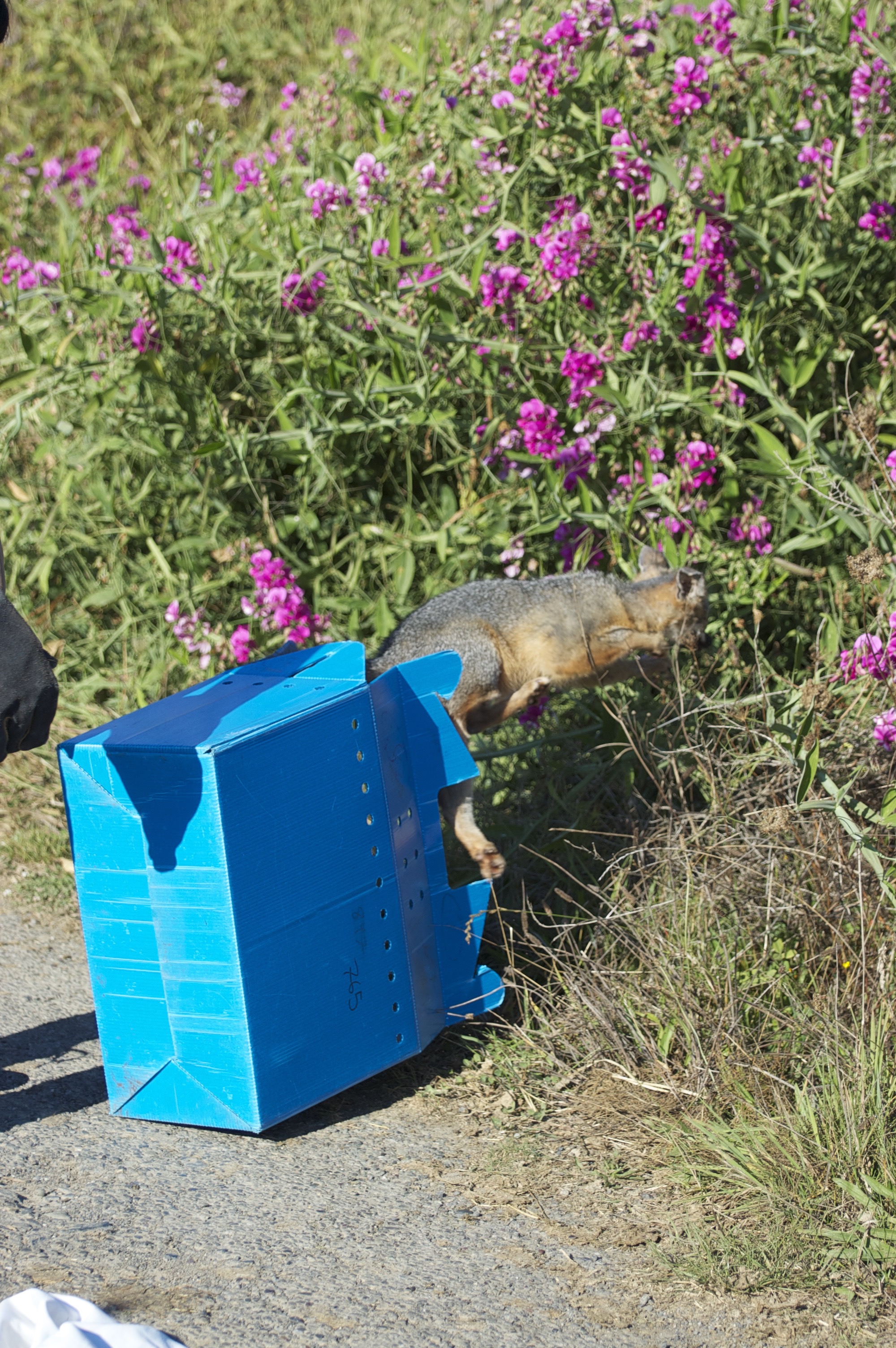 Buh-bye! Our favorite moment in the care of any patient!
---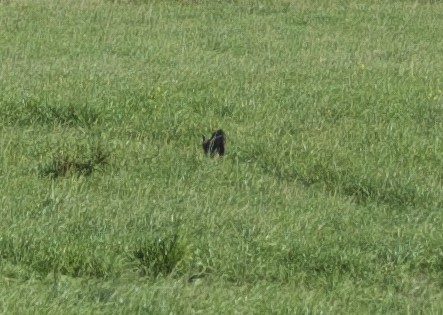 The last glimpse we had before she disappeared into the Wild.
---
This Gray fox was a dramatic patient. She exemplified all the frustration and all of the reward of caring for injured and orphaned wild animals. Her injury was caused by something easily prevented. Reckless and irresponsible action by humans in society, one little piece of litter in a world full of toxins, traumas, challenges and threats nearly ended the life of this fox. But with accessible care available for her, and a dedicated staff, she was able to be treated successfully and returned to her wild and free life. Although the causes are the same for most of our patients, not all are so lucky. Most aren't.
Thanks to your support, we are able to be here 7 days a week, every day of the year. Dedicated volunteers, very limited paid staff, and our Bayside clinic – we don't have much by way of resources, but we make the most of what we've got! Your donation goes a very long way in keeping us going and making sure that the North Coast has a place for injured and orphaned wild neighbors to be treated – treated for injuries and treated with the respect that all wild animals deserve. As Henry Thoreau elegantly wrote, "All good things are wild and free."
all photos: Bird Ally X/Laura Corsiglia except where noted.