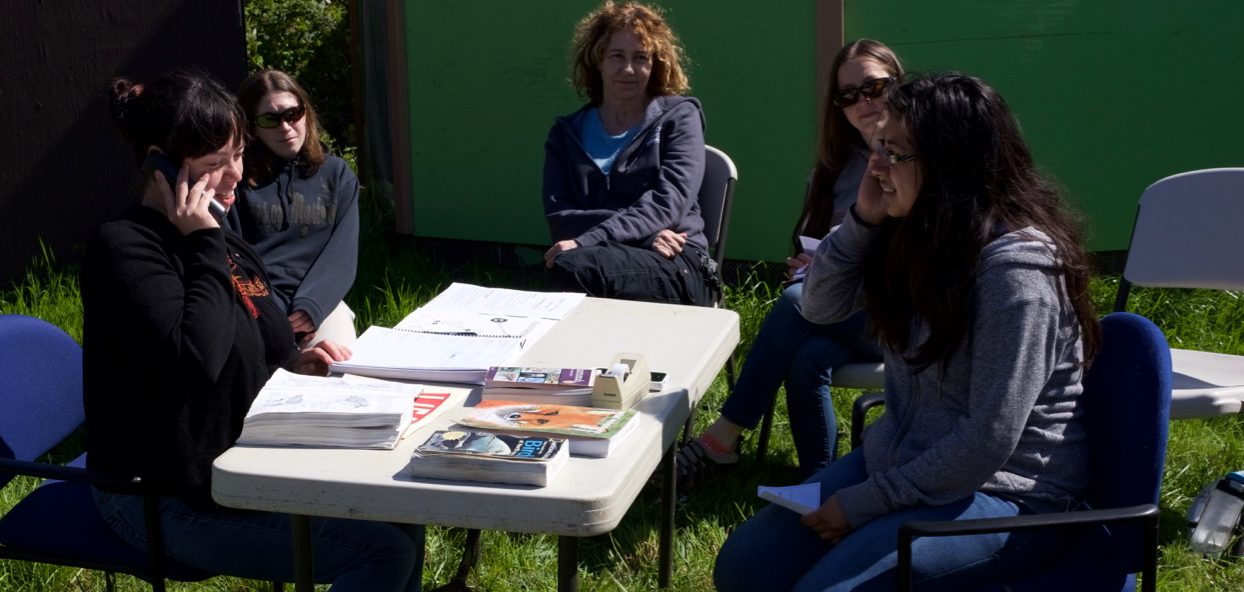 The answer: the telephone!
At Humboldt Wildlife Care Center, BAX treats well over a thousand wild animals each year, animals who would have certainly died without our help. When we think about the patients that have passed though our clinic, over the years, and gotten a second chance at wild freedom, or even those who we've been able to at least end their suffering, we are staggered by the numbers.
Still this number is very small compared to those we've helped without ever laying a hand on them.
Each day, staff at our Care Center answer calls from people all over our region who have encountered or have a conflict with a wild animal. Often these callers are frustrated and may even have very negative feelings about the animal –  a skunk in the yard that frightens their dog, raccoons getting into a crawl space, birds nesting in a chimney. Some callers aren't hostile toward wildlife, but concerned about a possible problem – a deer fawn found along a trail while hiking, a skunk out in the daylight during baby season.
We get thousands of these calls yearly. No matter what the nature of the call is, it's our task to make sure that each situation resolves peacefully for the animal. There are plenty of resources available for solutions that result in wild animals being killed – trapping and relocating, trapping and killing, shooting, poisoning – all manner of inhumane solutions can be found easily. Peaceful and humane resolution of conflicts between people and the Wild, however is strictly the name of our game.
Every Spring, our volunteers have a chance to practice the delicate art of advocating for and protecting our wild neighbors, and keeping wild families together. Bird Ally X produces several workshops for our staff and volunteers, as well as wildlife rehabilitators from around the state and nation. Our phone workshop is one of our most critical trainings. While the direct care we provide is important, good work done on the phone can prevent many of the injuries and deaths before care is needed. As the old saying goes, an ounce of prevention is worth a pound of cure.
Last weekend, we offered this workshop to our newest volunteers. e were fortunate in that we had a nice Sunday afternoon, no wind or rain. We had a good time practicing these skills, using real world examples, and learning how to be powerful advocates for and protectors of our wild neighbors.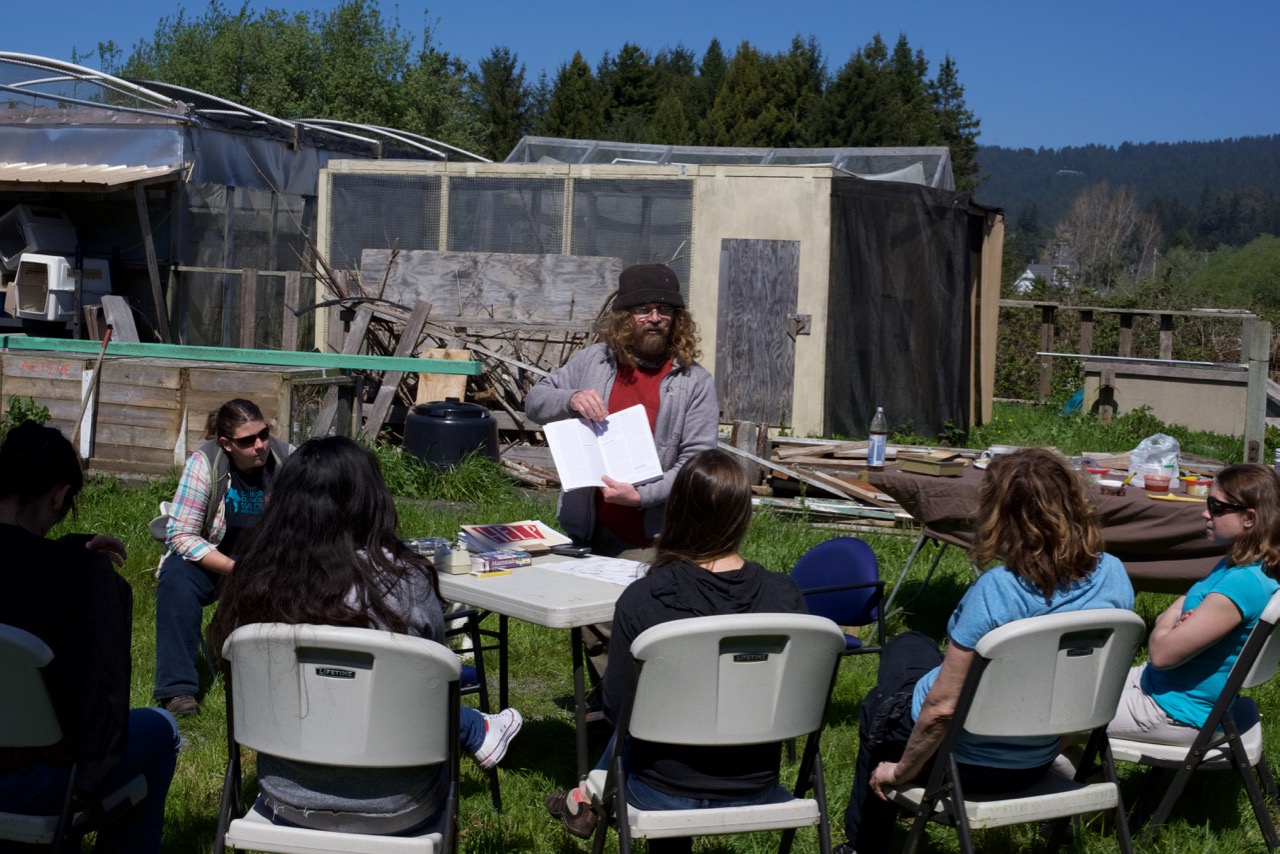 Describing the resources we rely on so that our volunteers are confident that they can give sound advice.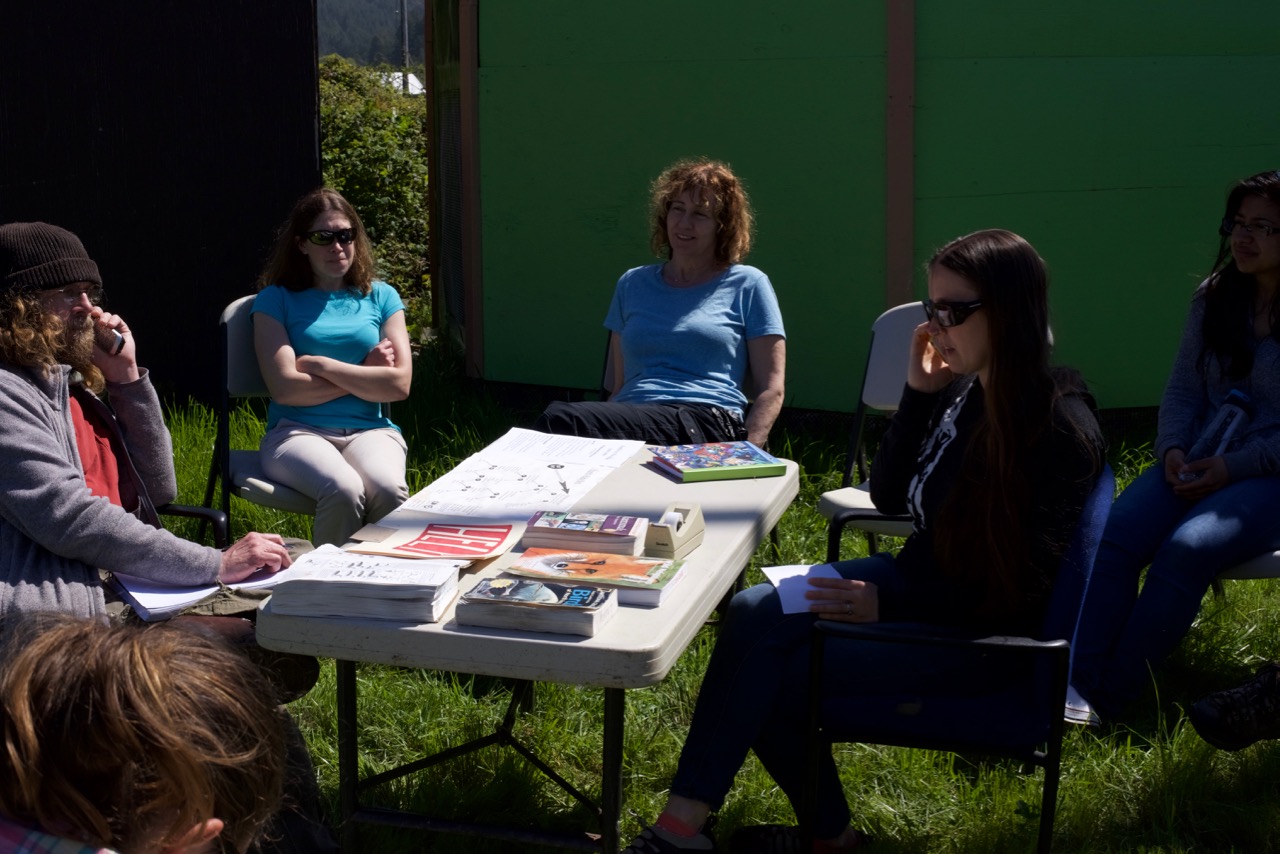 Demonstrating a typical call.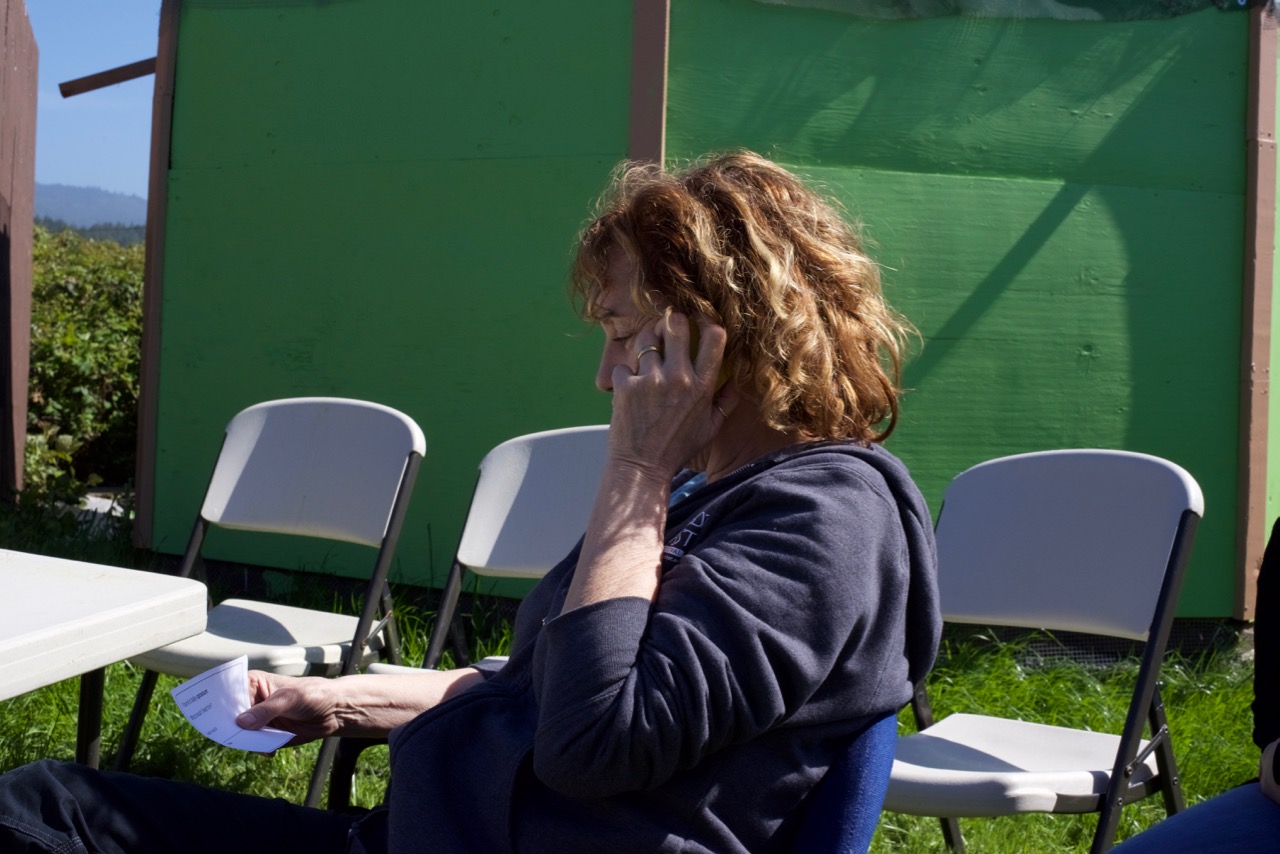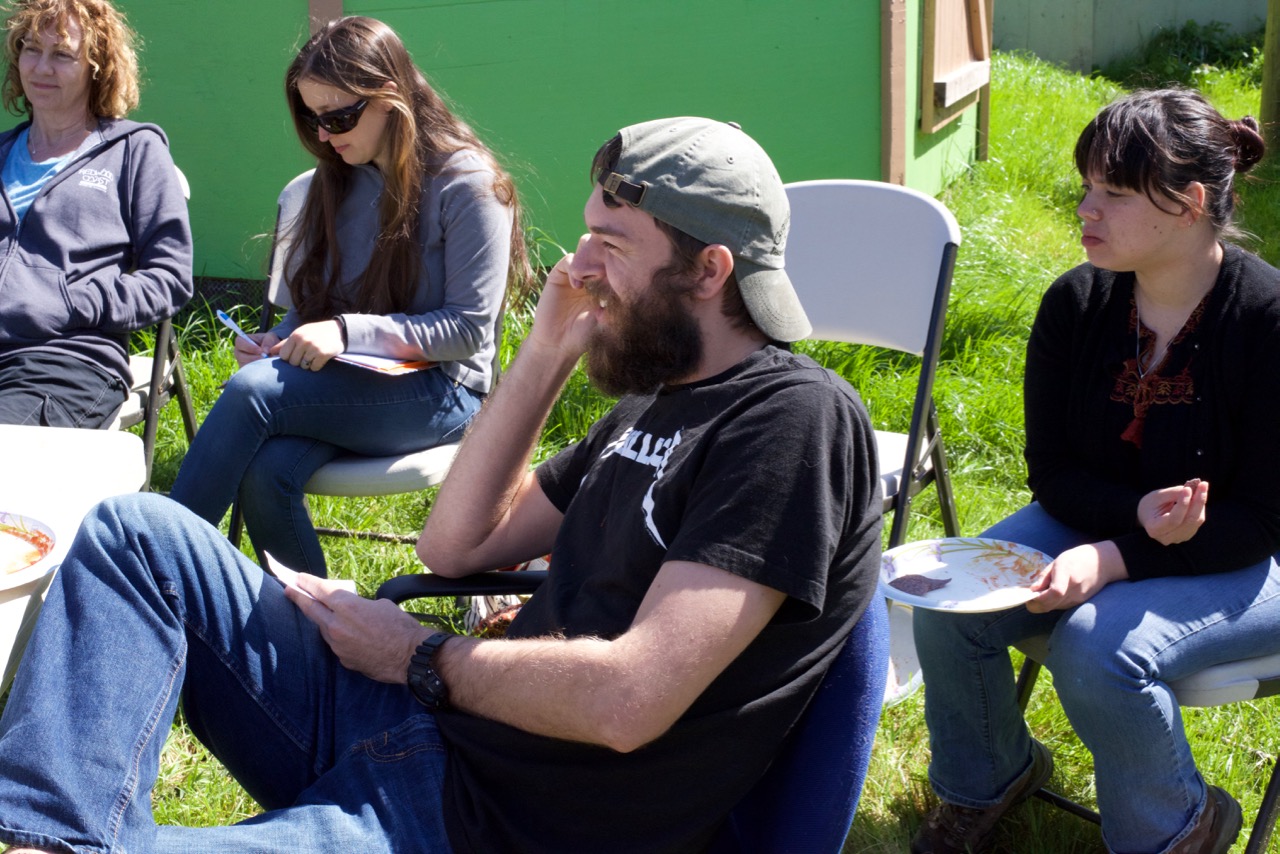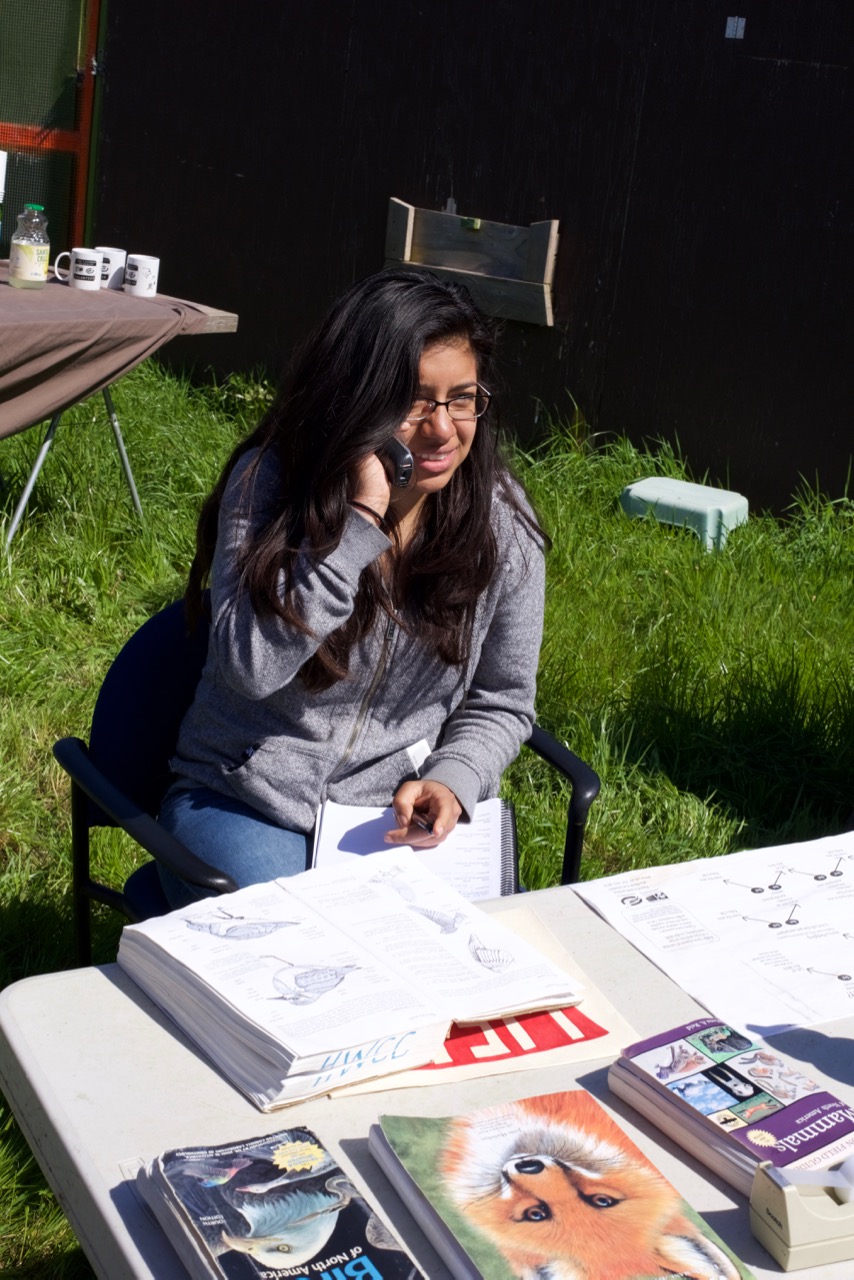 Because of the nearby Humboldt State University and the attraction of the Redwood Coast, our volunteers and neighbors come from around the world and around the state, bringing a wealth of experience and commitment to our work. Without volunteers, there would be no care for wild animals in need.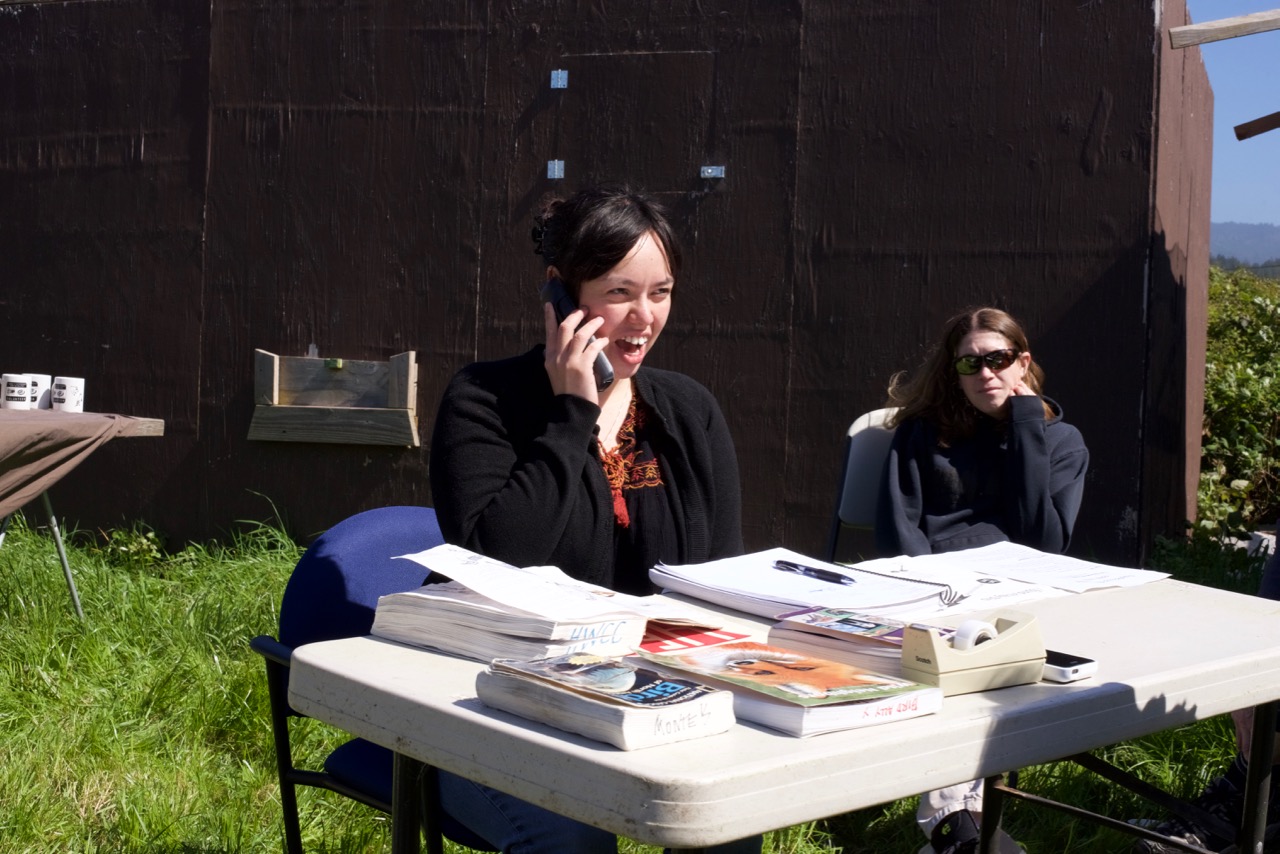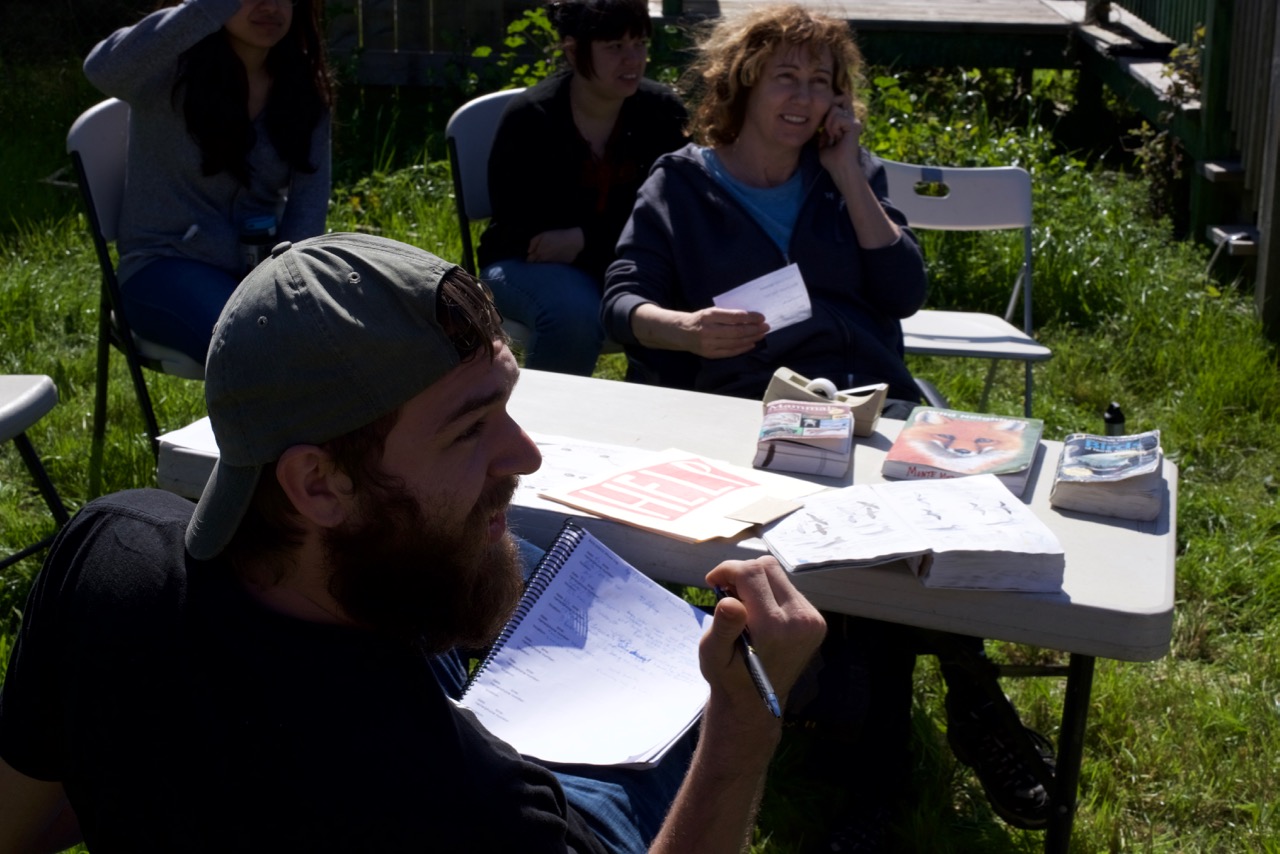 In the real world, you can always "phone a friend." A workshop participant seeks advice while in the middle of his call.
---
The workshops we produce are a critical part of our mission. Not only are we committed to providing the best care we can, we also strive to make improvements in our field and help develop the next generation of wildlife care providers. Your support allows Humboldt Wildlife Care Center to provide direct care for wild animals in trouble, prevent injuries with our Humane Solutions program, and also, help protect the future of wildlife care with trainings and workshops. And as we enter our busiest season, the skills our volunteers learn will serve our wild neighbors immediately as well!
As always, it's is your support that makes this possible. We are a very small organization facing global problems as locally as can be imagined. Our work is possible, our facility exists, next generations learn, because of your support. Thank you!
---
We need to raise $25,000 by May 31, 2017 in order to be ready to meet the challenge of our coming busy season… our region's injured and orphaned wild animals depend on you. Please help if you can. Follow this link to donate now or become a Sustaining Member with a monthly donation.